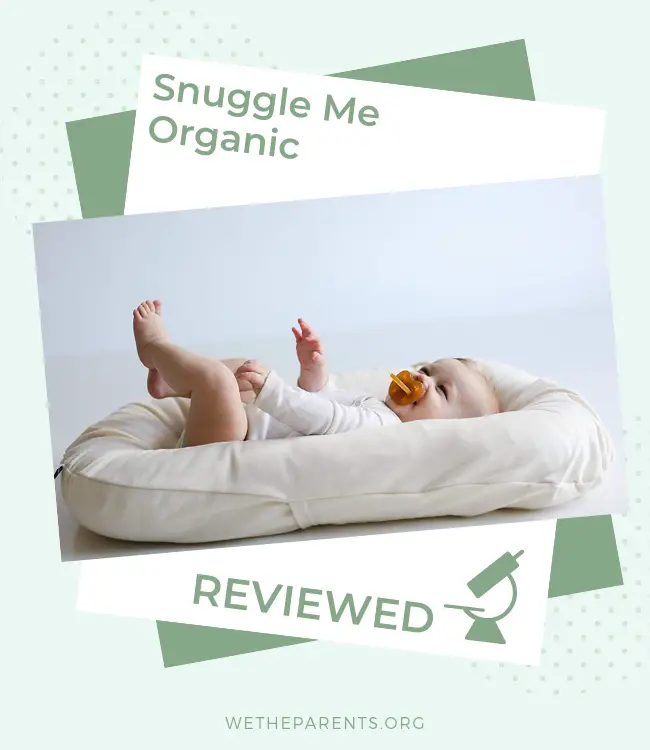 New baby equals more worry.
Joy, too, but just for a second let's focus on the anxiety.
Most of that worry is unnecessary but I know that won't stop you. It never stopped me! You've done your due diligence as a new mom, researching everything on the internet yet you're still not 100% certain on which co-sleeper is the right one for your baby.
Allow me to step in for a moment and lend a hand. In this Snuggle Me Organic review I have included all of the details that are important to help you in your quest to find the perfect baby sleeper.
Product Summary
The Snuggle Me Organic (check price on Amazon) is a sleeper/lounger that is designed so your baby can sleep safely beside you on your bed. It can also be used as a transition from bassinet to crib, in areas throughout the home where you can keep an eye on your little one during nap-time, and as a travel bed so your baby can feel comfortable sleeping during trips away from home. The lounger is ideal for babies up to the age of 9 months.
The co-sleeper is designed to gently and comfortably hug your baby during sleep. This will provide them with the feeling of security that they had while in the womb. It is also designed to keep your little one from rolling over onto their tummy. It has cushioned and raised edges, and an unpadded center sling which will keep your baby snug.
The Snuggle Me lounger is made of GOTS certified organic materials and filled with virgin polyester fiber which makes it an ideal hypoallergenic co-sleeper for your bundle of joy. It also has a machine washable, easily removable snug cover that is available in different colors.
Included in kit:
Patented Design Co-Sleeper
100% Organic Cotton Material
Virgin Polyester Fiberfill
Easy to Remove Cover of Choice
Cotton Canvas Zippered Travel Bag
Pros
Made of hypoallergenic materials
Prevents baby from rolling onto tummy
Hugs baby and mimics womb
Machine washable
Cons
Extra care may be needed when washing/drying
Key Features:
Patented, Tight Fitting Design
The Snuggle Me Organic is designed to mimic a mothers womb. It pulls in gently from all sides while baby lays snuggled within, providing a hugging sensation around their little body. This can provide them with a sense of snuggling security to help them sleep more soundly. Its design also prevents them from rolling over onto their side and tummy.

Hypoallergenic


The materials of the Snuggle Me Organic are virgin polyester and 100% organic cotton, and uses GOTS certified organic fabrics. These hypoallergenic materials are recommended for babies to prevent allergic reactions.

Versatile


This lounger/sleeper has more uses than one. Experienced moms will tell you that any baby product that can be used for more than one thing is a definite plus. The Snuggle Me Organic can be used as a co-sleeper, napper, diaper changing area, play-time, tummy-time, and even for travel. This means there is less that you'll have to carry!
Comparing the competition
How does the Snuggle Me Organic compare to other similar products on the market?
A) DockATot
The DockATot all-in-one baby lounger (check price on Amazon) is similar to the Snuggle Me Organic by the fact that they are both designed to mimic the feeling of sleeping in a mothers womb. While they are somewhat similar in design, the DockATot has some key differences.
It has tube-shaped sides that are designed to keep baby snug within its confines. It also has a buckle at the feet area of the sleeper that can be unlatched for a growing baby and easier diaper changes. One key difference is that this particular sleeper does not keep baby from rolling over onto their tummy.
B) JoJo Infant and Toddler Lounger
The design of the JoJo Infant and Toddler Lounger (check price on Amazon) is similar to that of the Snuggle Me Organic with one exception. The Snuggle lounger center sling is unpadded, while the JoJo lounger has some slight padding in the center so there is no need to worry about the surface beneath the sleeper. This lounger is also slightly larger, making it more ideal for larger babies and toddlers.
C) The First Years Close and Secure Sleeper
The design of the First Years Close and Secure Sleeper (check price on Amazon) is quite different than the Snuggle Me Organic. This brand has a more open style fit as opposed to the hugging fit of the Snuggle Me.
It has anti-scoot walls for a more sturdy and secure sleep. The materials are cotton and polyester, but not organic certified. The design of this sleeper is more suited for breastfeeding infants.
Random Advice From a Mom Who's Been There…
Machine Washable
As a mom, I can personally attest that whatever you buy for your new bundle of joy will need to easily cleaned, preferably machine washable. You have most undoubtedly spent a lot of your time searching for the perfect co-sleeper for you and your baby. Take it from me, you will want to make sure that it can be cleaned and then cleaned some more.
Versatility
Another important factor to consider with your new purchase is if it can be used for more then one purpose. Having a co-sleeper that can also be used for diaper changing, tummy-time, traveling, and other uses will go a long way in your near future.
Who Should Buy the Snuggle Me?
This lounger has been created with both a baby's comfort and a mom's needs in mind. The Snuggle Me Organic (check price on Amazon) can create a feeling of security that your baby had while still in your womb. If you are concerned about your baby getting a good night sleep, or worried about your little one turning over onto their tummy in the middle of the night, then this may be the co-sleeper you are looking for. This hypoallergenic sleeper may also be beneficial for protecting your little one from unseen allergins.