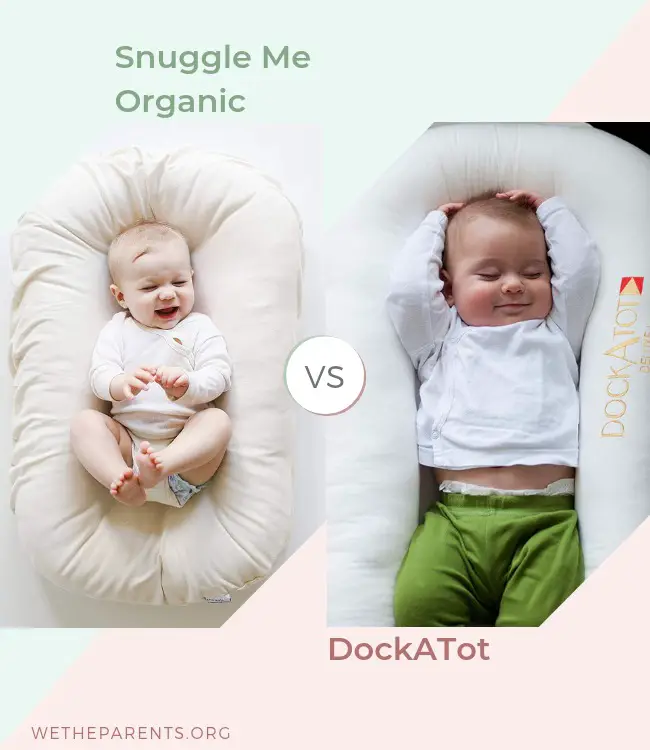 So you've decided that you want the closeness and security that co-sleepers provide for you and Bubba.
Now it's a case of choosing the right co-sleeping lounger for the both of you.
The Snuggle Me and the DockaTot are both popular choices. We'll show you where they differ and explain the reasons you might choose one over the other.
What is the 'Snuggle Me Organic'?
The Snuggle Me Organic is a co-sleeping lounger designed to hug a baby in such a way that they feel calmed and comforted. Its unpadded center sling, soft raised edges, and tight fitted design create a secure, safe place for baby to sleep alongside mom and dad.
The Snuggle Me (check price on Amazon) is filled with virgin polyester fiber and made of GOTS certified 100% organic materials. The snug cover can be easily removed for a quick cleaning after those unavoidable accidents.
This lounger is ideal for safe co-sleeping, or to be used as a napper, for playtime, as a tummy-time aide, for diaper changes, and even a travel mat. It will also come in handy as the baby grows and begins to learn how to sit. I can remember those days when my little ones would try mastering the art of sitting. I'd watch them with bated breath as they would totter from side to side and then topple backward. Moms can rest at ease while their baby sits in the middle of this lounger. With cushioning all the way around, a baby will be protected when that inevitable topple happens.
What is the 'DockATot'?
The DockATot is an all in one baby lounger that is designed to help recreate the feeling a baby had while in the womb. Many babies find the transition of birth to a new world a difficult one. This can cause for a fussy and irritable newborn. While sleeping in this lounger, a baby will feel snug in its cozy surrounding.
The lounger is made from 100% cotton and polyester and can be easily washed after those everyday spills and accidents. The size and style of this lounger are ideal for newborns and babies up to 8 months old, or 5 to 22 lbs.
The DockATot (check price on Amazon) has tube raised sides, along with a buckle that can be opened to accommodate a growing baby. Additionally, this docking station is ideal for diaper changes, tummy time, or simply a safe place for cuddles and play-time. It can also be easily taken along on those trips away from home.
Side by Side Comparison
Let's take a close look at exactly what features separate these two co-sleepers.
| | Snuggle Me | DockaTot |
| --- | --- | --- |
| Price: | Check price | Check price |
| Age range: | 0 to 9 months | Age range: 0 to 8 months |
| Dimensions: | 17 x 29 x 4 inches | 18 x 29-34 inches (29 with buckles closed) |
| Materials: | 100% organic cotton and virgin polyester, hypoallergenic | 100% cotton and polyester |
| Prevents roll-over: | ✓ | ☓ |
| Machine washable: | ✓ | ✓ |
| Tummy-time aide: | ✓ | ✓ |
Snuggle Me Organic
(A Quick Overview)
The Snuggle Me Organic (check price on Amazon) lounger is ideal for moms who have the desire to co-sleep with their infant. With its raised sides and flat bottom, the lounger keeps baby on their back, while also keeping them safe in their own space from mom and dads bedding. It is also a great addition to be used as a napper, or for travel so that baby will feel comfortable sleeping away from home.
Pros
Prevents baby from rolling over
Designed to create a feeling of being cuddled
Washable cover
Made of organic materials
Keeps baby enclosed naturally
Portable and Multifunctional
Cons
Center sling is unpadded. Special attention needed when choosing where to place the lounger.
Extra washing/drying care needed to prevent shrinkage.
Selected Features
100 % Organic Cotton
This lounger is created by using GOTS certified organic fabrics and filled with virgin polyester fiber. The organic and natural materials are USA-made and are hypoallergenic which are considered safe and non-toxic to babies.
Unique, Patented Design
Snuggle Me Organic is created to pull in gently around the baby, providing them with the comfort of a hugging sensation. It is also meant to fit the baby's head, torso, and legs in such a way that prevents them from rolling over.
Multifunctional
While the main purpose of the lounger is to provide a baby with a safe way to co-sleep with parents, it can also serve many other purposes. It makes a convenient diaper changing spot for those quick changes. It can be used for nap-time near mom while she is busy attending to other important matters. It can also be used comfortably for tummy-time. The lounger even has a carrying bag for those overnight and daytime travels.
What makes Snuggle Me Organic Better then DockATot?
It is made out of a hypoallergenic, organic materials.
It provides a hugging and cuddling sensation to a baby naturally with its form and shape, while also preventing the baby from flipping over.
DockATot
(A Quick Overview)
The DockATot all-in-one baby lounger (check price on Amazon) is designed for 0 to 8-month-old babies. It is an ideal lounger for safe co-sleeping with mom and dad. Its cover is made of 100% cotton and can be easily removed for necessary cleaning. It also has a unique buckle on the bottom that can be unclipped for quick and easy diaper changes, or for play-time. This versatile lounger can also be used for nap-time, cuddling, or for travel. It is ideal for use during tummy-time which helps babies develop neck strength and motor skills.
Pros
The DockATot is ideal for tummy-time with its rounded tube that offers extra support.
The feet section of the lounger can be conveniently opened for more space as baby grows, as well as easier diaper changes.
Provides a womb-like experience for newborns.
Cons
It is not designed to keep babies on their back.
While the tube-shaped wall is good for propping baby up and tummy-time, it may not be suitable for all planned uses.
Selected Features
Multifunctional
The DockATot is a very versatile addition to a new baby's accessories. This lounger can be used as a co-sleeper and napper. It can be an aide for tummy-time, and for propping baby for play-time. It can even be converted for easy diaper changes, and to accommodate a larger baby.
Materials
The lounger cover is made of 100% cotton, while the tube and pad are made of 100% polyester. All parts of the lounger are washable.
Unique Design
The DockATot is designed not only for sleeping. A baby can easily be propped up on the firm, tube sides for a different view of the world. The shape and firmness of the sides are also ideal for tummy-time.
What Makes DockATot Better then Snuggle Me Organic?
It has large, firm sides that are useful for propping baby up comfortably for play-time.
The bottom section of the lounger can be unclipped and opened for easier diaper changes. It is also convenient to offer more space for a growing baby.
Which Is Right For You?
That is an excellent question, with no perfect answer. What may be right for one mom, may not work for another. It basically comes down to your preferences, and what you want and don't want in a lounger. Do you have plans on using it as a co-sleeper? Are you concerned about your baby rolling over while sleeping? Then you're probably better off getting the Snuggle Me Organic (check price on Amazon). Are you looking for one that has many uses? Then the DockATot (check price on Amazon) may be the one that works for you.