Cardiovascular disease is the world's number one killer. So educating children about their hearts and how to make healthy lifestyle choices is vital. In support of World Heart Day, We The Parents is joining forces with some awesome artists, illustrators, and designers to raise kids' awareness in unique and engaging ways.
We have encouraged each artist to express their unique style, creating child-friendly health messaging that is unique, surprising, and engaging. We are calling this experimental project #ArtForHearts.
This year, the talented South American illustrator Naida Jasmin Ochoa brings you "7 Habits for a Healthy Heart." Her artwork is vivid and gorgeous, complimenting simple but powerful habits to promote healthy hearts.
The Artwork

The 7 Habits for a Healthy Heart
#1 Eat healthy
Have you ever heard the expression "you are what you eat"?
Though we know we're not really going to turn into an apple or a sandwich, what we eat has a lot to do with how healthy we are.
Nutritious foods like fruits, vegetables, and lean meats contain vitamins and minerals that help you grow up healthy and strong. On the flip side, most snacks and candy can be loaded with fat, sodium, and sugar, all of which can lead to poor heart health when eaten often.
Next time you're tempted to reach for a sugary snack or soda, grab a piece of fruit instead — making these swaps can help you get used to healthier choices.1Poor Nutrition
cdc.gov
#2 Be active
Staying active is one of the best ways to keep your heart healthy. Just like those in your arms and legs, your heart is a muscle, and getting it pumping through physical activity is the way to keep it working at its best.
Looking for ways to stay active? Riding your bike around the neighborhood, playing a pickup game of basketball with your friends, and even swimming at the pool are all "cardiovascular" exercises, which means they increase your heart rate — this is how many times your heart beats per minute — and benefit your heart health.2Wren, J. D. (2004). 404 not found: the stability and persistence of URLs published in MEDLINE. Bioinformatics, 20(5), 668-672.
heart.org
#3 Reduce stress
Stress is a normal emotion, but it's hard on our bodies.
This is because stress produces a hormone called cortisol, which is linked with heart disease, weight gain, increased blood pressure, and other health problems.
It's impossible to avoid stress entirely — stressful situations, from meeting new people to taking a tough test, are a part of life. Even good things, like starting a new activity you're excited about, can sometimes feel stressful, but using coping strategies like meditation and breathing or talking to a trusted adult can help you calm down when things get tough.3Stress management print
mayoclinic.org
#4 Get enough sleep
Staying up past your bedtime sounds exciting, but you won't miss much — it's way more important to stay healthy by getting enough sleep every night.
Insomnia (the medical term for being unable to fall asleep) or choosing not to sleep are linked with poor health, including issues associated with heart health, such as heart disease and stroke. This is because lack of sleep is known to keep blood pressure elevated, and can cause weight gain by confusing the part of your brain that controls hunger.4O'Connor, G. T., Caffo, B., Newman, A. B., Quan, S. F., Rapoport, D. M., Redline, S., … & Shahar, E. (2009). Prospective study of sleep-disordered breathing and hypertension: the Sleep Heart Health Study. American journal of respiratory and critical care medicine, 179(12), 1159-1164.
https://www.cdc.gov/bloodpressure/sleep.htmcdc.gov
#5 Aim for a healthy weight
Eating healthy foods and staying active both help you to avoid gaining weight, which is an important part of keeping your heart healthy. Carrying extra weight is a risk factor for heart attack, stroke, and cardiovascular disease, so make sure to reach for healthy snacks and play games that keep your body moving.5Weight: A Silent Heart Risk
hopkinsmedicine.org
#6 Keep blood pressure in check
High blood pressure is a risk factor in heart attack and stroke as well as eye, brain, kidney, and other organ issues. It doesn't have many symptoms, leading some to view it as a "silent killer".6High blood pressure (hypertension)
nhs.uk
A poor diet, high weight, lack of exercise, using tobacco, and poor sleep can all cause high blood pressure, which can cause CVD. Though high blood pressure is rare in kids, forming healthy habits will help you to avoid risk factors and unhealthy patterns that are hard to break.
#7 Avoid tobacco
The use of tobacco, especially when smoking cigarettes, is known to be toxic to your heart and lungs. Chemicals included in cigarette smoke may cause damage to your heart and your blood vessels which can lead to CVD.
Smoking and tobacco use are linked to heart attacks, strokes, brain aneurysms, high blood pressure, and long-term heart disease in addition to cancer and emphysema. They're also addictive, which means your best bet is to always say no to tobacco use.7Weiss, W. (1970). How smoking affects hearing. Medical times, 98(11), 84-88.
fda.gov
About the artist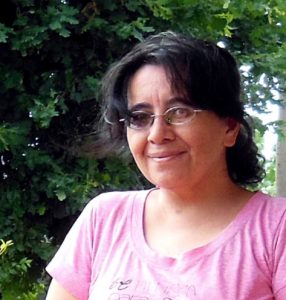 Hailing from Buenos Aires, Argentina, talented artist and illustrator Naida Jasmin Ochoa has style, passion, and skill to spare. We love how her vivid, expressive illustrations draw in the viewer as they notice each remarkable level of detail.
Ms. Ochoa's background in providing art for books, games, and applications for children makes her a wonderful partner in our #ArtForHearts campaign, as her playful, colorful creations are quick favorites for kids.
Why #ArtForHearts
Knowing as we do that art can play a significant role in our mental and physical wellness, we centered the #ArtForHearts campaign around the idea of partnering with a talented independent artist, offering three benefits:
Enticing kids (and people of all ages) with stunning visuals to keep them engaged and ready to learn about heart health
Spreading the seriously important message that many CVD deaths are preventable through lifestyle changes, and;
Supporting the work of an amazing artist, and offering them a platform to share their talent — this year's artist is Naida Jasmin Ochoa.
The goal of our collaboration is to capture kids' interest through interesting artwork, and keep them interested by speaking to them on their level and explaining heart health and positive lifestyle changes in a way that makes sense to them.
World Heart Day
The World Heart Federation created World Hearts Day, a day dedicated to raising awareness about cardiovascular disease. On the day, people around the world participate in activities to take charge of their heart health. This campaign unites individuals from all countries and backgrounds against cardiovascular disease (CVD), an important cause of death worldwide that can be prevented with healthy living.
We are extremely happy to support this event!
Our final word
As the world's leading cause of preventable death, it's essential that kids learn about the risk factors of CVD from an early age as well as what healthy habits they can enact to prevent them. #ArtForHearts is perfect for sharing in the classroom, but it's also a great home teaching tool for making better lifestyle choices as a family.