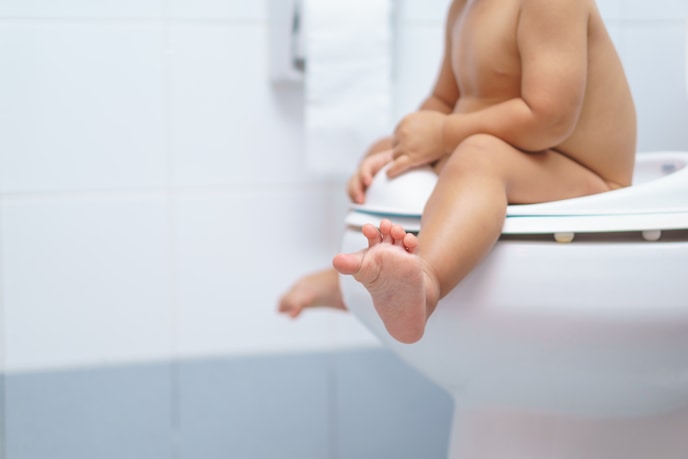 The last few years have been filled with enlightening changes, exciting changes, and diaper changes. Since you're reading this article, it looks like one of those things is soon to be out of your parenthood landscape. We're sure you couldn't be more excited to ditch the diapers and begin potty training.
There will be days when potty training is going to seem like an uphill battle. In fact, even beginning the process is enough to make most parents feel a tad overwhelmed at first. Once you have the right equipment, however, things will start to fall into place. If you're considering a potty seat to aid you and your child along on this much-anticipated journey, you certainly want to make sure you purchase a good product.
Best Unisex Potty Seats
If you need a toilet seat that both boys and girls can be comfortable using, you might want to check out these products.
Often considered a prime example of all things child related, BabyBjorn delivers another home run with this potty seat. It has an integrated splash guard, but one that is not so large that it will interfere with a little girl's toilet training. The ergonomically designed plastic provides a comfortable seat that is easy to clean. It fits most toilets correctly and has a handle for easy storage.
Securing Fixture: Adjustable dial, rubber grip
Check Price on Amazon
Another seat that is ergonomically designed, this product is made from BPA free materials and provides a more cushiony sitting experience than the BabyBjorn. It has a built-in splash guard although many parents report that it's not high enough to completely contain messes from their boys. To make up for that, this potty seat has a lifetime warranty and a fashionable design that fits all types of toilet seats. It also has a non-slip ring on the top of the seat, instead of side handles, so your child feels secure on their perch.
Securing Fixture: Rubber Grip
Check Price on Amazon
Best Potty Seats for Boys (avoid sprinkles!)
To cut down on extra splash that can occur as your little boy learns to navigate his new bathroom habits, consider purchasing a seat designed with that exact purpose in mind.
This seat can technically be used for boys and girls, but most parents report that it is much more suitable for their little men. The big reason for this popular opinion is the large, integrated splash guard. It offers excellent protection from those straying sprinkles but is not so big that it will impede on your boy's toilet training experience. This potty seat is easy to install and kept secured with anchors placed on its bottom. It also has a backrest for extra comfort and security. Some parents have found its soft, foam material has more give in it than they would like and that the splash guard's flat shape (as opposed to a curved shape) is more likely to touch their son's genitals. However, most find this to be a great potty seat that is both comfortable and easy to clean.
Securing Fixture: Anchors
Check Price on Amazon
This seat has a built-in splash guard to contain any mess. It's easy to clean and, despite being made out of plastic, offers a contoured design for your child's comfort. This potty seat has easy-grip-handles for your child and, for your convenience, includes a hook to hang the seat from the back of the toilet when it's not in use. Unfortunately, this product probably won't fit very well over a padded toilet seat but will work correctly with almost every other kind of toilet.
Securing Fixture: "Perfect fit" handle, rubber grip
Check Price on Amazon
Best Potty Seat With a Boost
You already have a lot on your mind, what with raising a member of the generation due to inherit the world. If you don't want to search for a stool or steps to go along with a potty seat, here's a unique product with a little ladder already included.
This Amazon Best Seller comes with a no-slip step-ladder so your child can have a bit more independence. The whole thing is easy to install; everything snaps together, and you don't need any tools. It also folds up for quick storage and fits all standard and many elongated toilet seats. Unfortunately, this setup might be a little too much for a very small child. Once they are a bit older or bigger, though, they can get on and off the potty easily and independently.
Securing Fixture: Rubber grip
Check Price on Amazon
Best Affordable Potty Seats
Luckily, a good potty seat is already relatively inexpensive. For those who love a real steal, however, here are some great products to check out.
This cute little potty seat is sure to make any child smile, and it fits most toilet seats. It has a raised back for comfort and is made from BPA and phthalate free materials. The splash guard leaves something to be desired but, at just over $10, it's a product that does its job and, for the most part, does it well.
Securing Fixture: Rubber grip
Check Price on Amazon
Another product that rings up at a reasonable price, this potty seat has large handles that your child can grip when sitting. It has a built-in splash guard that most parents report as being adequate for their little men. Some kids find the hard plastic seat uncomfortable, but this is another affordable product that safely helps you potty train.
Securing Fixture: Rubber grip
Check Price on Amazon
Parent Guide to Buying the Best Potty Seat
Luckily, buying a potty seat is probably going to be one of the easiest parts of potty training. Let's go over a few things, though, to make sure you are starting off on the right foot.
Potty Seat vs. Potty Chair
If you're like most parents, you are probably more familiar with the potty chair than the potty seat. Potty chairs are just that; small chairs that your child can get on and off of when they need to do their business. They are perfect for little bodies, but you also have to clean them out after every use. Plus, while a potty chair is perfect for jumpstarting that toilet training journey, they can't be used forever. Eventually, your child is going to have to learn how to use that large porcelain throne in your bathroom.
For this transition, and if you want something that doesn't require as much daily maintenance, you might find a potty seat a worthwhile purchase. Potty seats fit over the seat that is already on your toilet, making it easy for your little one to comfortably and safely sit down while they do their business.
When to Use
Although many children find the "big person" toilet overwhelming and a little scary, some toddlers are less phased. If you have a child with this attitude, you might be able to start using a potty seat right away, skipping the potty chair altogether. Some parents, however, prefer to wait until their child is a bit older and find it better to ease their child into using the adult toilet.
Stepping Stools
We advise that you use a stool or ladder for your toddler until their feet can reach the ground. It will provide security, traction, and stabilization while also allowing your child to have more independence getting on and off the toilet.
Fit and Comfort
It goes without saying that you want a potty seat that your child will enjoy sitting on. Furthermore, you want to make sure that you can adjust the fit, so it rests securely against the existing toilet seat. If it wiggles too much, it will probably turn your child off the whole idea of sitting on that porcelain throne. Look for dials to adjust the fit or a potty seat that has a rubber bottom that provides natural traction.
Splash Guards
Your little man is going to take a while before he gets his aim just right. Splash guards are great additions to potty seats that prevent unwanted mess.
Handles
This feature can help your little one get on and off the potty easier, as well as provide a source of stability if they get nervous being up so high.
Size
Along with a baby bathtub, your potty seat is one of a few bits of baby gear that will live in the bathroom. In this room space is usually a premium. Bear this in mind as some potty seats are nice and compact whilst others seem to be unnecessarily bulky, as if the world needed more plastic in it.
Wrapping up
Seeing your toddler using the toilet by themselves is certainly a milestone. Probably the biggest since you bought them their first walking shoes. It can, however, be a struggle keeping your toilet floor puddle free! You are sure to have days when you pause and wonder just how bad it would be to send your kid off to his high school graduation still in diapers. Surely by then, he can change himself, right? Technically yes, but society would still frown on it. So hopefully one of these products will keep those thoughts to a minimum and help to get your little one out of diapers sooner than later.