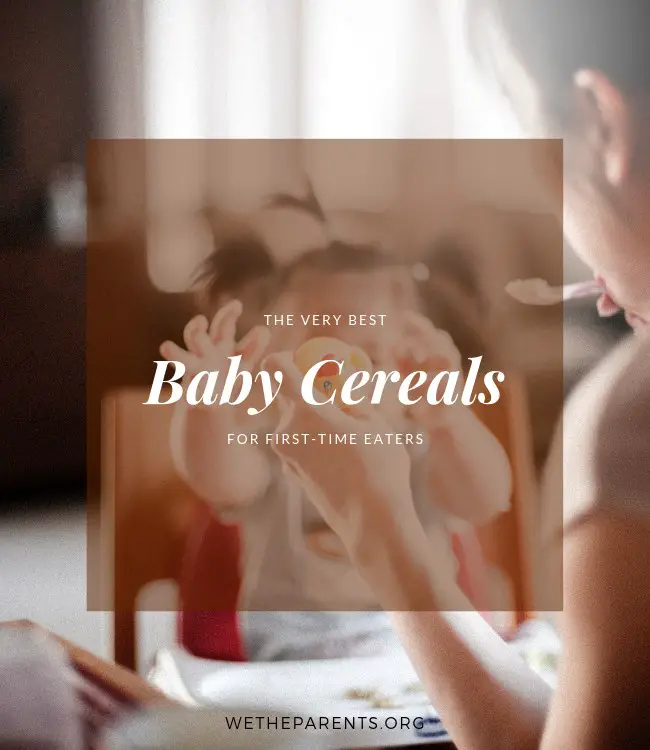 Are you contemplating beginning your infant on solid foods? It's a big decision that has many considerations.
Will your baby sleep longer? Will she need less milk? Is breast milk or formula enough nutrition?
Most pediatricians recommend waiting until four to six months to introduce solid food. When your baby can support her head, her tongue thrust has given way to swallowing, and she's drinking 32 ounces of milk each day, she may be ready. At this point, your baby is a Stage 1 eater, the first step on the road to eating like a big kid.
Best baby oatmeal
Two servings a day of this oat-based organic non-GMO cereal provides 90 percent of your infant's daily need for iron for brain development. Gerber Organic Oatmeal Cereal (cheap price on Amazon) also contains vitamins C, B, A, E, and zinc, a mineral. This cereal contains whole-grain oat flour and includes some wheat flour to provide one of the B vitamins.
Gerber has made a major commitment to Clean Field Farming. If you are a fan of organics, their philosophy and farming practices should put you at ease.
This is a great cereal to begin your baby's eating adventure since it's a single-grain cereal. You can mix the dry cereal with either breast milk or formula until it has the proper consistency for your baby. If you want to include only organic and non-GMO foods in your child's diet, this might be a good choice for your baby's first cereal.
Gerber Organic Oatmeal Cereal is certified as organic by the U.S. Department of Agriculture. This cereal comes in 8-ounce containers that make up about 15 servings. You can even use this oatmeal as a base for recipes for older children and even adults. By adding pureed fruits, you can even tempt the slightly older infant to eat this cereal with relish.
What We Love:
Excellent nutritional value
Non-GMO and organic ingredients
Single-grain cereals
Gerber's farming practices
Watch Out For:
Watch the expiration date on the label. It is set for about one year ahead.
Some parents reported the package pour spout was too large and flat, leading to overpouring.
Check Price on Amazon
Best organic baby snack
This Peter Rabbit Seeds Apple & Blueberry Snacks (cheap price on Amazon) is perfect for the older baby. The resealable and squeezable pouch contains fruit, oats, chia, and quinoa. All ingredients are USDA-certified Organic and are Non-GMO Project Verified. No water or sugar is added to the product.
Specific product ingredients list organic apple 74 percent, organic blueberry 14 percent, organic pear 8 percent, organic oats and seeds 3 percent (organic milled oats 70 percent, organic milled chia 25 percent, organic milled quinoa 5 percent), organic lemon juice concentrate – trace. If your baby has an allergy to one of these ingredients, it might be best to shop for another flavor or brand.
Your child should be at least nine months old and successfully eaten mixed products before trying this snack. Seeds may be an allergy issue, so it might be better to introduce no other foods for a week or so.
Older children and even adults enjoy these squeezy treats. Many parents pack them along for hikes or store them in go-bags for emergencies. The Peter Pan snacks come in several other mixed flavors of fruits and vegetables.
What We Love:
Excellent nutritional value in a snack
Resealable
Non-GMO and organic ingredients
Good source of dietary fiber
Useful for snack for kids of any age
Watch Out For:
Seeds may be an allergy issue
Shelf-life is about eight months, an issue for long-term storage
Check Price on Amazon
Best budget buy
Barley is a great first cereal (cheap price on Amazon) for baby at Stage 1, the earliest eaters. Healthy Times cereal is USDA-certified organic and there are no GMO ingredients. The product is free of dairy and soy, so is easily digestible. There are no salts, sugars, or flavorings, just good, honest whole-grain barley flour.
This cereal is suitable for vegan and vegetarian households. Healthy Times also offers gluten-free brown rice cereal.
What We Love:
Organic and non-GMO
Vegetarian and vegan friendly
No added salt, sugar, or flavors
Watch Out For:
Parents have reported some shipping issues.
Prices have risen lately.
Check Price on Amazon
Editor's Choice
Earth's Best offers several varieties of rigorously tested USDA-certified Organic and non-GMO ingredients infant cereals (cheap price on Amazon). The company also does not use Genetically Engineered Ingredients (GEIs). There are no colors, artificial flavors, or preservatives used in Earth's Best cereals. Their products contain no toxic chemicals or heavy metals.
Made with whole grains, no salt, or refined sugar, these cereals are developed for use by Stage 1 early eaters. There are no added modified starches. As an organic product, the grains are grown without the use of pesticides.
The Earth's Best cereals are Kosher-certified except for meat products. The cereals are dairy and soy free and are suitable for vegan and vegetarian households.
What We Love:
Organic and non-GMO
Cereals are Kosher, vegetarian and vegan-certified
No added salt, sugar, or flavors
Watch Out For:
Prices have recently risen considerably.
Some babies did not like the taste.
Check Price on Amazon
Stage 2 infant foods (cheap price on Amazon) are meant for babies about nine months old. Their food no longer needs to be pureed, and the baby can now eat two different foods in one bowl.
Earth's Best packages their apple, peach, and oatmeal pureed cereal in squeezable BPA-free pouches that are resealable. It presents the baby with whole grain oatmeal that is packed with natural fruits. The company uses no artificial modified starches, colors or flavors in the manufacturing process.
Many children continue to enjoy these pouches. At about 35 calories, it's the perfect snack as well.
What We Love:
Organic and non-GMO
Certified Kosher
No added salt, sugar, or flavors
Earth's Best has been in business since 1985
Watch Out For:
Read the expiration date on the product on receipt. Some may be close.
No list of ingredients for parents to examine.
Check Price on Amazon
Best probiotic baby cereal
If your baby needs a probiotic cereal for digestive issues, Happy Baby makes our favorite variety. It includes iron, choline, and probiotics. Mix with breast milk or formula, then later mix with Happy Baby's Simple Combo purees.
Happy Baby Organic Probiotic Baby Cereal (cheap price on Amazon) is fortified with iron for healthy brain development and choline for both brain and eye development. Happy Baby also has 20 percent of our baby's daily calcium requirement.
What We Love:
Probiotic ingredients
Organic
No added salt, sugar, or flavors
The introduction to a complete probiotic line of products
Watch Out For:
Some shipments arrive very late, parents report.
Parents report that off-odors are present at times.
Watch for close sell-by dates when the shipment arrives.
Check Price on Amazon
Best Practices Choice
WutsupBaby has a strong message that its products are the closest to breastmilk nutritional values. It has all the amino acids, Omega 3,6, and 9, prebiotics, and fiber. It also includes protein, iron, magnesium, and vitamins E and B2.
The Organic Quinoa Infant & Baby Cereal (cheap price on Amazon) keeps possible allergens out of its manufacture. There is no milk, fish, eggs, shellfish, tree nuts, wheat, peanuts, gluten, or soy in the cereal. It is also free of artificial flavors, GMO, and preservatives. The natural drum cooking process helps retain fiber and prebiotics.
The travel packs can be easily prepared by mixing with breastmilk or water at Stage 1, or mashed fruit/vegetables for Stage 2 eaters. The cereal is excellent for use from babies at six months to their older siblings for up to four years. Parents are offered a 100 percent money back guarantee of satisfaction.
The cooking process is unique. The company cleans and scarifies the raw quinoa grain, crushes the product into pre-cooked flour, then drum-dehydrates it. They use no freeze-dry processes. The factories are soy, wheat, and dairy free.
What We Love:
Probiotic ingredients
Organic, non-GMO
No added salt, preservatives, or flavors
Packed for use in traveling
Watch Out For:
Some babies don't like the taste of the cereal alone.
Parents report some clumping when mixed.
Check Price on Amazon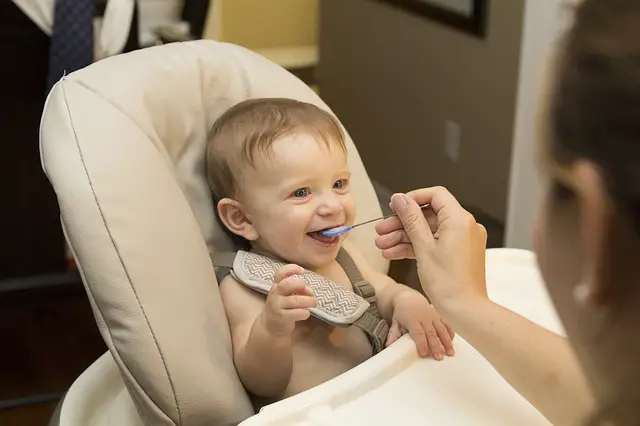 Feeding Baby Like a Boss
According to the guidelines published by the famed Cleveland Clinic, there are some pro methods that will make learning to eat easier for both your baby and you. You are beginning eating habits for your child that will last far into the future. Here are some tips from experts and from my hard-won experience with Jack and Alice.
Which Food, How Much, and When (Tips From a Mom of Two)
Don't rush your baby onto solids. With adequate breastmilk or formula milk intake, there is generally no need to introduce solid foods before 4-6 months. In fact, doing so can have adverse health effects. (Source) Always speak to your doctor if you are considering introducing solid foods early.
Start small, offering your baby a spoonful or even less. You want to tempt her with a taste, not shovel an entire bowlful into her. You can offer a bit more at each feeding, ending up giving her one to two spoonsful within three or four days. Eventually, you might plan a goal of one small jar (about four ounces or half a cup) of strained baby food at each of three meals a day.
Smart parents are always alert to possible food allergies. You may wish to introduce only one new food every three to five days. If your child gets diarrhea, vomits, or develops a rash, you need to stop the new food and call your pediatrician.
Most parents begin solid feeding with infants' cereal and vegetable and fruit purees. It is important to note that during the first year, any solids are complementary to breast or formula milk. They do not replace them as a primary source of nutrition.
Doctors recommend giving your baby no more than four ounces of 100 percent pasteurized fruit juice no earlier than seven months old.
Here's a pro tip I learned the hard way: keep mealtime to no more than about 15 to 20 minutes. It will reduce distractions and keep the focus on the meal. It also keeps the time for throwing food at you or the dog to a minimum.
How often does mealtime come around? Usually, most little ones should eat from three to six times each day, three meals and two snacks.
Here are some foods that pediatricians recommend parents avoid: sugary, spicy, or salty foods, honey in any form at all in the first year. Watch for choking hazards like popcorn, chips, raw fruits and vegetables, raisins, whole grapes, hot dog pieces, sticky peanut butter, or marshmallows.
Cow's milk is not suitable for children less than one year.
Making Your Own Baby Food
If you are planning to make your baby's food in your own kitchen like every loving parent means to do at some point, there are some hazards. They can easily be avoided, however, with some basic baby-centered information.
In the vegetable family, use only pureed peas, sweet potatoes, and corn.
Do not use homemade spinach, green beans, squash, beets, or carrots. These vegetables contain nitrates that may cause anemia (low blood count). These vegetables can be used if they are commercially prepared because they have been tested for nitrates.
Prepared foods last longer than those you make from fresh food, so keep an eye on the leftovers.
Do not add flavorings, sugar, or salt.
The Hardware and Software
There's more to successful feeding than the choice of foods. How you feed your child and with what implements make a lot more difference than you'd imagine. Again, let's look at the general rules that can set you up for success at the dreaded lunch before that desperately needed nap (by the baby).
Pediatricians recommend against feeding solid foods or juice drinks in bottles. The point isn't to get the child to eat more, but to learn to eat well. Some infants get dependent on the bottle alone providing all that great flavor of rice cereal and applesauce. They see no reason to slow down and eat with the spoon mom keeps shoving in his mouth.
At about nine months to one year old, your child will begin to bring her hand and any other reachable object to her mouth. At this time, you can slowly decrease the baby jar and mashed foods and introduce finger foods. Babies usually don't use spoons or forks until after they reach the magic age of one year, so finger foods are a perfect transition. Of course, to prevent choking, cut the finger foods into very small pieces.
Don't warm your baby's formula or food in your microwave. Things get very hot very fast in those machines, and it's quite easy to burn tender mouths. Instead, put the bottle or jar into a pan of warm water, or you can place them under a stream of warm tap water.
When your infant is eating, he should be sitting up straight. This posture helps prevent choking and allows for proper swallowing. As your doctor about adaptive seating if your child has special needs.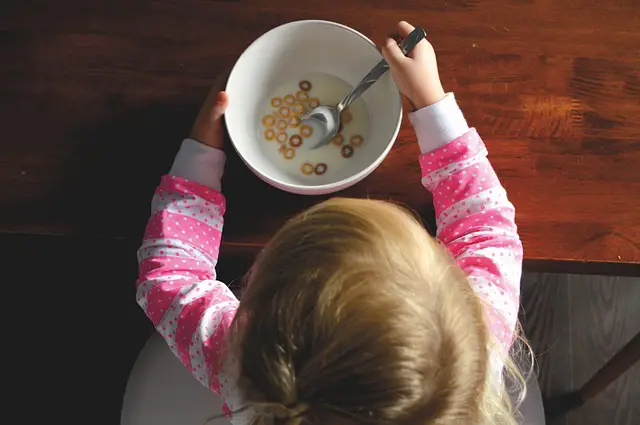 The Parent's Guide to Baby's Cereals
So, we've learned that at six months, when your baby can swallow successfully and sit on her own, it's time to learn to eat like a big girl. Many parents choose infant cereals to begin the big adventure.
Which grains are healthiest for babies? Iron and zinc are the two nutrients that your baby will need in addition to breast milk or formula. He can get these iron-fortified, single-grain cereals. Whether you choose rice, barley, quinoa, amaranth, or oats, they are single grains. None contain gluten. Don't mix them yet. You will need that 'this might be an allergy' signal that a single ingredient provides.
Do baby cereals contain gluten? Rice and oats do not contain gluten, but wheat, rye, and barley do. Persons with celiac disease and non-celiac gluten sensitivity need to stay away from these grains for the rest of their lives. It is important not to misunderstand intestinal disorders.
Celiac disease occurs in about 1 percent of the U.S. population. About .4 percent have a medically diagnosed allergy to wheat. So, this necessity only applies to the very few. While living gluten-free may appeal to persons wanting a more natural diet, it's important to know the facts about gluten.
What is a probiotic baby cereal? Probiotics, a mixture of 'good' bacteria which are considered protective when introduced into the gut via food, is a controversial subject.
Premature infants are given probiotics to prevent necrotizing enterocolitis. Probiotics do help temporary diarrhea resulting from antibiotic use. Doctors often recommend probiotics for breastfed babies with colic.
For now, the research is too scarce, and some babies might do worse with probiotics. These are not vitamins; they are live bacteria. If your pediatrician recommends probiotics for your child, ask for the name of the product your doctor recommends.
What about organic baby cereals? This is one of those decisions that lie simply with the parents' preferences. Science has not provided any evidence that organic foods are healthier or less harmful to anyone, even babies.
What about the stories that rice cereal contains arsenic? This is one of those issues that may or may not present a problem. Arsenic is everywhere in nature. Rice is very good at accessing arsenic and making it part of its structure. Some advocacy groups are sounding the alarm about infant rice cereal.
Baby food manufacturers are testing and trying to solve the problem. Very few infants show any signs of damage, probably because they eat rice cereal for such a short relative time. Here is another instance of the parents' judgment supersedes all.
And the winner is…
Earth's Best Organic Infant Cereal (cheap price on Amazon). The ingredients and the care with which they are grown, harvested, and prepared are exemplary examples of responsible baby food preparation. The cereal is certified organic and uses no modified artificial starches, colors, or flavors in its preparation.
The squeezable, resealable pouches make serving a snap both at home, in the car, and at grandpa's house. This is a product that kids can enjoy for years. Parents commenting on this cereal are uniformly happy with the product.