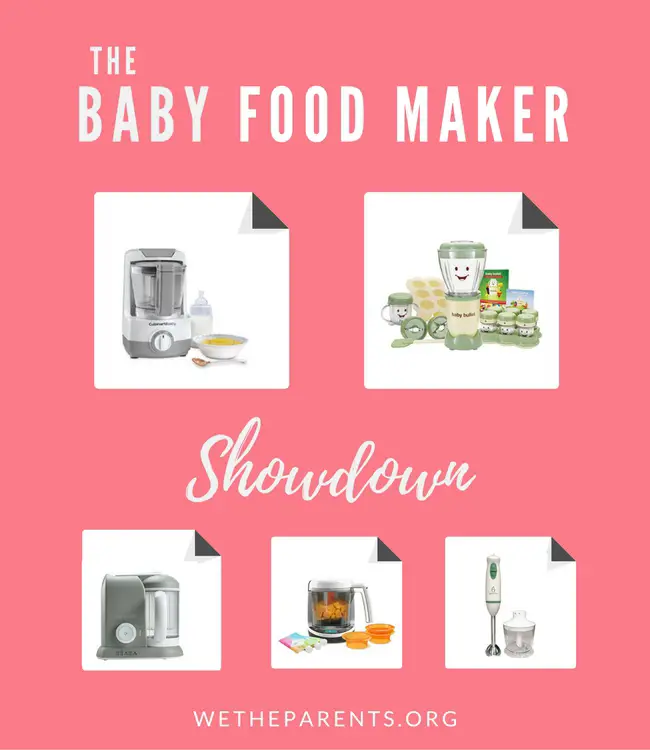 Your baby is ready to be weaned, but now you have a dilemma. Do you buy expensive pre-mushed sachets of baby food or spend ages creating your own? I'm guessing, as parents, money and time are two things you don't want to waste.
Enter the baby food maker. These clever machines allow you to create healthy baby food in minutes. You control the quality, flavor, and variety of ingredients going into your baby's tummy.
Want to know the best part?
You save money. So long as you eat healthily, then you don't need to go out of your way to buy extra baby bits. Your fridge and cupboards should contain everything you need to make awesome baby food. Maybe you'll double up when buying your fruit and veg, but you can certainly say goodbye to expensive sachets (or keep them for exhausted mom emergencies).
Now:
A baby food maker is supposed to make life easier, but, with so many out there, choosing one can be a pain. Relax. We've gotten nerdy with our research, so you don't have to. Here's a roundup of the best baby food makers of 2017.
The 5 best baby food makers
The Cuisinart Baby is an extremely popular and solid choice. It lacks in the cutesy style department, but for functionality and reliability, it is hard to beat.
What makes the Cuisinart Baby so convenient is that it steams and chops in the same bowl. You can literally cook your ingredients and then turn the knob to begin blending. There's no transferring hot ingredients from one place to another. This saves time, washing-up and the risk of scalding.
The puree it produces is a nice and smooth consistency. And when scooping the food out of the bowl, the blade automatically locks making things easier.
A versatile product, the Cuisinart Baby also includes a built-in bottle warmer. This means that you could save money and start using it before your baby is ready for solids.
Best bits:
One bowl for steaming and blending;
Quick and convenient for parents short on time;
Great puree consistency;
Solid design and it's versatile;
Large bowl – great for batch cooking.
Watch out for:
It has a plastic cooking bowl;
The steam compartment is difficult to get to which makes it tricky to clean.
Check Price on Amazon
The Baby Bullet is a hugely popular product and it's easy to see why. It's a super-simple and easy to use food maker where not much can go wrong. Plus, it comes with two blades, a three-piece mixing bowl, extra tubs and trays, and a useful spatula.
The Baby Bullet is a blend only baby food maker. It does not steam or cook. If you are happy to steam your fruit and veggies separately, then the Baby Bullet is a great choice. It creates beautifully smooth purees which can be chunkier if you use the pulse mode (good for older babies). And, with fewer things to clean or go wrong, this little unit should be hassle free and endure daily use for a long time.
For those of you short on steaming pans and preferring a "set and forget" approach to making baby food, then we highly recommend the Cuisinart Baby.
Best bits:
Simple to use;
Easy to clean;
Very affordable.
Watch out for:
Doesn't steam/cook;
The bowl is small. Not great for big batches.
Check Price on Amazon
The BEABA Babycook is more expensive than the others. For your money, you get a smart, durable machine that should go the distance. It aims to do pretty much everything including defrosting, warming, steaming and blending. And what's more, it takes only 15 minutes to steam-cook pretty much any meal. Another nice touch is that it has been designed so you can operate it with just one hand; great if your baby won't let you put him down.
The Babycook has the largest bowl (4.7 cups) which is great for batch cooking, whilst its compact size means it has a small footprint on your kitchen top.
Unfortunately, you have to steam in one bowl and then transfer the contents to a different bowl before blending. This is a bit of a pain and means more washing up. Cleaning-wise, however, it's pretty easy.
Parents have commented that the water reservoir is very hard to access making it tricky to keep clean.
Best bits:
Multifunctional with a steamer, blender, warmer and defroster;
Large bowl volume;
One-hand operated.
Watch out for:
Expensive;
Transfer required from steam bowl to blend bowl;
Hard to clean the water reservoir.
Check Price on Amazon
The Sage Spoonfuls Puree & Blend is an immersion blender (ie, the type you can just lower into a pot or bowl) with an accompanying food processor bowl. A surprise inclusion on our list, the Sage Spoonfuls turns out to be great in lots of different ways.
It's easy to use this blender with almost any container, eg, pot, pan or large jar. The blades are designed in a clever way and pretty much avoid splatter altogether. This baby food maker is great for busy parents who want to cook on the fly, preparing baby's meal with minimum time and hassle. Obviously, this machine doesn't steam so you'll need to do that separately. But in reality, this doesn't add much extra time.
The food processing bowl is just as easy to use as the immersion blender. You'll soon learn which works best for different types of ingredients.
More affordable than all-in-one baby food makers, the Sage Spoonfuls is one of our top picks.
Best bits:
Very affordable;
Easy to use;
Quick to clean;
Glass and stainless steel.
Watch out for:
Doesn't steam/cook;
Not as durable as some of the others;
The processor bowl is small. Not great for batch cooking.
Check Price on Amazon
The Baby Brezza is super-small and generally pretty awesome. It's great if you want the option to throw it in a backpack and take it to Grandma's. The Brezza makes three cups of food which is considerably less than some of the other models. Whilst this is not great for batch cooking, it still allows for several portions to be made in one go.
Like the Cuisinart, this baby food maker steams and blends in the same bowl. This is great for reducing washing-up, hassle and accidents.
One of the things we love about the Baby Brezza is the set of reusable food pouches that come with it. These make it easy to transfer your baby food into easily transportable pouches, perfect for eating on the go.
Best bits:
Steams and blends in same bowl;
Compact size;
Pouches and funnels make it easy to transfer and transport food;
Clever digital interface allows you to program and walk away.
Watch out for:
Small bowl = small food batches;
The digital interface is great for technically savvy parents, but can take a little longer for the rest of us.
Check Price on Amazon
Our quick buyer's guide to baby food makers
Food processors and mills have been around for decades; baby food makers are a more recent addition to our lives. For those of you not yet savvy with these awesome contraptions, here's a simple guide to get you clued up.
What is a baby food maker?
Think of them as stripped-back, mini food processors, just with fewer features. They are designed to take your ingredients and reduce them to a baby-friendly puree. The beauty is that with minimal effort you can create your own baby food with your favorite healthy ingredients.
There are two main types of baby food maker:
All-in-one: These machines both steam and blend your ingredients. They do this either in a single bowl/chamber or they require two bowls, one for each process. All-in-ones are a convenient choice but come with a higher price tag. Additionally, they have more components and are therefore trickier to clean.
Go for an all-in-one if you want to save time and hassle and have a higher budget.
Blender only: These baby food makers are simpler and cheaper. They only blend, so you'll need to steam or cook the food separately. For many parents that's fine. With fewer parts, they are easy to get the hang of and to clean.
Go for a blender only version if you want something that is simple, durable and easy to use. Even though you'll have to steam separately, some parents prefer this as it's easy to wash a pan. Also, if you are concerned about any health risks from steaming within a plastic container (which some of the all-in-ones do), then doing your own steaming avoids this.
What are the benefits of a baby food maker
Control over your baby's food quality and nutrition
With a baby food maker, you decide exactly what your baby eats. You can control the quality and type of ingredients that will be going into their precious little bodies. You can avoid nasties like sugar and salt which sometimes get put in shop bought baby food. If you are health savvy, you can pass this on to your child by choosing organic or picking ingredients with the right nutritional content. If your baby has an allergy, you can easily avoid ingredients and make sure they are getting just what they need. Finally, you will have the ability to introduce your baby to a wide range of foods and flavors. Hopefully, this will expand their little palate and begin them on a pathway to food awareness and appreciation, avoiding the pitfalls of our junk food society.
Baby can eat what you eat
If you are eating a healthy balanced diet, then when you prepare your meal you can use some of the same fruits and veggies to make your baby's. This way, they get used to eating the same as the rest of the family. They also won't get a taste for the sugary and salty baby foods found in shops, and this may help them to be less fussy with food as they grow.
Save time and money
If you are set on the potential health benefits of making your own baby food, then a baby food maker will save you tons of time. No more cooking and steaming in multiple pots before mashing it all up with a fork! Nope, that headache will be a thing of the past.
You'll also save money. Those shop-bought baby food sachets are expensive. If your baby is going to eat the same fruit and veggies as you, then you don't even need to spend extra time when grocery shopping.
Better on the environment
How much packaging for a single tiny sachet of baby food? They may say 100% organic, but that's a lot of trash going to landfill.
What are the disadvantages of baby food makers?
Nowadays, there are tons of super healthy and organic baby foods you can buy for your child. If you are savvy and choose well, you don't have much to worry about in terms of your baby getting the nutrients they need. If you don't fancy yourself as a cook and don't trust your own nutritional know-how, then pre-made sachets may be a more fool-proof option.
Also, if you are making the switch from shop-bought sachets, then making your own baby food will take more time. There's just no getting away from this. You'll need to chop and sometimes peel your fruit and veg. Then, when you've finished, you've got the washing up to do. Baby food makers do their best to minimize this and make the whole process as easy as possible, but there is always time involved. If you love to cook, then you may well enjoy the time spent, but if you hate being in the kitchen and are stretched for time already, then you'll need to decide whether a baby food maker is right for you.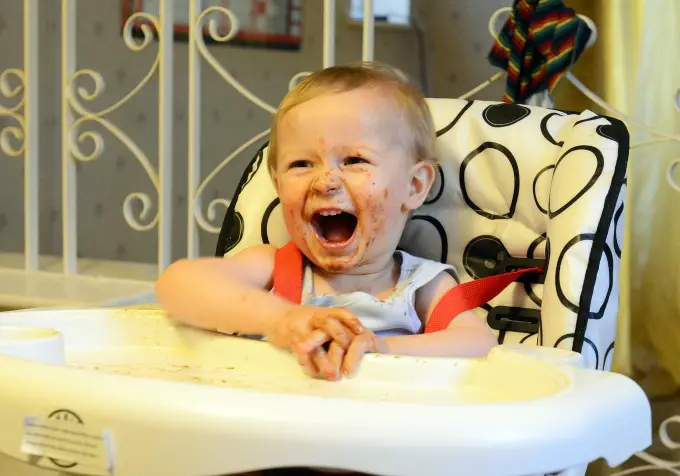 What makes a good baby food maker?
When researching and reviewing baby food makers to bring you this guide, there were several factors we considered:
High-quality puree: Does it consistently produce a baby-safe puree? Some blades push food away from the chopping edge. This can leave lumps. The best baby food makers reliably create a smooth puree with good texture and consistency.
Easy to use: All-in-one baby food makers are always a little more complicated than their blend-only counterparts. Then from brand to brand and model to model, there are differences in how easy they are to use. Some are child's play, others have a steeper learning curve and will have you leafing through the manual, scratching your head.
Durability: This is a very important consideration. Are you planning to use the machine every day or once a week? If this is going to be a well-used addition to your kitchen, then it needs to be rugged and durable.
Easy to clean: Some machines have lots of parts and are difficult to clean. This can make cleaning them time-consuming and fiddly. It also presents a health risk – you don't want mold hiding where you can't get to it.
Wrapping up
All parents want their kids to eat healthy and nutritious food. This is never more important than when they are small babies being introduced to solids for the first time. A baby food maker gives you control to choose exactly what type and quality of ingredients are going into their tiny bellies. Not only can this have great health benefits but it can also introduce them to a variety of flavors and tastes as they eat some of the same ingredients as the rest of the family.
Today's baby food makers have been designed to be easy to use and to save you as much time as possible. We got geeky about our research so that you don't have to. Our top picks roundup the best baby food makers on the market today.