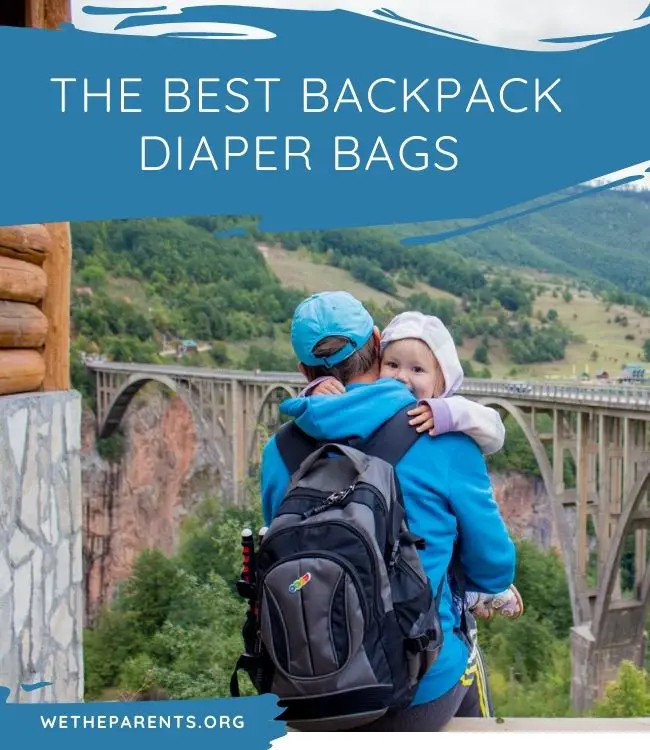 I recently jumped on the backpack diaper bag bandwagon, and it has been life-changing.
No more bag slipping off my shoulder and bumping against my hip as I try to get the kids into the store without making a (huge) scene. Whether you have one kid or five, you need all the ease and convenience you can get.
These diaper bags are truly designed with modern parents in mind, with changing stations, laptop compartments, and pockets galore. We have places to be, and we need our hands free while we're getting there.
These are the eight best backpack diaper bags on the market.
How to Choose the Right Backpack for Your Lifestyle
We all know the struggle of spending hours on Amazon trying to choose the best product for you and your family. The following questions are a great place to start if you're not sure what you're looking for. Once you know what you want, it's easier to eliminate the diaper bags that won't suit your needs. Don't waste your time reading the reviews of the mini backpack if you have six kids and love to be super prepared.
Here are a few things to consider:
Are you sharing?

Will it be just yours, or will you pass it off to your mom, your babysitter, or your husband?

Organization.

How organized are you? Do you love a million pockets, or would you just have to open ten to find what you're looking for?

Stuff.

Do you like to be super prepared, or do you roll the dice with a diaper and a pack of fruit snacks?

Accessories.

What do you want your bag to come with? (changing pad, wipes dispenser, insulated pockets, laptop pocket, USB cord port, the list goes on…)

Comfort.

Do you need padded straps for your backpack? Will you be wearing it for hours at a time?

Money.

What's your budget?

Appearance.

Leather, patterned, gender-neutral; what's your preference?

Keeping it clean.

Does it wipe clean, get thrown in the wash, need to be dry cleaned? Nobody can make a mess quite like a baby or toddler, so you want to know what you're working with.
Editor's Note: Please keep in mind freshly expressed breast milk can be stored at room temperature for 4 hours and can be stored in an insulated carrier with ice packs for 24hours before being discarded.1Storage and Preparation of Breastmilk
cdc.gov/breastfeeding/pdf/preparation-of-breast-milk_H.pdf
If your baby drinks formula, prepared infant formula can be stored at room temperature for 2 hours. If your baby has already drank from the bottle, then it is only good for 1 hour. If the prepared formula is stored in an insulated bag with ice packs then it is good for 4-6 hours.2Infant Formula Preparation and Storage
cdc.gov/nutrition/infantandtoddlernutrition/formula-feeding/infant-formula-preparation-and-storage.html
I don't share the bag with my husband, so it can be as pretty as I want it to be. While I enjoy organization, too many pockets just confuse me. My kids are older now so I don't have to carry quite as much stuff as I used to. However, I do like to have the option for more room for day trips or vacations. I don't need bottle pockets or a changing pad, and I wouldn't use a laptop pocket. Although I want it to be comfortable, I don't need to wear it for hours at a time. Lastly, I don't want to spend an arm and a leg. You might answer the questions completely differently, which is the whole point!
Transparency rocks! When you shop through links on this page, we may earn a small commission.
We narrowed down the best diaper bag backpacks so that you don't have to. Find the best option for you, your husband, or your poor, unsuspecting pregnant friend who's about to hear all your birth stories.
#1 KiddyCare Diaper Backpack
Best Overall
This large capacity, waterproof backpack comes in blue, black, grey, dark grey, and pink. There is a total of 15 pockets, perfect for the super organized mama (or dad- this is a bag your partner will not mind wearing).
There are three insulated bottle pockets to keep baby bottles at the perfect temperature and a readily available wipes pocket. KiddyCare (check price on Amazon) offers a lifetime warranty and believes in the durability of its product, which boasts iron zippers and strong fabric and seams.
The main compartment opens wide for easy access because there's nothing worse than poking around blindly for a pacifier while you're out. This bag is a budget-friendly option and spacious enough for moms of multiple children, complete with a waterproof pocket in the back for any valuables. The best part? The KiddyCare Diaper Bag Backpack looks deceivingly small, but buyers were continually surprised by the amount that it could hold. It's very compact and easy to carry. If you don't want to feel like a Ghostbuster with a giant pack on your back, check this one out.
What We Love
All the pockets
This is a bag that's small but mighty
The price is nice for your budget
Dads will like this one, too
Watch Out For:
This bag does not come with a changing pad, but KiddyCare does sell one separately.
Check Price on Amazon
#2 Petunia Pickle Bottom
Best Convertible Backpack for Moms
Petunia Pickle Bottom (check price on Amazon) has a great reputation for a reason. These bags are beautiful, stylish, and available in fourteen unique patterns at varying prices. This trendy bag will easily become your signature piece, winning you over with its roomy functionality.
You can wear it as a backpack or a messenger bag, so it's perfect to use as a purse for those rare kid-free outings. The Petunia Pickle Bottom bag features a front pocket with a magnetic flap, easy to wipe fabric, interior and exterior pockets for functionality, and stroller straps. There is also a side pocket that will fit your smartphone perfectly.
My favorite features on this diaper bag backpack are the attached changing pad and the matching Petunia Pickle Bottom wipes case. Not only is the changing pad comfortably padded and attached with Velcro, but you can also unzip and use it easily with one hand. I think this is one of the best backpack diaper bags to give as a showstopping baby shower gift. Trendy and original, you can't go wrong with Petunia Pickle Bottom's patterns and quality. The price of this bag fluctuates on Amazon, so keep an eye out for sales.
What We Love
It comes with an easy access changing pad
Petunia Pickle Bottom has gorgeous designs.
You can wear it two ways.
Watch Out For:
The shoulder straps are not padded, which may bother you if you plan on wearing it for hours at a time.
This bag can get a little pricey.
Check Price on Amazon
#3 Blissly Diaper Backpack
Best for Parents of Twins
If you looked at the other diaper bags and thought you needed just a few more pockets, you're in luck. The Blissly Diaper Backpack (check price on Amazon) has 20 pockets, including four insulated bottle pockets, making it the best backpack for moms and dads of twins.
Two bottles per child and room for all the supplies you could need, which, admittedly, could be a lot. There's also a pocket for wipes that has an easy magnetic closure and a foldable changing pad. It's made with a high-quality polyester exterior, and the patterned interior is wipeable and water-resistant, which is a must when it comes to kids.
This bag is unisex and available in grey and black, so it can be used interchangeably between mom and dad. Just throw your phone and keys in the front pocket, and you're good to go. The adjustable padded straps and stroller straps make it perfect for any outing or day trip. Some customers complained that the bag tips over when placed on the floor, which can be especially annoying when out in public, but were impressed with its overall durability and quality.
What We Love
This bag has room for four bottles.
The water-resistant polyester material is great for messes.
The flap for the main compartment unzips to lay flat, and can be used as a changing pad in a pinch.
Watch Out For:
The bag tips over when put down.
Check Price on Amazon
#4 Hobest Multifunctional
Best for Travelers
Wanderlust? This Hobest backpack diaper bag (check price on Amazon) is ideal for traveling because of the USB charging port for recharging phones and tablets on the road or at the airport. The cord and USB port are included, but you'll need to provide your own power supply, such as a battery pack.
This super-affordable bag has a lot of convenient features, including a top handle, easy-glide zippers, padded straps, and a back ergonomic design. There's also a nice sized mommy pocket in the front for easy access to all your traveling essentials. It is waterproof and easy to wipe down, as well as tear-resistant.
This is a perfect carry-on bag for everything you and your baby might need. There's an anti-theft pocket on the back of the bag to protect your smartphone or wallet, which is great for walking through the airport or a new city. The Hobest backpack diaper bag has a 14-inch padded laptop pocket in the main compartment, stroller straps, two insulated pockets, and mesh storage pockets. I like the diaper organizer that opens wide so you can grab everything you need and use it as a changing pad if necessary.
What We Love
The USB port for easy charging when traveling.
The comfortable design makes it easy to wear for hours.
There are side pockets for water bottles
This bag has a cute little spoon and fork pocket. An absolute necessity, obviously.
Watch Out For:
There's no changing pad with this bag.
Check Price on Amazon
#5 Itzy Ritzy
Best Small Diaper for Moms
You can wear this on your back or carry it using the handle at the top, and the size is ideal for petite moms. There are also rubber feet on the bottom of the bag so that it stays upright and off the ground. The main compartment opens all the way for easy packing.
This diaper bag is more than just a pretty face, with four exterior pockets and four interior pockets for all your baby gear. Itzy Ritzy (check price on Amazon) is a company that prides itself on creating "practical luxury" for families and this bag is no exception.
If you want a bag that is functional but goes beyond a gender-neutral, utilitarian appearance, this is a great option. This bag is also a nice choice for those who prefer to travel on the light side when out with their kids. Many moms continue to use them after the diaper bag years have passed, because nothing about this bag says diaper bag.
What We Love
It's made with soft vegan leather.
The mini size is just right.
The rubber feet help it stay upright.
This bag is luxurious and pretty.
Watch Out For:
Your husband won't be caught dead in this one.
Check Price on Amazon
#6 Kah&Kee Leather Backpack
Best for Moms
This is a beautiful faux leather option, and it's made in two different sizes and nineteen different colors, including pink, mint green, navy, and camel. The main compartment opens wide so you can see all the stuff you packed for that precious baby.
There are two side pockets that are perfect for water bottles, as well as front and back zipper pockets. Kah&Kee Leather Backpack (check price on Amazon)has multiple compartments inside, including a padded laptop pocket. Stylish on the outside, filled with all the toys, diapers, and wipes your baby could need on the inside.
This is another bag that's easy to clean, doesn't compromise on style, and comes with a top handle for a second carrying option. It's also a significantly cheaper option. A unique feature is the breathable back mesh design that helps keep you cool on hot summer days at the park or beach.
The straps are padded for extra comfort, and the interior is very roomy. While some reviewers complained that the bag wasn't durable, the company made sure to remedy that. In 2020, Kah & Kee upgraded the shoulder straps from a single layer to a double layer so that the bag could hold more weight and last longer, which is good news for you.
What We Love
There are two size options and a lot of color choices.
The breathable back mesh keeps you cool.
This bag has a wide open top.
Watch Out For:
This bag doesn't have a changing pad or insulated pockets for bottles.
Check Price on Amazon
#7 Maman Diaper Backpack
Best Lightweight
The Maman Diaper Bag Backpack (check price on Amazon) is the only one on our list made with a unique puffer quilt material. It gives the bag a fun, interesting look and is available in green, blue, grey, and black. It makes it very lightweight and easy to carry around for the day.
The bag comes with a matching changing pad and two insulated bottle pockets. There's a leather bottom base for easy clean up and the waterproof puffer material wipes clean. Appealing for moms and dads, the padded straps adjust to fit all sizes. There's also a large front zipper pocket for easy access to your necessities.
This diaper bag backpack can also snap on to any stroller, which makes it very convenient for walks and trips. If you're someone who's intimidated by too many super-secret compartments, the Maman just might be the Goldilocks of pockets. With 11 different pockets for everything you need for your baby, there's not too many, not too few, but just the right amount. Maman also accepts returns with no questions asked, so rest assured that if it doesn't float your boat, you can send it right back.
What We Love
This bag is made with a unique material.
It's designed with moms and dads in mind.
The leather bottom provides an easy clean.
There is the perfect amount of pockets.
Check Price on Amazon
#8 Sager Creek Diaper Backpack
Best for Dads
We saved the best dad option for last, and the Sager Creek Diaper Bag Backpack (check price on Amazon) will certainly do the job. If your husband wants to look like he's preparing for a month-long camping trip with nothing but the supplies on his back while he's lunching with the kids, look no further.
This backpack has a rugged military look and quick-clip chest strap for when things get dicey, as well as room for anything he can think of. Complete with a Velcro American flag patch and available in three different colors, this bag comes with a matching changing pad, mesh padding on the back, and an insulated hydration pocket for a hydration bag.
There are other fun features, including a removable waist strap, a large Velcro strip for patches, and even a fleece-lined top pocket for sunglasses. This diaper bag has a ton of pockets, loops, and hooks for all the baby gear you may want to bring along. This is a sturdy and versatile bag that will last your husband (or you!) well past the baby years. It's a great and practical backpack for hiking, camping, or any other outdoor activity. Just read the reviews, this one is definitely dad approved, both for its appearance and impressive quality.
What We Love
This bag is dad approved.
There are unique features we didn't see on any other bag.
It has a Velcro strip for patches.
This bag is great for camping and hiking.
Watch Out For:
This one might not be mom's favorite.
This one may be at the top of your budget.
Check Price on Amazon
FAQ
Is a backpack diaper bag right for me?
As parents, we're always juggling things. A lot of things. We hold babies, hands, groceries, blankets, and favorite trucks, usually all at the same time. The biggest appeal of the backpack diaper bag is that it's out of your way and securely on your back. And while you could pull out your old college backpack, the backpacks made specifically for parents are incredibly appealing because the product creators really thought about how to make the life of a parent easier. Most regular backpacks come with just one main compartment and a couple extra pockets, which is typically not the amount of organization parents are looking for.
What are the features of a backpack diaper bag?
Many of them have stroller straps, wipe pockets, laptop compartments, changing pads, insulated pockets for baby bottles and water bottles, and even USB cord ports. I also love the "mommy pocket" feature: the easily accessible, perfectly sized pocket for your phone, keys, and wallet. Some have adjustable padded straps, or mesh backs for comfort. Many are made of waterproof or water resistant materials. You may want all the bells and whistles, or you may prefer something simpler. These bags are designed for busy parents who don't want to be scrambling for the wipes in a public bathroom. They are ideal for travel, day trips, and everyday life.
What will I need to put in my diaper bag?
Think about how prepared you like to be and create a list of what you need your diaper bag to hold. Some parents like to have everything they could possibly need, while others prefer to fly by the seat of their pants. Also, some women carry a purse in addition to their diaper bag. I personally like to only carry one bag, and have it filled with the basic essentials without going overboard. Some ideas include:
Bottles, sippy cups and/or water bottles
Wipes and diapers
Changing pad
Toys and books
Any medication, including special pocket for an epi-pen
Phone, wallet, keys, laptop or tablet
Extra clothes
Snacks (for me and for the kids)
Blankets or favorite stuffed animal
The size of your diaper bag will also be largely dependent on how many children you have. Although, as we all know, the smaller the child, the more they require.
Should my partner and I share our diaper bag backpack?
I think one of the nicest things about diaper bag backpacks is that they are so easy to pass off to any parenting partner or babysitter. You can fill your bag with all your baby gear, while keeping the front pocket for your essentials. Just quickly grab your stuff before handing the bag off. At the risk of generalizing, most men seem to prefer a backpack over a messenger bag. I know my husband much prefers our backpack diaper bag over the shoulder bag we used when our oldest was a baby.
Many of the bags come in several colors and have a very neutral style. The bags with a gender-neutral style are the diaper bag backpacks from KiddyCare, Blissly, and Hobest. The Sager Creek is more traditionally masculine, while the Maman, Petunia Pickle Bottom, Kah & Kee, and Itzy Ritzy are more stylish bags that could easily double as handbags.
Are backpacks better for my back?
The last thing any parent needs is to be enduring back pain while chasing around little kids. Luckily, doctors believe that choosing a symmetrical bag is better for your back.(1) When you carry a messenger bag, you are putting extra weight on one side of your body, which causes your spine to curve. Your opposite arm works harder to compensate for the bag on the other shoulder. Unsurprisingly, this can throw off your balance and lead to muscle and back pain.
Backpacks are a better choice because they distribute the weight evenly across your back, which allows for even muscle tone and decreased pain. Most people also find them more comfortable. If you tend to suffer from back or neck pain, pick out one of these backpacks, try not to pack more than you need, and go for thick straps if you'll be wearing the bag for extended periods of time. Unfortunately, I can't help you with the 30-pound toddler.
The Bottom Line
These are our eight favorite backpack diaper bags, and hopefully they helped narrow down your choices. With all these versatile options, it's hard to go wrong. Whether you want the chic leather bag, the rugged man backpack, or the flexibility of the gender-neutral polyester bags, you can find what you're looking for.
After weeding through the best options on the market, I think my top choice would be the Itzy Ritzy Mini diaper backpack. Now that my kids are a little older, I can leave the house with less stuff (hallelujah!), and I don't need baby bottle pockets or changing pads. I would use the bag for kid-free outings and as my kids continue to grow. Wherever you are in your parenting journey, these are the best backpack diaper bags we found, and they will make your life easier.