A beginner keyboard is a great way to introduce piano playing to children without risking a large investment into a full-size piano (which may not get used). The best beginner keyboards provide an authentic playing experience and should allow your child to develop their playing skills while, hopefully, sparking a musical passion.
With this in mind, it's important not to view keyboards as toys, as cheap models live up to their price tag. They're flimsy and don't provide a realistic playing experience, so they're not good for learning to play the piano. We've assembled a list of keyboards great for new learners and experienced pianists alike, so dive in.
What to look for when buying a keyboard
The goal of a good beginner keyboard is to inspire your kids' musical interest while providing a decent playing experience so that they begin to learn. (These are the primary goals, others are far less important!)
With that goal in mind, let's first focus on three major elements:
1) Useful & appropriate functionality
Avoid overly complicated keyboards with tons of functions. They tend to distract children from the actual musical side of keyboard playing – not to speak of driving you up the wall as they test out 200 crappy-sounding demo songs! It can also be a turn-off if they need to ask for help constantly because they can't figure out how to even turn the thing on.
Having some proper and decent functionality like touch sensitivity, a metronome, a selection of quality "voices" (eg, strings, brass, woodwind), nice reverb, and some good drum sounds, will be enough to keep your kiddo engaged.
In short, you are looking for a keyboard with a limited set of usable and useful functions; neither too many or too few.
2) Sound quality
Sound quality plays a huge role in any instrument, real or electronic.
A rich and beautiful sound will immerse your kids, motivating and inspiring them to play more. On the contrary, a low-quality sound, "cheap" sound will demotivate your kids and they may lose interest.
Ideally, the instrument sounds from the keyboard should be as close as possible to the real acoustic instruments that are being imitated. Of course, no keyboard can reproduce the sound of the original instrument 100%, but some do a much better job than others.
In our reviews, we've chosen keyboards where the sounds closely simulate the original instruments.
3) Built-in lessons & method books
Some keyboards come with easy-to-follow built-in lessons. These are often accompanied by method books. The benefit here is that kids can learn the basics of keyboard technique and theory without a teacher during the early stages. Once your kid has built up some confidence, then they will be ready for a piano teacher.
Read also: The Best Toddler Piano Toys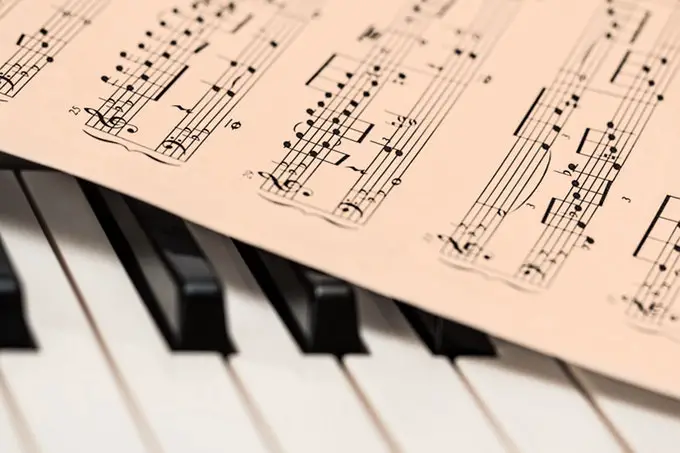 Additional features to consider
Okay, now we've covered the main three elements, let's talk about some other features you'll want to consider:
Number of keys – Most keyboards are either 44-key, 54-key, 61-key, or 76-key. The number of keys isn't really important in the beginning stage since the beginner songs aren't hard enough to use a wide range of keys. A 61-key keyboard is plenty and your kids can play a thousand songs with it.
Touch sensitivity – This means that the harder you press the key, the louder the sound emitted. Touch sensitivity is a MUST HAVE feature in a keyboard if you're really serious about learning music. That said, younger kids' fingers aren't strong and so touch sensitivity doesn't play as an important role for them.
Total weight – Keyboards are relatively light (for adults anyway), and so moving them won't be a huge problem. You can easily pack it up and place it anywhere you want since it just takes a small space.
Bench/stool, stand, and chair – You need to pay attention to these things because some retailers sell them separately. The stand and bench allow you to adjust the height of the keyboard or your seat. This is important and ensures your kids have the right posture when practicing.
Integration with other devices – If you want your kids to perform on a stage or learn with computer or smartphone apps, then pay attention to these features.
Headphones – In the beginning stage, your kiddo will probably create a cacophony of awful noise. To keep the peace, get them practicing with headphones. (Ultimately, though, it's best for your kids' ears to hear the sounds without wearing headphones.)
Adapter, battery power – Almost every keyboard has the US-standard 110-120 volt adapter power. Some have battery slots for keyboard-only usage. However, just using the power adapter is enough.
Number of tones (instrument sounds) and beats (rhythms) – Counterintuitively, less is best. Since your goal is to inspire a love of playing music in your kids, too many tones and beats just distract them from practicing. The main thing to look for is a piano tone that's as true as possible.
Number of demo songs – Ignore. Totally useless!
Recording and playback function – Not very important. It is seldom if ever used by children.
Now we've covered the major and minor points of consideration, let's dive into the reviews.
Our pick of the best beginners keyboard
And the winner is…
The RockJam 61-Key Electronic Keyboard (check price on Amazon) is our favorite beginners' keyboard. Unlike others, it comes with all the accessories you need, plus some great inbuilt music tutorial features. All this means that for your money, your kiddo has everything they need to get going. It is also durable and comes with advanced features, so it will easily last them until they are proficient players who are ready for a real piano.
Learning keyboard: Tips for beginners
Right, let's assume you've bought the right keyboard and got it set up.
Now the real fun – and challenge – begins.
But wait:
Should you seek out a teacher immediately or simply help your kids to learn themselves at home?
Nowadays, the inbuilt music lessons that come with keyboards are pretty sophisticated. They are often enough for you and your kids to learn the basics of music theory and playing techniques. Then, when you hire a teacher, your kids will be ready to hit the ground running and will improve much faster.
Where to start when learning at home with your child?
First thing first, have fun. Let your kiddo fool around and enjoy learning how the keyboard works.
The fastest way to turn your child OFF learning any musical instrument is to go in heavy and apply pressure from the get-go.
Instead, wait until they have familiarized themselves with how to switch it on and make a noise. Once, they've had some self-directed fun, then you can gently move on to your first lesson.
Step one is to introduce the pitch names of musical notes. This will allow them to read sheet music and play the corresponding notes on their new keyboard.
This great visual guide by Sublimelody shows you all you need to know about reading piano keys and notes:
That should get you and your child up and running.
Okay, that's it for my guide to the best beginner keyboard for your kids. If you have a question about anything from this guide, feel free to comment and I will answer you ASAP.