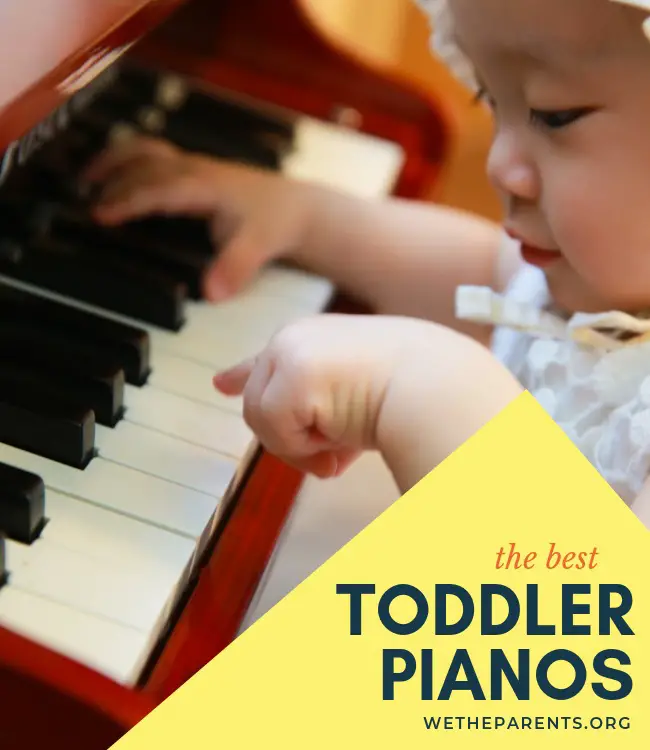 There is a time in every child's life when they want to make noise. In the 'old days' they were given a couple metals pots and some wooden spoons. These days kids and parents can enjoy something a little more interesting. We're talking about pianos.
What once used to have an entire room devoted to its enormous size, pianos have now been reduced to a size that even a toddler can handle. These days they are more than just pianos. They are learning tools, entertaining toys, and music makers.
Keeping this in mind, we searched for the best toddler piano. Based on features, and overall usability, we have reviewed some of the best for you.
Best budget buy
A musical teaching toy for those little ones. The Discovering Music Activity Table (check price on Amazon) can be switched between English, Spanish, and French. It has piano keys for teaching both colors and numbers, and can play piano, drum, french horn, and guitar.
The activity table has music modes with 7 classical melodies to captivate young children. Its lights, electronics, and sounds are designed to entertain. The various controls are just right for developing motor skills. Toddlers push, spin, and squeeze various controls to create sounds and lights. All of these extra features make this activity piano an excellent choice for parents on a budget.
Recommended age: 6 to 36 months
Language: Available in English, Spanish, and French
Mode: 7 music classical music modes
Instrument sounds: piano, guitar, drum, and french horn
What we love
This is not only a form of entertainment for toddlers but also an excellent learning tool. Between the music, sounds, lights, language options, colors, numbers, and use of motor skills, this is a great starter learning toy for those little ones.
Watch out for
Be prepared for some 'beautiful music' while that beginner pianist bangs away on the different musical keys and instrument buttons. Take it from me, you may want to keep some Tylenol on hand during play time.
Check Price on Amazon
Upgrade choice
This colorful and interactive LeapFrog Poppin keyboard (check price on Amazon) is designed to provide toddlers with hours of enjoyment. It has 8 different instruments and silly sounds, and 4 learning modes.
Children can learn basic concepts such as colors and numbers during play. Toddlers can have fun hitting the colored keys to watch a ball of the same color pop up, or play count along. It also has 8 preschool songs for sing-along time. With its learning modes and preschool songs, this keyboard is the next step up from other baby toys they quickly grow out of.
Recommended age: 1 to 3 years
Instrument: 8 instruments and sounds
Mode: 4 learning modes
What we love
This keyboard has all the bells and whistles to keep a toddler happy. Best of all, they'll be learning while they have fun. And did I mention it has volume control?
Watch out for
Keep some extra batteries on hand. Content 2-year-olds can quickly go from smiling and laughing, to the angriest little person on the planet when their favorite toy runs out of batteries.
Check Price on Amazon
Best beginner piano with bells & whistles
This multifunctional, 24 key Amy & Benton piano (check price on Amazon) comes with a built-in microphone perfect for those rising stars who love to play and sing. Their musical masterpiece can also be recorded. It comes equipped with an external cable for IPAD, cellphone, and MP3 hook-up.
This piano comes fully loaded with so many extras it's hard to know where to begin. It has percussion and musical instruments, rhythm lights, demo songs, karaoke, and 4 accompaniment styles. With all of its bells and whistles, it's definitely an instrument worthy of many hours of fun for those little beginners.
Keys: 24 keys
Instrument: 4 musical instruments, 8 percussion instruments
Mode: Play & record
Recommended age: 6 months to 10 years
What we love
This piano is like an entire musical band in one. Between the various instruments, accompaniments, karaoke, and microphone, a child can experiment and learn many different aspects of music.
Watch out for
There is so much that can be done on this piano that there may be some difficulty getting a child away from it to tend to other things.
Check Price on Amazon
Best kids keyboard
Children can record and playback their very own music with this VTech Record and Learn piano (check price on Amazon). It has a feature that also teaches children to play along. They can follow along as the keys light up according to one of the 40 plus songs.
As added fun, the piano has a variety of different sounds such as a whammy bar, and drums. The microphone even has a voice changer which is sure to bring many giggles while singing.
Songs: 40 plus songs
Mode: Play & record
Battery: included
Recommended age: 3 to 6 years
What we love
From our experience, there is no better way for a young child to learn to play songs on the piano then to follow the lighted keys. With some repetition, they will be able to play the song all on their own!
Watch out for
The extra sounds such as the whammy bar and scratch disc may get a little nerve-racking.
Check Price on Amazon
This Fisher-price piano (check price on Amazon) is designed with small hands in mind. It has chunky style keys that light up. The keys can either be used to create music or a learning tool. Each key has a number, shape, and color. A flip-style book is used to change modes.
Recommended age: 6 months to 3 years
Mode: 2 modes of play
Keys: Light up keys
Handle: Carrying handle
Battery: Included
What we love
The size of the piano, as well as the keys and buttons, are well designed for those small hands that are just learning how to work properly.
Watch out for
While it is recommended for ages 6 months to 3 years, we feel that an older toddler may grow bored with this piano.
Check Price on Amazon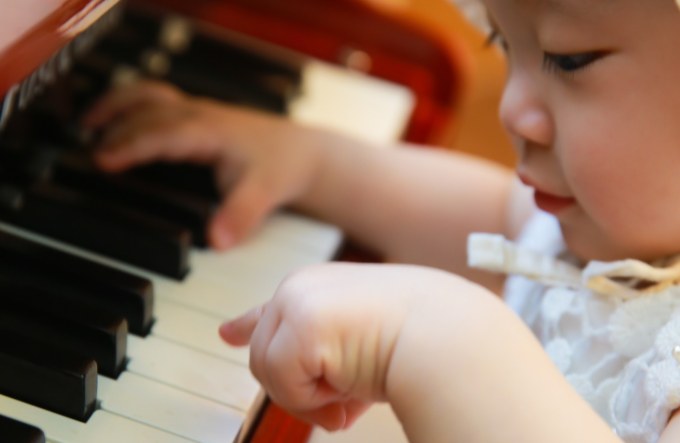 There are a couple of things to consider when purchasing a piano for a toddler. Do you want you toddler to simply enjoy a piano as a musical toy? Do you want to give your toddler a head start in the appreciation and skills of creating music? The answer to these questions will help direct in your final choice when searching for the perfect piano for you little tot.
Benefits of introducing music to young children
Years ago I bought my youngest son his first piano. It was an inexpensive keyboard that came with a learning mode. I was shocked to see how quickly he learned entire songs. It wasn't long before he was creating his own music! He was around 8 at the time, and I often wonder to myself how quickly he would have progressed had I bought him one at an earlier age. This just goes to show you that, even if you buy your little one a piano for the simple enjoyment of plunking on the keys, they may surprise you. You could very well be in company of a future maestro!
It's been found that exposing young children to a vast array of stimuli such as visual, sound, and other sensory experiences helps their brain to grow and mature. All of these new experiences create new pathways and neural connections in the brain. Not only will the act of simply listening to music create these new pathways, but experiencing hands-on creation of beautiful sounds will also have a great impact on a child's learning.
What to consider when choosing a piano for your toddler:
Is a toddler too young to learn piano?
Some may think that teaching a child of such a young age would be too difficult. That is not entirely the case. Children have a knack for catching on to things quicker then we give them credit for. Some studies have shown that the earlier you teach a child a new skill, the easier it will be. When it comes to a child of toddler age, the parent should encourage piano skills if they show an interest. If the child is more interested in simply making some noise with the keys and playing with the extra features but nothing more, then they may not be ready to actually learn the skill.
What size and how many keys
The answer to this question all depends on your purpose for buying a piano for your little one. Perhaps you are hoping your child will grow to take a serious interest in piano play. Maybe you're simply getting a child a piano to be used as a musical toy, with no future plans on expanding into lessons. There are many small versions available that will bring much delight to a toddler.
Once your little one has shown their delight in making music and is showing a desire to learn more, then you may want to consider upgrading. If the first piano was a stepping stone to future piano lessons then piano teachers recommend getting a full-scale piano. While a small keyboard will have 61 or 76 notes, a full-scale piano has the full 88 notes. Beginners may start off only using a small number of the keys, but as they graduate on to harder lessons they will eventually be in need of all of them.
Apps and features
There are so many different features a parent can get on a child's piano that it's almost mind-boggling. And, once again, it all depends on what outcome you are looking for with your child.
If your planning on getting something that is purely entertainment then there are features such as extra sounds, lights, karaoke, play and record, percussion, and microphones. Kids can spend hours listening to songs while playing along. They can push different buttons that emit hilarious noises. They can record themselves playing and sing along with a voice changer. Each time they play can be a whole new experience.
For parents who want their child not only to play and listen, but to learn at the same time, then there are many models that have learning modes. Some have modes that can teach a little one their shapes, colors, and numbers. Others have light up keys that the child can follow along to the music. Both types of modes teach a child through fun repetition. Through this fun they do not even realize that they are learning.
Some parents may want features for their child's piano that can lead their way to being a future musician. These types would be larger in size, have extra keys, and also have a tutorial feature. These usually feature a vast array of songs to choose from. In learning mode the song will play while the corresponding keys light up. It is the child's job to follow the keys and play along or by themselves.
And the winner is…
After some thought and debate, we came to the decision that the Amy & Benton Piano Keyboard Toy for Kids (check price on Amazon) is the roundup winner for the best pianos for toddlers. It received this honor because it fits the bill on many levels. It is easy enough for a toddler to enjoy and learn from, yet it also has the ability to grow with them. Because it is larger then some of the other pianos and also has more keys, it is an ideal starter piano for a future pianist. Not only that, but it also features so many extras that it is bound to provide endless hours of fun.