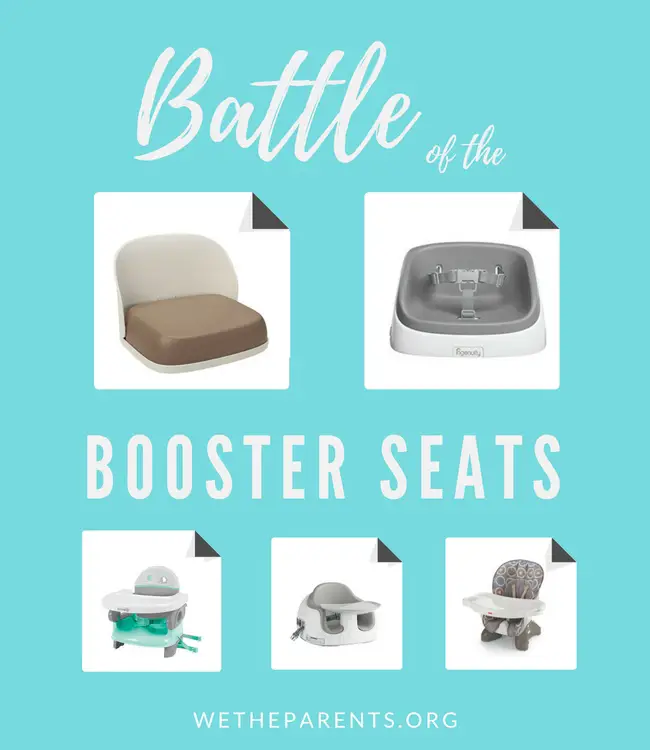 Wrangling kids is no easy feat. Wrangling kids at the dinner table is a whole other ballgame. That's why booster seats and high chairs are one of the few parenting essential products.
My extroverted, people-loving toddler soon grew out of her regular high chair and found it impossible to stay in her seat for mealtime. The whole event was a constant up-and-down kind of game and was more of a workout than my last yoga session.
Keeping your kids in their seat at mealtime doesn't have to end in breaking a sweat. Boosters give your little one a sense of independence. In my experience, that will win you half the battle!
With that, let's dive in and look at what you need to consider before buying the best booster seat for your family's needs.
Editor's Choice
Ingenuity Smartclean Toddler Booster
The Ingenuity Smartclean is a brilliant all-rounder and is easy to use and effective at containing lively tots. It is designed both beautifully and cleverly, ie, it's nice to look at and quick to clean.
View on Amazon
Parent Guide to Buying a Booster Seat
A table booster seat is a child seat that sits directly on top of a standard, dining room chair. A booster seat does not have a tray attached, which allows your child to scoot up and sit directly at the table, just like other members of the family.
Some booster seats are convertible and can accommodate babies. By adding additional safety features and a detachable tray, a table booster can also function similarly to a traditional or folding high chair.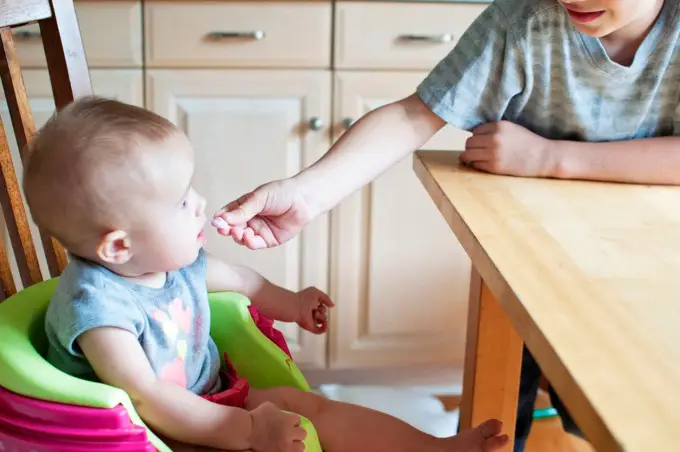 Is a booster seat right for your kiddo?
Remember every child grows and develops at their own rate. Generally, however, booster seats are the next step after your baby outgrows or becomes dissatisfied with a high chair. If your child seems ready to sit directly at the table, but not quite ready to conquer sitting alone in a regular chair, a booster seat might be the answer for you.
Before transitioning your toddler to a booster seat, you will want to make sure they can sit up steadily without support. Most booster seats do not offer added support, so your child will need to have the strength and steadiness to do so on their own.
If your toddler has grown discontent with their current high chair, and they can sit without support, it may be time to offer the added freedom of a booster seat. Having the opportunity to sit right up to the table like everyone else might be just the motivation your child needs to get meal times back on track.
Children are, obviously, shorter than their adult counterparts which can make sitting in adult-sized furniture a difficult task. Your toddler or preschooler literally needs a boost at the dinner table. That's when a booster seat might be the right solution for your kiddo. Booster seats raise children up several inches allowing your child to more easily reach the table top during meals. (Source)
What to look for in a booster seat?
When determining the best booster seat for you, consider your unique needs and preferences.
Ease of Cleaning – Eating can get messy with kids, but clean up doesn't have to take forever. If easy cleaning is a priority be sure to look for booster seats that have wipeable surfaces, removable parts for thorough cleaning, and washable straps.
Your Available Space – Is space at your table an issue? If it is, then the size of your booster seat may be as well. When considering booster seats think about how much room you have to accommodate for a booster at your table. Some seats offer a slim design, while others feature a broader base design. If the booster seat is wider than the chair it will sit on, and space is at a premium, you may want to consider other slimmer options
Portability – For on-the-go families, a portable booster seat can be extremely appealing. If you are going to be transporting your booster seat from place to place, you may want the convenience of a seat that collapses and becomes compact for travel.
Your Child's Personality – Most booster seats come equipped with straps to keep your toddler secure in the seat and reduce the wiggle factor. There are some seats, however, that forego a strap or harness system. If your child is able to sit in place without restraint, you might want to consider a booster that leaves the straps off.
Our top pick
Best booster for easy cleaning
The Ingenuity Smartclean Toddler Booster is our Editor's Choice for best booster seat. Every part of this seat is made for ease and functionality. This booster comes with a colored foam insert that provides 4 inches of added height while also offering added comfort for your toddler. This foam insert is removable and dishwasher safe which makes clean-up a cinch.
This booster comes with an adjustable 3-point harness that will keep your child securely fastened in the seat. There are straps that attach the booster to the dining room chair, and is fitted with rubber feet on the bottom to decrease the potential of movement or sliding. The Ingenuity Smartclean Toddler Booster can accommodate your growing toddler as they move into their preschool years. While this booster does not fold up flat, it is lightweight making it easy to transport.
What we love:
The ease of cleaning this seat
The ease of transporting this seat
This seat can easily accommodate preschoolers
Watch out for:
We can't find anything worth mentioning, and we're not about to get pedantic!
Check Price on Amazon
Best compact booster seat traveling
This booster seat is unusual, but don't overlook its advantages. The OXO Tot Perch Foldable Booster has no straps on the seat. This means there are neither straps to secure it to a chair, nor a 3-point harness in order to strap in your child. For these reasons, this is considered the best booster for big kids. No straps might seem undesirable at first glance, but if your older child can handle the freedom, then this booster can be positioned anywhere on the chair allowing your child's legs to hang straight down for a more natural and comfortable fit.
In addition, the OXO Tot Perch Foldable Booster comes with a non-skid bottom to reduce the chance of slipping and sliding. This booster seat has a sleek, modern look and collapses for compact, easy transport. The thick cushion comes in different colors, provides comfort for your child, and is removable for easy clean-up.
What we love:
The ease and convenience of portability
No straps can mean a versatility when positioning this seat that other boosters can't offer
Watch out for:
No straps is obviously not an advantage for everyone, so make sure your child would be safe if using this seat
Check Price on Amazon
Best table or free-standing booster seat
The Fisher-Price SpaceSaver High Chair / Booster grows with your child through the early years. This seat starts as a 5-point harness high chair, but still sits on top of a dining room chair. While in high chair mode, this seat offers a three-position recline feature and a detachable tray. The tray is dishwasher safe and includes a cup holder and a "Fast Finder Link" that can be used to hang bibs, towels or toys.
When your baby is ready to transition, the Fisher-Price SpaceSaver High Chair / Booster is ready to convert to a big kid booster with a 3-point harness. Whether using this seat as a high chair or booster seat, the Fisher-Price SpaceSaver has straps that are used to secure the seat to a sturdy chair. A colorful, easy-to-clean cushioned pad adds comfort, style, and ease to this product that can see your child through many years of mealtimes.
What we love:
As a high chair it takes up less space than a traditional, stand alone high chair
No straps offers a versatility to positioning this seat that other boosters don't have
Watch out for:
As a booster seat it is bulkier than some, which could make space an issue
Not very portable because of size
Check Price on Amazon
Best booster with tray
Bumbo is known for making good products and this booster is no exception. While the Bumbo Multi Seat Booster is at a higher price point than other boosters, this seat is the new and improved version of the original Bumbo seat. This booster serves as a multi-functional seat with a few sleek features built-in. This seat can serve as the expected Bumbo floor seat, as well as a feeding seat, and a booster seat. The feeding seat uses a snap-on tray that is conveniently stored on the back, making this the best booster seat with a tray. The chair straps are retractable and stored on the sides of the seat for easy access. The Bumbo B11119 Multi Seat Booster has a foam insert that provides comfort for younger children. This insert can be removed to accommodate your child as they grow.
What we love:
Tray is easily stored on back of seat
3-in-1 functionality: floor seat, booster seat, and feeding seat
Retractable chair straps
Watch out for:
Higher price point
Unable to be used beyond toddler years
Check Price on Amazon
Best budget booster seat
If you are on a budget, this might the best booster for you. The Summer Infant Deluxe Comfort Folding Booster is a 2-in-1seat that can grow with your baby into the toddler years. This seat starts as an infant feeding seat with detachable tray, giving this the feel of a small high chair. Because this seat has only a 3-point harness system, you will need to make sure your baby can sit up on their own fairly well.
When the time comes, the Summer Infant Deluxe Comfort Folding Booster will convert to a toddler booster seat allowing your child to take their place at the table. This booster uses straps to secure the seat to a chair. It comes with a machine washable cover and folds up for easy transport. The price point of this booster seat is less than many, so if you are looking for a product that can offer an extended period of use without breaking the bank, this might be a good option.
What we love:
Extended use because it converts from infant feeling seat to toddler booster seat
Easy portability
Lower price point
Watch out for:
Unable to be used beyond toddler years
Check Price on Amazon
Our Top Pick is…
If ease and functionality is what you are looking for, we recommend the Editor's Choice of the Ingenuity Smartclean Toddler Booster. Raising children can often feel like a marathon that requires superhuman strength. Mealtime, however, doesn't have to be one of those times.
Booster Seat Safety Tips
As with any product designed with children in mind, you want to make sure to take the necessary steps to ensure you are using the product as it was intended to be used. Mealtime may not keep your child clean, but you shouldn't have to worry about keeping your child safe. (Source)
Here are some tips for keeping your toddler safe in their booster seat.
Don't rush the transition – Make the switch to a booster seat when your child is ready. Be sensitive to when the timing is right for them and when it is, your child will quickly adapt to sitting at the table in a booster seat.
Use a sturdy, hard-backed dining room chair – A booster seat is only as safe as the base to which you secure the straps. When attaching a booster seat avoid chairs that are lightweight, chairs that are soft or padded, and chairs that fold up.
Use the harness straps as directed – Make sure you buckle your child into the seat as it was designed. This will keep your kiddo as safe as possible while at the table.
Don't leave your toddler unattended – Always stay with your child when they are in the booster seat. Leaving them unattended in a booster seat can cause unintended injury.
No fooling about – Keep your child seated in the booster seat. As often as necessary, remind them that the booster seat is not for standing, kneeling, or climbing.
Read the instruction manual – Your chosen booster seat may come with other specific safety steps or precautions.