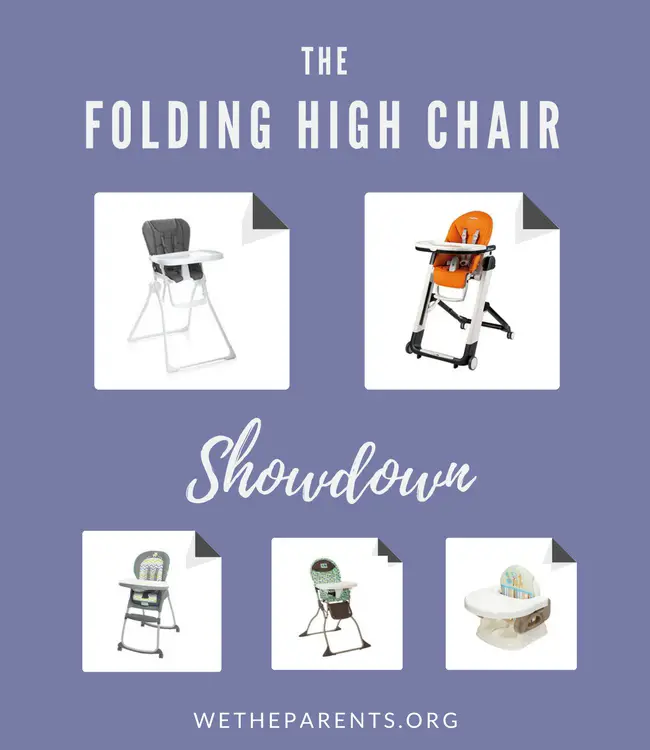 My husband concluded that my hormones had gone into overdrive the day I asked if he would like to build a vintage high chair in the midst of our discussion about finding the best folding high chair on the market.
I offered to buy the plans, drawn up by high chair inventor Frederick Caulier when he filed his original patent on April 23, 1878. But hubby wasn't biting.
He patted my head and retrieved the emergency carton of rocky road ice cream from the freezer while he talked me down, explaining that while my idea had merit, his skills and talents didn't involve tool belts and sandpaper.
Okay. Looks like we're shopping.
Editor's Choice
JOOVY Nook High Chair
The Nook is a refined and simple charcoal grey folding high chair that is light, durable, and sports a smart one-hand swing open tray.
View on Amazon
What is a folding high chair?
In my opinion, a folding high chair is a life saver. It not only takes up very little space in folded mode, but I can stick it in a closet when it's not in use. The engineering behind this style of chair is very much like the bridge chairs my mom set up when friends came over for cards.
Like all high chairs, this juvenile necessity achieves stability from legs that are widely spaced. Hardware used to secure this chair not only allows it to be opened and closed efficiently, but legs to lock in place. Whether high or low back, typical folding high chairs feature footrests, locking tables and safety belts.
Read more: 'How to Wean a Toddler (Gently and Effectively)' »
When should my baby start sitting in a high chair?
This is a tough call because babies mature on different timetables. My first was around 5 months' old when she dined a-la-high chair. My best friend's daughter wasn't having any of it until she was around 7 months!
Manufacturers generally suggest starting at around 6 months but you'll need to judge it on your own child's development. She'll need to ready to sit up in an upright position. This means she should show reasonably good stability and control when seated. A bit of swaying and bobbing is okay, but she really must be able to hold her head up.
What safety factors do I need to consider?
There are a surprisingly large number of accidents involving kids and high chairs. But – SPOILER ALERT – the biggest culprit is kids not being strapped in properly. So long as you make sure the high chair is JPMA certified, then the seat will keep your kiddo safely secured. Safety, then, is often less about which high chair you choose and more about ensuring that you use any chair safely. Obviously, spend a few minutes reading the instructional manual and learning about every feature, from safety strap to tray mechanism, and don't run out the room to take a phone call!
The most depressing factor related to folding high chairs is the issue of safety recalls. They do happen. Fill out your registration/warranty card in case the chair you choose winds up on that dreaded list, constantly updated at www.recalls.gov.
What should I look for in a folding high chair?
Straps: Babies and toddlers are tiny escape artists, so at first, straps and harnesses are a must. Your folding high chair should include a strap that goes between the legs to prevent the downwards "slip n slide" escape, and a shoulder harness to prevent the "over the top" escape routine. Normally these are detachable, so as your child grows and is able to settle down, then they don't need to be strapped in.
Ease of use: Given that you'll be folding it up and down several times each day, the mechanism needs to be quick and easy. Amazon customer reviews are good at calling out any pain-in-the-ass chairs. (Spoiler alert – we didn't include any of these culprits in our top picks.)

Comfor

t: Folding high chairs range from super-padded types to harder wooden ones. Padded ones are easier on the bum, the minimal wooden ones are generally more hygienic and easy to clean. You'll need to decide which you think is more important.
Wheels: Wheels make it easier to push the chair about while you get your child into place. They aren't essential, but if you are slight of frame and have a heavy baby, then it may be a good idea.
Recliners: Some parents choose to put their babies in highchairs before four months. We wouldn't recommend this, and you certainly shouldn't feed them whilst reclined. That said, they can be convenient if your baby is just resting or drinking from a bottle.
Easy to clean: Again, minimal chairs are easier to clean but can be a bit austere on your kiddos bottom. If you do go for a padded chair, then check that it comes apart easily for cleaning. Otherwise, you'll soon have moldy food festering in crevices – urgh!
Our top pick
Best folding high chair for babies
This charcoal grey and white folding high chair easily wins the hearts and minds of moms and dads. What's not to love? The Nook makes feeding baby a fun activity rather than a dreaded one and the soothing color mix works with any décor.
Access the one-hand, swing-open tray (this feature alone sold me) like the skilled balancing artist you've become! And if you're juggling baby on one hip, you don't have to wrest her out of the chair before you clean up the mess on the tray. This tray rocks.
JOOVY calls this chair "a new tradition." We agree. Stow this chair in a convenient closet after you tidy it up, then throw it into your car for a visit to doting grands or a Mommy and Me get-together. It's light. Sturdy. Did I mention stylish?
Lots of parents stop in their tracks when they note the four tray depth adjustments and roomy seat that extends this chair's life longer than competitors. Oh, and since it's fully assembled, no tool belt required.
What we love:
Stylish color and strength are this chair's benchmarks.
The price won't kill your budget.
No assembly woes or Band-Aids required.
The 5-point safety harness is impressive.
That pivoting, easy-access food tray is the bomb.
Watch out for:
You won't be able to make height adjustments if you pick this chair.
The seatback doesn't recline as much as you might like.
Two back rollers serve as wheels; it's not the easiest chair to move.
Not every parent finds the JOOVY folding high chair easy to clean.
The JOOVY seat is wide; improperly tethered babies could slide out.
Check Price on Amazon
Upgrade choice
Best folding high chair for toddlers
Anyone who says that exhausted moms can't learn new tricks hasn't met me. While searching for the world's best folding high chairs, I stopped calling the color orange by its name and began to refer to it as Arancia.
That could be Italian for orange; at least that's the color of the pad that comes with this stylish Peg Perego Siesta high chair. It reminds me of creamy orange gelato, and four other available colors are equally delicious.
The word Siesta may refer to the nap you try to get when baby's out like a light, but in fact, this chair is also a recliner, so its usefulness extends far beyond the Cheerios your cherub stuffs into his cheeks when he pushes off the spoon you offer.
The Siesta "follows a child from birth through the toddler years." It's so versatile, baby can enjoy 5 reclining positions and your back can celebrate 9 height positions.
Stow this gem when not in use; it takes just a minute to get it out of the way. If you're cramped for space, this chair may have your baby's name written all over it.
What we love:
This chair is available in 5 delightful colors.
Wipe the chair's "Prima Classe" fabric off fast with a damp cloth.
Comes with a 5-point safety harness and passive restraint bar.
Remove the tray and toddlers can eat at the table with you.
The wheels automatically lock for safety.
Watch out for:
The price. It's a killer.
Precocious toddlers could flip the tray if it's not properly secured.
Levers can get stuck or be hard to manipulate.
Wheels go in only 2 directions which restricts mobility.
Getting the tray in or out of the chair's framework can be a hassle.
Check Price on Amazon
Best convertible high chair
I can't resist a BOGO deal. So, when I happened upon the Ingenuity Trio 3-in-one high chair, I said, "Yes, please." I'd never turn down multiples–unless we're talking triplets.
Here's the deal: buy this sleek grey high chair and your youngster can inhabit it longer than most, because this clever chair morphs into a booster seat and toddler chair once a child reaches either stage.
What I found most irresistible about this product is the fact that I can stick the tray and the seat pad into the dishwasher. I'm willing to clear out dinner dishes to sanitize both when strained plums become tray art.
Because this chair is engineered to fit a 50-pound child, it's got the bells and whistles required to restrain him: the high chair and booster seat employ the 5-point harness and the 3-point harness follows suit when it morphs into a toddler chair.
Here's the rub: This model doesn't fold up, so if you need a chair with a small footprint, keep looking.
On the other hand, Ingenuity designers insist that this chair is large enough to fit two babies, so if you've just learned from your OB/GYN that two hearts are beating as one, you may want to put this product atop your short list.
What we love:
2 rear wheels lock for safety and the chair back offer a slight recline.
The chair to choose if you live on a shoestring budget.
Makes a great second high chair for grandma's house.
May be with you longer than competitor chairs because it's adaptable.
Attractive and smart-looking.
Watch out for:
Due to a design flaw, food can fall into crevices where the buckle attaches.
Assembly may be more complicated than you imagine.
There have been returns to the manufacturer due to post-wash seat cover rips.
If your little one is rambunctious, this chair may be too wobbly for your taste.
Safety harness stitching could come loose without warning.
Check Price on Amazon
Best affordable high chair
I love simple pleasures. Simple recipes. And I'm a no-frills consumer. In light of my profile, picking the Cosco Simple Fold High Chair for this list was–well, simple.
But that doesn't mean features and benefits have been given short shrift. This chair comes in an adorable elephant pattern. The 3-position, full-size tray is expansive so whether Emma is chasing carrot sticks or mastering a bowl of spaghetti, there's room for the main course plus the toys you add to incentive eating the green stuff, too.
Lightweight yet beefy, this Cosco folding high chair comes with a brand name that parents trust and cleaning up the tray and seat pad couldn't be easier.
The folding mechanism is designed for moms-on-the-go and I would be derelict in my reviewing duties if I didn't mention that you can buy this chair for the price of dinner for two at Olive Garden (minus the wine).
What we love:
This Cosco folding chair is a breeze to clean up.
Safely embraces a child up to 50-pounds thanks to the 3-point harness.
Fold and go or fold and stow: this chair is simple, right?
Legs lock securely to keep baby confined, even if he's a fidgeter.
This is the most affordable chair on the list.
Watch out for:
The recline feature may not be comfortable for your baby.
Costco switched buckle manufacturers; your baby could get pinched.
Parents report food stuck in crevices that can trigger bad odors.
This chair's leg panel may not constrain baby sufficiently.
Only weighs 14 pounds. If you want a heavier chair, affordability may not matter.
Check Price on Amazon
Best folding booster seat
As the only booster seat in this review, comparing apples to oranges is no easy fete, but if your little one has passed the age where it makes sense to invest in a high chair, this clever alternative is both adorable and inexpensive.
You'll be charmed by this booster chair's colors, patterns and graphics. But that's where aesthetics end and practicality kicks in. As an infant feeding seat, it morphs into a booster chair once the tray goes away.
This Summer product offers two height adjustments to suit your kid's growth spurts and that dishwasher-safe tray assumes 3 positions to accommodate your child's current eating style.
You won't find portable seating for baby or toddler that's easier to fold, stow or carry. Weighing just 4 pounds, even an older child can carry it when you wrangle your infant, diaper bag and other creature comforts.
There's a 3-point restraint system to keep junior secured, but if he's in wild child mode and can't resist playing with his cereal, that removable seat pad goes into the washer–minus the child–for an expeditious clean-up.
What we love:
Small, light and versatile, this folding booster seat is as portable as it gets.
Take it with you so you don't have to de-germ restaurant booster chairs.
Adorable animal graphics and neutral colors work with all décor schemes.
Also comes in pink with cute flowers or mint green and grey.
Priced to sell, this booster even charms in the money department.
Watch out for:
If you want this chair in alternate colors, the price nearly doubles.
Arm rests could be too flimsy for your rambunctious child.
The safety harness may be iffy, say parents returning this product.
Works best when tethered to a beefy wood chair.
Child's fingers could get pinched where the tray snaps in.
Check Price on Amazon
Our top pick is…
Our favorite folding high chair is the JOOVY Nook. It ticks all the boxes without any deal-breaking downsides. I love its clever one-handed tray mechanism which is thoroughly useful when you've got a screaming baby in one arm. All round it is good quality, keeps things simple, and looks good.
Editor's Choice
JOOVY Nook High Chair
The Nook is a refined and simple charcoal grey folding high chair that is light, durable, and sports a smart one-hand swing open tray.
View on Amazon
Runner-up is the Perego high chair. Call me stingy, but the only way I would say yes to the Perego Siesta would be if the manufacturer included a ticket to Florence or Rome. Consumer feedback isn't compelling enough to justify the retail price.