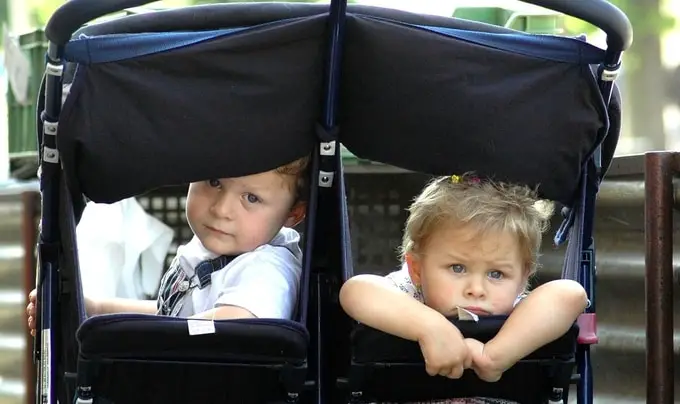 Whether you just had twins or have two youngsters close in age, the logistics of travel can be complicated.
Heck, at this point, the logistics of grabbing a quick shower can be complicated!
But, assuming you have found the time to shower and dress in something other than a towel, you're probably going to need to take both those children out into the world at some point.
Since it can be pretty tricky to navigate the world holding two small children in your arms, it's probably time to consider investing in a double stroller. We wish we could tell you that buying a double stroller is as easy as popping down to your local Walmart and grabbing whatever is on clearance. Alas, it's not quite that easy. If you want a double stroller that is going to make your life easier, instead of adding a few curse words to your children's burgeoning vocabulary, read on.
How to Choose the Best Double Stroller
If you want to pick the best double stroller for your family, your best bet is educating yourself on the basics.
Age Difference of Children
If you have twins, this will be less of a concern as they're probably going to be similar weights and heights as they grow. However, once you start looking at a two to four year age gap, things change a bit.
Pay attention to weight limits and try to find a double stroller with a higher weight capacity. If your older child is at that threshold where riding in a stroller is getting unreasonable, you can always consider a sit and stand stroller. You push, they stand, and no complaints about sore feet. Well, not from your child anyway.
Double Stroller Types
When it comes to double-seaters for babies, you have two options. As with anything, both have their pros and cons, and at the end of the day, all that matters is what type best suits you.
Tandem Double Stroller (aka Inline Stroller)
This is the stroller version of a bicycle built for two. It's only as wide as a single-passenger stroller but is longer, as the back seat sits behind the front seat. Some models have "stadium seating", with one seat elevated above the other.
Since they are longer than their single passenger counterparts, it can be harder to maneuver around or fit them into compact trunks. However, they are not any wider than a single-passenger stroller, so you won't feel like you are monopolizing sidewalks or have difficulty fitting through doors.
A final downside to keep in mind is that the two seats don't always come with the same features or riding experience, so a bit of rivalry might blossom between your kids over who gets "the good" seat.
Side by Side Double Stroller
Exactly as the name suggests, these strollers have two seats right next to each other. With the seats positioned side by side, you might not find the same rivalry over who sits where. However, since this is such a wide product, fitting through doorways and hallways can be tricky, and it's easy to feel like you're taking over a public walking area.
Wheels
What type of wheel you need depends on what you plan on doing with your double stroller. Here's a quick breakdown of wheel types.
Plastic: These tires won't travel as well over rough terrain, but will function fine on smooth surfaces.
Rubber Tires: These will never go flat, seeing as they're rubber, and are good for smooth surfaces.
Pneumatic Tires/Air Filled Tires: Think bike tires. You will potentially get a flat, but these tires provide a smooth ride and perform well on uneven surfaces, like sidewalks.
Air Wheel with Sealed Ball Bearings: These tend to be a more durable wheel aimed at hikers or all-terrain joggers.
Remember, wheel size matters. Larger wheel sizes generally offer a smoother pushing experience, and some strollers offer the option of buying bigger or smaller wheels as accessories.
Also, strollers with dual wheels on their fronts can more easily be knocked off kilter if one wheel snags on something. Despite this, it remains a popular design choice for strollers.
Safety
You want to make sure your stroller has comfortable three or five-point harnesses to buckle in your children. Read all weight and height limits carefully, and be sure not to overload your double stroller. Easy to use breaks will make sure your stroller won't move unless you want it to.
Your Comfort and Convenience
Make sure that the double stroller isn't too awkward or heavy for you to maneuver when you're out and about. The handle bars should come to a comfortable height, and the stroller should offer enough storage to meet your needs.
You will also want to make sure that whichever product you end up choosing won't take a contortionist to fold up and will fit in your car.
Now that we have some basics out of the way, let's move on to our favorite products. With so many specialty double strollers out there, we have plenty of ground to cover.
Best Double Stroller for Twins
If you're looking for convenience, you will want the option to be able to click two car seats into a stroller. This can be a tricky design to find, but well worth it to allow the smooth transfer of sleeping infants from car to stroller and vice versa.
In 2016, this stroller won a National Parenting Product Award and a Cribsie Award.
It is compatible with many car seats, although you will have to buy either a universal or brand specific adapter to click them in. However, the stroller can fit two car seats at once and has seven positions from which you can choose.
The frame is aluminium, and reasonably lightweight, and the break is easily accessible and won't pinch you if you're wearing sandals. It's not the quickest or easiest to fold up, but once it is folded, it locks in place, so it won't open up until you're ready to strap those cute babes back in for a ride.
Wheels: Rubber
Item Weight: 34 lbs
Maximum Seat Capacity: 40 lbs per seat
Check Price on Amazon
This is another stroller that accepts two car seats from several different brands, as long as you purchase the compatible adapters.
Although it doesn't come loaded full of features, it's a reasonably solid product for parents with twins. Although some have found the seats to be tricky to adjust, it does offer reclining and upright positions for both seats.
It is narrow enough to fit through doors with ease, but take note; this also translates into slimmer seats.
High-grade aluminum provides a secure frame, the break is easily accessible, and the handle bar will adjust to an optimum height for whoever is pushing.
Wheels: Air
Item Weight: 25 lbs
Maximum Seat Capacity: 40 lbs
Check Price on Amazon
Best Double Stroller for Infant and Toddler
If your toddler still prefers to ride in a seat with your infant alongside, you will want to make sure your stroller has the weight capacity to accommodate both children.
The front seat of this stroller can hold a child up to 50 lbs, which is its primary selling point. The included bench seat and standing platform also hold 50 lbs, should your tot decide they're in the mood for a different kind of ride. There are 12 seat positions and the 3 and 5-point harnesses are both comfortable and safe.
This is more cumbersome than other models, so it can be tricky pushing it around tight corners. However, it has plenty of storage space and is extremely easy to fold and unfold.
Wheels: Rubber
Item Weight: 33.99 lbs
Maximum Seat Capacity: 50 lbs (front seat, bench and standing platform) 40 lbs (rear seat)
Check Price on Amazon
Another product with a high weight capacity, this stroller's width is only 30″. Of course, this can be a pro and a con as a thinner width means narrower seats. On the bright side, you won't have to struggle to fit through doorways.
A large canopy will give your kids plenty of protection in less than great weather, and there's lots of storage. It's not compatible with infant car seats, so if your child is under three months old, you might want to wait on buying this item. It's also not the best on rough terrain, with that dual-wheel design occasionally struggling on bumpier ground.
With that said, this stroller is easy to fold and small enough to fit in most trunks, making it very portable.
Wheels: Plastic
Item Weight: 32 lbs
Maximum Seat Capacity: 45 lbs per seat
Check Price on Amazon
Best Sit and Stand Strollers
If your toddler doesn't want to sit in a seat, but would still like to hop on board for a ride, perhaps a stroller with a place for him to stand would solve your traveling dilemma. To learn more go to our complete guide on Sit and Stand Strollers.
This stroller offers quite a few perks, such as extra storage, a high weight capacity, and a tool free assembly.
A 3 and 5-point harness will keep your kids safe, regardless of where they are sitting or standing.
The ride is not as smooth as some of its counterparts, and the canopy doesn't provide as much protection as some parents would like. However, the front seat can recline all the way back, and the stroller folds up easily, even when you're only using one hand.
Wheels: Rubber
Item Weight: 27 lbs
Maximum Seat Capacity: 50 lbs (front seat) 50 lbs (bench/standing platform)
Check Price on Amazon
This stroller won't knock your socks off with loads of extra features, but it will get you and your family easily from point A to B.
The front seat works for newborn infants, with a compatible car seat adapter, and has a 5-point harness. The bench/standing platform has a 3-point harness, and the whole package comes with a 2-year warranty.
It's exceptionally light-weight and, while it does take two hands to fold up, it's one of the easier models to unfold.
Wheels: Plastic
Item Weight: 22 lbs
Maximum Seat Capacity: 45 lbs (front and bench/standing platform)
Check Price on Amazon
Best Lightweight Double Umbrella Stroller
If you want a stroller that you can fold up as compactly as…well, an umbrella, you're not alone. These are great for when you're on the go and, while they might be more of a travel stroller than an everyday item, you can check out our full article on Umbrella Strollers if you would like to learn more and see if this is a product to put on your shopping list.
This stroller is an Amazon #1 Best Seller in tandem strollers, and it's easy to why. An affordable stroller, the Delta fits through doors of the standard 30 inches width and its front wheels are shock absorbing making for a smooth ride. It also has a large protective canopy.
The seats do recline, but only slightly and the break is not sandal-friendly.
Parents have reported that it is very simple to fold and unfold this product meaning that for a double stroller, it travels easily.
Wheels: Plastic
Item Weight: 19 lbs
Maximum Seat Capacity: 45 lbs per seat
Dimensions when Folded: 42″ x 13″
Check Price on Amazon
Best Jogging Double Stroller
If you're looking to get active while taking your baby out into the world, and you're likely be exploring on all types of terrain, you're going to want a jogging stroller. Here is one of our top picks, and for our full article head on over to Jogging Strollers 101.
The front wheel can lock or swivel, depending on where you're venturing, and the rear suspension provides a smooth ride for your little ones. The handle is padded and easy to grip as you go and the seats recline for the comfort of your babies. Unfortunately, it only fits one car seat at a time, but it folds up easily and has a very convenient drum break for a safer jogging experience.
Wheels: Plastic
Item Weight: 16 lbs
Maximum Seat Capacity: 50 lbs per seat
Check Price on Amazon
Best Affordable Double Strollers
Strollers can be expensive, especially when you're shopping for two passengers. Here are a few strollers that will get you around without breaking your bank.
This umbrella stroller is great for older babies. It has 5-point harnesses and a back wheel break. You won't be swimming in features like reclining seats or fancy tires, but you will find it easy to fold, excellent for travel, and very lightweight.
Wheels: Plastic
Item Weight: 12 lbs
Maximum Seat Capacity: 25 lbs per seat
Check Price on Amazon
Lightweight and ideal for travel, the seats on this stroller can recline for the comfort of your little ones. Although it lacks a high weight capacity, it's an affordable product with a comfortable 5-point harness in each seat and a good amount of storage in the basket underneath.
Wheels: Plastic
Item Weight: 18.30 lbs
Maximum Seat Capacity: 35 lbs per seat
Check Price on Amazon
Don't miss the rest of our On-The-Go series
We understand that getting around with a baby or small kids is no easy task. Bet it used to take five minutes to get out the door but now it takes 50, right? Let's face it, getting anywhere on time requires military-style logistics.
Don't despair! With a bit of know-how and the right gear, it gets a lot easier.
The other articles in our On-The-Go series:
Strollers: The Ultimate Stroller Buyers Guide
Umbrella Strollers: Choosing a Lightweight Umbrella Stroller
Jogging Strollers: Choosing a Jogging Stroller That Will Keep up With You
Sit and Stand Strollers: Choosing the Right Sit and Stand Stroller for Your Family
Wrapping up
Since spending the next several years balancing two babies in your arms as you go about your day is both inconvenient and bad for your back, you have hopefully found a double stroller that meets all your needs. Whether you're figuring out the logistics of having twins or running errands with a sleepy infant and a toddler eager to see the world, we wish you safe travels throughout your days.