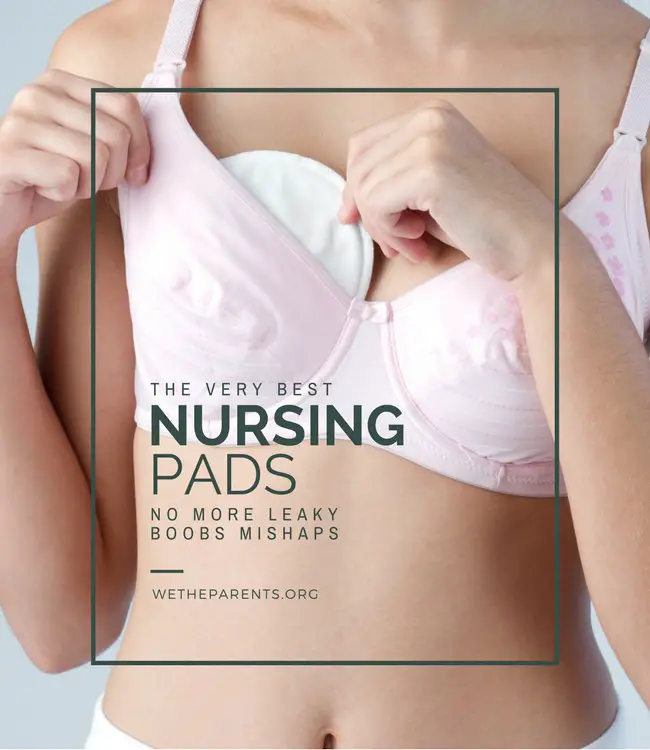 Motherhood is full of the unexpected. Like that time I was a breastfeeding mom, standing in line at the grocery store, when someone else's baby began to cry and my milk started to leak. On both sides. And I didn't own any nursing pads. Thank goodness for periwinkle zip-up hoodies.
Not wanting to be caught unprepared again, and assuming all nursing pads were the same, I grabbed a few sets of reusable pads and called it good. This, however, is not the case. All nursing pads are not created equally. If you are in the market for nursing pads, here are some things to consider as you look to find the best nursing pad that will work for you.
Editor's Choice
Bamboobies Reusable Nursing Pads
These popular bamboo reusable nursing pads are rated extremely highly by moms. They are soft, absorbant, and discreet.
View on Amazon
What are nursing pads? Why are they used?
Nursing pads, also known as breast pads, are a liner placed between a woman's nipple and bra during the time they are breastfeeding. These removable pads, when working effectively, should absorb any milk that might leak between feedings. Nursing pads protect clothing from potential milk stains and also help you avoid embarrassing wet spots on your outer garments.
Are nursing pads necessary?
Nursing pads aren't an essential for every breastfeeding mom. It is difficult to predict how heavy your milk flow will be once your baby is born, so it's a good idea to have some nursing pads handy immediately following childbirth. You may never use them, but there's security in having them readily available when you need one. I wish someone had suggested that to me before I found myself waiting in line at Kroger that day.
Disposable vs Reusable?
If you find that nursing pads are a breastfeeding accessory you need, it is important to determine which pad will work best for you. In the world of nursing pads, there are two basic categories – disposable and reusable. Which one you choose is a personal decision that centers around which product best fits your needs, preferences, and lifestyle.
Disposable nursing pads
PROS
Disposable nursing pads are a consumable product made from a combination of paper and plastic materials. They are highly absorbent and hygienic and are usually individually wrapped (think sanitary napkin).
They offer easy, on-the-go protection, no fuss replacement throughout the day, and no messy clean up.
Disposable nursing pads can be secured to the bra using adhesive strips on the outer layer of the pad.
Disposable pads tend to be thin, which allows them to be nearly invisible through your nursing bra and outer garments.
CONS
The drawback to a thin nursing pad is the limited amount of breast milk they can absorb before needing to be changed.
Another factor when considering using disposable pads is the breathability of the pad itself. The outer layer of a disposable pad is typically a waterproof lining that can prevent air flow. A lack of air flow can cause heat and moisture to get trapped creating conditions for thrush to develop.
Reusable nursing pads
PROS
Reusable nursing pads are made from a variety of materials including bamboo, cotton, silicon, and wool. Reusable pads are intended to be used, washed, and then used again (think cloth diaper). The initial investment for a reusable pad is higher than a disposable pad, but each time you wear a reusable nursing pad you are decreasing the cost per use. This makes reusable pads a more cost-effective choice in the long run.
Environmentally minded moms like the greener option offered by reusable pads because they produce less waste.
Most reusable pads are made of cloth which allows air to flow through making them breathable. Cloth can also offer a soft touch for the nipple, which can be especially important for moms who have sensitive or cracked nipples.
CONS
Reusable pads can sometimes be bulkier than disposable pads and can have a less discreet fit allowing the outline of the pad to be more visible through outer clothing.
Take note that some reusable nursing pads (ones that are 100% cotton) are not made with a waterproof layer. This may indicate your need to replace them more often during the day when you experience heavier leaking.
When planning to be away from home, you will want to carry a pouch of that can hold damp nursing pads until your can get them home and into the laundry.
How many nursing pads will I need?
Until you begin breastfeeding, you won't know how often or how much you leak. Some moms find they never need nursing pads, while other moms can't survive without them. Everyone is different and you will need to discover what fits your body's needs best.
Initially, you will want to have enough nursing pads to replace them every few hours during the day (3-4 times), if necessary. For reusable pads that will mean having 10-12 sets on hand, so you don't run out between washings. You may want to start with disposable nursing pads for the couple weeks after birth. That way you can determine your specific needs before making the financial investment in reusable nursing pads.
Do nursing pads cause thrush or mastitis?
If used and maintained properly, nursing pads should not cause thrush or mastitis. When using nursing pads, the most important factor in reducing the likelihood of thrush is to change the nursing pad as soon as it is damp. Moisture build-up means bacteria and bacteria means the possibility of yeast. Mastitis, or clogged milk ducts, is not a result of nursing pads. If you are suffering from mastitis or thrush, be sure to check in with your doctor or lactation consultant for treatment.
Itchy boobs while nursing? Check out our troubleshooting guide »
With so many nursing pads available, it can be daunting to sort through the sea of products. There's enough about motherhood that complicated, and finding the products that best support you and your baby shouldn't have to be. Here are the top picks for 2018's best nursing pads.
Our top pick
The Bamboobies are our Top Pick nursing pad of 2018. These washable pads are made from a combination of bamboo and cotton, which are both highly absorbent and extremely soft.
There are two types of nursing pads available, a daytime pad for lighter leakage and a nighttime pad for heavier leaking. The nighttime pad is a special three-layer design meant to absorb heavier flow while keeping moisture from the breast. Because Bamboobies are thin, they contour easily to your breast. This allows you to wear these pads discreetly, leaving no indication you are using nursing pads at all.
For moms who like to add a little fun and color even to undergarment essentials, you will enjoy the heart-shaped pads and the additional colors that are available.
What we love:
Super soft and absorbent
Two kinds of absorbencies
Discreet fit
Watch out for:
Slightly higher price point than other reusable pads
Check Price on Amazon
Best organic/eco nursing pads
If you value an effective product that is good for you and the planet, these Eco Nursing Pads might be what you're looking for. These pads offer an environmentally friendly solution for breastfeeding moms. They are made from organic bamboo that is sustainably harvested.
The soft, absorbent pad is made from a combination of bamboo and cotton. Eco Nursing Pads offer two different absorbencies. For lighter leaking, a daisy-shaped flower pad is available. A traditional round pad is used to protect you from heavier leaking. Eco Nursing Pads are available in a variety of colors and include a carrying pouch and a mesh laundry bag for washing.
What we love:
Environmentally friendly
Two kinds of absorbencies
Watch out for:
Possible visibility (scalloped edge on daisy shape pad)
Check Price on Amazon
Best disposable nursing pads
If you are leaning toward disposable nursing pads, Lansinoh Stay Dry Nursing Pads are our favorite. These individually-wrapped pads have a quilted lining that pulls the moisture away from your nipple, keeping the area dry. The pad is thin and slightly contoured to fit the natural curve of the breast which allows for a more discreet fit.
Lansinoh Stay Dry pads offer a choice of absorbency. There are pads intended for light leaking and pads made for heavier flow, so you can choose what fits you best. They also offer an "Ultra Soft" option for moms experiencing sensitive or cracked nipples.
What we love:
Absorbent
Ultra Soft option
Discreet fit
Watch out for:
Added waste from disposable pad
Check Price on Amazon
Another trusted name for breastfeeding moms is Medela, and their disposable nursing pads is another good choice if you are looking for a disposable nursing pad.
Each pad comes individually wrapped for hygiene and convenience. They are also easy to wear with discretion as they are thin and offer slight contouring. These pads cost a little less per pad than the Lansinoh, but there is only one type of absorbency available, regardless of light or heavy leaking.
Watch out for:
Only one absorbency (may require more frequent replacement)
Added waste from disposable pad
Check Price on Amazon
Best nursing pads for heavy leaking
Johnson's Disposable Nursing Pads may be a good choice if you leak heavily, as their extra absorbency should bring peace of mind. These pads do not come individually wrapped, so if you are often on the go, you will need to find a way to carry these pads and keep them hygienic.
Keep in mind these Johnson's pads are thicker than other disposable pads. The thickness allows for the increased absorbency, but could increase visibility of the pad when being worn. These pads are smaller in diameter than other disposable pads, so if you have larger breasts but still prefer the nursing pad cover a larger surface area, these may not be the best fit for you.
What we love:
High absorbency
Smaller diameter
Watch out for:
Possible visibility because of thickness
Smaller size may impact effectiveness
Check Price on Amazon
Best silicon nursing pads
If you are looking for a completely different nursing pad option, LilyPadz Reusable Silicone Nursing Pads might be a good fit. These nursing pads attach to your breast, not your bra. They have a tacky, adhesive-free lining that keeps the pad secure and doesn't leave any residue that could be harmful to you or your baby.
LilPadz is unique in that is doesn't absorb leaked milk, it actually prevents milk leakage by applying constant pressure to the nipple during use. These pads are latex-free, have been dermatologically tested, and do not increase the likelihood of clogged ducts or mastitis.
Because these pads are silicone and adhere directly to the breast, you have the freedom to go swimming and to go braless. It is recommended to wash these pads daily by hand using special LilyPadz wash or wipes. Be aware that the initial price point for these nursing pads is higher, and additional expense is also created in the product-specific daily upkeep of the pads.
What we love:
Can be worn while swimming
Can be worn without bra
Discreet fit
Watch out for:
Higher price point
Higher cost for washing (requires brand-specific products)
Check Price on Amazon
FAQs
How do you use nursing pads?
Nursing pads are user-friendly, but it can take a little practice getting started. Follow a few easy steps and you can confidently move ahead with your day without the fear that leakage might occur.
Make sure your nipple is completely dry. This is an important step in reducing the occurrence of yeast buildup and thrush.
Position pad in cup of bra (or over nipple if using a silicon pad). Peel adhesive backing away on disposable pads and press, allowing stick to bra.
Center your nipple on nursing pad. Readjust if necessary.
Replace when damp. If your nipple becomes stuck to the pad, just add a little water to the area around your nipple and carefully peel away the pad.
How often do you need to change nursing pads?
All nursing pads, disposable or washable, has the potential risk of bacteria growth, therefore it is suggested that nursing pads be changed once they become damp. If moisture is allowed to build up and remain trapped, yeast can develop and thrush can occur. If you are already suffering from thrush or have a history of yeast infections, be extra intentional about replacing your nursing pads and always give a thorough washing to reusable pads.
How do you wash nursing pads?
Washing nursing pads is not difficult, it just requires a little intentionality. Place the pads in a mesh laundry bag and wash them in mild detergent with no fabric softener. If you or your baby have thrush and you are using reusable nursing pads, it's important to know that yeast can withstand a regular washing cycle.
While there are a number of ways to treat the bacteria build-up, two simple home remedies are washing the nursing pads in a cup of vinegar during the wash cycle and allowing pads to sit and dry for two weeks which allows the yeast can to be eliminated without using harsh chemicals.
Can you sew your own DIY nursing pads?
Some crafty moms, after researching the various pads available, choose to sew their own washable pads. This can be a cost effective alternative, if you have the ability to make it happen. Here's a detailed video that can help you get started.
Our top pick is…
It's true, motherhood is unpredictable. There are some things, however, for which we can be prepared. Like the possibility of leaking milk while breastfeeding your baby. This year, there are a few nursing pad products that seem to stand out.
Ultimately, which nursing pad you choose will come down to which product will best fit your needs and preferences. The question isn't what's the only choice to make for nursing pads. The question is what's the right choice for you. Here's to a great year where every breastfeeding mom can find the nursing pad that is best for her needs, preferences, and lifestyle.
Editor's Choice
Bamboobies Reusable Nursing Pads
These popular bamboo reusable nursing pads are rated extremey highly by moms. They are soft, absorbant, and discreet.
View on Amazon