As you progress through your pregnancy, you begin to earn your stripes as a mother. In some cases, literally. Yes, we're talking about the ever-dreaded stretch marks!
Healthy women will gain at least 25 pounds over the course of their pregnancy, so it's no surprise that stretch marks (and a sore back) are common. So common, in fact, that by the time the third trimester rolls around, about 90% of expectant mothers are noticing stretch marks.
These red or purple lines tend to appear on the belly, butt, and breasts, as well as hips and thighs, and many women find them unsightly. If you're the kind of mother who prefers to keep her experiences close to her heart instead of written on her skin, fear not. A quality stretch mark cream can fade those lines over time and help restore your skin to all its former glory.
What makes a great stretch mark cream?
Preventing vs. healing
As you begin to look at products you should know the truth; there is no magical potion  to prevent stretch marks. These marks result from your body growing so fast that your skin simply can't keep up. When your epidermis falls behind your body's growth, the once flexible fibers under the skin break and – pop – here comes the stretch mark!
Genetics will also play a part as to whether or not you will see stretch marks appear during or after your pregnancy. Sorry ladies, but if your mom has ever complained about her pregnancy stripes, odds are you will be doing the same.
All of this is to say that, while you can do things to keep your skin healthy and supple as your belly expands, you cannot completely prevent a stretch mark and shouldn't believe a product's claims to do so. You can, however, fade them over time, so don't think that all is lost just yet.
Ingredients
A good product is only as good as its contents. If you see any of these ingredients on the label of a stretch cream, then you're heading in the right direction.
Shea Butter: Heals and moisturizes the skin
Cocoa Butter: Softens and moisturizes the skin and aids in healing
Aloe Vera: Moisturizes the skin and aids in healing
Calendula Oil: Reduces inflammation of irritated skin
Jojoba Oil: Deeply penetrates skin and moisturizes
Siegesbeckia Orientalis: Helps regenerate skin
Palmitoyl Oligopeptide: Smoothes skin and increases its elasticity
Palmitoyl Pentapeptide 3: Supports collagen growth, reduces wrinkles and fine lines
Retinyl Palmitate: Stimulates new cell growth and helps to repair damaged cells. Cannot be used during pregnancy or while breastfeeding.
This is not, of course, a comprehensive list of every ingredient common to stretch mark creams, though they will show up a lot as you shop.
Related: The Best Pregnancy Safe Sunscreen in 2021
When to avoid retinoids
While retinoids and their derived products are excellent for healing stretch marks, along with other skin conditions, you have to wait until your pregnancy is over and  are no longer breastfeeding to use them. A form of vitamin A, these products hasten cell division and improve the appearance of the skin. However, over exposure to vitamin A can have adverse consequences as long as your baby's body is linked to yours. As such, avoid any and all retinoid products while you are pregnant or breastfeeding.
Organic vs. traditional
This mostly boils down to personal preference and what  works best for your unique skin. Perhaps the most important thing to remember is that, just because a product is labeled "all natural", doesn't necessarily mean it's safe to use during your pregnancy. Be sure to do your homework on the ingredients in both traditional and organic products.
Now that you know some basics, here are our recommendations for effective stretch mark creams that we think you'll love.
Our picks of the best stretch mark creams
Editor's choice

Our opinion
We feel that this particular product is both economical and effective at combating stretch marks. It's what I've been using throughout my pregnancy with Dara and I'm still using it (he's four months at the time of writing.)
Under $15, hypoallergenic, and recommended by dermatologists, this product even works for moms with sensitive skin. It is the #1 selling stretch mark product in eighteen countries and a #1 best seller in Amazon's Facial Creams & Moisturizers category. It works great for all skin tones and types, containing soothing ingredients like vitamin E and lavender oil to help heal your skin.
Best organic and natural stretch mark creams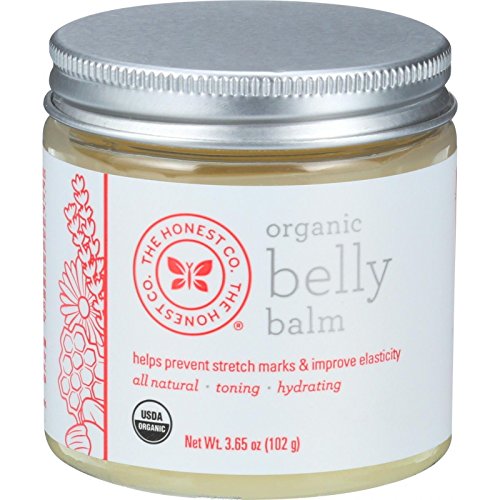 Our opinion
More and more parents-to-be are turning to natural products for their families. If you are looking for a stretch mark cream made 100% from mother nature, we've got you covered.
This product is hypoallergenic, cruelty-free and contains no parabens or petroleum. A combination of certified organic ingredients, such as shea butter, rosehip, and olive oil, all work together to improve your skins' elasticity, moisturize, and to fade imperfections. A soothing blend of oils and botanicals will ease any itching you are experiencing during your pregnancy.
While some mothers are turned off by the smell of this product, others find that inconsequential and see this product as a winner.
If, like us, you fall in love with The Honest Co. and their products and you intend to be a breastfeeding momma, you may also be interested in their organic nipple cream.
Our third choice
Our opinion
Made entirely from organic ingredients, this soothing product works hard to fade those frustrating stretch marks on any area of your body. During your pregnancy, you can also use this product to alleviate any itchiness and to keep your skin moisturized and supple.
Although some mothers report that this product is a little too oily, many others are recommending this paraben-free belly butter to anyone looking to fade their stretch marks.
Maximum strength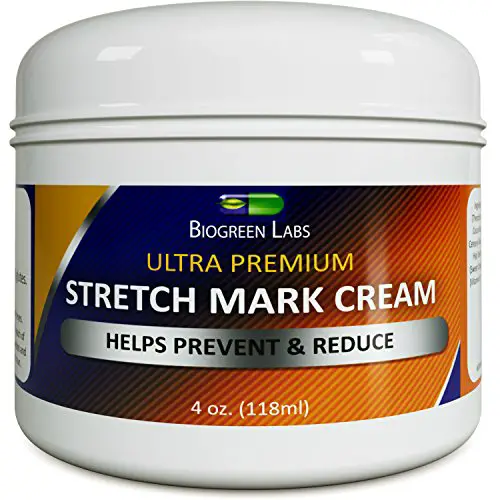 Our opinion
If you are finding your stretch marks a little on the stubborn side, you are not alone. Here are some products that are great at fading those stripes.
This cream is rich with quality ingredients, like vitamin E and Shea butter, to tackle those stubborn stretch marks. It not only lightens scars and is GMO and paraben free, but is also hypoallergenic and comes with a 100% money-back guarantee from the company. Mothers using this cream report that it absorbs quickly and even works on stretch marks that are years old.
Our fifth choice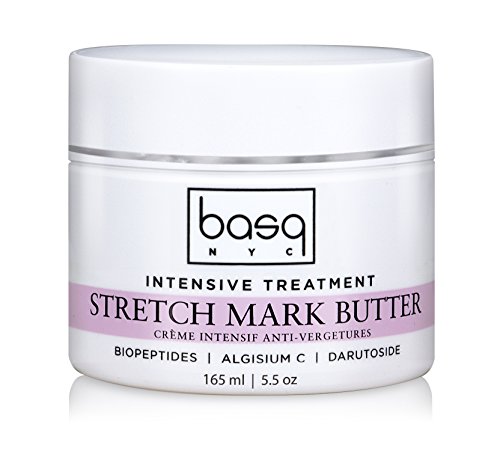 Our opinion
This product is paraben free, hypoallergenic, and safe to use during your pregnancy. Darutoside, a botanical extract, increases the renewal of collagen in your skin to improve its strength. Other ingredients, such as shea butter and biopeptides, moisturize your skin while enhancing its appearance.
A minority of moms were turned off by this product's smell, but most sing its praises for alleviating dry, itchy skin during pregnancy, as well as fading their stretch marks.
Best affordable stretch mark creams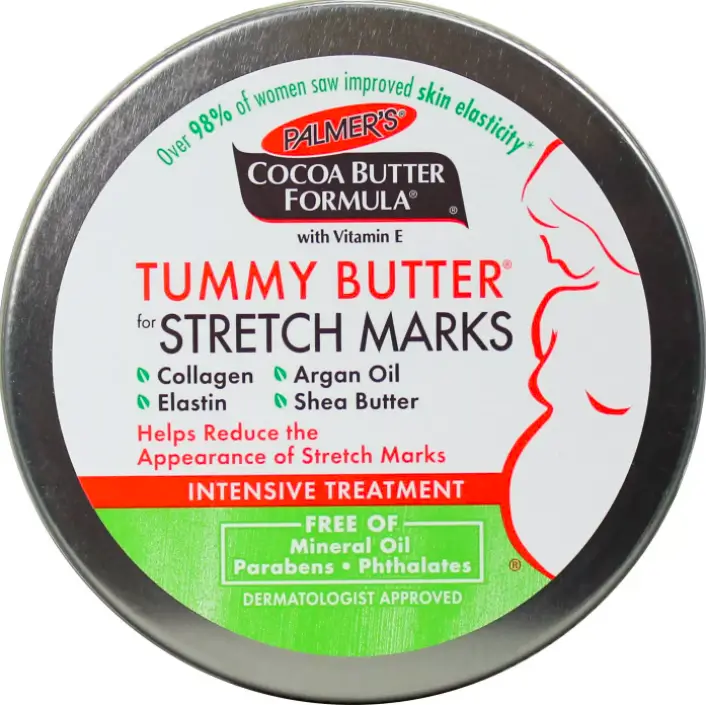 Our opinion
For our readers who love a quality bargain, we won't let you down when it comes to stretch mark creams. Here are some of our low priced top picks.
This product penetrates deeply into your skin to soothe while moisturizing. It is a dermatologically tested, intensive treatment cream that utilizes ingredients like cocoa butter, collagen, elastin, and vitamin E to improve your skin's tone and fade stretch marks.
It is scented, so be aware if this is something you are sensitive to, while some moms have found it too thick to apply easily. However, thanks to its great results and affordable price, many moms use this as their go-to stretch mark product.
Our seventh choice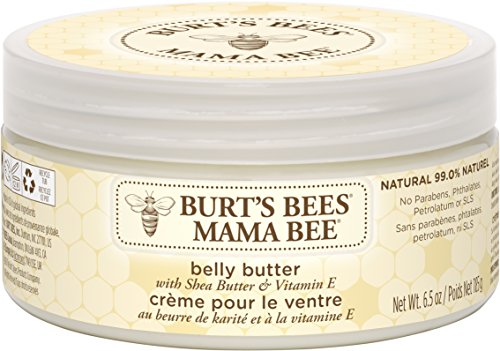 Our opinion
For around $10 you can purchase this popular and paraben-free product. Ingredients like Shea and cocoa butters enrich this fragrance-free cream for a soothing, healing experience. It applies smoothly and absorbs into the skin quickly.
Wrapping up
It seems like only yesterday you were waving your positive pregnancy test around your head. Now your tummy is expanding so much, you're amazed at how your skin can accommodate it!
If you are a mom looking to shed her pregnancy stripes, any one of these products is worth a try. They are among the best stretch mark creams on today's market. Just remember, be patient! Those stretch marks didn't appear overnight, even though it might feel that way when you look in the mirror. Nor will they disappear overnight. But don't worry; if being pregnant has taught you anything, it's that patience will always prevail. In the meantime, remember that you are beautiful, Mom, stretch marks and all!
Related: The Best Pregnancy Deodorant Of 2021