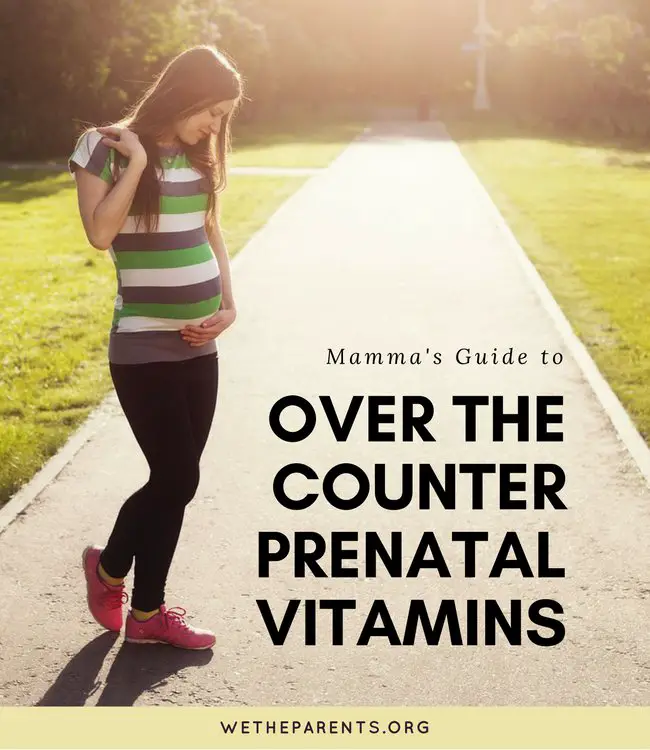 Good nutrition is a must during pregnancy, and just because you're eating healthily (for two) doesn't mean you are getting every mineral and vitamin that you and your baby need.
So what's an expecting mother to do to bridge the nutritional gaps?
The easiest option is adding prenatal vitamins to your daily menu. One trip through the supermarket wellness aisle, however, and you'll find that this is easier said than done. With so many options on the market, which one is the right one for you? When should you start taking them? For that matter, what, exactly, is in these much-hyped supplements?
No worries, Mom. We're here to breakdown the basics and give you some recommendations. Please remember though: always chat to your doctor about the vitamins you are taking. We're not medical professionals, so this article isn't a substitute for having that conversation.
Best One-a-Day Over the Counter Prenatal Vitamins
Sometimes, it can be difficult to remember to take a pill multiple times a day. This is especially true when you're busy doing other important things, like growing a tiny human inside of yourself. Never fear; here are some great prenatal vitamins that you only have to think about once a day.
With this #1 OBGYN recommended prenatal supplement, you will get the recommended doses of folic acid, vitamin D, iron, and iodine in one easy to swallow pill. Although it does contain DHA, it only contains 200 mg per dose, so you should consider buying an additional supplement if you are not offsetting the difference in your diet. On the bright side, mothers report that, despite containing omega-3's, this vitamin doesn't produce a fishy after taste.
Vegan: No
Vegetarian: No
DHA: Yes
Gluten-Free: Yes
Check Price on Amazon
This easy to swallow pill is all natural and allergen free. Although it delivers your daily needs of iron, iodine, and vitamin D, it does come up short on calcium. Containing only 200 mg out of the recommended daily 1,000 mg, you will definitely need to offset the difference through diet and/or an additional supplement. That said, these pills are small, easy on the stomach, and contain your daily dose of folic acid.
Vegan: Yes
Vegetarian: Yes
DHA: No
Gluten-Free: Yes
Check Price on Amazon
Easy on the Stomach Prenatal Vitamins
If you are finding that your prenatal vitamins are reeking havoc with your digestive system, it might be time to try a new brand. While prenatal vitamins that are easy to digest don't always provide every needed nutrient, there's no reason you can't work with your doctor to find ways to fill in the gaps.
Derived from raw foods and containing no dairy, these pills have probiotics, ginger, and zinc to tame your digestive system's rebellion. The dosing suggestion is three times a day, but representatives report that you can take all three at once if that works better for your schedule. You can even open the capsules and mix them into a beverage. Unfortunately, this vitamin does lack daily recommended doses of vital nutrition elements, such as calcium, iodine, and iron, so be sure to make up the differences either in diet or an additional supplement.
Vegan: No
Vegetarian: Yes
DHA: No
Gluten Free: Yes
Check Price on Amazon

If you hate swallowing pills, this gummy chew is a great alternative and is super gentle on the already fickle stomach of an expecting mother. Unfortunately, the reason it doesn't have a reputation for upsetting tummies is because it contains no iron; which is a prime culprit for such side effects. On the bright side, it's very affordable, contains adequate amounts of folic acid, iodine, and vitamins C and D, and does include 50 mg of DHA.
Vegan: No
Vegetarian: No
DHA: Yes
Gluten-Free: Yes
Check Price on Amazon
Prenatal Vitamins for Moms With the MTHFR Mutation
Passed from parent to child, a defective MTHFR gene hinders your body's ability to process folic acid. Your doctor can diagnose this disorder through a blood or saliva test, and this genetic mutation requires you to be a bit more picky about your prenatal vitamin of choice.
This kosher product is a bit on the expensive side, but it uses high-quality ingredients that your body can process into useful nutrition, despite a mutated MTHFR gene. The pills are small, easy to swallow, and you only need to take two a day. Most mother's report that there is no fishy aftertaste, even though this prenatal has 300 mg of DHA. Your recommended folate intake is met, and you are getting plenty of other valuable nutrients, although you will have to supplement your calcium consumption to meet your necessary daily intake.
Vegan: No
Vegetarian: No
DHA: Yes
Gluten-Free: Yes
Check Price on Amazon
This vitamin contains no iron, so be sure to consider that when planning your daily diet. It's easy on the stomach, contains enough folate to meet day-to-day recommendations, and was created by Dr. Ben Lynch, an expert of the MTHFR gene mutation. Unfortunately, you have to take three pills in the morning, three in the afternoon, and two in the evening. Yes, that's a total of eight pills. Luckily, many women report that they go down relatively easy.
Vegan: No
Vegetarian: Yes
DHA: Yes
Gluten-Free: Yes
Check Price on Amazon
What Are Prenatal Vitamins?
Alas, while you are pregnant you can't just pop your regular multivitamin and call it a day. As your body supports the growth of your baby, you will both be needing a little something extra to ensure your needs are being met. Picking a brand that includes nutrients like zinc, vitamins A, C, and E, as well as copper can be beneficial.
Most importantly, however, are these the fabulous four:
Iron (27 mg)- Since your blood is supplying your baby with oxygen, you want to be sure to get the proper amount of iron everyday. More iron means that plenty of hemoglobin is being produced within your red blood cells, which means your baby can develop in an oxygen-rich environment.
Iodine (150 mcg)- This promotes the healthy functioning of your thyroid throughout your pregnancy. Too little iodine during your pregnancy can lead to hearing problems, mental handicaps, and stunt the physical development of the fetus. If you subscribe to a vegan or vegetarian diet you will want to pay particular attention to your iodine intake as you might not ingest enough through your regular diet.
Folic Acid (aka Folate) (600 mcg)- This can help prevent significant deficiencies in the brain and spine of your baby. Known as neural tube defects, these can occur early on in a pregnancy.
Calcium (1,000 mg)- Your baby will need plenty of calcium to grow his or her bones, so you want to make sure that you have enough leftover in your body to keep your own skeleton up and running.
WebMD also recommends the following (source):
400 IU of vitamin D;
70 mg of vitamin C;
3 mg of thiamine;
2 mg of riboflavin;
20 mg of niacin;
6 mcg of vitamin B12;
10 mg of vitamin E;
15 mg of zinc.
Do I Need DHA In My Prenatal Vitamin?
You've probably noticed that many prenatal vitamins are adding DHA to their formulas. Why? Well, DHA is an omega-3 fatty acid and aids in the development of healthy eyes and brains. It also promotes strong immune and nervous systems in a fetus. However, since pregnant women tend to steer away from seafood, which is a prime source of DHA but also can contain mercury, they often lack proper amounts of this fatty acid.
As an attempt to remedy this common nutritional gap, some prenatal vitamins are revamping their formulas to include DHA. If you opt for a prenatal vitamin that has under 300 milligrams, you can always buy a separate DHA supplement.
DHA and Veganism/Vegetarianism
If your diet doesn't allow for the ingestion of animals or animal byproducts, don't worry. While you might find yourself hard-pressed to find a mainstream prenatal vitamin containing an acceptable form of DHA, you can explore other options. Some supplements derive their DHA from algae, and/or you can eat omega-3 rich foods, like seaweed or flax seeds.
When Should I Take Prenatal Vitamins?
As we mentioned above, neural tube defects can occur very early in a pregnancy; so early, in fact, that your baby can be affected before you even know you are pregnant. Because of this, it's advisable to make sure you are getting 400 micrograms (mcg) of folic acid a day if you are trying to conceive.
So yes; you can take prenatal vitamins while you are attempting to get pregnant and should absolutely begin taking them as soon as you find out you are carrying a new member of the family.
Do Prenatal Vitamins Have Side Effects?
Unfortunately, side effects are a possibility. Because prenatal vitamins contain the extra iron you need, you might find yourself a bit constipated. Luckily, drinking plenty of water, exercising, and making sure you're eating enough fiber will help alleviate this unpleasantness.
You might also find that you're a bit queasy after taking your vitamins. Taking the pills with food or purchasing a vitamin you can take several times a day to spread out the doses can minimize that icky feeling.
If these side effects begin to interfere with your daily life, contact your doctor.
Conclusion
Whether you are trying to get pregnant, in your third trimester, or breast feeding that new bundle of joy, you need to make sure you are keeping yourself healthy. Between a good diet and the right prenatal vitamin, you can ensure that your body has all the energy it needs to exist for two. Remember; you can only take care of your child as well as you take care of yourself.