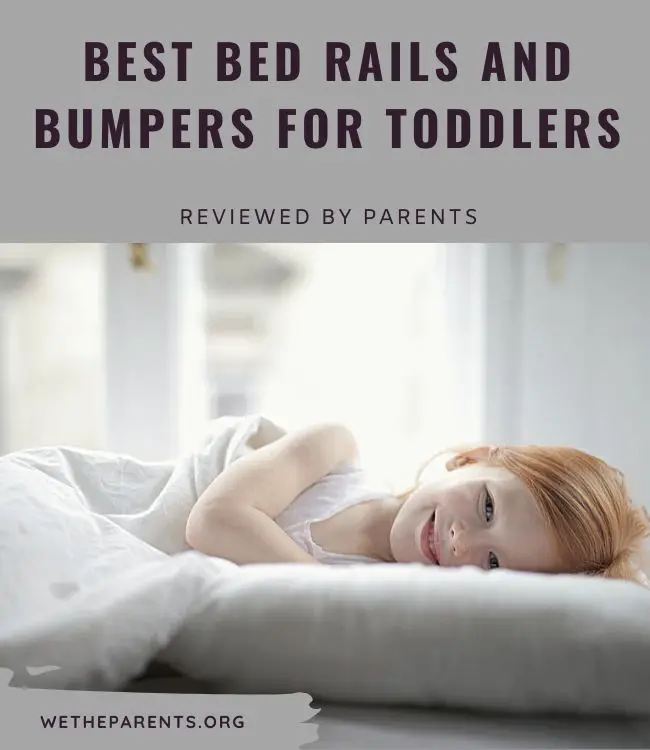 Making the transition from a crib to a big kid bed is a necessary step for their safety and maturity, but like all transitions during toddlerhood, it can come with some difficulty and uncertainty. Sturdy bed rails and soft bumpers can help to ease the change, helping to create a "contained" feeling that eases kids into sleep and can prevent them from falling out of or wandering from their bed or convertible crib.
If you're in the dark about what bed rails are or which one is best, dive into our buyer's guide to find out which types exist and find guidance in choosing one that's right for your kiddo and their sleeping accommodations. We've also assembled a list of the best bed rails for toddlers and why they're quality picks, so read on.
Editor's Choice
Hiccapop Convertible Crib Toddler Bed Rail
Offering sturdy anchoring to the crib frame for safety and an easy, functional fold-down switch to allow access to your little one.
View on Amazon
Buyers' Guide
What are some types of bed rails and bumpers I can choose from?
Large rails:

If you're transitioning to a co-sleeping situation, or your child will be moving directly to a larger mattress, large bed rails might be appropriate for your needs. Their intent is to offer greater coverage on all sides, but they can be pretty large and ungainly and don't tend to be adjustable. They're rather tough to escape, though, so they're good for wanderers and they're ideal for when a bed must be placed in the middle of a room rather than with two sides against a wall for added security.

Fold-down rails:

Often favored by parents who still need easy access to their younger child during the night, fold-down rails are designed to do exactly what their name purports. With the press of a button, the rail folds down to allow parents to reach in easily without disrupting the rail's attachment to the bed. They're easy to use if well-made, but inferior picks sometimes have stubborn switches that can lead to frustration.

Adjustable or convertible rails:

An alternative to fixed rails, adjustable rails are a bit less solid in their construction, but create a barrier that encourages kids to remain in bed during sleep. You'll have less concern about it fitting your child's mattress, as the intent of these rails is size versatility. While not all adjustable rails do this, some are also height-adjustable, which can be helpful as kids age.

Fixed rails:

If your child is a bit older, a fixed rail might be a good pick. They consist of solid panels which don't fold down or adjust, and they attach to the underside of your little one's mattress. They tend to be somewhat smaller than their adjustable counterparts, and they leave a bit of room for your kiddo to leave bed on their own; this means they're more suitable for kids who are old enough to understand basic safety and follow rules.

Inflatable, portable, or foam rails:

This encompasses a rather wide variety of products, which can include large foam inserts with coverings, inflatable plastic bumpers, and portable bumpers and nap pads with raised sides that prevent injury. Both foam and inflatable bumpers are simple to use and clean, as most slip right under a standard sheet and are waterproof or have a waterproof cover which can be wiped clean. They're a bit less sturdy than rails, though, and especially ungainly picks may require larger sheets secured with clips. For those in a pinch, regular craft foam, pool noodles, and pillows under the sheet can all double as makeshift bumpers.
What are some things I should consider when choosing a bed rail for my child?
The size of their crib mattress:

Unfortunately, when it comes to cribs, beds, and mattresses, size standards don't really exist. It's important to measure their mattress in order to know exactly what size rails you'll really need to keep them safe; keep in mind that some brands will only work with matching accessories, so do your due diligence and make sure you're choosing a rail that will work with their mattress.

The type of base under the bed:

While this concern is irrelevant when using bumpers, the type of base that's under your kiddo's bed matters when choosing a rail that will work for them. If they have a slotted box spring, their mattress will need to have enough heft to keep their rails in place. If they've got a thin cot or crib-style mattress, a thicker rail likely won't work, and you may have to opt for a thinner and lighter adjustable rail. If they have a sunken bed, using rails is probably a no-go, but bumpers may do the trick.

What the rail is made of:

Like all gear used to protect or contain your child, it's wise to look for materials that are durable, safe, and easy to clean. Wooden rails that look nice may contribute to the aesthetic of their bedroom, but this doesn't necessarily extend to function, which will matter far more to you in the moment.
In what ways could a bed rail benefit my child?
It makes sleep safer for tots:

A tumble out of their big kid bed or convertible crib can lead to serious injury, especially when they're smaller. Even if the only result is bumps and bruises, falling can make kids transitioning from a crib feel afraid of bed sleep and stymie progress that's already been made. A bed rail or bumper can prevent these falls and setbacks, and full-sized bed rails can also prevent younger children from access to danger by keeping them contained.

It may make them feel more comfortable as they switch to a big bed:

The sensation of being contained during sleep is something they've experienced their whole life, and making the transition to a bed can feel totally different and a little bit scary. The use of bed rails can mimic the contained sensation cribs offer, which can make the change feel a bit less intimidating.

Parents get more sleep:

A kiddo taking a tumble from bed or wandering into your room is a surefire way to put an end to your sound sleep. When bed rails are installed, both are far less likely, allowing you to remain soundly at rest.
When should I start using a bed rail for my child? For that matter, when should I stop?
As bed rails for toddlers are designed to be used as a transitional tool, there's no hard and fast limits as to when their use should start and stop. It's safe to start transitioning your toddler to a bed or convert their crib by the time they reach 18 months, so it's safe to say that's the earliest age at which a rail can be useful. They may begin to reject it on their own as they feel more secure, especially if you keep an open dialogue about its presence and the purpose it serves; continued use isn't going to harm, and some parents continue to use soft bumpers to keep restless sleepers from falling out of bed even into the elementary school years.
What are some important bedtime tips for toddlers?
No more crib by three:

Though a crib is unbelievably handy when your baby is small, it doesn't continue to be a safe accommodation as they grow. By the time your baby is gaining the strength to sit up on their own, it's wise to lower the crib mattress for their safety. When they pull themselves up, they have the potential of falling out, which is very dangerous. By three, they're likely to be more than capable of climbing out on their own, which poses a hazard and makes a crib ineffective; it can also lead to an unhealthy attachment that will disrupt their transition into a big kid bed.

Use care when choosing bed or convertible crib placement:

Placing their bed or convertible crib anywhere that's near dangling objects, cords, strings, or other things they can grab at can lead to accidental strangulation, suffocation, or other injuries, so it's important to choose a space that's not impacted by other objects and distrations.

Say goodbye to mobiles, or at least move them:

While a pretty mobile above the crib was a great tool for helping your baby's developing eye muscles, once they're toddler-age, they may be able to stand up on their own two feet and yank it right down to play with. They're not intended as hands-on toys, so this can pose choking and strangulation hazards among other issues. If you really love one particular pick, consider hanging it high up over a craft table or somewhere they won't be able to grab at it.

Restrictions can be eased a little:

By the time your child reaches 18 months, they're no longer as vulnerable to SIDS concerns as they once were; this means that it's fine for them to choose the sleeping position they find most comfortable, and that a small pillow and blanket are acceptable sleep companions. It's still best not to overload them with pillows, blankets, and stuffed animals while they're small, though.
Transparency rocks! When you shop through links on this page, we may earn a small commission.
Editors Choice
Type: Crib rail
Material: Metal, Nylon, Plastic
Height: 16 inches
Single or double-sided: Single
Bed sizes accommodated: Convertible crib
Convertible cribs are a highly functional pick for a nursery and bedroom, as all can transition into a toddler daybed and some can even be transitioned into a full-size bed frame once your child is old enough. If you've opted for one, you may be searching for a convertible rail, a form of bed rail specifically designed for convertible cribs. This pick from Hiccapop (check price on Amazon) checks all the boxes, offering sturdy anchoring to the crib frame for safety and an easy, functional fold-down switch to allow access to your little one; the height isn't adjustable, but at 16″, it's just about right for any lowered convertible crib. Parents should note that while this rail fits most major brands of cribs, IKEA cribs are not compatible.
What We Love:
It's just the right size and shape to keep them safe and comfortable when transitioning their crib to a daybed
It folds down to allow easy access for a bedtime story, diaper change, or anything you need
Watch out for:
Though it's compatible with cribs from all other major manufacturers, IKEA cribs won't work with this rail
Check Price on Amazon
Upgrade Choice
Type: Bed rail
Material: Polyester, Metal
Height: 18 inches
Single or double-sided: Single
Bed sizes accommodated: Twin, full, queen
A gap between a mattress and a bed rail is an invitation for lost objects, stuck arms, and pinched fingers. It's important to try to close that gap as much as possible, which the Munchkin Sleep toddler bed rail (check price on Amazon) achieves through the use of strong safety straps which allow it to sit flush against the mattress.
It's a fold-down rail with a very simple mechanism, so it's a great pick when they first make the transition to a big-kid bed. You won't need to be an engineer to install this pick, which takes about a minute to assemble, and cleaning it as as simple as wiping with a damp cloth and leaving the rail to air dry. Parents should note that while this rail can accommodate twin, full, and queen sized beds, it's not suitable for a king mattress.
What We Love:
It helps to close the gap between the rail and the mattress through the use of safety straps
The button hinge works well, and is rounded for your child's comfort
Watch out for:
Though it's fine for a twin, full, or queen mattress, it's too small for a king
Check Price on Amazon
Best Budget Buy
Type: Bed Rail
Material: Polyester, Metal
Height: 21 inches
Single or double-sided: Double
Bed sizes accommodated: Any
If you're transitioning your child to a larger bed or co-sleeping situation, or if their bed placement is central rather than in a corner, double bed rails can add some extra security to bedtime. They don't usually come cheap, which makes the budget-friendly Summer Double Safety Bedrail (check price on Amazon) an extra good get — you won't break the bank, and these sturdy rails extend to accommodate twin, full, queen, or king beds. They also have some extra panel height, so kids will be protected even if their mattress is thick. These rails also fold down on one side, which is ideal for access to younger children and makes life easier when changing their sheets.
What We Love:
It's a double rail set that works with any bed size but isn't super costly
The panels have extra height, so even if their mattress is thick, there'll still be enough rail to keep them in bed
Watch out for:
Only one of the sides folds down, so if the bed is centrally placed, this can be a little annoying
Folding down the panel requires two hands, as two knobs have to be simultaneously triggered
Check Price on Amazon
Best Foam Bumper
Type: Bumper
Material: Foam
Height: 4.5 inches
Single or double-sided: Single
Bed sizes accommodated: Any
The ease of installing a bumper makes the Toddler Bed Rail Bumper (check price on Amazon) an ideal pick for parents who'd rather not struggle with clunky hardware; they also slide right under the sheet, which makes them appear less obtrusive. These performance-tested bumpers are made out of CertiPUR-US foam, a non-toxic, soft but sturdy material that offers passive protection during sleep by encouraging sleepers to move in a different direction if they feel the bumper while asleep.
A washable cover with non-slip fabric beaded with silicone helps to keep the bumper in place once it has been installed, making it superior to alternatives like pool noodles and pillows which tend to slip around a lot and quickly use their utility. It's also sized to fit under any deep-fitted sheet, so there's a good chance they'll work with at least some of your existing sheet sets.
What We Love:
The soft foam construction offers gentle prompting to move away from the side of the bed without exposure to a hard rail panel
The washable cover has silicone dots which hold the bumper in place under the sheet
Watch out for:
It's a better pick for older sleepers, as a little one could still get out of bed easily with a bumper
Check Price on Amazon
Best Inflatable
Type: Inflatable
Material: BPA-free plastic
Height: 4 inches
Single or double-sided: Double
Bed sizes accommodated: Any
If you're looking for double-sided sleep protection that's handy to use both at home and on the go, look no further. The Shrunks inflatable rails (check price on Amazon) come in a convenient two-pack, so they'll be able to have one for each side of their bed no matter where they are. Both rails inflate via the use of a convenient foot pump, which is included with the set as is a durable and convenient storage and carrying bag.
They'll be able to use these bumpers both at home and away, easing the transition into sleep for little ones on vacation by creating a familiar sensation of containment and safety. When they're not inflated, they're so compact that they'll hardly take up room at all in luggage.
What We Love:
It's a set of two bumpers, so they're protected on both sides of the bed if it isn't placed against the wall
They're inflatable, so they're small when deflated, perfect for travel, and are accompanied by a simple foot pump
Watch out for:
There's no surfacing on the bumpers to keep them from sliding under the sheet, so you may want sheet clips to secure the tension
Check Price on Amazon
Best Twin Bed Rails
Type: Bed rail
Material: Metal, Nylon, Plastic
Height: 19.5 inches
Single or double-sided: Single
Bed sizes accommodated: Any
If you don't want to have to think too hard about the engineering specifics of choosing the right bed rail, one which accommodates all bed bases and sizes takes the struggle out of figuring it out. That's the case with the ComfyBumpy (check price on Amazon), which can be attached to any bed size from twin to king, and which also doesn't require a specific type of box spring to attach.
The rail attaches under their mattress with Velcro straps and flat iron panels, so even if the mattress is thin, they won't be able to feel the securing hardware as they sleep. There's also a central mesh "window" in the rail they'll be able to see through from bed, so they'll feel contained without the sensation of being trapped.
What We Love:
It works with all bed sizes from twin to king, and any box spring type is compatible
It makes use of flat iron panels and Velcro straps to attach, so they won't feel the hardware through their mattress as they sleep
Check Price on Amazon
Best Portable
Type: Portable
Material: Foam and waterproof velour
Height: 7 inches
Single or double-sided: Double
Bed sizes accommodated: n/a
If you'd rather not deal with inflating bumpers when it's naptime or bedtime on the go, a comfortably-padded nap mat with raised sides can create a cozy place for them to get their rest without concern of restless sleepers taking an uncomfortable tumble. This portable toddler travel nap mat from Milliard (check price on Amazon) has a soft velour inner lining that's cozy and warm for them to sleep on, and plenty of padding between them and the floor to allow for relaxed sleep. The mat has raised bumpers on all four sides to create a sensation of comfortable and secure containment that prevents falls.
Both the mat cover and the included fitted sheet are washable, so keeping their nap mat clean is a breeze. When it's time to carry the mat, it simply folds up in the middle to a convenient briefcase shape, securing with a Velcro panel, and can be carried via handles sewn into the top which snap together with an additional small cloth panel to keep the mat closed during carry.
What We Love:
If you don't want to deal with inflatable bumpers on the go, it offers a nap or sleep spot that discourages rolling and creates a sensation of contained comfort
Both the mat cover and the included fitted sheet are machine washable to preserve cleanliness
Watch out for:
Nap mats should never be placed on existing beds, as they're designed for the floor or a solid, flat surface — enough movement could send both the child and their mat falling off the side of a bed.
Check Price on Amazon
And The Winnes Is…
Convertible cribs are highly functional, so their common use isn't surprising; finding a quality bed rail that's compatible with almost all convertible cribs, is easy to install and clean, folds down without struggle, and won't break the bank is something of a godsend. Though it's not adjustable, the Hiccapop Convertible Crib Toddler Bed Rail (check price on Amazon) can be a significant help in easing the transition when converting their crib to a daybed. Just remember, parents: IKEA cribs won't work with this one.