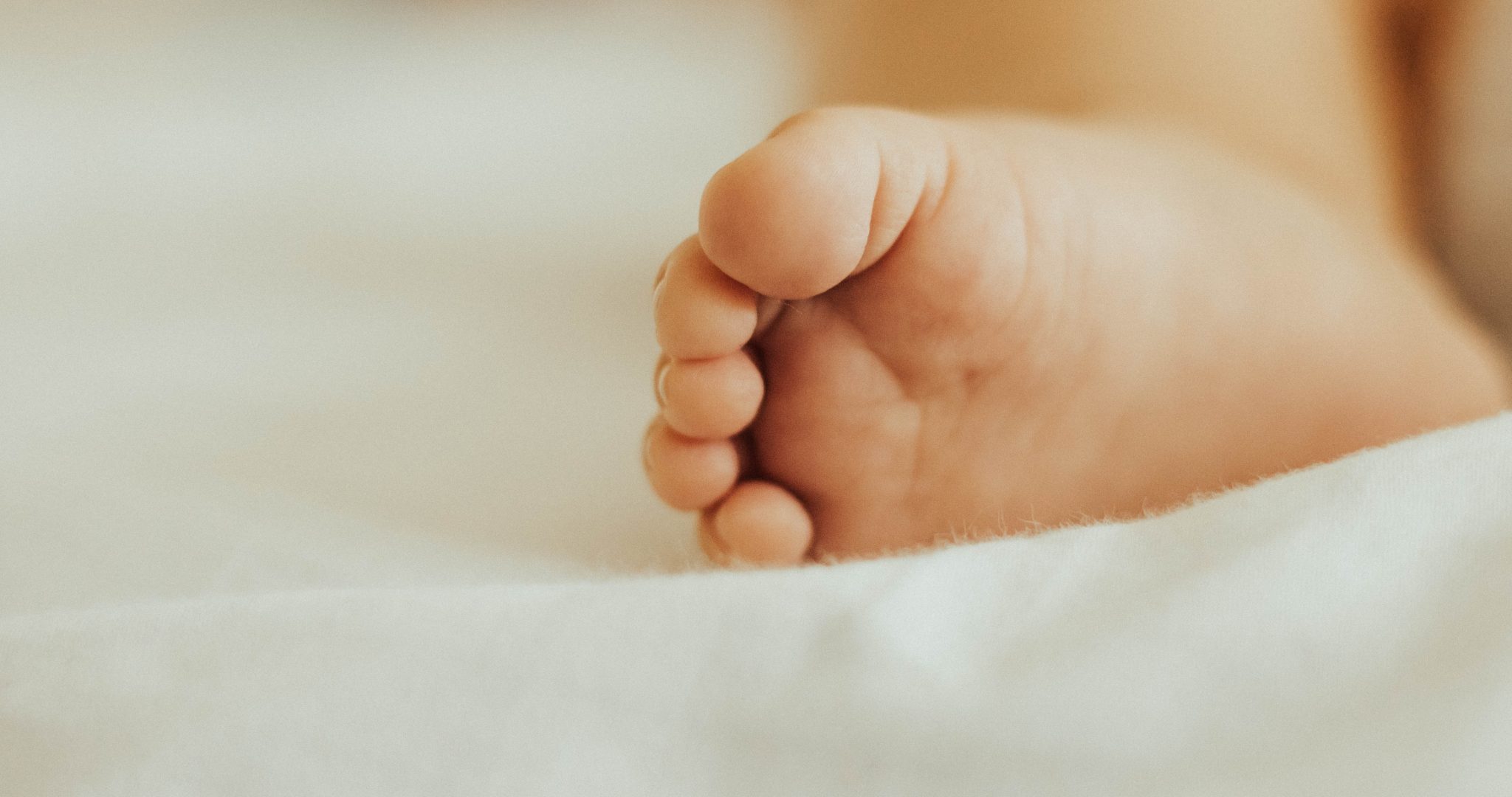 Whether you are a first-time parent or welcoming your newest addition to the family, you have surely spent plenty of time exploring the baby section of every store that you can think of. If the rush of excitement that comes from buying your infant all the essentials has turned into stress over finding the best and safest necessities, never fear. We have assembled a list of crib mattresses to help ease some of that shopping stress so you can get back to the fun part of shopping for a baby.
What to look for in a Crib Mattress
With all the options that are on the market, it is important to remember a few basic features that every crib mattress should have. Since your baby will be spending a lot of time sleeping as they grow, you want to be certain that not only is their comfort taken into consideration, but also their safety. You'll soon find that a quality mattress and a decent baby monitor are the foundations for a safely sleeping baby and relaxed parents.
Size and Thickness
The mattress you use in your full-size crib must be at least 51″ x 27 1/4″ and be no thicker than 6 inches, as per the United States Consumer Products Safety Commission. These mandatory dimensions will decrease the possibility of head entrapment and the risk of suffocation between the mattress and crib sides.
Firmness
While you might have seen plenty of sweet pictures depicting babies sleeping on fluffy clouds, when it comes to real life you want a firm mattress for your child.
Consumer Reports recommends a simple test to check the bed; just place your hand on the mattress and push down. Your hand should spring right back up, and no lasting indentation in the mattress should be present.
Remember, a firm mattress helps prevent SIDS so while those images of babies sleeping on clouds might make for a sweet nursery mural, you want your infant to sleep on a firm surface.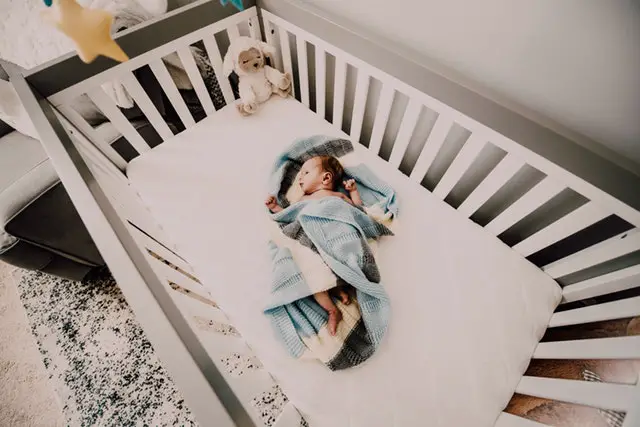 Mold Prevention
You want to be sure that your mattress, and mattress cover for that matter, are waterproof. Mold is an insidious thing that will grow on any wet surface.
Make sure your mattress is designed with a surface type that makes cleanups easy and that will prevent moisture from leaking into the mattress's core.
Buy New
Everyone loves a good hand me down or second-hand deal, and there's no shame in that. When it comes your infant's mattress, however, it's best to buy new.
Babies are not the cleanest sleepers, so the purchase of a new product ensures that it is sterile and ready to use. An improperly stored mattress is likely to be unsanitary for a newborn, possibly containing mildew or other harmful bacteria. Moreover, simple wear and tear of a hand me down mattress might have rendered it unsafe for your infant.
Foam vs. Innerspring
A good quality mattress will offer safe sleep regardless of what it is made from, so choosing between a foam and innerspring mattress is mostly a choice of preference and budget.
Your average foam mattress will be lighter than an innerspring product, which is certainly something to keep in mind if you are going to be changing the sheets a lot.
Organic Options
If you're concerned about traditional mattress materials and looking for an eco-friendly, organic option, there is good news. While they carry a slightly higher price tag, organic mattresses are being manufactured by more and more companies. Just be sure the materials are all-natural. This means checking that filler, such as cotton, is grown without the use of pesticides and that the product is made non-flammable without the use of potentially harmful chemicals.
Now that you know the basics of purchasing your baby's first bed, here is a list of some of our favorites.
Transparency rocks! When you shop through links on this page, we may earn a small commission.
Best Mattresses for a Super-Safe Sleep
All the mattresses recommended on this list meet federal standards, but some provide a little extra in the safety column.
Sealy Baby Firm Rest Crib Mattress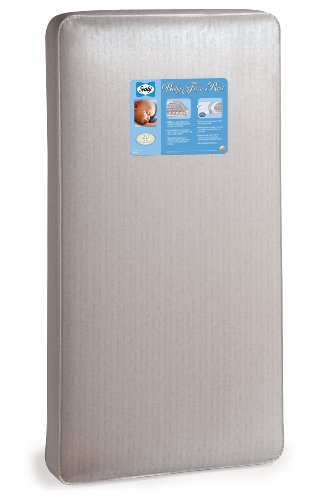 This mattress has 204 steel innerspring coils for a firm, comfortable surface. With a hospital-grade cover that is waterproof, mold and mildew won't be an issue. In fact, Sealy has a unique Staph-Gard antibacterial mattress cover, so bacteria and germs have a harder time getting onto the mattress.
This mattress also has a full perimeter border wire, so the sides, corners, and edges will stay firm. As with all of Sealy's crib mattresses, this product is GREENGUARD® Gold Certified and comes with a 20-year warranty.
Price: $
Dimensions: 51.6″ x 27.2″ x 5.8″
Weight: 13 lbs
Check Price on Amazon
Dourxi Hard Foam Mattress
Your baby will have no trouble attaining REM on top of this cool memory foam mattress. The triple-layered foam is soft and supportive. This mattress expands after being unpackaged. As such, we recommend ordering it before you go into labor. A 72-hour period is long enough for the mattress to plump up and burn off its new-mattress smell. Rest assured that it is made from 100% child-safe materials. Of course, it is firm enough to support newborns and infants. Many parents swear that this mattress has sleep-inducing voodoo powers.
Price: Less than $100
Dimensions: 27.5 x 52 x 6 inches
Weight: 13.6 pounds
Check Price on Amazon
Best Light-Weight Mattresses
You're going to be doing enough heavy lifting without adding a crib mattress to the strain. While a good mattress will have some heft to it, some are lighter than others without sacrificing any quality.
Dream On Me Full Size Firm Foam Crib and Toddler Bed Mattress
This mattress is waterproof, and its hypoallergenic and antibacterial cover will help prevent mold and mildew growth. Light while still being comfortable, easy to clean, and meeting federal flammability standards, this is a quality product.
Manufactured in the United States, it carries a 10-year warranty and can still be used for your child when he or she reaches toddlerhood.
Price: $
Dimensions: 52″ x 27″ x 6″
Weight: 6 lbs
Check Price on Amazon
Moonlight Slumber Little Dreamer Dual Firmness Crib Mattress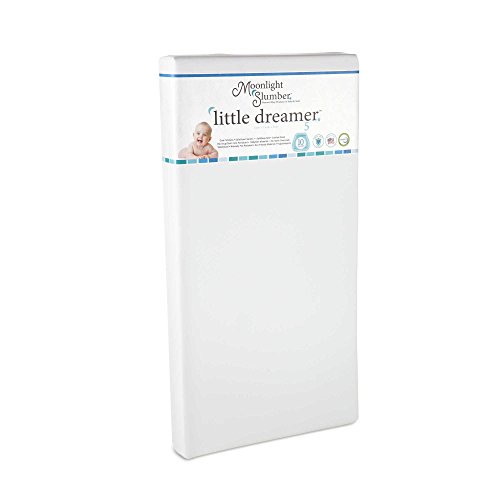 This mattress provides a non-toxic and waterproof sleeping experience for your little one. A recipient of the GREENGUARD® Gold Certification, this dual-sided bed can safely be used as your baby becomes a toddler.
The mattress is American made, with foam that is of a high-quality medical grade. It is also hypoallergenic and easily cleaned with a damp cloth or sponge.
Price: $$
Dimensions: 52″ x 27.5″ x 5″
Weight: 10.3 lbs
Check Price on Amazon
Best Organic Mattresses
If you are looking for eco-friendly and chemical free crib mattresses, you're not alone. Luckily, many companies have stepped up to the plate to provide you with all natural options.
Lullaby Earth Healthy Support Crib Mattress
This crib mattress has a waterproof surface and meets flammability requirements without the use of flame retardant chemicals; its surface even meets food contact standards.
Food-grade polyethylene, a material favored by many environmentalists, makes up this comfortable mattress.
Price: $$
Dimensions: 52″ x 27.5″ x 6″
Weight: 7lbs
Check Price on Amazon
Nook Sleep Pebble Pure Organic Crib Mattress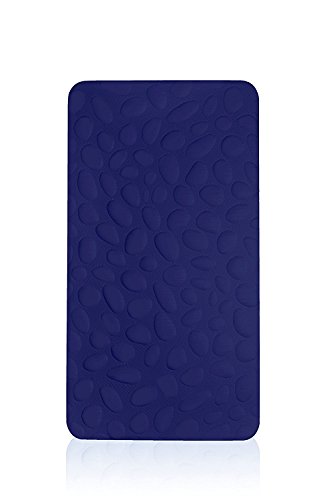 While a little higher up in price, this organic mattress is breathable and safe. It is waterproof and stain-proof, with no need for a mattress pad. Its coconut coir is surrounded by an organic wool fire barrier for your child's safety.
The cover comes off easily and is machine washable, ensuring that your baby will always be able to sleep on a clean bed.
When your baby grows into a toddler, this duel sided mattress's natural latex will provide a comfortable sleeping surface.
Price: $$$
Dimensions: 53″ x 28″ x 4″
Weight: 25 lbs
Check Price on Amazon
Best Affordable Crib Mattress
If you are looking to tighten those purse strings as you assemble your baby's nursery, you don't have to sacrifice safety and piece of mind.
Dream On Me 4″ Full-Size Foam Crib and Toddler Bed Mattress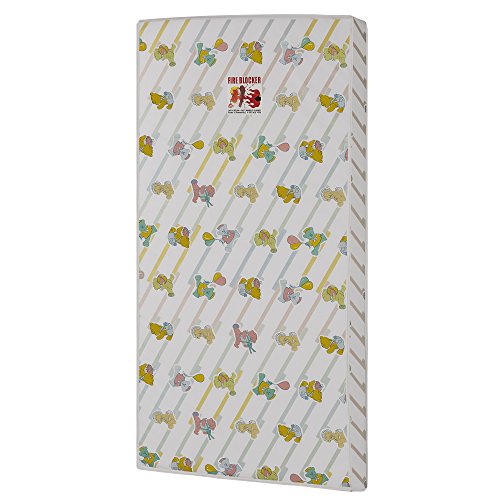 While some might find this mattress a little on the thin side, it does provide quite a few perks for the price. Made with hypoallergenic materials, it is very light and easily cleaned.
We're not too keen on the design (white cloud print on one side and a colorful bears on the other), but, hey, it's going to be covered with a sheet anyway, so don't let this put you off if you're looking for a great value mattress for home or the grandparents' house.
Price: $
Dimensions: 52″ x 28″ x 4″
Weight: 3.5 lbs
Check Price on Amazon
The Best of the Best
For those moms looking for the best of the best, and don't have budgetary constraints to worry about, we found a special crib mattress that is just right.
Naturalmat Mohair Mat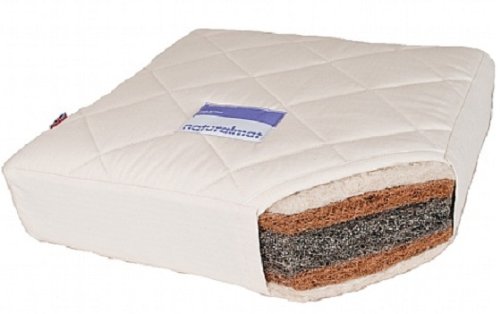 Handmade in Devon, England, the core of this mattress consists of durable horsetail hair. This unique material provides a firm surface that won't sag from repeated use, holding its shape for years to come.
The outer layer is mohair, a luxurious fiber that comes from Angora goats. The thermal insulation benefits that come from mohair will allow your baby to maintain a comfortable body temperature as they rest.
With its unique and hypoallergenic materials, this mattress is truly an organic product that keeps your little one's safety and comfort in mind.
Price: $$$$
Demensions: 52″ x27.5″ x 5″
Weight: 15.4 pounds
Check Price on Amazon
Wrapping up
When you are huddled over your coffee maker in the wee hours of the morning, it might feel like your baby never rests. Be assured, however, that they will spend a good amount of their time sleeping as their bodies and minds are growing.
Hopefully, this list has helped you pick a crib mattress that meets your needs and budget. Remember, the safer your baby sleeps, the better you sleep. And whilst a quality baby carrier will often be their preferred snoozing spot during the day, at nighttime that's not an option and so a quality mattress is just as essential.
Here's to sweet dreams for you and your family for years to come.