Internet Safety 101 The Ultimate Guide for Parents
This is the ultimate, easy-to-digest guide to keeping your family safe online.
Let's get straight to the point:
As parents, we worry about our kids and the internet. We want to keep them safe but aren't always sure how. Where do we start?
Right here.
This Internet Safety 101 guide is simple to follow and very practical.
If you want to be clued-up and confident but are short on time, we made this for you.
You're going to see the issues and risks, and be given actionable tips for protecting your family.
Let's dive right in.
Contents
How kids use the internet, and the main safety issues
Simple, actionable steps to protect your family
What to know: #1 How kids use the internet
It's incredible how effortlessly and enthusiastically children take to the internet.
It may be us adults who have created the infrastructure, the technology, the media, and the applications; however, it's a generation of children who are picking it up and using it in both expected and unexpected ways.
As parents, it is important that we familiarize ourselves with our kids' online habits and social media culture. Only then can we hope to be effective in guiding, educating, and protecting them from the risks and safety issues that come with it.
their Devices
Let's take a look at how children use different devices to go online, game, and communicate. Each device provides its own opportunities and risks.
SMARTPHONES and TABLETS
Many children now own or access mobile devices such as smartphones and tablets. This is the primary reason for a recent explosion in internet use by kids. [Source #1] Unrestricted, these mobiles devices provide the same level of online access a regular computers, and as such, they carry the same risks and safety issues.
The portability of mobile devices means that they can be carried around 24/7. This can lead to digital overload including anxiety and stress. It can also exacerbate cyberbullying – there's no escape.
DID You Know
56% of kids aged 8 to 12 own a cellphone. [Source #2]
21% of children under 8 yrs use smartphones. [Source #3]
70% of homes with kids have a tablet. [Source #4]
73% of teens own a smartphone and 91% use mobile devices to go online at least occasionally. [Source #5]
How they are used
Text
Call
Browse web
Search engine
Social media
Gaming
Video chat
Instant messaging
Video streaming
HOME COMPUTERS and LAPTOPS
Most families have at least one home computer. Children typically use these for browsing, social media, video chat, and online gaming. We recommend keeping home computers in 'communal spaces' where other family members will be, not in bedrooms. Our internet safety blueprint gives practical suggestions for family agreements and parental controls.
DID You Know
More than 60% of children use the internet at home [Source #6]
14% of kids aged 3-4 and 50% aged 5-15 play games online [Source #7]
47% of parents use controls of their home computer operating system [Source #8]
79% of parents review their kid's browsing history [Source #9]
How they are used
Browse web
Search engine
Social media
Gaming
Video chat
Chat rooms
Instant messaging
Video streaming
Download Movies
GAME CONSOLES
Game consoles have been around since the 80s; however, modern ones have come along way since the early days of Megadrive and SNES. Nowadays, the likes of Xbox, PlayStation, and Switch all connect to the internet. This allows multiple gamers from different locations to play each other. This online gaming often involves instant messaging where players can see, speak, or message each other in real time. This type of communication has inherent risks, such as sharing too much personal info or chatting with sexual predators.
Also, be aware that modern consoles are equipped with web browsers and social media. This means kids can access the internet and social networks through their games console.
DID You Know
42% of homes have a games console such as an Xbox, Wii or PlayStation [Source #10]
25% online gamers aged 12-15 use in-game messaging to chat with players they don't know [Source #11]
How they are used
Gaming
In-game video chat
In-game messaging
Browse web
Search engine
Social media
SMART TVS
The boundary between modern TVs and computers is blurring. Smart TVs now serve much more than movies and TV shows. They can be used to search and browse the web, and access social media such as YouTube, Facebook, Twitter, Instagram, and Snapchat. They can also be used for online gaming. It's important to keep this all in mind as you talk to your children, create family agreements, and set up parental controls within your home.
DID You Know
29% of US homes have smart TVs that connect to the internet and function as multimedia devices [Source #12]
On average, households use smart TVs for over two hours per day [Source #13]
How they are used
Watch TV
Watch Movies
Browse web
Search engine
Social media
Gaming
PUBLIC WIFI and COMPUTERS OUT of THE HOME
Be aware that public WiFi networks are targets for hackers who want to intercept personal information. Talk to your kids about the extra security measures that should be taken when using them.
When your children access the internet outside your home, they may not be subject to the same parental supervision and restrictions. This is why talking to your children about online dangers and keeping safe is vital. (Don't worry, we'll get into all of that below.)
DID You Know
Over half of the world's WiFi remains unfiltered for adult content [Source #14]
95% of millennials have shared information while on public WIFI [Source #15]
How they are used
Browse web
Search engine
Social media
Gaming
Video chat
Chat rooms
Instant messaging
Video streaming
What they get up to
As modern parents, it's important we understand what our kids get up to online and how they access the web through various platforms and devices. Only then can we have meaningful, informed conversations, and effectively manage their technology.
Searching & browsing the web
Using search engines is now a part of everyday life. Kids use them just as much as grown-ups. The main area of concern is younger children accidentally stumbling across inappropriate content.
Social networks, Apps & instant messaging
This is where children's' internet usage is different from most adults. Theirs revolves around apps, social networks, and instant messengers. Parent's are often unfamiliar with these.
Here are several ways that kids use social networks, apps, and instant messengers:
Live chat: Like WhatsApp, there are many apps that allow kids to text and send pictures and videos. Many allow users to chat live using audio or video chat.
Create, share, like and comment on images and videos: Many apps, such as Snapchat, allow users to create images and videos which can be shared. Other users can then comment and like them.
Keep up-to-date: Social networks, such as Instagram and Twitter, are used by kids to follow and stay up-to-date with their peer group and famous people.
Live stream: Using platforms such as YouTube, Instagram Live, and Facebook Live, children can setup live video streams. Often others can then comment and like the video stream live, as it happens.
The inherent risks for you to consider and explore with your children are:
New "friends" may not be who they say they are. Do not accept friend requests from unknown people;
Grooming;
Share Aware – what to share and what to keep private; and
Cyberbullying
Gaming (including in-game messaging)
Gaming happens via consoles or online gaming websites. Both allow children to connect to an online community of gamers who they can play and communicate with. Kids may play with one or two "real-life" friends, or hundreds of "strangers" in huge multi-player gaming sessions.
Many games allow real-time in-game messaging. Players can chat using text, audio, and video. This presents the same potential safety issues as social network apps and instant messengers (above).
Chat rooms & video chat
The idea of a chat room is an online "space" where people of similar interests come together to talk and hang out. They can do this as a group (group chat) or one-to-one (private chat). Members can communicate through typed messages, live audio, or live video.
Once again, the potential safety issues with chat rooms are mainly grooming and sharing too much personal information. By their very nature, chat rooms involve meeting new people: strangers. Many will be of a similar age and interest, but predators can readily pretend to be young and interested too.
Another thing to be aware of are chatrooms which glorify things like self-harm, anorexia, or radicalization. Sometimes peer support can be incredibly valuable in helping young people to feel better about certain problems; however, some chat rooms foster a culture in which the problem can be glorified and exacerbated.
#2 Know Your Apps 10 popular Apps which you may not know about
Ask FM 17+
A social network where users ask the community questions.
Parent reviewers reported that ASK FM is rife with bullying.
Lets you:
Follow & Be followed
Private message
Comment
Risks:
Bullying
Trolling
Inappropriate content
Strangers
Risk factor*
80%
Common Sense Media review »

Wishbone 17+
"Comparison tool" social network where members post images and ask the community to compare them.
E.g. "Who's hottest?", "Which do you prefer?" or "Would you rather…?"
Lets you:
Follow & Be followed
Private message
Comment
Vote
Risks:
Bullying
Trolling
Sexual content
Privacy
Grooming
Risk factor*
60%
Common Sense Media review »

Kik 17+
Instant messaging app popular with kids.
Lets you:
Message
Group chat
Send images
Send videos
Add people
Risks:
Bullying
Sexting
Privacy
Strangers
Grooming
Risk factor*
60%
Common Sense Media review »

Snap chat 16+
Very popular instant messaging app with extra features. It is based upon the principle that messages are automatically deleted after viewing. The map feature allows users to track and be tracked by others using their smartphone's GPS.
Lets you:
Message
Group chat
Send images
Send videos
Add people
Risks:
Bullying
Sexting
Privacy
Strangers
Location sharing
Grooming
Risk factor*
60%
Common Sense Media review »

Minecraft 8+
Minecraft Pocket Edition is the mobile app version of this hugely popular online game. Users build virtual worlds. Multiple players enter into one another's worlds where they can combat or play. The game allows players to message and chat.
Lets you:
Message
Group chat
Add people
Risks:
Bullying
Privacy
Strangers
Grooming
In-app purchases
Risk factor*
60%
Common Sense Media review »

Omegle 18+
Omegle is a video chat app which randomly picks another user for you to chat to (video or audio). Users can choose to be anonymous (ie, hide their personal information).
Omegle is uncensored. Explicit language, sexual come-ons, and strangers requesting personal information such as email address are common occurrences.
Common Sense Media urges parents that Omegle "is not for kids."
Lets you:
Risks:
Sexual content
Grooming
Trolling
Inappropriate content
Strangers
Privacy
Risk factor*
80%
Common Sense Media review »

Twitch 13+
Video game streaming site. Users live-stream or broadcast themselves as they play games. Other users watch them and listen to them talk.
Due to its live nature, streams are largely unmoderated and rude language is common. Often 18+ games are being streamed.
Lets you:
Follow & Be followed
Private message
Comment
Live stream
Risks:
Bullying
Trolling
Adult games
Explicit language
In-app purchases
Privacy
Risk factor*
40%
Common Sense Media review »

Clash of CLans 13+
Players build armies or join others'. Armies can grow to epic sizes and involve a huge number of players from all around the world.
Players join clans who then group chat. By joining an inappropriate clan (ie, one with adults or older kids), children can be exposed to rude language.
Any platform with instant messaging can and often does get abused by people being mean and rude, and groomers.
Lets you:
Message
Group chat
Add people
Join Teams
Risks:
In-app purchases
Explicit language
Bullying
Trolling
Privacy
Strangers
Grooming
Risk factor*
40%
Common Sense Media review »

Roblox 12+
User-generated gaming platform. Users create their own games which others can play.
Some parents report inadequate moderation and areas of the site being abused for rude and sexual talk and potential grooming.
Lets you:
Message
Group chat
Private message
Risks:
Explicit language
Sexual content
Bullying
Privacy
Strangers
Grooming
In-app purchases
Risk factor*
40%
Common Sense Media review »

Live.ly 17+
Live.ly is a social network crossed with video streaming. Extremely popular with tweens, users broadcast live to their followers, who leave comments in real-time.
Live.ly is allegedly home to pedophiles and groomers who make lewd comments encouraging very young users to perform sexual acts during their broadcasts, ask for private contact info, and expose themselves during group video chats.
Lets you:
Private Message
Follow & Be Followed
Group video chat
Live stream
Comment
Risks:
Grooming
Strangers
Privacy
Sexual content
Explicit language
Bullying
Trolling
Risk factor*
70%
Common Sense Media review »
*How we rated these apps: (1) "Minimum age" based on opinions of parent and expert reviewers over at Common Sense Media. Where parents and experts differed, we chose the highest of the two ratings. (2) "Risk factor" based on parent and expert reviews from Common Sense Media and Internet Matters. Reviewers were asked to rate how suitable and safe the apps were for children. They gave each app a score of 1 to 5 stars. We took the average suitability/safety score and inverted it to give a risk factor score. So a 3/5 suitability/safety score becomes a 2/5 risk factor score, which is then expressed as a percentage, i.e. 40%.
Parents Resource
Where to learn about apps
With so many new apps, we parents could all use some help to learn what they are about, what the risks are, and how to adjust app settings to make them as safe as possible. Here are three sites which do just that. They provide expert, parent, and child reviews of apps.
What to know: #3 Risks & Safety Issues
You probably already teach your kids about "stranger danger", right? They know not to take sweets from strangers, or accept rides in their cars.
Well, in this internet age, where we live partly online, it's time for parents to expand "stranger danger" to protect against new online risks and safety issues.
Here's the good news:
It's actually pretty simple. There are a several new and vital safety principles to teach your kids, but these can then be applied across a myriad of different websites, apps, devices, and social networks.
Risk #1 SHARING PERSONAL INFORMATION
We all need to be savvy about what we share online, and how we protect our personal information. Kids are particularly at risk from sharing too much. Here are the main risks:
Embarrassment and bullying: Psychologically, the internet fosters a sense of anonymity and detachment from reality. Online, people often say and share things they otherwise wouldn't in "real life". Problems arise when children share personal stories, images, or videos which they later regret. Once the data is "out there" it is almost impossible to control it and make it go away. This can lead to embarrassment, bullying, and even damaged career prospects.
Vulnerability to abuse: Children sometimes share too much personal information with predators or scammers (who may have been "phishing" for it). Profile pictures, "bios", and "location sharing" can inadvertently reveal sensitive information. In the wrong hands, phone number, address, or current location can make a child vulnerable to abuse.
Identity theft: Children have clean credit records which makes them ideal targets for identity thieves. A recent study of 40,000 children revealed that 10% had someone else using their Social Security Number. This is a big problem and often occurs when children unwittingly share too much information online. [Source #16]
https://www.youtube.com/watch?v=lGIEKGJRWEohttps://www.youtube.com/watch?v=sch_WMjd6go
Tips for staying safe
Education is key! Both you and your children need to become savvy about keeping personal information safe online.
The NSPCC (a British children's charity) has created an excellent campaign called Share Aware. Here are some of their top tips for keeping your information safe:
Be careful – Be wary about what you share online. Should it be shared in public?
Profile pics – Don't give your location away in the background.
Usernames – Always use a nickname and not a real one.
Privacy settings – Check them regularly.
Location settings – Check and disable them (eg, so that apps like Snapchat don't give your location away).
Passwords – Make them hard, ie, more than 12 characters with capitals, numbers and special characters. Never reveal them!
Think before you post – Don't share anything that you wouldn't want your mom, teachers, or friends seeing.
Be alert to strangers – Don't accept friend requests from strangers and if they add you, then ignore and delete them. Never share personal information like phone number or address with someone you don't know.
Regularly check your child's credit reports – They are 51 times more likely to be the victim of identity theft. Regularly check their credit reports to pick it up early.
Risk #2 ONLINE GROOMING
On the internet, it is easy to hide behind anonymity or create a false identity. Sexual predators and scammers use this to their advantage. They mislead children by presenting themselves as peers. For this reason, it is important that children understand that new friends made online may not be who they say they are. Once somebody has joined their "friends list" then this person will be included in their personal posting and other information sharing.
Groomers use social networks and online chat rooms – anywhere that people gather online. They use fake profile pictures and names to gain trust. After meeting a child on a social network, online game, or chat room, a groomer will often direct the communication onto a more private channel, eg, private messaging or email. This can then lead to phone calls and meeting up in person.
How to spot Online grooming
It isn't always easy to tell if your child is being groomed. Here are some things to look for. (Some of these behaviours are common 'everyday' teenager behaviours, but use your instinct, especially if you notice a change.)
Online more – Spending more time than usual on the internet
Secretive – Being secretive about the sites they use and who they are talking to
The "switcheroo" – Quickly switching computer screens when you pass by
Mystery devices -Having new mobile devices that you didn't give them
Emotional volatility – More than usual (even for a teen!)
Explicit words – Using sexual language that you wouldn't expect them to know
[Source #17 & Source #18]
Tips for staying safe
The most powerful way to prevent grooming is to educate your child. Make sure they understand the risks and know how to stay safe online.
Be share aware – Don't share personal information, eg, name, age, gender, phone number, home address, school name, or photographs, especially with strangers or new online friends.
Be careful about "new friends" – It is tempting to accept friend requests from strangers. Having lots of online "friends" can boost self-esteem and help children to feel popular. But beware. People may not be who they say they are, even if they've been chatting for several weeks and feel like friends. Only accept online friend requests from real friends they already know – or be very cautious about those met online.
Online meet up with a parent present – NEVER meet up (in-person) with an online "friend" unless accompanied by a parent.
Talk about it – Let your child know that they can share anything with you. If they feel uncomfortable about any online experience, they should immediately share it with you or another trusted adult.
Report it – If you believe that your child is being groomed, immediately contact the authorities, eg: www.missingkids.org/gethelpnow/cybertipline
Risk #3 CYBERBULLYING
Traditional bullying is bad enough – it can be extremely hurtful and harmful. Cyberbullying is an extension of the same abuse but it takes on some new features and patterns when it goes online.
Furthermore, many kids now have access to mobile devices at all times. This means that cyberbullying can be constant and unrelenting. It can leave children with the feeling that there is no escape. [Source]
Types of cyberbullying
As parents, it's important to be aware of the different ways that bullying can happen online. Here are some to watch out for:
Abusive messages – Sending threatening or abusive messages via text or instant messenger.
Embarrassing pics and videos – Creating and sharing embarrassing or demeaning images or videos.
Trolling – Leaving menacing or mean comments on social networks, chat rooms, or online games.
Leaving out – Intentionally excluding someone from an online group (eg, an online-gaming team, a social network group, or an instant messenger group chat).
Hate sites – Social media profiles or groups, or entire blogs setup solely to post mean and abusive content about someone.
Encouraging self-harm – encouraging young people to self-harm (often in chatrooms).
Voting – Taking part in an abusive poll designed to hurt someone (eg, "Hot or Not" or "F**k or Kill").
Hijacking accounts – hijacking accounts or stealing online identities to embarrass someone or cause trouble using their name.
Sexting – Sending unsolicited, sexually explicit messages.
Sex pressure – Pressuring or coercing someone into sending sexual images or engaging in sexual conversations.
How to tackle it
Talk to your children about the best way to tackle cyberbullying. Here are some tips:
Talk about it – Speak to a trusted adult, such as a parent, teacher, friend, or online support worker.
Save evidence – Save a screenshot of nasty messages. This can later be used to report the cyberbullying to school, authorities, or the social networks and apps.
Block and delete – Don't reply to any nasty messages. Delete them and immediately block the sender.
Report it – Most apps have a reporting function which allows you to flag any abusive users and messages.
Be careful what you share – It's best to be on the safe side – don't share any personal photos or stories which could lead to embarrassment or blackmail if they fell into the wrong hands.
Risk #4 SEXTING
Sexting is using a computer or mobile device to send sexually explicit content to someone else.
"Nudes" refers to nude or semi-nude images or videos, whereas "dirties" are sexually explicit ones.
These are often sent via text or instant messenger apps but any platform that allows messaging can be used, eg, online gaming or chat rooms.
Before we explore the negative side of sexting, it's worth mentioning that it sometimes takes place between consenting peers and can be a natural exploration of sexual feelings (eg, flirting and trying out sexual identity).
The problem is that sexting sometimes involves pressure or coercion from one side. Furthermore, even if it starts out consensually, it can still have harmful consequences for young people.
The risks of sexting
No control over sharing – Once sent, images and videos cannot be withdrawn. What happens next cannot be controlled. They may be seen and shared in unwanted ways.
Blackmail and bullying – Sexually explicit images can be used to bully or blackmail the sender. This may happen if an opportunistic bully seizes the online pictures. It can also occur if a relationship turns sour. Finally, criminals use them to blackmail their victim (eg, into giving money).
Pressure – Children can be pressured into sexting by their peers. It can be hard to refuse, especially if the request is persistent. Children need to understand that this is a form of sexual harassment.
Legal issues – Sharing sexual photos between consenting adults is not illegal, but when it involves minors then sexual exploitation or child pornography laws can come into play. This can be true even if the images or videos are shared between children of the same age.
Psychological distress – If sexual or nude images get out and are shared around, this can lead to serious emotional distress.
Can attract sexual predators – If images or videos are shared publicly, they can draw unwanted attention from sexual groomers who know how to find them and could use them to initiate contact.
How to tackle it
The main way to keep children and young people safe is to discuss sexting with them in a supportive and open way.
Talk about it in advance – Don't wait for an issue to arise. It's important to bring up the conversation yourself. Be sensitive. Don't accuse them but rather present the risks and issues. We know, discussing sexual topics with our kids can sometimes feel awkward, but don't avoid it! Find a way that works for you and your child. Here are some approaches for getting this conversation going (NSPCC).
Explain the risks and issues – It is important that they understand the dangers and legal issues around sexting. Even if they trust someone now, the breakdown of a relationship can change everything. Once they share something online, even if it feels private, they can't know whether it will come out and be shared in public in the future.
The "Grandma" Rule – If they would be uncomfortable showing something to Grandma, then they probably shouldn't be posting it.
Be supportive – Try to be someone that your children feel safe to talk to. Let them know that you are there to support them in a non-judgemental way. If they feel uncomfortable talking to you, it's important they have another trusted adult they can turn to. Let them know where they can get support online (Childline).
Risk #5 INAPPROPRIATE AND HARMFUL CONTENT
There is plenty of disturbing content on the internet. This can be stumbled across accidentally by small children, or it can be explored intentionally by inquisitive young minds. Kids being exposed to inappropriate content is the top internet safety concern for 62% of parents. [Source #20]
If children are exposed to extreme content, they may be shocked, confused, or psychologically distressed. Examples of inappropriate and potentially harmful content are pornography, violence, and hate.
There is also the issue of fake news and opinions being presented as facts. This area is more nuanced and requires ongoing talks and education. We want our children to become astute, healthily skeptical, and ready to do their own research to verify the truth or falsehood of a given story or statement.
Types of Extreme Content
Here are just a few different types of inappropriate, mature, or harmful content that can be found (intentionally or accidentally) on the internet:
Pornography
Hate, bigotry, and racism
Death and gore
Violence and cruelty
Sites that encourage crime, terrorism, eating disorders, and self-harm
How to tackle it
There are three main approaches to safeguarding your children from harmful content:
Explore their online world – Go online with your children so you get a feel for how they use the internet. Of course, you won't be privy to it all, but you will become savvy to some of the 'internet culture' of their generation.
Discuss and educate – Discuss the issues and dangers with your kids. Keep it age appropriate. You'll never be able to fully control their internet usage, so it's best to empower them through education to be discerning and wise online citizens.
Parental controls – Parental controls are restrictions and filters that you set up on mobile devices and home internet technology. They can also be implemented within games and apps. They block inappropriate content thus helping to safeguard your children. Be aware, though, that they are never 100% perfect and ought not to be a substitute for educating your children.
Supervise – Keep computers in family rooms, not private bedrooms. This way you can stay involved in their internet usage.
Risk #6 SPENDING MONEY
More than a resource for information, the internet is a thriving online economy, driven by monetary transactions. There are many ways a child can spend money, from internet shopping to in-app purchases. In fact, Mobicip reports "54% of kids purchase mobile apps and make in-app purchases, and 41% use a mobile device to make general purchases." This can lead to children running up large bills and debts.
Part of the issue lies with many children having access to their own bank accounts and cards (or their parents!). And then there is the issue of commercial websites doing a poor job of preventing underage youngsters from signing up.
Ways kids are able to spend money online
"App trap" (in-game purchases) – Many free apps make their money by enticing users to make in-game purchases. Once users are immersed, it can be tempting (especially for kids) to spend money on bonus features and upgrades which help them to "get ahead" in the game. App makers work very hard to tempt users to spend money in this way. British newspaper, The Guardian, estimated that children's unauthorized app spending may be more than $30m a month. [Source #21]
Online gambling – Online gambling can often feel very unreal, almost game-like. However, if a young person links their bank card to a gambling site, then the money they can spend is very real.
Internet shopping – This ranges from computer games, movies, and physical products to mobile apps. If kids have unrestricted mobile devices and access to bank cards, then spending money is very easy.
How to tackle it
Manage your child's access to funds – Don't share your card details with your children. Even if you trust them, once card details have been used to purchase certain apps, it becomes too easy to spend more money (even accidentally). If you feel your child is ready for a bank account, then consider an account without an overdraft facility or credit. Prepaid cards are a smart way to avoid problems whilst enabling your child to spend pocket money online.
Check your bank and credit statements often – This way you can pick up on any unexpected spending. I'm assuming it wasn't you who spent $3.99 on The Golden Sword of Zolgor, right?
Parental controls – These prevent money transactions being made using mobile devices.
Risk #8 DIGITAL OVERLOAD
Kids spend an average of seven hours per day using screens – yikes! There is no doubt that this is impacting children on neurological, emotional, psychological, and physical levels. [Source #22]
Digital overload refers to stress induced by excessive media and technology use.
Symptoms of digital overload
Kiwi Families list the main symptoms as:
Tiredness and lack of energy
Forgetfulness
Stress and a feeling of being overwhelmed
Emotional volatility
Low frustration tolerance
Impatience
Loss of focus and ability to concentrate
Obsession with technology / Little interest in anything unrelated to technology
Feelings of disconnection from important people
How to tackle it
Limit screen time – There is no clear consensus on appropriate screen time. Some educational systems, such as Waldorf, recommend no screen time at all before the age of 12. Others are more lenient with their recommendations. A popular rule of thumb is that kids under 2-yrs shouldn't access any screens; above this age, no more than one hour per day. A consensus is that less is best.
Lead by example – Limiting screen time works best if everyone in the family sticks to it. That means we parents staying off our devices whilst the kids are around.
Family Digital Time – Create a family agreement. You are all in this together. If you want, agree a time and duration when the whole family can use their devices. Outside this time, everyone can put their devices into airplane mode and then into "sin bin" (a box or basket to contain all the phones and tablets).
Tell them they won't "miss out" – It can be hard for kids to understand, but let them know that they won't miss out just because they are offline for a few hours.
Keep bedrooms media free – Ban media devices from bedrooms and keep the home computer in a room that parents use.
Invest in engaging alternatives – If it's going to help your children to spend less time on digital media, then it's worth investing in alternative hobbies. Kid into scooting? Then invest in an awesome pro scooter (we did a whole guide if you're interested). Or get kitted out so you can go bike riding as a family.
What to do: #4 T.E.A.M. = Talk, Explore, Agree, Manage
Keeping your family safe online is super important but can feel overwhelming.
Let's simplify it!
The practical steps you need to take fall into just four areas:
Talk to your kids.
Explore the internet with them and learn how they use it.
Agree on rules and boundaries for each member of the family (parents too!).
Manage and restrict technology through parental controls.
Let's take a closer look…
TEAM Talk
Talk to your children about the good, bad, and ugly of the internet. Do this regularly. It is the most important thing you can do to keep your children safe and resilient.
Don't rely solely on parental controls or house rules to keep your children safe. It is inevitable that – at some point – they will access the internet without restrictions when you are not there.
The best protective strategy is to frequently have open and non-judgemental conversations with your kids. Be supportive and foster their trust. Teach them about the safety issues and help them to become wise to the risks. Also encourage them to be kind, thoughtful, and emotionally intelligent as they interact with peers and strangers online.
Make sure it's a two-way conversation. Whilst they can learn from us about the risks and making good online decisions, we can certainly learn from them about technology, apps, and how kids use them.
Think of it like this: you and your children are a super team; working together you have the power to beat the bad stuff whilst enjoying everything awesome the internet has to offer.
Things to talk about
Inappropriate content – Let your children know they may encounter content that is disturbing and may shock or upset them. Tell them that it is natural to be curious and they won't be in trouble if they discuss this with you. The most important thing is that they feel able to talk to you or another trusted adult if they are uncomfortable with anything they have read or seen.
"Stranger Danger" – In an age-appropriate way, tell children about the dangers of groomers, predators, and scammers. Explain that sometimes people lie and that new online "friends" may not be who they say they are.
Cyberbullying – Discuss how to appropriately interact with others online. Talk about being kind and respectful to others online, and what behavior is unacceptable. Cyberbullying, just like traditional bullying, often stems from the struggle for popularity and acceptance among peers. It can also arise when young people have difficulty managing emotions such as jealousy, anger, insecurity, and hurt. Explore the emotional context of bullying with your child, as well as discussing practical, actionable tips for blocking and reporting abusive messages and users.
Share aware – Ensure that children are clear about what they should and shouldn't be sharing online.
Privacy settings – Talk about why privacy is important and how to set up the safest privacy settings on their devices and apps.
Sexting – This can be a delicate subject and some parents may feel awkward discussing it. It's important, though, not to wait for a sexting issue to arise. Be proactive and have the conversation early on. Discuss how shared images can never be taken back. They may be shared and circulated online in ways they wouldn't want. Talk about ways they can respond if another person asks or pressures them into sharing explicit images. If you discover that your child has been sexting, don't shame them. It's much more helpful if they trust you and feel able to talk about these issues.
TEAM EXPLORE
Get involved in your child's online world. Show an interest. Get to know where they hang out, what apps and games they play, and how they use social media. Be proactive. As you become familiar with what they like and how they use the internet, you'll be in a much better position to safeguard and support them.
Ideas for exploring their online world
Get to know their apps and social networks – Get your child to show you around their apps, games, and websites. Ask them what they like best about each and how they use them. Now do your own background research. (Net Aware get parents to explain and review more than 50 of the most popular games, apps, and social networks used by kids.) It's a good idea to learn about the specific risks associated with each, and how to make them safer using parental controls and privacy settings.
Learn about social trends and online etiquette – Each new generation develops its own culture and way of communicating using online technology. We parents may never completely get it, but show an interest and try to pick up as much as you can. How are they communicating online? What are the social peer pressures? How do they measure "cool" and social status – is it likes, views, friends, follows?
If you are proactive and explore their world in an open and non-judgemental way, you'll be better able to understand and help if things go wrong.
TEAM Agree
Create a family agreement on the use of technology and the internet.
The process of creating this agreement, together as a family, is valuable. It provides a wonderful opportunity to speak about internet safety in depth. Your kids can also help to shape the rules and boundaries. This develops a sense of ownership.
Keep the agreement age-appropriate. It should evolve as children grow. For example, younger children may be subject to more restrictions and boundaries, whereas older children may be allowed more freedoms.
In the family agreement include some rules for parents too! Perhaps Mom and Dad also restrict their screen time? This way it feels like the whole family is "in it together".
Once you have your family agreement, make sure to review it regularly; is it working or does it need some tweaking?
What to put in a family "internet & tech" agreement?
Here we list some of the things you may want to include in your family agreement. Don't get intimidated, we've included some pre-made templates in the resource section below, these make it easy.
Which – Which websites, apps, social networks, and games your children can use.
Where – Where in the house can devices and computers be used? Eg, not in bedrooms or at the dinner table.
Screentime – When and for how long?
Money – Money and spending rules. Eg, can they spend anything? How much? Do they need permission first?
Share Aware – What can and can't be shared. Safe profile pics and usernames. Is parental permission required before sharing photos etc?
Passwords – How strong do passwords need to be?
Privacy settings – What settings you expect on each device, game, or app.
Age restrictions – Ensure that the correct age is entered into social networks, apps, and gaming accounts.
Downloading apps – Can they download anything? Will you restrict this?
Social Media – Sign up using real age. Never share account login.
Gaming – Which age rated games can they play?
In-game chat – Are they allowed to use in-game chat? You may wish to restrict this.
Online "friends" – Will they accept friendship requests from strangers?
Sexting – What behavior and etiquette you expect.
Downloading media – What can they download? Eg, games, films, music. Do they need to ask permission? Must they avoid illegal (pirate) downloads?
Talk – Agree that they will talk to you if any online content or interaction makes them feel uncomfortable or scared.
Parent Resource
Family Agreement Templates
Blank canvas syndrome!? We know that creating anything from scratch can be tough. Here are a few family agreement templates to get you started. Just pick and choose the bits you like.
TEAM Manage
There are many ways that restrictions and filters can be setup on mobile devices, computers, and WiFi routers. These are often called "parental controls". They work by introducing a barrier that prevents children from accessing inappropriate content. Parental controls can also be used to manage and restrict downloading and spending.
When using parental controls, it's important to strike the right balance between boundaries and freedoms. Only you can judge where to draw the line and this will change as kids mature.
What types of controls are available
Parental control password – You can set up various controls, restrictions, and filters on your child's device. These are then protected by a password so only you can change them.
Prevent spending – On mobile devices, you can often prevent in-app/in-game purchases from being made. (Note that this doesn't prevent spending online using a web browser.)
Prevent apps being downloaded – Stops any (or adult rated) apps from being downloaded without your parental consent, ie, password.
Block location services – Some apps have features that share the location of the mobile device. This essentially allows other people to see the exact location of your child. This can be disabled on the device.
Browser content filters – These block adult content from browsers. They vary in how effectively they work. A more foolproof method is installing a "kid-friendly" internet browser on their mobile device.
Time restrictions – It is possible to limit when and for how long mobile devices can be used.
Monitoring and manage usage – Some parental control systems allow you to monitor and manage devices. This includes things like who your kid can call and text, which apps they use, and what times they can use the internet.
Never rely 100% on parental controls
Be aware that parental controls will never be 100% effective. This is because:
Tech-savvy kids may be able to bypass them.
Some inappropriate content may slip through the net.
When your kids are away from home these controls won't be in place.
For these reasons, it is important not to over-rely on parental controls. Never use them as a substitute for talking, exploring, and agreeing upon safe and healthy internet use with your kids.
Here is a great video explaining why:
#5 Parental Controls A simple 101 guide for setting them up
Mobile Devices (Smartphones and Tablets)
There are several different ways to set up parental controls on smartphones and tablets, but we're going to keep this nice and simple.
Inbuilt or "native" parental control features
These parent control features are "built-in" to your smartphone or tablet. Each brand (eg, Android, Apple, or Microsoft) provide their own native parental controls. They feature a range of features such as:
Preventing app downloads
Restrict or block spending on music, films, apps, or in-app purchases
Block location services
Blocking inappropriate content from web browser
setup Android Controls
Setup iPhone / iPad CONTROLS
Setup Windows Phone CONTROLS
Dedicated parental control apps
There are both free and premium (paid for) parental control apps. Essentially, these apps "take control" of the device and allow parents to closely manage how their child uses it.
They allow parents to:
Manage and monitor who their kids call and text
Manage and monitor which types of websites and content they can access
Choose which apps they can use and how long for
Set limits on when and how long they can use their devices
View reports on how they have spent time on their devices and what they used them for
Our top pick parental control apps
There are quite a few apps to choose from. After doing the research, here are our top picks:
Norton [Paid / 30 day free trial] – Best all round parental control app
Qustodio [Paid / Free version] – A very close second. Definitely fit for purpose and a cheaper option
MMGuard [Paid / Free version] – Another decent option worth a look.
Norton Family Premier (Paid)
Qustodio (Paid)
MMGuard (Free)
Kid-friendly browsers
These are special internet browsers which only allow access to child-friendly websites. They allow children to search but only return results which are appropriate. These are more reliable and effective than trying to restrict the default web browser (eg, Chrome, Safari, Explorer, or Firefox).
Kid-friendly browsers compliment other parental controls. For example, if you control which apps are loaded on to your kid's device, then you can remove the default browser and replace it with a child-friendly one.
Parents Resource
The best Kid-friendly browsers
There are several to choose from. Here are a few resources which list and review them so you can pick the best for your children:
Computers and laptops
Your options are similar to those mentioned above for mobile devices.
First off, you have inbuilt parental controls for each operating system (ie, Window for PC, OSX for Mac). These involve creating a child user-account and setting up various restrictions (see the videos below). If you are happy with a "light touch" approach, this may be all you need.
If you want easy-to-use, far-reaching, and customisable parental controls, then you'll want to get a third party parental control app. These provide a wider range of options for limiting and managing the use of home computers. The best parental control apps work across multiple devices, therefore you can choose one and it should work on both your home computer and kid's smartphone.
To recap, our most highly rated parental control apps are:
There are both free and premium (paid for) parental control apps. Essentially, these apps "take control" of the device and allow parents to closely manage how their child uses it.
They allow parents to:
Manage and monitor who their kids call and text
Manage and monitor which types of websites and content they can access
Choose which apps they can use and how long for
Set limits on when and how long they can use their devices
View reports on how they have spent time on their devices and what they used them for
Our top pick parental control apps
There are quite a few apps to choose from. After doing the research, here are our top picks:
Norton [Paid / 30 day free trial] – Best all round parental control app
Qustodio [Paid / Free version] – A very close second. Definitely fit for purpose and a cheaper option
MMGuard [Paid / Free version] – Another decent option worth a look.
Setting up controls on Windows
Setting up controls on OSX
Home WIFI
You can usually prevent adult content and downloads by enabling parental controls on your home WiFi (router). Again, you have the option of a third party 'add-on'. The best on offer is Open DNS who provide this free solution. This will filter inappropriate content from all devices accessing the web through your home WiFi.
Alternatively, your internet service provider will normally have similar controls. Just Google it, eg, "AT&T parental controls". Then follow the instructions.
Games consoles
All the major games consoles offer parental control of some sort. These may work "out of the box" or you may need to download the parental control app separately.
These allow you to:
Monitor and limit the time spent playing games;
Prevent age restricted games from being played;
Restrict or prevent in-game communication;
Block connection to social networks
Here are videos showing how to set up parental controls on the most popular games consoles:
Nintendo Switch
Playstation 4
Xbox One / 360
Nintendo Wii
Smart TVs and Streaming services (e.g. Amazon Fire)
Each smart TV is different, so you'll need to Google your own or consult the manual to learn what is possible. You should be able to create a pin code so that only you can download/pay for movies or watch mature content.
With streaming services such as Netflix, Amazon Fire, AppleTV, and Google Chromecast, things get more complicated. The best overview of parental controls on streaming services is this guide from the Parents Television Council. They report that parental controls across streaming services are inconsistent and generally poor.
Where possible, create child accounts (only available on Netflix or Hulu) or set up a PIN so that the device or service can only be accessed by an adult. It might just be a case that TV watching is something that you supervise rather than giving your kids free reign over the controls!
Social networks, apps, and media
As a parent, it is difficult to keep up with all the latest apps. There seem to be new ones popping up every day.
Whilst this may seem daunting, most social media apps have common features, eg:
Sharing content with friends or public
Leaving comments and likes
Requesting friends or following people
Sharing current location
Some apps do "live stream" broadcasting
If you teach your children about the risks involved in these, then they will be in a position to apply the same safety measures across a wide range of apps, including the new ones.
Be sure to explore…
Who sees your shares (eg, public, private, friends) – Set whether the public or just friends can see shared content. Remember that they may have added new "friends" who they don't really know. Encourage them to only accept requests from "real life" friends, then adjust privacy settings to only share with these people.
Location settings – Turn this off! Many apps use a mobile device's GPS to share its current location. This means that "friends" can potentially see and track your child's current location. You can normally disable this ("location services") on the device. This means that no apps can do this.
Vetting apps
There are some apps that are generally regarded as being "a bit dodgy". You may, therefore, want to choose which apps your children have access to. This way, you can explore a few and learn how they work. You can talk to your child about the safest way to use them and agree on what privacy settings should be used.
Parent Resource
Where to check up on apps
Want to know what a new app is all about? Or whether experts and parents approve of it?
Here are some good sites which review apps and discuss which are appropriate and safe for kids to use. You'll also find instructions on how to adjust privacy settings to make apps safer.
Getting started
You want to keep your family safe on the internet, but where do you start? The answer is, right here! Our family blueprint gives practical, step-by-step suggestions to get you going. Feel free to pick and choose what works for you.
#6 Family Internet Safety Blueprint
KEY:
Talk
Explore
Agree
Manage
Repeating task
Reading [3 hours]
Spend an afternoon reading through this page and some of the other excellent resources we've linked to.
Bullet Risks [30 mins – optional]
Using your gained knowledge, make a quick bullet list of the risks you think apply to a kid of your child's age. (Don't make allowances because "my kid is really sensible". Imagine they are a "typical child".)
Decide on Devices
Choose which devices you will let your kids use. This is much easier to do before they own one. If they already have their own, then focus on restricting its use.
Draft a "Family Internet & Tech Agreement" [1 – 2 hours]
Easily create a draft agreement using one of these family agreement templates.
Hold a Family Meeting [1 – 3 hours]
Arrange a family meeting where, together, you shape the final "Family Internet & Tech Agreement". This is the perfect opportunity to discuss a wide range of internet safety topics. (If you have younger and older children, have separate meetings so that you can freely discuss more mature topics with the older ones.)

Talk about internet risks and how to keep safe
Optionally, do an "App Audit"

The aim is to get your children to critically evaluate the risks associated with different social media and gaming apps. This will also involve teaching them how to adjust privacy settings to make each app safer.

Take a look at the apps and social networks they use/want to use.
Chat about the risks of each. What do they think?
Have they experienced anything strange or uncomfortable?
Explore the privacy settings together. How have they got things set up? What do Internet Matters recommend?
If they are unhappy changing privacy settings, explore what functionality will be affected. You'll need to decide whether or not to allow it.

Talk through the agreement together

Get feedback and suggestions from your kids
Be upfront about any parental controls you intend to setup. Again, get their input.
Talk about rules that apply to parents too

Print and Sign the Final Agreement [20 mins]
Get all the family to sign it. (Useful templates here.)
Set up parental controls

Home WIFI [1 hours]

Turn on ISP family protection settings. This will instantly offer a high degree of protection from inappropriate content

Set up basic parental controls on mobile devices [20 mins]

Disable location services for different apps
Disable spending
Disable app downloads

Set up a parental control app on all computers and devices [2-3 hours]

Computers in Your Home
Place computers in rooms where adults will be. Ban devices and computers from bedrooms.
Limit screen time
Hopefully, your family agreement included screen time. If it did, everyone needs to stick to it, including you! One approach we like is this:

20 mins of technology usage from 5-5.20pm
All smartphones and tablets away
A final 20 mins of technology "catch up" from 8-8.20pm
No mobile devices or TVs kept in bedrooms
More liberal tech usage on the weekend

Use Internet Together (younger children)
Regular "Tech Talk" (older children) [Every 2 weeks]
Once every couple of weeks – perhaps over dinner – discuss the internet. This a chance to get a glimpse into their online world. What's been happening online? Do they have any concerns they've not yet discussed? Don't be heavy-handed; keep it relaxed and learn from them.

Ask questions and learn about their interests

What games do you play?
What apps do you use?
What do you like best about them?

Do an "App Audit" (see above)

Regular Review of Family Agreement [Every 2 months]
Together as a family, go through the agreement and chat about what is working well and where any improvements can be made.
Wrapping up
The internet and its tech are most definitely here to stay.
Yes, it comes with new risks and safety concerns, but this has always been the way for any new cultural and societal shift.
As parents, we need to evolve the "stranger danger" concepts we already teach our kids. We need to update this to fit the 21st century. This involves expanding it to include the internet, social media, and online gaming.
We already teach our children not to accept sweets from strangers. Now we also need to teach them things like: not to accept social media friend requests from unknown people; not to share personal information online; and to be aware that online "friends" may not be who they say they are.
If you want to keep your kids safe whilst using the internet, then don't turn away from it. Turn towards it. Embrace it. Get to know it. And then empower your children to keep themselves safe. Learn together and make sure that you all understand the risks and how best to stay safe.
Mom, Dad, you've got this!
We The Parents x
P.S. Please share this guide with other parents.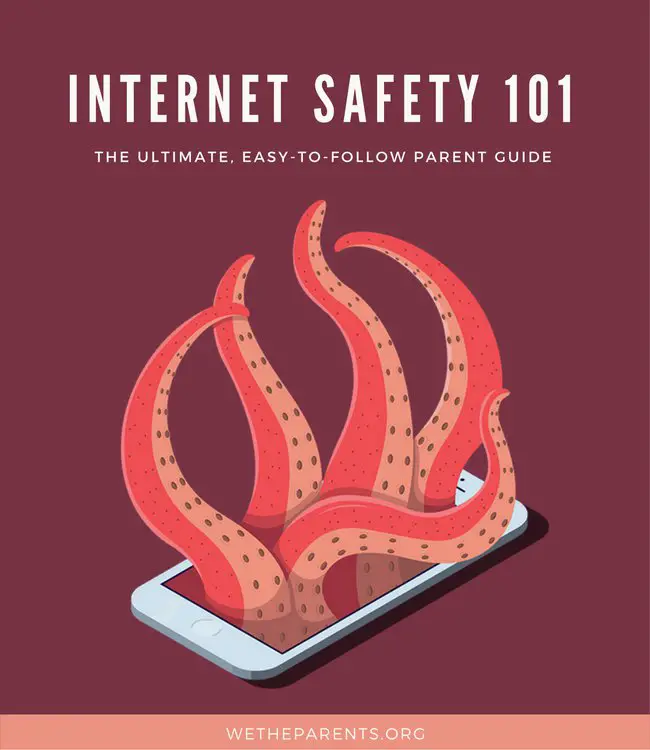 References
https://www.fastcompany.com/3020755/study-75-of-kids-under-age-8-use-mobile-devices
http://www.nclnet.org/newsroom/press-releases/681-survey-majority-of-tweeners-now-have-cell-phones-with-many-parents-concerned-about-cost
http://web5.soc.northwestern.edu/cmhd/wp-content/uploads/2013/05/Parenting-Report_FINAL.pdf
http://www.rjionline.org/research/rji-mobile-media-project/2014-q1-research-report-1
http://www.pewinternet.org/2015/04/09/mobile-access-shifts-social-media-use-and-other-online-activities/
http://www.pewresearch.org/fact-tank/2014/09/19/census-computer-ownership-internet-connection-varies-widely-across-u-s
https://www.internetmatters.org/hub/news-blogs/social-networking-in-gaming/
https://www.fosi.org/policy-research/needs-parental-controls/
https://www.fosi.org/policy-research/needs-parental-controls/
http://www.nielsen.com/us/en/insights/news/2017/tv-connected-devices-pave-the-way-for-new-ways-to-watch-content.html
https://www.internetmatters.org/hub/news-blogs/social-networking-in-gaming/
http://www.nielsen.com/us/en/insights/news/2017/tv-connected-devices-pave-the-way-for-new-ways-to-watch-content.html
http://www.nielsen.com/us/en/insights/news/2017/tv-connected-devices-pave-the-way-for-new-ways-to-watch-content.html
https://www.internetmatters.org/hub/news-blogs/using-family-friendly-wifi/
https://www.cnbc.com/2016/06/28/most-people-unaware-of-the-risks-of-using-public-wi-fi.html
https://www.sileo.com/tag/child-identity-theft-statistics/
https://www.internetmatters.org/issues/online-grooming/
http://www.trendmicro.co.uk/cloud-content/us/pdfs/home/brochures/br_online-grooming_safety.pdf
https://www.nspcc.org.uk/preventing-abuse/child-abuse-and-neglect/bullying-and-cyberbullying/what-is-bullying-cyberbullying/
https://www.internetmatters.org/issues/inappropriate-content/#footnote-2
https://www.theguardian.com/technology/appsblog/2013/may/08/microsoft-british-parents-bill-shock
https://www.aap.org/en-us/advocacy-and-policy/aap-health-initiatives/Pages/Media-and-Children.aspx