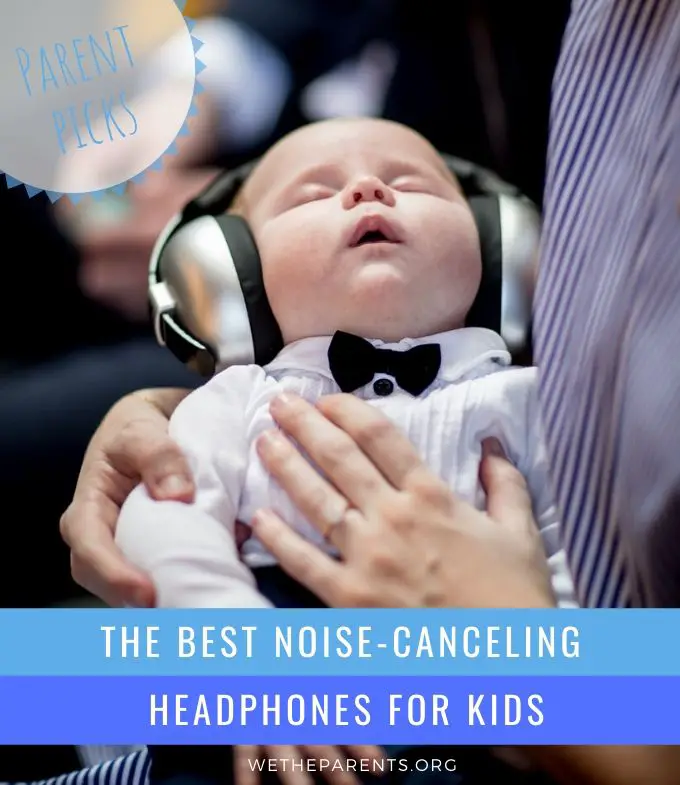 We live in a noisy world! Unfortunately, it only takes a moment of exposure for children to incur a permanent hearing loss. Fortunately, there are plenty of protective devices designed to preserve the pristine ears of babies and children.
We talked with fellow moms, dads, and hearing experts in hopes of finding the top noise-canceling headphones. We're happy to present you with a list of earmuffs with high Noise Reduction Ratings (NRR) and gun designs. With the right tool, you continuously drag your kiddo down to the festival green. These amazing headphones serve as a protective barrier, keeping out the damaging volume of roaring motors, booming pyrotechnics, Robert Plant-like vocals, and more.
Editor's Choice
Banz Earmuffs for Babies and Toddlers
Provides top-notch hearing protection that will help your little one make it through live sporting events, concerts, and more.
View on Amazon
Parents Guide
-to buying baby noise cancelling headphones-
Noise Reduction Ratings
According to the Center for Disease Control, continuous exposure to just 85 decibels of sound can lead to hearing loss. Despite this, medical professionals cannot detect hearing loss until a child is between 2 and 4 years old. Undiagnosed hearing problems can infringe upon a child's development. Nevertheless, many parents unknowingly expose their young children to damaging volumes. This exposure may be short-lived, coming in the form of a noisy parade or fireworks. Still, it poses plenty of risks to an unprotected child.
For this reason, we recommend purchasing noise-canceling headphones with a high Noise Protection Rating (NRR). An NRR is a unit of measurement that distinguishes how much a hearing protection device can reduce a volume. NRRs are measured in decibels. An NRR must be approved by the American National Standards (ANSI).
It is important to choose a hearing protection device that brings the noise down to a safe listenable level. As we mentioned before, hearing damage can occur at a volume as low as 85 decibels.
Avoiding Overstimulation
According to the Star Institute for Sensory Processing Disorder, up to 16% of children experience sensory problems. Many children with SPD are sensitive to sounds. They may become overwhelmed in common noises or increased volumes.
Parents and educators may use noise-canceling headphones to modify a noisy environment for a child with hypersensitivity to sound. Noise-canceling headphones reduce the number of intrusions in a child's space. This typically improves a child's ability to function.
Comfort and Security
Small children usually do not enjoy stuffing foreign materials into their ears. This leaves us to believe that earmuffs are the only suitable form of juvenile hearing protection.
Noise-canceling headphones sit snuggly on top of a child's head. They should have a padded headband that embraces the natural contours of a small skull. The earcups should contain sound dampening materials, such as rubber and foam.
Usually, earcups are made from a durable yet lightweight material, such as ABS. This is typically filled with layers of sound-depending foam. A ring of soft fabric or leather is the only thing that should come in contact with a child's head.
Most manufacturers manage to keep their pint-sized hearing protection devices under 12 ounces. Light earmuffs make it easier for your child to move around. Not to mention, light earmuffs are easier to carry. With a featherweight, foldable piece, your child is less likely to complain about their hearing protection.
How Do Noise-Canceling Earmuffs Work?
Noise-canceling earmuffs feature hard molded earcups. These elements deflect sound waves, sending them in the opposite direction of your child's eardrums. Earmuffs also contain sound sponges that dilute the energy of any remaining waves. Quality earmuffs should boast soft liners and bendy headbands. These elements ensure that the earcups fit snuggly over a child's ears without putting too much tension on the skull.
When Does My Child Need Hearing Protection?
Many activities demand precautionary hearing protection. Concerts, fireworks, parades, sporting events, airplanes rides, and car races are just a few activities that come to mind. You should be prepared to protect your child's hearing at any event that gets voluminous.
In case you were wondering, a normal conversation takes place at around 60 decibels. Meanwhile, a lawnmower produces about 90 decibels of sound. Hearing damage can occur anytime volumes go above 80 decibels, especially when it comes to little kids. Loud sounds also have the potential to wake, startle, or disrupt a child. As such, many parents pack noise-canceling headphones when they are making their way through a city, airport, crowded restaurant, or another noisy hub.
Active vs. Passive Noise-Canceling
Passive noise cancelation is determined by the shape and design of a hearing protection device. Meanwhile, active noise cancelation relies on electric circuitry to get the job done. We recommend using passive noise-canceling earmuffs to protect your little one from harmful sounds. Active noise-canceling earmuffs are expensive and require batteries.
Aesthetics
Children are often drawn to objects with bright colors and fun designs. Choose a design that will make your child want to wear their hearing protection. Let your child choose earmuffs with a fun design. So long as the headphones have a reliable NRR, you're in good hands.
Don't forget to set a good example by wearing adult hearing protectors! Children watch their parents, taking note of everything they do. As such, make sure you have noise-canceling earmuffs on the next time you mow the lawn or fire up the chainsaw,
Age
Many children do not enjoy wearing hearing protection. You reduce the risk of protests by introducing hearing protection at a young age. Many manufacturers produce earmuffs that are designed for newborns and toddlers.
Many parents do not realize that they are damaging their child's hearing by exposing them to noise for an extensive period. Everything from police sirens to train engines can leave a child with permanent damage.
Transparency rocks! When you shop through links on this page, we may earn a small commission.
Editors Choice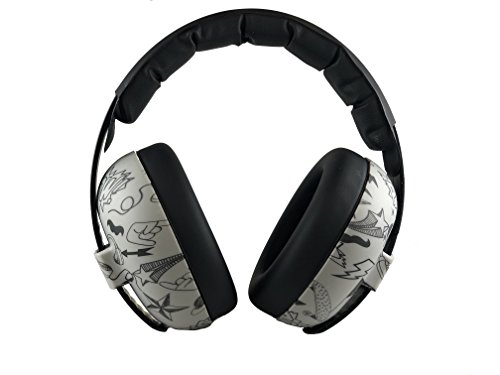 Age Range: Infant to 24 months
Noise Reduction Rating: 31 decibels
Our editor isn't going out on a limb when he says that the Banz Earmuffs (check price on Amazon) provide top-notch hearing protection for babies. These impressive noise-canceling headphones will help your little one make it through live sporting events, concerts, and more. You may even be able to skip the sitter with the help of Banz's remote volume control.
Banz Earmuffs feature a durable frame that folds up into a compact bundle. These hearing protectors are ultra-light and super cushiony. Your child won't pull these off in a fit of discomfort. The headphones feature a flexible yet snug design that can accommodate the skulls of both newborns and toddlers.
With a noise reduction rating of 31 decibels, the Banz earmuffs provide unmatched hearing protection when your little ones need it most. These impressive ear protectors are even certified by the American National Standards Institute (ANSI). Tell grandma to toss those cotton balls to the side. These hearing protectors steer clear of earways and are 100% reusable.
What They'll Love
Buttery soft leather lining
Come in a variety of patterns and colors
Cancel noises up to 31 decibels
Watch Out For:
Not suitable for children over 24 months
Check Price on Amazon
Upgrade Choice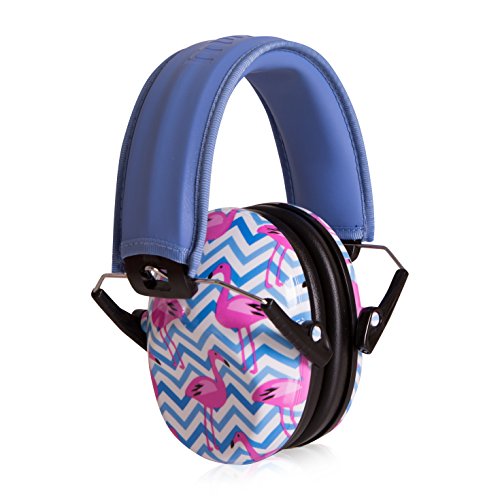 Age: 2 to 12 years
Noise Reduction Rating: 27 decibals
The stylish Muted Designer Hearing Protection Earmuffs (check price on Amazon) aren't your run-of-the-mill hardware store hearing protection. Your little one can choose between pink flamingos, origami dinosaurs, geometric leaves, and other fun designs. Muted's sassy skins cover the 27 decibels of noise-reducing materials that are housed under the hardshell earcups. These luxurious hearing protectors boast the highest noise-canceling standards. They are suitable for OSHA, ANSI, and (in our humble opinion) baby Vogue standards.
You'll pay a little extra for these unique protectors. Still, they're much more likely to get your little one's seal of approval. The earcups are reinforced with soft, muting materials. Meanwhile, the headband is clothed in a plush fabric sleeve. The extenders are positioned on the outside of the earcups. As such, they do not interfere with glasses or hair.
What They'll Love
Colorful, funky patterns
Meets ANSI hearing protection requirents
Padded earcups and headband
Check Price on Amazon
Best Budget Buy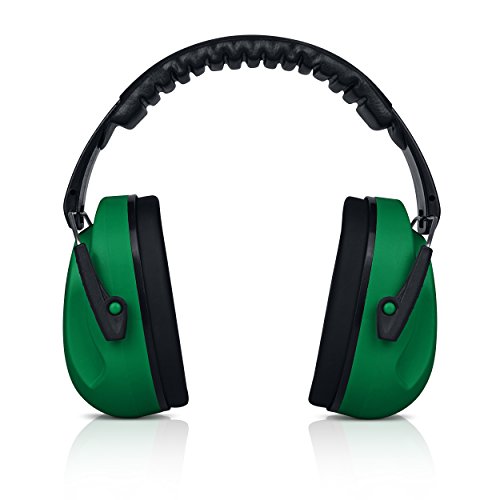 Age: 2 to 12 years
Noise Reduction Rating: 27 decibels
At just under $15, the HearTek Kids Sound-Canceling Headphones (check price on Amazon) offer adequate and affordable protection from rock music, monster trucks, noisy sports fans, and the likes. These impressive hearing defenders boast a padded headband with rotating earcups. The earmuffs fold up easily for children and babies on the go. They even come with a handy storage bag that will keep them from collecting the dust and crumbs at the bottom of a backpack.
HearTek offers eight unique headphone colors. Children are more likely to gravitate toward these headphones, because they offer a personalized experience. Still, mom and dad can rest assured knowing their kiddos are getting atleast 27-decibels of hearing protection.
What They'll Love
Backed by a 100% satisfaction guarantee and a 5-year warranty
Come in eight fun colors for personalized hearing protection
Perfect for those with sensory sensitivities and loud activities
Check Price on Amazon
Best for kids with autism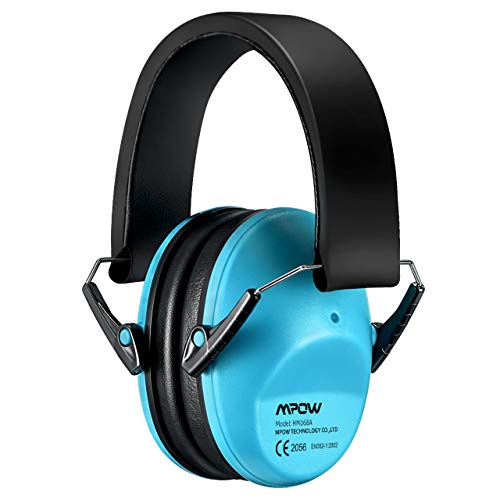 Age: Children 3 to 12
Noise Reduction Rating: 25 decibels
If you have a child with sensory issues, the Mpow Noise-Reducing Earmuffs (check price on Amazon) are a wonderful way for them to tune out overstimulation. These cushiony headphones are flexible and padded. The earcups and headband even feature faux leather lining. These hearing protectors also boast retractable stainless steel extenders. This outstretched design will prevent interference with glasses, hair, and other headgear.
Of course, these headphones also provide children and preteens with unmatched hearing protection. They boast a noise reduction rating of 25 decibels. They do an amazing job of blocking out loud sounds without low volumes nor muffling conversations.
If your child has sensory sensitivities, they may be easily overcome by loud environments. With the Mpow earmuffs, your child can tune out overstimulating noises without infringing on their safety. These earmuffs may be a bit too chunky for older, more self-conscious children. However, their plush frame is bound to please kiddos with sensory issues.
What They'll Love
Noise dampening cushions and ABS ear cups
Extremely lightweight and soft
Comes with drawstring bag for storage
Check Price on Amazon
Best for kids with autism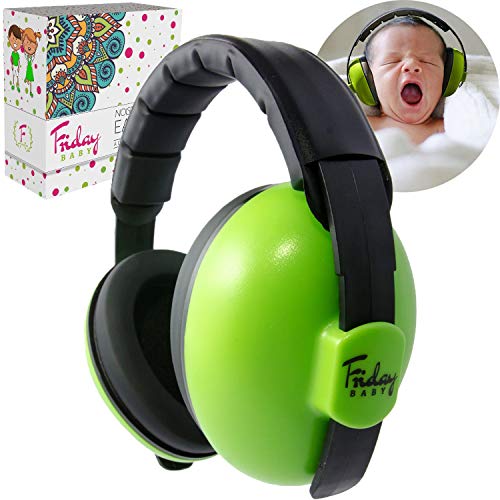 Age: Newborn to 2 years
Noise Reduction Rating: Make sound four to six times quieter
Friday Baby's (check price on Amazon) adjustable baby earmuffs provide adequate hearing protection for the youngest babies. These headphones are engineered to embrace the skulls of newborns and toddlers. The tiny hearing defenders are not backed by an official NRR. However, they are certified and proven to make environmental sound four to six times quieter.
The Friday earmuffs present wearers with ABS earcups. Thanks to this material, a single pair weighs just 7 ounces. Each set of earmuffs boasts a faux leather headband as well as fabric- and foam-lined earcups. You can even adjust the size of the earmuffs as your little one grows. Best of all, you can choose between bright turquoise or neon blue. These protective headphones look good while getting their job done. Since they are backed by a 1-year warranty and 100% satisfaction guarantee, they present consumers with a risk-free purchase.
What They'll Love
Weighs less than 7 ounces
Padded nontoxic headband
5-year product warranty
Watch Out For:
Not suitable for older children
Check Price on Amazon
Best for Airplanes
Age: 3 months to 2 years
Noise Reduction Rating: 25 decibels
Snug Baby Earmuffs (check price on Amazon) make hearing protection adorable. These pastel earmuffs will carry your little one through noisy environments, including concerts, airplane rides, and more. You can even use them to help your infant tune out disruptive noises in the middle of the night. They provide approximately 25 decibels of volume reduction.
The Snug Baby earmuffs are filled with volume-dampening foam padding. This they eliminate loud noises, they do not muffle sounds that are below a reasomable volume. As such, you can camly soothe and speak with your babe without having to remove these earmuffs.
What They'll Love
Meet all U.S. and European safety test requirements
Perfect for noisy environments, including airplanes
Baby-friendly design that comes in fun colors
Check Price on Amazon
Best for Fireworks & Sporting Events
Age: 2 to 12 years
Noise Reduction Rating: 34 decibels
The Fnova Noise-Cancelling Earmuffs (check price on Amazon) provide children with unmatched hearing protection. The earcups feature layers of noise-canceling materials surrounded by ABS shells, foam, and imitation leather. It's hard to believe that these stylish earpieces provide up to 34 decibels of volume reduction. But they rock a hardy combination of noise-swallowing material.
If you're going to expose your child to booming fireworks or unruly sporting event crowds, opt for these industrial-grade hearing defenders. You get your choice of five rad color combinations. What's more, these muffs fold up into a small ball for easy storage and transportation. If you are unsatisfied with the product, the company will take it back. To that we say, bring on the noise!
What They'll Love
Come in five beautiful colorways
Design folds up small for easy transportation and storage
Highest NRR for loud activities
Check Price on Amazon
And Our Winner is…
Our editor's pick, the Banz Baby and Toddler Earmuffs (check price on Amazon), provide pint-sized hearing protection and unmatched comfort. This soft, flexible device is essential for little ones attending concerts, sporting events, parades, and other noisy events. The earmuffs even fold up into a compact bundle.
Loud sounds can alarm and even harm children. You must protect your little one's ears from day one. A comfortable, fitted pair of earmuffs may serve as your little one's source of security in a busy, boisterous world. Choose a product with a high NRR rating and a colorful design. Remember. Osha orange is your only option!
We hope you enjoyed taking a look at our favorite children's noise-canceling headphones.
Do you have a favorite set of sound-canceling headphones? Let us know in the comment section below!