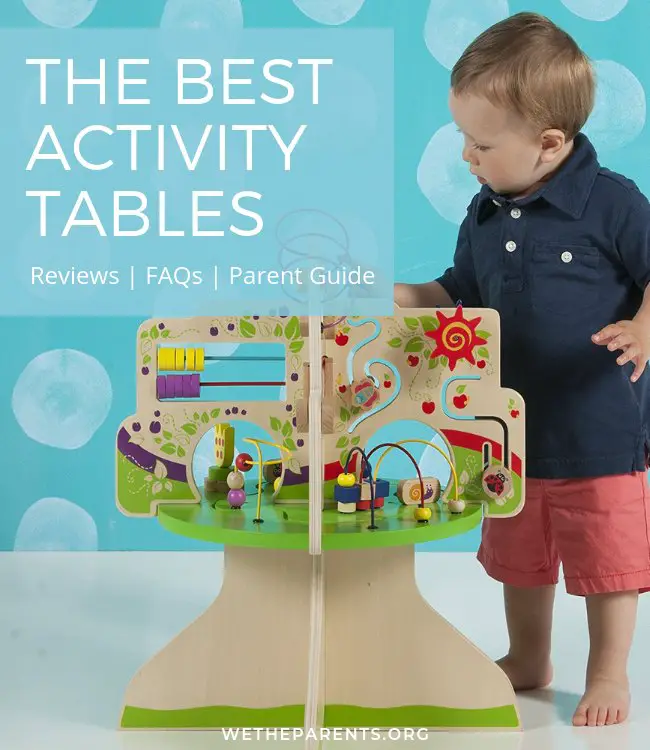 Decent baby activity tables stimulate little minds through touch, sight, and sound. Really great ones teach tiny tots all sorts of things while keeping them active and amused for long stretches of time… ah, the busy mom's holy grail!
We've researched and identified what we believe to be the five best baby activity tables currently on the market. Read on to get the low-down on each one and our top choice for best baby activity table.
Best baby activity center
Now, this is cool. Manhattan activity center (check price on Amazon) is a 3D, solid wood tree house with four different play areas exploding with color. Standing 22 inches tall, the activity areas are about ten inches from the floor, so several babies can stand around the tree at the same time with their little fingers exploring all of the different beads, clickers, twirlers, and gliders.
The activity area is divided into four quadrants, each with its own color scheme and creative accessories that are the perfect size for little fingers. Some areas have sliding tracks with different fun-filled themes, birds to fly around, a monkey's face to get busy with, or some cute ladybugs to zoom through the air.
One side is a medieval castle, complete with a fire-breathing dragon and a damsel in distress waiting to be rescued. And, in another area, they can spin the wheel for some clickety-clack action, or let their imaginations go wild with snails, ants, bears, and other animals. The multitude of activities and learning opportunities seem endless with this beauty.
What we like:
No batteries, and eco-friendly!
Babies as young as one can play with it, as long as they're walkers.
It has lots of bells and whistles.
Watch out for:
It's not strong enough for crawlers to pull themselves up.
Check Price on Amazon
ALEX activity table (check price on Amazon) is a sturdy, colorful, little wood table with bright red legs. All of the corners are rounded, and the alphabet is painted around the edge along with other fun shapes. Standing about seven inches off of the floor, babies can either sit and play or be on their knees.
Securely mounted on the whimsical play area are six different activities. We see them going for the wooden mallet first, strumming on the xylophone or tapping the drum. Then, they can play peek-a-boo with the swinging doors, spin the gears and make them clatter, and zoom on the track sliders. There's even a maze of beads for their curious, little fingers.
What we like:
It doesn't need batteries.
Three babies can play at the same time.
The solid wood construction makes it very durable and eco-friendly.
It was a Today's Parent Canada Ultimate Toy Winner as well as the winner of the Dr. Troy Best Green Toy award.
Watch out for:
It's not recommended for babies younger than 18 months.
Check Price on Amazon
Best Vtech learning table
Here's a fun, little activity table (check price on Amazon) constructed of durable, high-quality plastic with happy, brown bears as the legs. The top is reversible, with an artistic drawing table on one side and a fun, interactive play table on the other side. Babies will be able to explore colors, numbers, and shapes, along with chiming in for sing-along songs. They'll be giggling right along as they discover all of the different sounds. There's even memory and logic games to challenge their growing minds.
What we like:
It's easy to assemble.
Babies love pushing the buttons to make sounds and music.
Watch out for:
It's recommended for ages one to three.
It does use batteries, although the first two are included.
Check Price on Amazon
Upgrade Choice
Melissa & Doug have been making quality wood products (check price on Amazon) for babies and children for over 30 years. This table is perfect for your little ones to pull themselves up to or stand beside and play with their favorite toys. It has plenty of room for little trains, dollies, puzzles, or a stuffed animal playground. There's even a drawer for storing their toys, or they can be hidden underneath.
What we like:
What's not to like about Melissa & Doug!
Babies can grow up with it.
The smooth surface is easy to keep clean.
Watch out for:
It's recommended for ages three to eight, so parental participation is best when babies are playing.
It does have corners, if your babies are a little wobbly.
Check Price on Amazon
Best wooden activity table
Don't let the simplicity of this Wooden Activity Play Cube (check price on Amazon) fool you. Shaped like a cube, there are four sides of individual play areas with a beaded maze on the top. It's small enough for them to wrap their little legs around, and big enough for plenty of stimulation and activity.
Each side has different shapes and activities to keep their little minds busy. They can grab the bumble-bee, flower, and butterfly gears and make them grind and spin. They'll be able to wrap their fingers around a variety of multi-colored wood shapes, fly their butterfly and bee buddies through the air, or spin the revolving tiles to make their new friends dizzy. The top even come off, creating an open cube where they can toss their toys.
What we like:
It's small enough to hug, and they will!
More than one baby can play with it at the same time.
The bead top can also be inverted into the cube for easy storage.
Watch out for:
It's recommended for babies and toddlers older than 24 months.
The maze sits snugly on top of the cube, but it doesn't attach
Check Price on Amazon
They're so precious! Every day is a new day of discovery when your babies are this young. And, they grow so fast, it's sometimes difficult to keep up with all of the things that they'll need. One day, they're in their crib cooing and watching your every move. And the next, they are clumsily racing through the house with you watching their every move.
That's why we take the time to research different baby products to make sure that they are safe, fun, interactive, and educational. As we delved into the world of baby activity tables, here are some of the different nuances that we came across that you could consider as you are choosing the perfect activity table for your baby.
Things to Consider when Buying a Baby Activity Table
Features: As you look through our choices, you'll notice different bells and whistles on each activity table. While most have plenty of colors, shapes, and sounds, some just go above and beyond our expectations. The over-the-top activity tables will not only amuse them now, but they'll also continue to challenge their motor skills, cognitive abilities, and imaginations, as they grow and learn.
Age recommendation: From the time when they were infants cooing in their cribs, you've had all sorts of colorful toys for them to play with. Baby activity tables are just another step towards their independence. Oh, but don't think about that yet! Let them play! And, enjoy watching them play, or even give them a little alone time to explore. Just make sure to check and see what the manufacturer's recommended age is for the activity table. Some of those little knobs and gadgets might not be safe for your baby until they are a certain age.
Quality: We've learned that price and quality don't always go hand-in-hand. Hmm, imagine that! And, quality is a key factor to look for when choosing the best activity table for your baby. We only review high-quality toys from reputable manufacturers with a reputation of providing durable, well made products that are safe for our little ones. After all, we're trusting these toys with our most precious assets!
Size: As you see when looking through our picks, they come in all shapes and sizes. So, think about how your baby will be using it. Would it be best for them to stand or sit beside it? Or, should it lay on their lap while they play with it? Maybe, you need it to be big enough to have other playmates along for the ride.
Types of Activity Tables for Babies
Wood: Some are made entirely out of solid wood. Others may use a cheaper, pressed wood. And, some may use a combination of wood and plastic. If you're considering wood, solid wood will give you the best overall performance value. The manufacturing process of wood toys also doesn't release harmful emissions into the environment, making it eco-friendly. (Source)
Plastic: Today's toxic-free plastics make very sturdy, long-lasting toys for babies and kids of all ages. Since plastic and wood toys will last about the same amount of time, the choice really comes down to your personal preference.
With or without legs: You'll notice that some have legs, and some sit on the floor. The activity tables that sit on the floor would probably be safer for crawlers and babies just learning to walk. Once they're off and running, activity tables with legs would be ideal.
Batteries: Babies will get the same benefits whether it uses batteries or not. Their imaginations will take over once they get started. They'll get just as much joy out of pushing a button to hear a song as they would by grabbing a fun knob.
Benefits of Having an Activity Table
Cognitive stimulation: Every day is a new learning experience for babies. Once they reach the age where they can play with activity tables, their little hands are already busy exploring their environment. Baby activity tables will keep their ever-expanding minds busy with all of the different colors, shapes, and games. As they play, they start to remember skills, and it just goes on from there. (Source)
Motor skills: They already know how to grab and hold on tight. And, all of those little knobs, beads, and buttons are the perfect size for their little fingers. Their dexterity improves as they learn how to manipulate objects with their hands.
Cause and effect: Babies get to see the results of their actions. It could be what happens when they push a button, or maybe even what Mommy does when they make the really loud boom.
Fun: They're just fun. Baby activity tables can give your child an endless amount of imaginary playtime. And, you can even get down there and play alongside them!
FAQs
Is it safe to put the table in my baby's playpen or crib?
It's really not a good idea to put anything inside of them that babies can climb on. They're best on the floor in a safe area.
Is it safe to have a table with batteries?
Spills can, and will, happen! And sometimes cleaning will get the battery area wet. Just make sure the area around the batteries is dry, and you'll be good to go.
Are activity tables good for learning? Or should I focus on fun?
That's the great thing about activity tables! Babies are doing both at the same. It's not something that you need to worry about controlling. Just let them have at it!
At what age can my baby start to use an activity table?
Most tables will recommend that your baby is at least a year old. But, you can start early and play together. They'll still get a kick out of all of the sounds and colors.
And the winner is…
Manhattan Toy Tree Top Adventure Activity Center (check price on Amazon). Hands down, this one just had everything that we were looking for. It's made out of solid wood, so it's good for the environment. It's the perfect size for early walkers, as well as big enough for other babies to play. And, it will keep them entertained for a few years.
They'll love the vibrant colors and different shapes as they explore the four different quadrants of interactive play areas. Before you know it, they'll be showing you how each bead and bumblebee car soar through the air. They'll be so proud of what they can accomplish with their own little hands.
We also like that it doesn't run on batteries. The educational and fun benefits of this baby activity table are fueled solely by your baby's imagination. You'll love watching them interact, learn, have fun, and just be babies for a few more years.