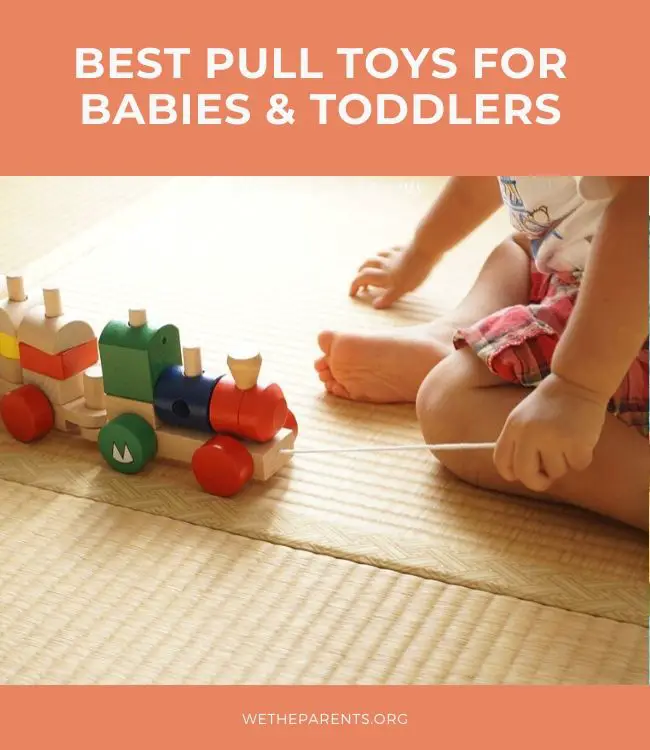 Our parent friends are often surprised to hear that pull toys rank high on our children's favorite lists. These simple string-laden creatures and vehicles offer ease and enjoyment for small children.
It was so much fun to rank the top 13 pull toys for babies and toddlers. We hope you enjoy this baker's dozen of playthings as much as we do!
Parents Guide
-to buying kids pull toys-
What to Look for in a Pull Toy
Materials
We can be very critical of toy materials, especially when shopping for kiddos under the age of 3. As environmentally conscious parents in the year 2020, we are all about eco-friendly baby gear. Our commitment to the planet is the reason companies like Hape and PlanToys continue to make the cut. On the other hand, we're not aversed to hard plastic playthings. After all, plastic is super easy to clean, and it's just about the only material used in battery-operated toys.
Performance
Well-made pull toys foster fine and gross motor skills. A toy is not much help if it cannot stand on its own. Wide, grippy wheels give pull toys stability on a variety of surfaces. Meanwhile, toys with modest flexibility can typically traverse uneven surfaces. What's more, toys with large, sturdy support bars provide new walkers with confidence-building stability. A well-made pull toy can improve your child's strength, balance, and coordination.
Add-Ons
Clever toymakers are always looking for ways to improve simple playthings. Just take a look at our top-ranking pull toys to see this phenomenon in action. From stacking toys to alphabet buttons, there are plenty of educational elements that have been tacked on to traditional pull toys. Always look for toys that introduce new concepts in a fun and engaging way. All the while, don't knock the simple things. There are many physical and cognitive benefits to pull toys.
Safety
One of the main elements of pull toys is the string or cord. Tethers can pose risks to your child's safety and well being. As such, we recommend that parents always keep a close eye on their children when they are playing with pull toys. Keep in mind that short cords are less likely to get caught up in things.
Transparency rocks! When you shop through links on this page, we may earn a small commission.
#1 The LeapFrog AlphaPup Toy
Editors Choice
Best alphabet learning pull toy
This interactive pull-along AlphaPup Toy from LeapFrog (check price on Amazon) is all we've ever wanted in a toddler toy. We were instantly possessed by its colorful design. The pup has a sweater that is covered in a rainbow of keys. Each key highlights a different letter of the alphabet. Velvety-soft ears and a bulbous tail finish off the dog's playful presence. There's even a little red bone for children to grasp.
This pull-along pup promotes gross motor skills. It also introduces the alphabet and letter sounds. The sound effects are a bit annoying, but we cannot argue with its educational value.
What We Love:
Helps children learn the alphabet
Soft fabric ears and a tail that wags
A large bone-shaped pull handle that's perfect for little hands
Watch Out For:
The sound function can get a little annoying
Check Price on Amazon
#2 The Hape Wonder Push/Pull Toy
Upgrade Choice
The Hape Wonder Push/Pull Toy (check price on Amazon) is an heirloom-quality toy with plenty of potential. The wooden push and pull toy promote coordination and strength. There's a broad bed that can be used to haul favorite toys or small passengers. It features moveable knobs, gears, and colorful balls that offer five different activities.
There are so many adventures to be had with the wonder toy. The solid wood design won't break under pressure. You can expect your child to gain strength, dexterity, and pleasure when playing with this adorable pushcart.
What We Love:
Serves as extra support for advanced walkers
Interactive buttons play letter sounds and alphabet
Durable wood foundation
Non-toxic finishes and child safe materials
Watch Out For:
Not suitable for crawlers
Check Price on Amazon
#3 The Ray's Toys Wooden Pull-Along Set
Best Budget Buy
The Ray's Toys Wooden Pull-Along Set (check price on Amazon) includes a giraffe, an elephant, and a zebra. Each animal has a small string. Yet, they also have small cutouts that serve as excellent grips for little hands.
Use these wooden animals to teach your child their colors, numbers, body parts, and much more. They'll love towing the exotic creatures around the house. This thrilling exercise will help improve their fine-motor skills, balance, and coordination.
What We Love:
Each toy is individually packaged
The animals have cutouts that double as handles
Durable wood wheels remain balanced on hard floors
Animals are painted with cheerful colors and friendly faces
Watch Out For:
The thin pull string is difficult to grasp
Check Price on Amazon
#4 The Hape Walk-A-Long Snail
Best shape sorting pull toy
We couldn't help but squeal with delight when we first came across the Hape Walk-A-Long Snail (check price on Amazon). First off, this German manufacturer offers nothing but heirloom-quality wooden playthings. Secondly, this whimsical wooden snail toy is très adorable! Finally, we love that the toy doubles as a shape-sorting device. It's also worth noting that this toy has won several awards.
We can totally see a toddler gallivanting around their house with their trusty snail in tow. Since the shell separates from the body, it can also be used as a stationary toy.
What We Love:
Snail shell has three shape-cut outs that correspond with included wooden shape blocks
Made from durable and sturdy wood
Smooth, mechanical movements
Whimsical, colorful design
Watch Out For:
Lengthy pull strong could become a hazard. Always keep an eye on your child while playing with toys with long strings or chords.
Check Price on Amazon
#5 The BRIO World Pull-Along Duck
Best classic wooden duck
The BRIO World heirloom-quality Pull-Along Duck (check price on Amazon) will quack you up. It has all the qualities of a gold star-worthy toddler toy. The durable wooden base can withstand loads of blunders. The big red wheels work well on virtually every type of floor. What's more, the head and wings move, and the duck quacks when pulled.
Your little one will gain confidence each time they get the wooden gander to flap its wings. This handcrafted bird may even help your kiddo develop balance and coordination.
What We Love:
Made from high-quality painted woods
Funky modern design with bright colors
Wheels work on all types of floors
Watch Out For:
Paint is easily chipped away
Check Price on Amazon
#6 The VTech Pull and Sing Puppy
Best for dog lovers
The VTech Pull and Sing Puppy (check price on Amazon) is an adorable black-and-white puppy. When you tug at the pup, he plays canine-inspired music and sounds.
The dog has a nose that glows, three interactive push buttons, and a rattling chew toy. There's even a small storage compartment for store the cord. Other nice features include volume control and an automatic shut-off. We know noisy toys can be bothersome, but this one will delight your little one.
What We Love:
Teaches music and math concepts
Promotes strength and coordination
Soothing music and lights
A good distraction for busy parents
Watch Out For:
The included batteries are only for demo purposes
Check Price on Amazon
#7 The Hape Turtle Pull Toy
The Hape's Turtle Pull Toy (check price on Amazon) doubles as a shape sorter. This ridiculous reptile is sure to bring a smile to your child's face. Real turtles can live to be well over 100 years. If this wooden toy is cared for, it will easily last that long.
Children can tug the turtle by its cord or use its shell to sort the five number shape blocks. This tug toy is suitable for children 12 months and older.
What We Love:
Turtle shell doubles as a shape sorter
Wide wooden wheels provide a sturdy foundation
Includes five numbered shape blocks
Improves fine and gross motor skills
Watch Out For:
The string frays with use
Check Price on Amazon
#8 The Melissa & Doug Playful Puppy
When you pull this sweet, Playful Puppy (check price on Amazon), his legs and tail move. His perpetual smile will have your kiddo coming back for more and more. We love that this toy encourages little walkers to get their steps in.
If your child loves puppies and strings, they'll have an absolute blast with this pull toy. All of the pup's body parts are held together by a stretchy string. While an elastic may not sound like the best material for a children's toy, it actually makes the pup more flexible and resilient.
What We Love:
Encourages healthy movement
The tail wags when pulled
The pup has a big smile on his face
His wobbly gait is satisfying to small children
Watch Out For:
The string is rather short
Check Price on Amazon
#9 The Cossy Wooden Walker
Best wooden pull toy
This foxy Wooden Walker from Cossy (check price on Amazon) is designed to help your little one get around. The large rubber-trimmed wheels provide just the right amount of grip. Meanwhile, the colorful wooden blocks can serve as inspiration for lots of beneficial activities.
Push, pull, stack, sort, and create. There's no limit to where your little one can take this wooden cart. We recommend this product for children as young as 12 months. However, it's a toy that can be enjoyed at several developmental stages. The toy's wooden foundation gives it the potential to live through multiple children.
What We Love:
The peeping fox motif makes a great addition to any forest-themed nursery
An array of colorful wooden blocks
Promotes imagination, creativity, and problem solving
Improves fine and gross motor skills
Watch Out For:
Has the potential to topple over
Check Price on Amazon
#10 The Melissa & Doug Deluxe Frolicking Frog
What child doesn't want to frolic around with a frog? The Melissa & Doug Deluxe Frolicking Frog (check price on Amazon) is a simple yet satisfying toy. The hopping action teaches little ones about cause and effect. Meanwhile, the pull action helps young children to develop their fine and gross motor skills.
The frog has big wiggly eyes and a large grin. You can't miss its whimsical green body. Your little one will be thrilled to bring a piece of the pond into their playtime routine.
What We Love:
Hops up and down when pulled
Bright green color and large wiggly eyes
Nothing cuter than a kid walking their pet frog
Remains standing when pulled at a slow speed
Check Price on Amazon
#11 The Fisher Price Classics Retro Chatter Phone
Best classic pull toy
The Fisher-Price Classics Retro Chatter Phone (check price on Amazon) will bring you back to a simple, more low-tech time. Believe it or not, children love tugging at this ringing rotary phone on wheels. They can even pick up the receiver and engage in a pretend chat.
We know rotary phones are never going to make a comeback. Still, this friendly phone gives us a taste of the good old days. At the same time, the pull phone is engaging premise for pretend play and moderate exercise. Just be prepared to have flashbacks to your childhood!
What We Love:
Major vintage/indie vibes
The dial turns and the phone rings
The receiver is a great place for your child to practice their conversation skills
Just like the one in the Toy Story movies
Watch Out For:
The phone tether is very short
Check Price on Amazon
#12 The PlanToys Dancing Alligator
The PlanToys Dancing Alligator (check price on Amazon) is a great fit for any eco-friendly kid. The exotic animal is made from the wood of rubber trees. The alligator's body consists of rods and slats that clink together when the alligator is pulled. The serpentine design moves well over uneven terrain. Unlike stationary pull toys, the Dancing Alligator won't topple over very easily.
What We Love:
Movement is aided by child's tug
All-natural eco-friendly materials
Promotes an understanding of cause and effect
Fosters the imagination
Watch Out For:
Some small wooden parts that can become choking hazards
Check Price on Amazon
And Our Winner is…
We don't know if it's our obsession with dachshunds or our passion for literacy, but the LeapFrog AlphaPup Toy (check price on Amazon) is our favorite product on this long list of pull toys.
It was so much fun looking at the best pull toys for toddlers. These tug-worthy toys help children develop essential skills. Each push and pull will provide your little one with the opportunity to develop new skills. Of course, these towable toys are also great fun!