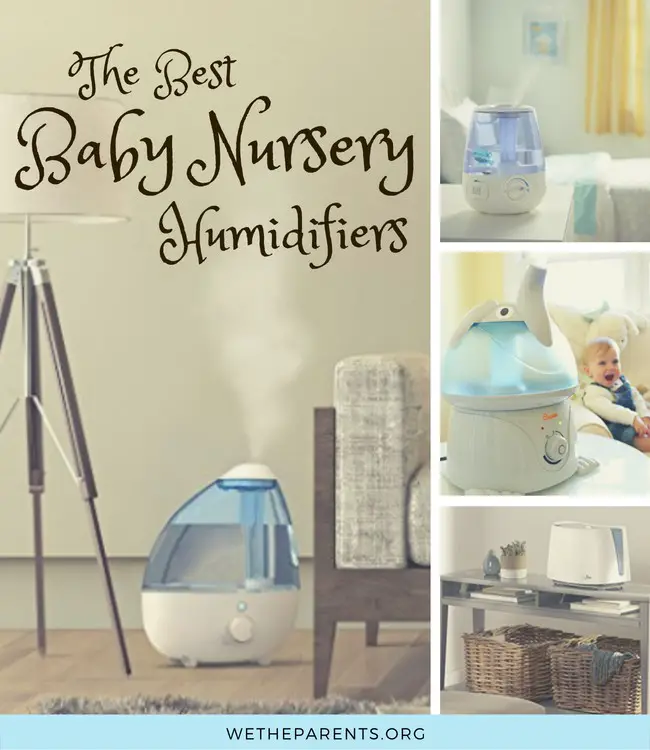 Does your baby suffer from congestion, cold, or flu? How about dry and itchy skin, throat, or eyes?
Pediatricians widely agree that humidifiers can help prevent the spread of germs and soothe these common symptoms which are made worse by dry air.
But which type of humidifier should you buy? And are they safe to keep in your baby's nursery?
In this guide, we hope to show you which humidifier is best for your family's needs. We'll then give you some simple tips for keeping your humidifier clean and safe and avoid the genuine risks associated with poor humidifier maintenance.
Let's dive in.
Short of time? Jump straight to our reviews & top picks »
What is a humidifier?
A humidifier is simply a device which adds moisture to the air. This is particularly important in dry or cold climates, or when you are looking to ease the symptoms of congestion and common colds.
A humidifier stores water which it then converts into a fine mist or steam. This is then pumped into your room until it reaches an optimum moisture level.
Different humidifiers achieve this goal in different ways. We'll take a look at this in a moment, but first…
What are the benefits of a humidifier?
Adding moisture back into your home's dry air has many advantages. It can:
Prevent or slow the spread of germs – Moist air can limit or even eliminate viruses and bacteria which thrive and move around more easily in dry air. Sure, that's not to say that adding a humidifier to your home means that no one will ever get sick again, but it does swing the odds in your family's favor when it comes to avoiding the latest flu outbreak;
Treat cold, flu, and allergy symptoms – Soothes dryness, irritation, or itchiness in the nose, sinuses, throat, and eyes. [Source];

Soothe dry skin and cracked lips

– Humid air can help to relieve dry and itchy patches of skin;
Help with congestion – Humid air keeps mucus flowing rather than blocking up;
Improve breathing for asthmatics – Always consult your doctor first, but using a humidifier may improve breathing in children with asthma. [Source];

Improve sleep

– Due to low-level white-noise emitted by unit;
Prevent nosebleeds – Helps to keep mucous membranes moist
Preserve home furnishings – Optimum air moisture protects the integrity of wallpaper and wooden furniture, eg, cribs and baby gates.
But be aware!
Too much moisture in the air can actually contribute to sickness by causing dampness on walls, floors, and other nooks and crannies. This allows harmful bacteria and mold to grow. The same is true if you don't properly clean and maintain your humidifier – nasties can grow and be emitted into the air.
The takeaway… keep your humidifier clean and don't overdo it.

What kind of humidifier is best for my baby?
All humidifiers generally do the same thing, ie, emit water vapor into the air. However, they achieve this in different ways. Some are very baby-friendly, others less so.
Let's take a look at the pros and cons of each.
Cool Mist vs Warm Mist
Cool mist humidifiers are (nearly always) best for babies.
Babies and children are curious creatures and having any hot water in an area they can get to is not safe. This is why most pediatricians recommend that you avoid vaporizers or "warm mist humidifiers".
Additionally, warm mist humidifiers have to heat up the water, so they use more electricity.
The only time you may wish to consider a vaporizer is if (1) you have a child that is prone to getting ill and so "germ-free" is your top priority; (2) you can absolutely guarantee that your child won't be able to reach the humidifier; and (3) you live in a cool region and want to warm the room a little. (To be perfectly honest, though, an evaporative humidifier ticks all the germ-free boxes without the burn risk.)
Evaporative vs Ultrasonic
There are two main types of cool mist humidifier: evaporative and ultrasonic. Both can be good for babies but each type has pros and cons. Which is best, depends on your family situation.
Our quick recommendation is this:
Organized and good at daily routine? Then go for an ultrasonic humidifier.
If you are confident that you can create and sustain a daily maintenance ritual, then an ultrasonic humidifier may be your best choice. They do require more frequent cleaning and maintenance but are quieter, use less energy, and look great. (Note: if you live in a hard water area, then you may need to use distilled water which is an added hassle.)
Sound right for you? We recommend the MistAire XL ultrasonic humidifier (link goes to Amazon).
Want less hassle and don't mind extra 'lifetime' cost? Then go for an evaporative humidifier.
Evaporative humidifiers do not require daily maintenance. They will stay germ-free with less frequent cleaning (though you will still need to clean now and again, plus you'll need to change the filter every few months). If you don't mind the extra cost of filters but fancy the idea of less cleaning, then an evaporative humidifier is the way to go.
Sound right for you? We recommend the Honeywell "Germ-Free" evaporative humidifier (link goes to Amazon).
Different Types of Humidifier
So that you can make an informed decision, let's look at the main three humidifier types more closely.
Ultrasonic humidifier (cool mist)
These humidifiers create a fine mist by exciting and evaporating water using a small diaphragm that vibrates at ultrasonic frequencies.

PROS
Filterless – Ultrasonic humidifiers do not have a filter which saves you the hassle of remembering and ordering new ones.
Cheaper 'lifetime' cost – Having no filters to replace (which can be costly), ultrasonic humidifiers.
Quietest – If you want a near-silent humidifier, then this is the one for you.
Beautiful design – Ultrasonic humidifiers tend to come in beautiful designs whereas evaporative ones are boxier.
Compact – Due to the mechanism they use, ultrasonic humidifiers tend to be more compact and therefore can fit into smaller spaces.
Energy efficient – Ultrasonic humidifiers use the least energy (some use less than a standard light bulb).
CONS
White dust – Dissolved minerals in hard water are picked up and emitted in the mist. These then settle as a fine white dust around the humidifier. The dust is harmless but can be a nuisance to clean. There are solutions to this issue: (1) Some ultrasonic humidifiers contain a demineralization filters which prevent the problem but do require replacing over time; (2) Many parents choose to fill their ultrasonic humidifier with distilled water. Again this solves the problem but is an added hassle.
Require frequent cleaning to avoid germs – Because they do not have a filter and don't use boiling water, ultrasonic humidifiers lack some of the germ-busting abilities of evaporative and vaporizing humidifiers. To make up for this and to keep your ultrasonic humidifier safely germ-free you'll need to clean and maintain it more frequently than the others.
Evaporative humidifier (cool mist)
Sometimes called "wick humidifiers" these include a large wick or "wet wick filter" which draws up water from the reservoir. The large surface area encourages evaporation as air is forced through it by the fan. The moist air is then blown into the room.

PROS
No white dust – Evaporative humidifiers use a more "natural" method of creating water vapor which doesn't pick up minerals. This means no issue with white mineral dust.
"Germ-free" – In lab tests, evaporative humidifiers come out on top. [Source]. Their method of evaporation and their filter means that they tend to emit fewer pathogens into the air.
Less daily hassle – It is still important to clean and maintain evaporative humidifiers to avoid stagnant water and mold; however, this can be done weekly rather than daily.
CONS
Expensive filter replacements – The main drawback is the ongoing cost of filters which range from about $7-15 each. Parents have reported having to change them anywhere from 2-weeks to 6-months, though the average seems to be every 2-3 months.
Bulky & Uglier – Evaporative humidifiers are generally large, boxy, and not overly pretty. (At least, that's our subjective opinion!)
Noisier – Due to the fan mechanism, evaporative humidifiers are noisier other types. That said, it is generally no more than a gentle hum, and many parents actually see this as a good thing because it helps their babies to sleep.
Vaporizers (warm mist)
Also known as a "steam humidifier" or "warm mist humidifier", this type of humidifier heats or boils water to create steam which is then pumped into the room.

PROS
Kills germs – Boiling water kills most bacteria. Vaporizers can kill up to 95% of germs.
CONS
Burn risk – The heating element and boiling water create a safety hazard, especially with young children around.
Fire anxiety – Quality vaporizers are generally pretty safe, but having an electrical heating device in your home can be a source of anxiety for parents, ie, worrying about fires. (Or maybe this is just me!?)
Now that you have gotten the basics down, let's move on to our top pick humidifiers.
Our top pick
Best ultrasonic humidifier
Best cool mist humidifier
Type: Ultrasonic, cool mist
Filter: No
Room size: Large (500 sq feet)
Duration: Up to 24 hours
Auto shut-off: Yes
Diffuser (essential oils): No
Adjustable mist: Yes
The MistAire XL (check price on Amazon) is our top choice humidifier and all-rounder. Check out its impressive Amazon customer ratings and reviews if you need convincing. The MistAire XL is a beautiful, well-built ultrasonic humidifier that is capable of delivering a huge amount of mist very, very quietly (so there is no need to worry about it waking up the kiddies).
Being the 'XL' version, this humidifier comfortably fills large rooms. At the same time, the mist output can easily be adjusted to work in smaller baby nurseries. It also comes with a nightlight on which you can adjust the brightness, and will automatically shut off when the tank is empty.
What we love:
The capacity of this humidifier means it lasts for a long time and doesn't need to be topped up every few hours. It is also a humidifier that has been thoughtfully designed – this can be seen with little touches like the self-storing cleaning brush. Almost silent and coming with several different colored night lights, we think the MistAire is a lovely addition to any nursery.
Watch out for:
If it's set too high, you can overdo it and find you've got a damp floor. Also, the shape requires a little getting used to, especially the first time you try to change and clean it. Some parents have reported dropping it whilst trying to clean it. (Make sure you locate the 'hidden' cleaning brush!)
View on Amazon
Best evaporative humidifier
Best for babies with allergies
Type: Evaporative, cool mist
Filter: Yes
Room size: Medium (360 sq feet)
Duration: Up to 24 hours
Auto shut-off: No
Diffuser (essential oils): No
Adjustable mist: Yes
The Honeywell HCM350W (check price on Amazon) is a fantastic humidifier, and certainly our top choice evaporative humidifier.
Its biggest strength is its ability to prevent germs. Firstly, there is a UV light which kills waterborne bacteria as they enter the tank. Next, the "wet wick filter" is antibacterial, preventing pathogens from passing through it. Together this results in the humidifier emitting up to 99.9% germ-free moisture into the into the air.
The Honeywell HCM350W is significantly quieter than most evaporative humidifiers (some can be pretty noisy). That said, it still produces a low-level hum caused by the internal fan. Some parents actually see this as a bonus, ie, it acts like a white-noise machine, soothing their babies to sleep.
What we love:
This is the ultimate germ-busting humidifier. It is hassle-free: (a) not requiring highly frequent cleaning (like ultrasonic humidifiers), and (b) not getting any of the dreaded 'white-dust' issues.
Watch out for:
The filters aren't cheap and will require changing roughly every 6-months. You should factor in this added lifetime cost. It's also bulky and not the prettiest humidifier on the market.
View on Amazon
Best humidifier for baby with congestion or a cold
Type: Ultrasonic, cool mist
Filter: No
Room size: Medium (350 sq feet)
Duration: Up to 24 hours
Auto shut-off: Yes
Diffuser (essential oils): No, but uses Vicks VapoPads which include rosemary and lavender scents
Adjustable mist: Yes
The Vicks V4600 Filter-free (check price on Amazon) is a good ultrasonic humidifier that works well in small to medium-sized baby rooms or nurseries. It has an adjustable moisture dial and an easy to clean tank. Like other Vicks humidifiers, this one includes a small tray where you can pop Vicks VapoPads for added soothing vapors.
What we love:
It is super quiet and the VapoPads come in two scents – menthol and lavender/rosemary. It also has a large opening in the tank which makes it very easy to clean.
Watch out for:
Be sure to check that your baby's age is compatible before using the scent pads.
As with other ultrasonic humidifiers, it can leave a fine white dust. This means you may need to use filtered or distilled water, especially if you live in a hard-water area.
If you have a large room, then this one won't do the job.
View on Amazon
Best humidifier with essential oil diffuser
Type: Ultrasonic, cool mist
Filter: No
Room size: Large (400 sq feet)
Duration: Up to 50 hours
Auto shut-off: Yes
Diffuser (essential oils): Yes
Adjustable mist: Yes
The Everlasting Comfort (check price on Amazon) has an easy-to-use essential oil tray; however, this is no cheap gimmicky machine like some of the other diffusers on the market. Rather, the Everlast is a combination of a well-designed, large capacity (5L) humidifier and an oil diffuser. It is a sturdy humidifier and won't topple easily – a bonus if your kids are little tornadoes around the house! It is also easy to grip, handle, and clean.
What we love:
It lasts for ages (up to a whopping 50 hours) and can comfortably fill large rooms. Combine this 'oomph' with your favorite baby-friendly essential oils, and your whole family will benefit from soothing vapors being pumped easily around your home.
Watch out for:
Though it's got a wide opening for refilling, you need to take out the tank, flip it upside-down, and access it from the bottom. You then fill it and reverse this process to replace the tank. This takes a bit of getting used to.
View on Amazon
Best warm mist humidifier
Type: Vaporizer, warm mist
Filter: No
Room size: Medium (350 sq feet)
Duration: Up to 12 hours
Auto shut-off: Yes
Diffuser (essential oils): No, but uses Vicks VapoPads which include rosemary and lavender scent
Adjustable mist: Yes
The Vicks V745A Warm Mist Humidifier (check price on Amazon) is our top pick warm mist humidifier. It has an inherent safety risk due to its heating element and boiling water, so you'll need to be completely sure that your little one cannot get to it. However, if this is not an issue, then this humidifier is a good choice if you want both germ-free mist (it kills 95% of bacteria) and Vicks' soothing menthol vapors or other liquid medicine inhalants.
What we love:
It's super quiet and pretty much germ-free. Plus, it requires less cleaning and maintenance than ultrasonic humidifiers. It has a special Medicine Cup for use with liquid inhalants such as Vicks VapoSteam. This makes it a good choice for children with congestion or colds, but be sure to check they are of a compatible age before using the liquid inhalants.
Watch out for:
You need to be 100% sure your baby or child can't get to it due to the risk of burns.
View on Amazon
Cutest humidifier for baby nursery
Type: Ultrasonic, cool mist
Filter: No
Room size: Small – Medium (250 sq feet)
Duration: Up to 24 hours
Auto shut-off: Yes
Diffuser (essential oils): No
Adjustable mist: Yes
The Crane Elephant (check price on Amazon) is our personal favorite amongst Crane's adorable animal range. There are many animals and colors so you'll be sure to find one that matches your baby's nursery theme. Beyond being cute, they are decent and dependable ultrasonic humidifiers that will raise the humidity (in small rooms) for up to 24 hours, and bring your little one relief from cold and flu symptoms.
What we love:
It's adorable and very energy efficient (it costs less to run than a standard light-bulb). It is a decent ultrasonic humidifier which will do the job well in a small room.
Watch out for:
Its size means it will struggle with large or "big medium" rooms. Only go for it if your room is less than 250 sq feet.
View on Amazon
Easiest humidifier to clean
Type: Ultrasonic, cool mist
Filter: No
Room size: Medium – Large
Duration: Up to 24 hours
Auto shut-off: Yes
Diffuser (essential oils): Yes
Adjustable mist: Yes
The Miro CleanPot (check price on Amazon) is a radically different ultrasonic humidifier. It is simple, elegant, and is designed in such a way that it solves the cleaning issues associated with many other humidifiers. It features a floating design which eliminates the need for an internal water tank. There are no pumps, no filters, and every part is washable. This makes it quick and easy to clean. You can easily take it apart and wash alongside your dishes. The CleanPot can also be used as a diffuser with select essential oils.
What we love:
With no tank, it's easy to clean, so you'll never worry about mold hidden away in nooks and crannies. It is a great essential oil diffuser, too.
Watch out for:
The obvious issue is that the open water bowl will attract the attention of little eyes and hands! Only go for this one if you have a newborn, or can keep it out of reach. Otherwise, you'll constantly be clearing up puddles of water.
View on Amazon
Best whole-house humidifier
Type: Evaporative, cool mist
Filter: Yes
Room size: Large – Whole-house (3600 sq feet)
Duration: Up to 24 hours
Auto shut-off: Yes
Diffuser (essential oils): No
Adjustable mist: Yes
To be clear, the AIRCARE whole-house humidifier (check price on Amazon) isn't going to win any design awards. But then pretty much all whole-house humidifiers tend to be ugly. That said, if you are looking to bring the humidity up in your whole house and thereby improve the health of your whole family, then this is our top pick.
Being an evaporative humidifier it won't emit the white-dust, plus if you maintain it well, then it's also going to be germ-free. This means peace of mind with your baby breathing in the air day in, day out.
What we love:
It has a built-in hygrometer so you can set your desired humidity and let the machine to the rest. It's evaporative, so less frequent cleaning is required.
Watch out for:
As console systems go, it's actually on the quieter side, but still, it's probably too loud to keep in a nursery. (It could perhaps work on the landing?) It's bulky. But, hey, that's just what whole-house humidifiers are like.
View on Amazon
Best budget humidifier
Quietest humidifier
Type: Ultrasonic, cool mist
Filter: No
Room size: Small – Medium (250 sq feet)
Duration: Up to 16 hours
Auto shut-off: Yes
Diffuser (essential oils): No
Adjustable mist: Yes
This MistAire (check price on Amazon) is the 'little sister' to the MistAire XL which we've chosen as our top pick humidifier. This version is every bit as great as the XL, only smaller. Plus, it is whisper-quiet.
What we love:
It is super-quiet, easy to use, easy to clean, and features several colors of night light. It also looks great.
Watch out for:
It's on the smaller side which means that it works well in small rooms but even a medium room will stretch it (well, if it's a "big medium" room). The light on the front is bright and can't be dimmed.
View on Amazon
Best travel humidifier
Type: Ultrasonic, cool mist
Filter: No
Room size: Small
Duration: Up to 5 hours
Auto shut-off: Yes
Diffuser (essential oils): No
Adjustable mist: Yes
The BONECO Travel humidifier (check price on Amazon) is about as adorable as it is useful. It is a mini ultrasonic humidifier that is light and easily portable. Its adaptor fits most conventional plastic bottles, so when you are on holiday with your baby, you don't have to leave behind the benefits of moist air (essential if your baby suffers from dry skin or congestion). Pop it in your luggage and then when you arrive at your destination you can just buy a bottle of drinking water and your humidifier is good to go. It pumps out up to 1 gallon in 24 hours so will fit a small-medium guest or hotel room.
What we love:
You don't need to worry about cleaning the water tank as it uses fresh bottles of water. It comes with a carry case. It features a 110-240V AC/DC adapter and interchangeable power plugs which mean it can be used pretty much wherever your family goes on holiday.
Watch out for:
It is small, so if Grandma's guest room is big, then it's not really going to make much of an impact on the humidity levels.
View on Amazon
What Should I Look For When Choosing a Humidifier?
If you're still not sure which is the best humidifier for your baby's nursery, then here are some features to be mindful of as you continue your research. (Good luck with it!)
Ease of cleaning – Being difficult to clean tends to be the biggest complaint among parents who buy not-so-great humidifiers. Whichever type you go for, it will need cleaning, so it's important that you go for one that makes it easy. (Especially important with ultrasonic humidifiers which you'll be cleaning more frequently.);
Noise level – Some are ultra-quiet, others not so;
Controlling mist output – It can be handy (though not necessary) to control the amount of mist being emitted. Some allow this, others not;
Auto shut-off – This shuts the unit down when the water runs out. It is useful to prevent overheating and damage;
Adjustable humidistat – Ideal relative humidity is between 40-60%. A humidistat allows the unit to measure this and set the mist output accordingly. These are handy though not essential as you can buy a separate hygrometer for under $10 and keep an eye on the humidity levels yourself;
Antibacterial features – Materials used, ultraviolet-light, and heating-coils are just some of the antibacterial features that humidifiers can incorporate. These give you added peace of mind that your baby's humidifier is germ-free.
How humid should the air be?
The ideal humidity (ie, moisture level in the air) should be between 40-60%. Humidity generally varies depending on region and time of the year. Usually, levels are higher in the summer and lower in the winter. Low levels of humidity can cause dry and itchy skin, nasal passages, throats, and eyes. Be cautious, though, if you overdo it and let the humidity levels get too high, this can make your baby's nursery feel stuffy and allow condensation to form on surfaces which can lead to mold and even trigger dust mites and harmful bacteria to breed. [Source]

*Image courtesy of Vicks
To ensure you are achieving a healthy humidity level in your home or baby nursery, you can either purchase a humidifier with an in-built hygrometer (sometimes called a humidistat) or buy one separately for under $10 (eg, the best-selling AcuRite Humidity Monitor).
How to clean your humidifier (and how often)
Dirty water tanks quicky go stagnant and become breeding grounds for bacteria and mold. Vaporizers and evaporative humidifiers are better at preventing the spread of pathogens, but even so, you'll need to be on top of cleaning and maintenance. Obviously, this is even more important when placing a humidifier in your baby's nursery.
Fear not!
Staying clean and safe is actually pretty simple. It's all about creating a cleaning ritual and then sticking to it.
Here are some actionable tips you can follow. (Note that since babies are involved, we urge you to err on the side of caution. Hence we recommend cleaning more frequently than product manufacturers may do on their packaging.)
Tips for cleaning and maintaining a safe humidifier
Change water every day – Empty the tank and base, dry, and then refill with fresh water. (Make sure the unit is unplugged first)
Do a 'deep' clean every 3 to 7 days – Ultrasonic humidifiers should be cleaned more regularly, but even with evaporative or vaporizer humidifiers you should do this every seven days. Here's how:

Turn off and unplug humidifier;
Disassemble and pour out any water;
Add 2 tbs of white vinegar to half a liter of water (or use a 3% hydrogen peroxide solution);
Add solution to the humidifier tank, shake it all about, then leave for 20mins;
Repeat this process (ie, 2 tbs vinegar/half liter water) but add the solution to the base. Again, leave for 20 mins;
Finally, rinse several times until there is no smell of vinegar remaining. If you have used hydrogen peroxide, then do this even more thoroughly as you don't want any chemicals being added to the humidifier mist.

Change filters regularly – This applies to evaporative humidifiers. Check the manufacturer's guidelines.
Keep vicinity dry – Sometimes the area around a humidifier can get damp. Ensure you keep it dry.
Storing humidifiers – Before storing a humidifier away, perform a deep clean and then thoroughly dry it. Throw away any used filters etc. When you take it out again, give it another clean.
Use distilled or demineralized water – Though not absolutely necessary, this has various benefits. Firstly, it will prevent the build-up of mineral deposits which can encourage bacterial growth. Secondly, it will prevent mineral "white-dust" from settling around the humidifier.
Conclusion
Humidifiers come with lots of great health benefits but it's important that you keep them safe by regularly cleaning them. We know that, as a parent, nothing is ever too clean for your children, including the air they breathe. So, keep that baby skin healthy, fight against germs, and even keep that lovely wooden crib looking good as new by choosing the right humidifier for your family.