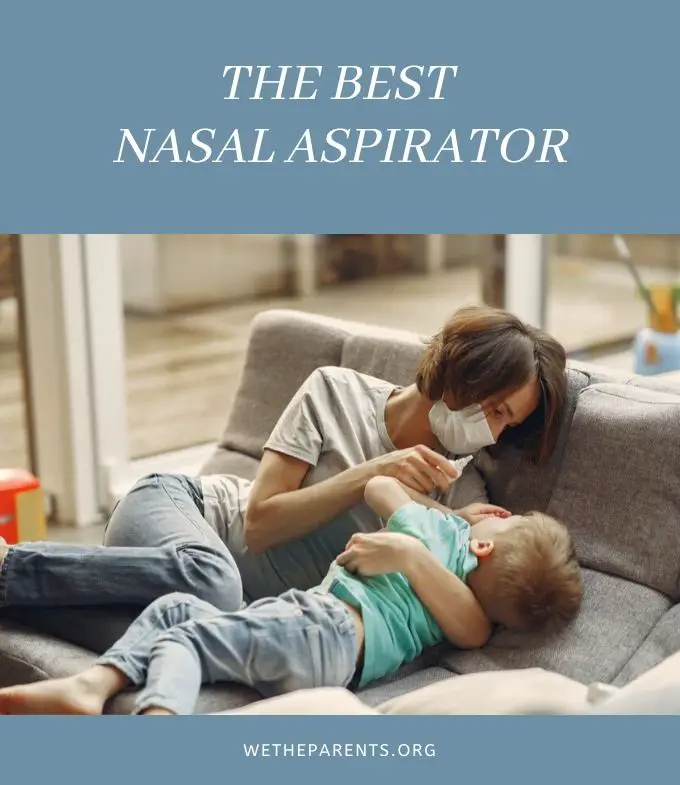 Is your baby's congestion interfering with her ability to nurse, sleep, and breathe? Well, I have good (if slightly gross) news; there are baby products that can help de-snot your kiddo's nasal passage.
Nasal aspirators have been on the market for some time and do wonders at gently removing mucus from your baby's nose. But how do you choose the best nasal aspirators? No worries, my fellow parent, I'm here to make you an expert.
Children often form excess mucus when they are sick, have allergies, or are teething.
Basically, if you have a baby, you will need an aspirator at some point. Pro tip: it's better to have one on hand for when you need it then to be scrambling to find one while your child is inconsolable with a stuffy nose. So let's have a crash course on what it is you should be looking for.
Types of Nasal Aspirators
There are three designs of aspirators from which to choose. While each one has its pros and cons, remember that, at the end of the day, the best nasal aspirators are the ones that work for you and your baby.
Bulb Nasal Aspirators
Vaguely resembling a lightbulb or turkey baster, this design is almost as old as time. It's easy to use, has no technological bells and whistles, and is usually the least expensive option.
With that said, bulb Aspirators can be tricky to clean, and you cannot control the level of suction the same way you can in other designs.
Electric Nasal Aspirators
Although these tend to be more on the pricey side, it's not impossible to track down a good deal on one of these gadgets. They are easy to use, can adjust their suction to the thickness of the mucus causing the blockage, and some even squirt a bit of saline into the nasal passages to loosen up the mucus. A few models also play music to make the experience a bit more pleasant.
One downside of electric models is that some can be a bit noisy, which can elicit a startle response from your little one. Another issue with electric nasal aspirators is that the mucus can build up in the areas of a device that are hard to clean. Consequently, this may result in bacterial contamination.
Oral Suction Nasal Aspirators
Okay, this is way less gross than it sounds, I promise. These aspirators involve placing one end of the tube in your child's nose and taking the other end in your mouth. You gently suck out the mucus, BUT there is a filter that prevents any of it from being inhaled on your end. You can control the strength of the suction, and they are quiet devices that won't alarm your kiddo with any motorized noises.
These have a slightly higher upkeep cost than other models, as they typically have filters that will need regular replacing. And trust me; you do not want to skimp on that expense.
Important Considerations
Multiple Use vs. Single-Use
Some nasal aspirators, notably the bulb models, are inexpensive enough to be used once or twice and then replaced without any financial hardship. However, if you are looking for an aspirator you can use for multiple stuffy noses over time, you will want to look for designs that
Can be taken apart for easy cleaning.
Have multiple tips to accommodate your child's growing facial features.
Are economic to maintain.
Have a good warranty, particularly for more expensive electronic models.
Have adjustable suction settings so you can use the same device for both mild and severe nose clogs.
Cleanability
As mentioned above, the ability to clean a nasal aspirator is vital if you want to reuse it. Check that the products you are looking at
Are made from materials that don't foster the growth of mold or bacteria (e.g. silicone).
Can be taken apart.
Have dishwasher safe parts or can be cleaned with conventional cleaning products.
Do not have a lot of nooks and crannies for germs or mold to hide.
Ease of Use
You don't want to drop a fortune on a nasal aspirator only to find that it is overly complicated. After all, this is a mission where your primary objective is to get in and out quickly. Look for simple models that don't take long to do their job.
Furthermore, familiarize yourself with whichever model you have chosen until you could operate it in your sleep if you had to because, at some point, you will be draining your kiddo's nose in the middle of the night. Parenthood, amiright?
Safe Use
Provided you use these products correctly and take precautions, you won't harm your little one. Be sure not to insert any nozzles too far into your kiddo's nose, use saline, and don't try to suction dry, packed in mucus.
While you should always read the instructions that come with your aspirator model, here is an overall idea of how to use the various designs.
How to use nasal aspirators correctly
Bulb Nasal Aspirator
Apply two or three drops of saline into the nose and wait a few seconds.
Compress the bulb end of the aspirator.
Insert nozzle into one nostril while gently plugging the other one with your finger.
Release the bulb end for suction to occur while gently moving the tip around.
Squeeze out mucus into a tissue.
Repeat steps on the other nostril.
Electric Nasal Aspirator
Fit the appropriate tip on the nozzle and adjust applicable suction settings.
Administer two or three drops of saline into one side of the nose and let it sit for a few seconds.
Gently insert the nozzle into one nostril while plugging the other.
Turn the device on.
Gently move the nozzle around in your child's nose.
Repeat steps on the opposite nostril.
Oral Suction Nose Aspirator
Administer two or three drops of saline into one side of the nose and wait a few seconds for it to set.
Place the tip of the nozzle in your baby's nostril while holding the other side of her nose shut.
Place the other end in your mouth and suck, keeping in mind that the amount of suction is based on how hard you suck.
Move the nozzle gently around in your baby's nose as you suck.
Repeat with the other nostril.
Pretty simple, right? If you're still a little nervous about suctioning your little one's nose, check out Dr. Amy Seery's video for a demonstration on how to use all three of these nasal aspirator designs.
Do not suction your child's nasal cavities more than 3-4 times a day to avoid irritating the inside of their nose. If your child spikes a fever, hold off on using a nasal aspirator, and contact your child's pediatrician. *
Transparency rocks! When you shop through links on this page, we may earn a small commission.
#1 The NoseFrida Snotsucker
Editors Choice
Best for Newborns
Aspirator Type: Oral Suction
Material: Plastic
Dishwasher Safe: Yes (use top rack)
An aptly named aspirator that is the creation of a Swedish ear, nose, and throat doctor, this product is safe to use on congested kids of all ages. Yup, even on newly born babies. It's an affordable option made from materials that are free from BPA and phthalates. The Snotsucker (check price on Amazon) uses disposable filters, so, while they will need replacing after every use, you'll never have to worry about catching stray bacteria OR boogers with this oral suction model.
Putting a new filter in the aspirator is quick and uncomplicated. You simply insert it in one end of the suction straw, snap the cap back into place, and you're ready to roll.
The nozzle forms a gentle seal on the outside of your baby's nostrils, as opposed to inside the nasal cavity, allowing for the gentle, non-invasive removal of all types of mucus. Cleaning this little sucker is painless, and it delivers fast results. All its perks have earned it a stamp of approval from both parents and pediatricians.
What We Love:
Initial purchase replacement filters.
Filters are clinically proven to prevent bacteria from entering your mouth.
No need to insert into your baby's nose.
You have complete control over the suction level.
Check Price on Amazon
#2 The BabySmile Nasal Aspirator
Upgrade Choice
Aspirator Type: Electric (plug)
Nozzle Tip Material: Silicone
Dishwasher Safe: No
If you have the extra money and a baby who is often miserable from mucus, the BabySmile Nasal Aspirator (check price on Amazon) is a worthwhile investment. An impressive hospital-grade and FDA approved nasal aspirator, you will find this device to be incredibly easy to operate. Simply plug it in and go to work with the suction nozzle.
You don't have to worry about accidentally turning the suction off while you are holding the nozzle as the on/off switch is out of the way on the aspirator's base. This can be beneficial if your baby is particularly squirmy when getting her nose cleaned out. You can also adjust the force of the suction with one hand without having to stop what you are doing.
Speaking of cleaning, disinfecting this machine is not complicated at all. Simply take the cup off of the base, remove the lid, and disconnect the nozzle and tube. While not dishwasher safe, the parts can be washed in your sink after each use.
What We Love:
Works great on thick mucus.
Strong but safe suction.
Adults can use it, too.
Check Price on Amazon
#3 The BoogieBulb Baby Nasal Aspirator
Best Budget Buy
Aspirator Type: Bulb
Nozzle Tip Material: Silicone
Dishwasher Safe: Yes
Ah, the good old fashioned bulb design. It's timeless, simple, and effective. BoobieBulb's (check price on Amazon) version of the bulb aspirator contains no latex or phthalates and is BPA free. This affordable product offers plenty of sucking power and comes in 'preemie', 'newborn', and 'toddler' sizes.
If you are hesitant to purchase a bulb aspirator due to their reputation for being almost impossible to clean, this patent-pending design will allay your fears. The bulb actually pulls apart, making it easy for you to give it a good scrub down, and you can even pop the parts in the dishwasher.
This hypoallergenic aspirator is comfortable to hold, made from hospital grade material, and is recommended by doctors. The space-saving design is a plus, and you can take this portable snot-sucking gadget anywhere.
What We Love:
Easy to clean
Good suction
Available in multiple sizes
Affordable
Watch out for:
Bulb parts can pop apart when you are squeezing for suction.
Check Price on Amazon
#4 The Bubzi Co Baby Nasal Aspirator
Best for sinus congestion
Aspirator Type: Oral Suction
Nozzle Tip Material: Hospital grade silicone
Dishwasher Safe: No
With the Bubzi Co Baby Nasal Aspirator (check price on Amazon) oral suction model, you control the force at which the mucus is removed from your child's nose. It is easy to use, with the only set up being to place a tissue in the 'booger collection' area (remember to change the tissue after every use!).
It takes about 30 seconds to clear your kiddo's nose, so you are in and out reasonably fast. Once the task at hand is complete, you will be able to give all the nooks and crannies a good scrub as this product comes apart easily.
Constructed from BPA free material with a soft-tipped nozzle that won't irritate your baby's nose, this device also comes with a carrying case to keep it clean in between uses. The cost of maintaining this nose sucker for repeated uses is virtually nonexistent as it requires no filters or sponges.
What We Love:
Baby doesn't have to be lying down during use.
No need for replacement filters and/or sponges.
Produces results quickly.
Watch out for:
Forgetting to put a tissue in the collection canister will result in snot getting into your mouth.
Check Price on Amazon
#5 The OCCObaby Baby Nasal Aspirator
Best battery operated nasal aspirator
Aspirator Type: Electric (battery)
Nozzle Tip Material: Silicone
Dishwasher Safe: No
One of the more customizable aspirators on our list, the OCCObaby Baby Nasal Aspirator (check price on Amazon) comes with three sizes of nozzle accessories, including one with a wide tipped design that is unique to this brand.
There is no need to buy replacement parts, including filters, and cleaning is as easy as washing out the mucus-catching cup. It does require 2 AA batteries, but a set comes included with your purchase. Parents report that the aspirator does not burn through batteries quickly.
This medically tested device fits right in a diaper bag, has an ergonomically designed handle for your comfort, and its materials have no latex, lead, phthalates, or BPAs. You'll be able to operate this aspirator with one hand without a problem, and it's quiet enough not to startle most babies. It is safe for all ages, including newborn babies, and works on every type of mucus.
What We Love:
Batteries included
Comes with a bonus oral suction aspirator should you ever run out of batteries
Comfortable to hold
Extended warranty
Multiple tip options
Watch out for:
Not as much suction as some other electric models
Check Price on Amazon
#6 Little Martins Drawer Baby Electric Nasal Aspirator
Best electric nasal aspirator for babies
Aspirator Type: Electric (battery)
Nozzle Tip Material: Silicone
Dishwasher Safe: No
The Little Martins Drawer Baby Electric Nasal Aspirator (check price on Amazon) activates with the touch of a button and includes two differently sized nozzle tips, making it ideal for babies of all ages and sizes. In fact, parents whose babies have particularly small noses have raved about this aspirator. It operates on 2 AA batteries, which come included when you buy this product, and it is FDA approved.
You never have to worry about frying any motors while giving it a good scrub as it is a waterproof product. The nozzle and cup where mucus collects are both removable, and it's safe to provide these components with a thorough boil to kill any potentially lingering germs.
Reviewers note that this is an exceptionally quiet model that doesn't disturb children. Despite its lack of noise, the suction is strong enough to quickly handle any type of mucus your kiddo can blow your way. This aspirator even comes with stickers to give it a more inviting appearance for children.
What We Love:
Batteries included
Easy to clean
Lightweight
Powerful but quiet
Safe for newborns
Watch out for:
Be sure to have replacement batteries on hand if this is to be your only aspirator.
Check Price on Amazon
And the Winner is…
Congestion is no fun for anyone, but it's especially difficult for babies to cope with, and when your baby is miserable, everyone in the house is along for the ride.
While all of these aspirators will help clear your kiddo's nasal canals, my personal favorite is hands down the NoseFrida Snotsucker (check price on Amazon). I love that it was invented by a doctor who specializes in ear, nose, and throat issues and that it works on babies of all ages without invading their nasal passages. I trust that it's constructed from safe materials. It's easy to use, and my little ones have tolerated it without much of a fuss. Furthermore, the filters are great for protecting me against germs, and replacing them is a cinch. The final selling point? It's a pretty fun name to say.
Hey, when your baby is sick, you need to take a laugh wherever you can.
Whichever nasal aspirator you choose, I wish you and your baby good health and clear noses.