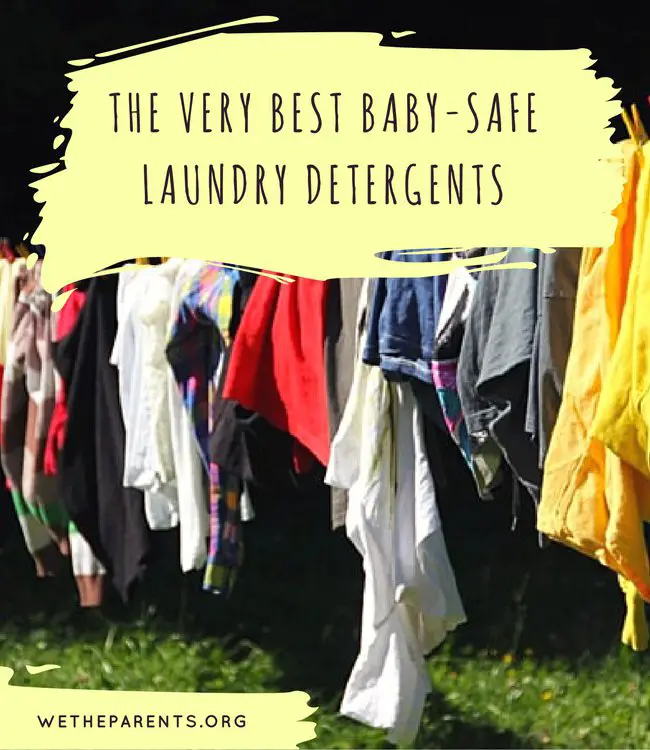 As parents, you've undoubtedly looked at your baby, then looked at that huge pile of laundry, and wondered how on earth such a tiny addition to the family has generated so many extra dirty clothes. Well, big things do come in little packages, right?
Luckily, in this day and age, we have machines to do most of the hard work for us. All you have to do is separate your whites and colors, toss them into the washer, pour in the laundry detergent, and press a button for the correct cycle. Ah, but hold on; exactly how baby friendly is that detergent you just added to the washer?
We know that sometimes it can feel frustrating, having to check that virtually every product you use is baby safe. When it comes to your detergent, though, you want to make sure that you are using something that is appropriate for your child. After all, who wants to be combating with a contact allergy (like eczema) at 2 am? Well, we've made your life a little easier by picking what we believe to be the best baby-safe detergents available today. Let's see which brands got a thumbs up from us.
Best Stain Fighting Detergent
When you have a baby, there will inevitably be some pretty interesting stains on everyone's clothing. Here are some products made to combat those irritating messes.
If you have a lot of stubborn stains and nose-turning odors, you might want to give this product a try. It's sulfate, dioxane, and fragrance-free, instead relying mainly on plant-based ingredients.
This isn't an entirely organic product; tiny amounts of borax serve as enzyme stabilizers. It is also worth noting that while this can clean cloth diapers, it does tend to leave a build up behind.
However, for tough stains on clothing, this product certainly holds its own and many parents are incredibly impressed with it.
Loads: 60
Check Price on Amazon
This laundry soap is hypoallergenic, natural, contains no fragrances or dyes, and works in standard and high-efficiency washers alike. It advertises a quadruple enzyme formula for fighting tough stains while still being safe and gentle for your baby.
It's an eco-friendly product that is cruelty-free. One common complaint about this product is that the measuring cap is difficult to read. On the bright side though, this product can be used with your cloth diapers and gets positive reviews regarding its cleaning power.
Loads: 53
Check Price on Amazon
Best Laundry Detergent for Cloth Diapers
While we have reviewed other detergents that are perfectly safe to use on your cloth diapers, these products outperform many others on the market when it comes to that particular cleaning niche.
Created by doctors and geared towards those with sensitive skin and allergies, this product is the #1 best seller in Amazon's Cloth Diaper Laundry Detergent category. It is free of sulfates, phosphates, chlorine, dyes, and allergens and is a cruelty-free product.
Aside from excelling at getting those cloth diapers pristine, it also works on dark clothes, delicate garments, and microfiber towels.
You might want to put this bottle on something absorbent since some parents report the top is a bit drippy after being used. Aside from that, it is a solid product that won't irritate your child's skin or leave build up on your cloth diapers.
Loads: 96
Check Price on Amazon
Yes, this is technically a powder. If you prefer a liquid, it is available, but it is a bit more expensive. Either way, this product is recommended by several cloth diaper companies as a go-to laundry soap. It gets stains out and doesn't leave a build-up behind.
Some parents have found that the hard water in their homes negatively impacts this product's cleaning power, so you might want to try something else if you are dealing with hard water issues.
However, if this isn't a concern for you, this hypoallergenic product is safe and gentle for your baby and can be used on clothing and diapers alike.
Loads: 100
Check Price on Amazon
Best Baby-Friendy Detergent Pods
If you're not a fan of measuring, and just want to pop in a pod and walk away, check out these baby-friendly laundry detergents.
Effective enough for the whole family, this detergent is fragrance, dye, enzyme, and chlorine free. It contains no harsh chemicals and is also cruelty-free.
While safe to use on cloth diapers, parents are giving this product mixed reviews regarding its effectiveness in that area.
This detergent works with standard and high-efficiency washing machines alike and is non-toxic, hypoallergenic, and safe to use on all fabrics.
Loads: 75
Check Price on Amazon
This product fights stains with no phosphates, dyes, or chlorine added. They work on cloth diapers, but many parents recommend doing a pretreatment before tossing them in with this detergent. If that is not a deal-breaker for you, then you'll be pleased to know that this product is also cruelty-free and eco-friendly. It cleans adult and baby clothing alike and works in both standard and high-efficiency washers.
Loads: 60
Check Price on Amazon
Choosing a Baby-Safe Laundry Detergent
Before you select the first thing that says "baby safe" on the label, let's look at what makes a good laundry detergent for baby clothes and diapers.
Buy for Baby or the Whole Family?
When you think about it, your child is going to be having as much skin to fabric contact with your clothes as they are with their own. Whether it's your dress whilst you cuddle or your nursing top as you breastfeed, you can't avoid it, and you certainly shouldn't feel like it is something you have to avoid. Following this train of thought, you should be able to wash your clothing with the same detergent you use to wash your baby's wardrobe. This way, any cross-contamination, especially if your child is prone to allergies, is easily avoided. So you are, in essence, looking to change your detergent instead of buying something especially for your baby.
Natural Ingredients
Since your baby's skin is sensitive and vulnerable, you want to look for laundry soaps that are as natural as possible. You might have sworn by the popular grocery store brands in the past, but once you add that tiny bundle of joy to your house, you will need to switch gears. Natural minerals, like sodium carbonate, plant or fruit extracts, and baking soda are examples of safe and natural ingredients that you can look for as you search for a new detergent.
Ingredients to Avoid
Artificially added fragrances, dyes, phosphates, and chlorine are all things that can aggravate sensitive skin. It is best to avoid them altogether, especially if your child is prone to itchy skin. Consider them the Kryptonite of laundry soap additives.
Cleaning Power
It goes without saying that even if your laundry detergent is the safest, baby-friendliest product in the universe, when you're pulling out clothing fresh from the machine that remains stained and dirty, that soap is getting its pink slip. Don't feel like you have to sacrifice hygiene for your little one's comfort. After all, during early mommyhood, you'll be faced with vomity tops, sweaty maternity pants, and a lot worse. The good news is that the list above is made up of highly rated laundry soaps so you are sure to find one that works with your washing machine and water type. Don't be afraid, or surprised, by the need of a little trial and error.
Load Number
It's worth paying attention to how many laundry loads you are getting out of your baby safe detergent. After all, if you have to use double the recommended amount to get one load of laundry clean, you're going to be spending a lot of money on soap. The fix might be as simple as making sure that you pick out a detergent that is compatible with your water system.
Cloth Diapers
If you are a parent who uses cloth diapers, either part time or full time, make sure that you pick a detergent that won't damage the diapers. Some detergents can leave residue on the fabric, which builds up and drastically cuts back on its ability to absorb fluids.
Wrapping up
Like we said before, don't be shocked if you have to go through a little trial and error before finding the perfect laundry detergent for your family. After all, Rome wasn't built in a day, and laundry…well, we guess that pile of clothes is built in a day, but don't let that make you settle for any old laundry soap. Who knows, you might end up finding a baby laundry detergent that you love so much you end up making it a permanent fixture on your shopping list.