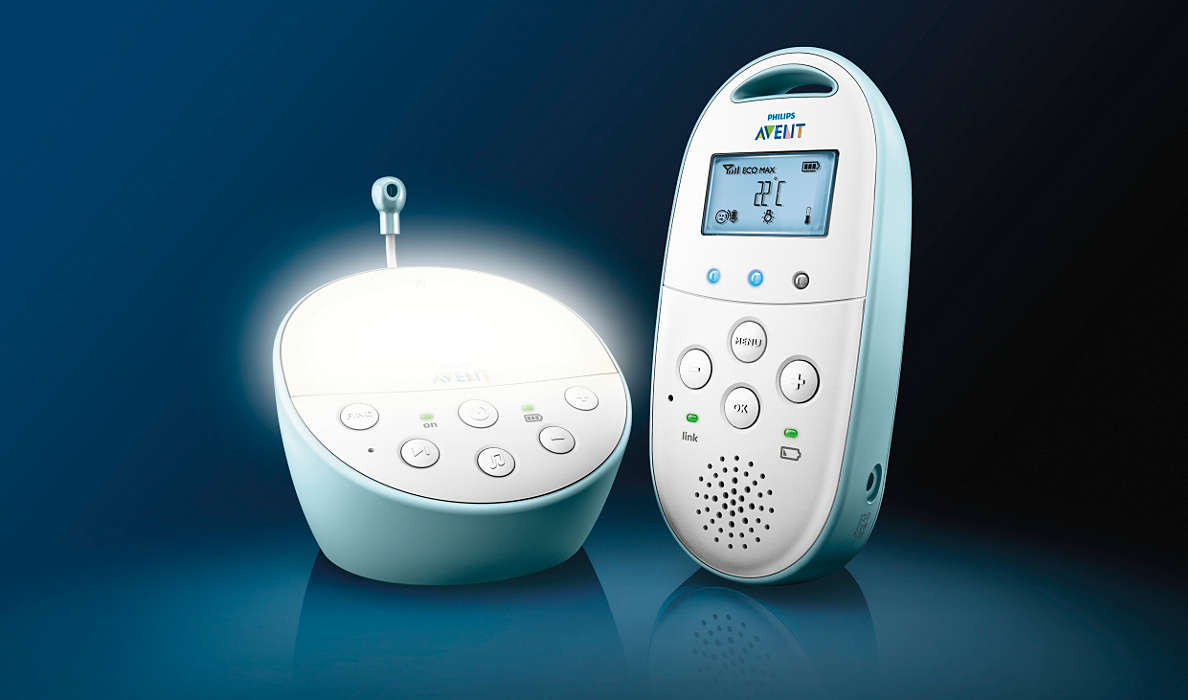 We know it's tempting to do nothing but stare at your little bundle of joy all day long. Alas, in this busy day and age, there are dishes to clean, laundry to wash, and, for your own sanity, a couch that needs sitting on for at least a few minutes a day. Luckily, this is an area where technology and practicality have come together for a beautiful marriage and created baby monitors. You have several options to choose from when it comes to baby monitors, so let us give you a few tips before we review our favorites.
What to Look for in a Great Baby Monitor
There are quite a few baby monitors out on the market today, with an array of options. To get you up to speed we're happy to give you a quick crash course on what to look for as you shop.
Analog Monitors
These baby monitors tend to be among the least expensive on the market, which is naturally a huge perk. However, they are susceptible to static and interference from other electronics trying to operate on the same frequency. If you live in close proximity to your neighbors, you might find your baby monitor picking up a little more than your child's cries.
Digital Monitors
A digital baby monitor operates on frequencies, like an analog model, but their signals are encrypted. This means that when your neighbor's signal crosses paths with yours, they won't be able to hear what is going on in your home and vice versa. You still might have trouble with interference, especially if you are near your wireless router or have a cordless landline phone.
DECT Digital Monitors
DECT, or Digital Enhanced Cordless Communications monitors, are relatively new on the market. Because of this, they tend to be higher on the price range, although as the technology is becoming more common, parents are seeing them available at much more affordable prices.
Simply put, a DECT baby monitor operates on a frequency that is reserved for voice communications, making interference a smaller issue in your home. That's not to say that you won't encounter any interference at all, but the specialized frequency this baby monitor utilizes will certainly make it less of an issue.
FHSS Monitors
Models that use FHSS, or an Automatic Frequency Hopping System, are like DECT models in that they minimize static and interference. The data transmitted is encoded, so you don't have to worry about a Nosey Nelly overhearing what is going on in your home.
One Parent Unit vs. Two Parent Units
Many families have little trouble getting by with just one parent unit, so this is a consideration of convenience more than anything. It is very handy to be able to leave one unit charging in the bedroom, always ready to go, and carry around the other during the day. Or, if you and you partner are both home, you can each carry one as you go about your routines. If you decide to go the one parent unit route, we advise you to buy a model with a good battery life.
So, now that we've gotten some of the basics out of the way, let's move on to our favorite baby monitors on the market.
Best Audio Baby Monitors
This traditional baby sound monitor is designed to alert you if your child begins to cry or make other noises.
As the name implies, this baby monitor is a DECT model, so it's as secure as they get. Through that private connection, you can not only hear your baby, but also talk to them. LED lights on the parent unit signal how much noise your baby is making. The baby unit itself plays lullabies and serves as a nightlight to help soothe your little one. This monitor also keeps track of the temperature in your nursery, so you can be sure your infant is cozy and safe. A light will let you know when your battery is low or you have gone out of range, and you can also set a vibration or sound to alert you to these situations. The only big cons to this model are that it only comes with one parent unit and it is a bit pricey.
Model Type: DECT
Range: 164 feet (indoors) / 1082 feet (outdoors)
Battery Life: 25.5 hours
Check Price on Amazon
This is a prime example of a more affordable DECT model. A two-way speaker lets you talk to your baby, and a belt clip allows for hands-free portability. You can set the parent unit to beep when the battery is low, and a loop on the baby unit serves as a nightlight for your little one. It is more difficult to use than some baby monitors, and there is a beep that sounds when you push the buttons, but this monitor provides excellent voice quality. For a little extra money, you can select the model that comes with two parent units.
Model Type: DECT
Range: 150 feet (indoors) / 1,000 feet (outdoors)
Battery Life: 18 hours
Check Price on Amazon
Best Video Baby Monitors
Sometimes, hearing your baby isn't enough. You want to be able to see that your little bundle is safe in their crib. Luckily, where there is a demand, there is a product, and we found some great video baby monitors.
This fantastic video model is pricey, but worth the cost. The color screen is 3.5 inches, and the wall-mountable camera comes with a 2x zoom and automatic infra-red night vision. You can see and hear your baby over a secure connection, and even talk to them if they seem restless. It is a let down that you cannot connect this model to your smartphone, but this baby monitor is a standout otherwise.
Model Type: FHSS
Range: 164 feet (indoors) / 984 feet (outdoors)
Battery Life: 10 hours
Check Price on Amazon
At under $80 (at the time of writing) this is a much more affordable video baby monitor and it comes with some great features, such as night vision, temperature sensor and two-way talk. It even boasts a lullaby mode to sooth your baby to sleep. On top of that, it comes equipped with temperature monitor and alarm.
Feedback from parents has been that it is sturdy and feels well made and that it is very easy to pair up.
Model Type: FHSS
Range: 960 feet (outdoors)
Battery Life: 12 hours
Check Price on Amazon
Best Baby Motion Monitors
As a new mom, SIDS is probably pretty darn near to the number one spot on your fear list. Well, you're certainly not alone. Some parents are turning to motion monitors to keep track of their baby's movements at night and be alerted to any potentially life-threatening changes.
High-quality baby monitoring for a clearer view and excellent user experience. This device provides peace of mind when you're away with your baby. Has great features like infrared night vision, lullabies, 2x Digital Zoom, two-way talk back, long range (Up to 900 ft.), multi camera and eco-mode. It is produced by a specialist company in Baby Monitoring called, Hisense Ltd.
Model Type: N/A
Range: 900 feet
Battery Life: 4 months
Check Price on Amazon
If you are looking for a motion monitor that doesn't need to be paired with an existing sound or video model, this is a great pick. This model will sound an alert if it detects no movement within 20 seconds. It also monitors room temperature, functions as a sound monitor, and has a built-in night light for your baby. It's worth noting that some moms have found the parent unit to be confusing to read, but all in all, this product certainly delivers on features and is easily installed under the crib mattress.
Model Type: Unlisted
Range: 820 feet (outdoor, open field)
Battery Life: 8 hours (can also be powered by AC adapter)
Check Price on Amazon
Best Affordable Baby Monitors
You're going to find yourself limited to sound-only monitors if you are shopping on a very tight budget. But, that's no reason why you can't still get a quality product.
If you are looking for a basic baby monitor with a secure connection, this model might just be for you. You can keep track of the level of noise your baby is making by listening, and also by looking at the 5 LED lights on the parent unit that monitor the volume level in your nursery. A belt clip allows you to hook this monitor to your pants so that you can hear your baby at all times. Simple but does the job.
Model Type: DECT
Range: 1000 feet (unobstructed)
Battery Life: 20 hours
Check Price on Amazon
At under 20 dollars, this model doesn't offer anything in the way of extras, including an additional parent unit. However, it is an affordable baby monitor that you can plug your headphones into and wear on your belt.
Model Type: Analog
Range: 600 feet
Battery Life: Unlisted
Check Price on Amazon
Wrapping up
Crib, check. Crib mattress, check. Swaddle blanket, yup. All fantastic, but if you want an anxiety free hour in the evening (if you're lucky!) then you'll need a decent baby monitor. After having a gander at these products, we hope you have been able to select your perfect baby monitor. Before you know it, they'll be teenagers hunkered down behind locked doors, so be sure to enjoy these quiet moments of watching your little one doze off serenely or play with carefree abandon. By all means, make sure to enjoy a few spare minutes here and there for yourself, too. With one of these worry-free baby monitors by your side, you can afford to enjoy that morning coffee, read a newspaper, or maybe, if the fates align, even catch a quick nap.