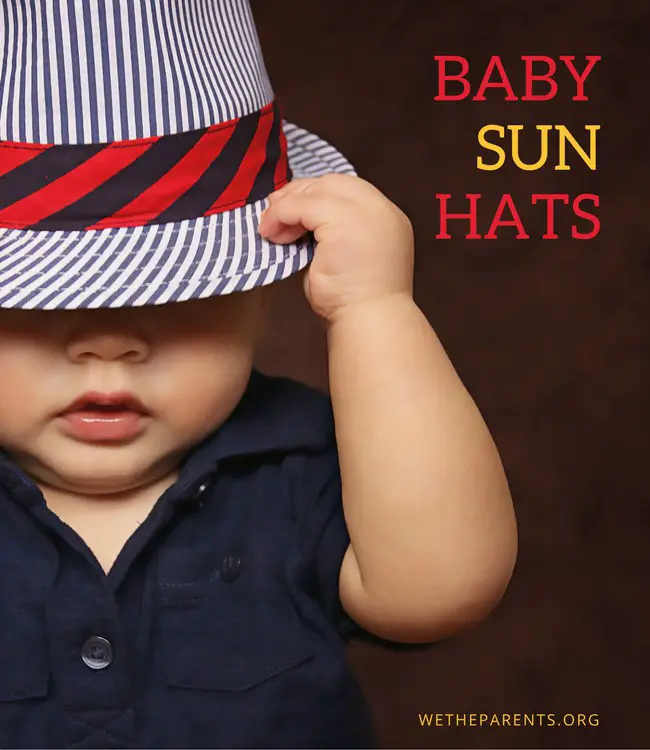 We can all agree that half the fun of having a baby is taking that little bundle of joy out into the outdoors for some playtime and fresh air. So you pack your diaper bag, stock up on snacks, and settle your baby into their stroller. But wait; the weather calls for sun all day and surely your child won't be happy staying under the stroller canopy for your entire outing. The answer: a well-chosen baby sunscreen (plastered liberally all over their squidgy little bodies) and a completely cute baby sun hat. Sorted!
A good sun hat will do more than just look utterly charming on your child's head. It is a comfortable way to protect their delicate skin from harmful UV rays and the risk of sunburn. And yes, the pictures will be totally Facebook worthy.
Tips for Finding a Great Sun Hat
Beyond the cute factor, be sure to consider the following while you shop:
Color
Remember, lighter colors will reflect heat while darker colors will trap it. Stick to those light colors for summer sun hats so your baby can maintain a comfortable temperature.
Material
Don't bother with a sun hat that doesn't have breathable material. Polyester and cotton will allow air to circulate, so your little one remains happy and comfy all day.
Wide Brims
Since your prime concern is protecting your child's face, eyes, and neck, be sure that the brim is offering adequate coverage.
Ultraviolet Protection Factor
Commonly known as UPF, this measures how effectively fabric blocks UVA and UVB rays. A UPF of 50+ means that the material blocks 98% of harmful sun rays.
With those basics out of the way, let's move on to the fun part.
Best Sun Hats for Baby Girls
If you love the girly-girl look, your little lady will rock these cute sun hats.
This machine washable hat features an extra wide brim for complete coverage and covers the ears nicely. It provides UPF 50+ protection and has a liner that wicks away moisture. If your baby is playing around water, this hat will keep its shape even after getting damp.
Material: 100% Polyester
Check Price on Amazon
This hat comes in sizes all the up to 12 years of age, so if you really fall in love with the style, it will grow with your kid. It offers UPF 50+ protection, and the adjustable drawstring strap comes with a breakaway safety clip.
Whilst it does tend to run big as far as sizes go, it fits securely enough that your baby will have a hard time pulling it off. It is also machine washable, so yay for convenience!
Material: 100% Cotton
Check Price on Amazon
Best Sun Hats for Baby Boys
If your boy wants to skip the more girly colors and designs, but still wants a fun sun hat, check out these cute products.
Available in baby and toddler sizes, this little hat has a liner that will wick away moisture and is machine washable. The UPF 50+ material won't sag too badly if it gets a bit wet and the fabric dries quickly.
Although some babies will be able to untie the chin strap with a pull, this hat has a brim that provides great coverage, even for the neck, and is lightweight enough that your boy will eventually forget he's even wearing anything.
Material: 100% Polyester
Check Price on Amazon
Adjustable and reversible, this hat offers plenty of variety. Some of the colors are a little dark for our tastes, but luckily, there are lighter colors available.
The material is UPF 50+ and the brim keeps its shape, even when damp, and offers plenty of protection. The whole hat holds up quite good in water and is machine washable.
Material: 100% Polyester
Check Price on Amazon
Best Unisex Baby Sun Hats
If you are less concerned with people being able to identify your baby's gender by their sun hat, here are some great designs for everyone.
You can pick from a wide array of solid colors that range in sizes from newborn to toddler. The brim is nice and wide, although some parents find it a bit too floppy, and the hat features an extra long neck flap for even more protection. The fabric is UPF 50+ and is machine washable. This hat is also water resistant, so it is perfect for a day at the pool.
Material: 100% Polyester
Check Price on Amazon
With plenty of designs and lots sizes, you can find a hat for any of your children. For babies, in particular, this hat is nice due to its adjustability, UPF 50+ fabric, and breathability. The brim offers good protection and is firm enough not to be drooping over your baby's eyes. You do have to hand wash this hat, which is a bummer, but it's well made and will last a long time.
Material: 100% Polyester
Check Price on Amazon
With plenty of adorable designs, this UPF 50+ hat will delight you and your baby alike. It's reversible, machine washable, and if you use My Swim Baby diapers, you can coordinate a whole outfit for your little one.
Material: 100% Polyester
Check Price on Amazon
Wrapping up
With one of these hats, you and your family can frolick in the sun with no worries. One day your baby will be more interested in hanging out with friends or playing video games, so get out there and seize the day while you can. Here's to making happy memories that last forever, instead of getting a sunburn that feels like it lasts forever.