Now that your toddler is — erm — toddling, it's time to add some shoes to their wardrobe.
With so many styles and colors out there, you are sure to find a walking shoe that looks ridiculously cute. However, there are a few orthopedic basics to be aware of first and it's very important to get these right to ensure that their tiny feet and legs develop healthily and naturally.
We'll start by giving you a quick 'first walking shoe' guide, then you can get on with picking the best, most adorable design for your baby or toddler. While this will make the buying process easier, we make no promises about how easy it will be to get your toddler to sit still and actually try on the shoes. But we wish you luck!
Before you hit the stores, online or otherwise, you will want to familiarize yourself with the basic facts about walking shoes. So here goes…
Choosing the best baby walking shoes
What are the most common styles of toddler walking shoes, and how do I know which is best for my child?
Slip-on shoes: Slip on shoes are simple for parents because, as the name indicates, they simply slip onto the foot with no bells, whistles, laces or straps. Kids are wily, though, and it won't take them long to figure out how to remove the shoe themselves and send you on a less-than-delightful game of fetch. They can also be less secure than shoes that lace or use straps, which may lead to your toddler curling their toes in order to keep their shoes from sliding. That can be damaging to their foot growth and lead to future orthopedic issues; therefore, based on both health and convenience issues, we can't recommend slip-on shoes for toddlers.
Lace up shoes: Laces are the traditional means of securing a shoe, and they provide a secure but flexible fit that's more conducive to proper foot development than a slip-on shoe. They're harder for kids to take off, as long as the laces are long enough that they can be securely knotted. Unlike Velcro or hook and loop shoes, however, it's unlikely that they'll be able to fasten their lace up shoes by themselves until they're a little older.
Velcro or hook and loop shoes: Under any name, these super convenient picks offer the flexible fit of laces with a fastener that attaches in only seconds. This means that both parents and toddlers can put their shoes on with ease, but it also means that toddlers don't find these shoes difficult to remove. They're more secure than slip-ons, however, and their more tailored fit is far better for your toddler's foot development.
How do I know what type of foot my child has, and how will that impact the kind of walking shoe they need?
Different people have different foot types, and it follows suit that any orthopedic differences your toddler has may already be presenting and will likely impact the type of shoe they need. Wondering about the most common foot types?
Wide feet: If your toddler's shoes seem too tight, going a size up may not be the solution. Wide feet are one of the most common variances in foot type, and they're generally present from birth. Wider width shoes are available for kids, with some lines even including picks that are extra wide.
Narrow feet: If you can slide your finger around the heel of your toddler's shoe while they are wearing it, they probably have a narrow foot. Unfortunately, this isn't a variance that's typically accounted for by manufacturers, which means parents are stuck hunting down styles that simply run narrow. It's important to do so, though, because shoes that are too wide can lead to blisters and corns, among other orthopedic issues.
Flat feet: Fortunately, flat feet are far less of a concern for toddlers than they are for adults, as this is a growth stage where arch development is just beginning. Talk to your pediatrician about the best footwear for your child if you feel their feet are unnaturally flat.
When should I begin shopping for walking shoes for my baby?
Although there are many adorable shoes available for your baby from the very moment of their birth, your baby doesn't technically need shoes until they begin to start walking.
That said, the age when it's time to shop for walking shoes will vary between children. When they start to get out of the stroller and begin to pull themselves up onto their feet indoors, it's probably time for parents to start considering soft-soled shoes.
They are ideal for a baby's first pair of walking shoes because soft-soled shoes allow your baby's foot to grip the floor and their toes to extend fully, as though they were barefoot. This reflex is essential to the development of balance and coordination.
It's fun putting your young babies in cute shoes to go with their outfits for that perfect family picture, but when they start strutting their stuff around the house and yard, it's time to opt for a more functional shoe that will keep those tiny feet safe.
If they are whizzing around on a balance bike already but you've still not thought properly about orthopedic footwear… run to the shops now!
Is it true that time spent barefoot is important for my newly walking baby? When is it appropriate for my baby to wear walking shoes?
It's true – as mentioned above, the reflexive gripping and toe extension that happens when kids walk barefoot or in soft-soled shoes is important to their developing coordination and ability to balance.
While indoors, there's no reason they should be wearing more than socks as long as they're in baby-safe areas, which will help strengthen their feet as well as their coordination.
It's a wide world, however, and our kids want to explore and discover while using their new mobility. We wouldn't run outside without the proper footwear, which means hard-soled shoes are an important part of staying safe and comfortable when playing outside.
Rocks, splinters, sharp objects, and anything else that could hurt their feet have the potential to penetrate a soft-soled shoe, so those should be reserved for indoors if the terrain is rough.
Should I have my baby or toddler's feet professionally measured before choosing their walking shoes?
If you're not familiar with foot types or aren't sure if you're accurately sizing your baby's shoes, it's wise to seek out a professional measurement at a shoe store. This is a free service that clerks are happy to perform, especially if it ends in a sale.
Knowing their real shoe size and foot type means parents don't have to worry about what will feel good and fit well during wear, and can feel confident that their toddler's foot development won't be negatively impacted by their shoes.
If your child is experiencing discomfort in shoes you thought were the right fit, they may require a different size than you anticipated or a wider width shoe – this can be clarified by a professional measurement.
Baby's First Walking Shoes (we round up the best)
You'll want to start off on the right foot (pun intended!) when you buy your child's first pair of real shoes. Here are a few great walking shoes to kick off the next phase of your baby's development, without getting kicked off their feet.
Best overall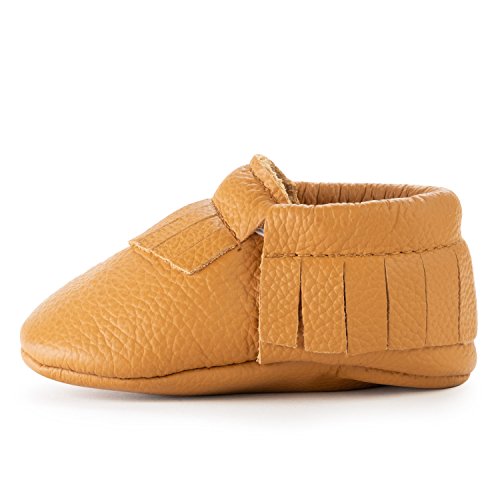 Our opinion
Material: Genuine soft leather
Closure Type: Velcro
These shoes come in several styles, so they're perfect for both boys and girls. Some parents have reported that they're a little on the wide side, so they will probably work best for children with normal to wide feet.
They are very durable and every pair you buy feeds a child!
Best first walkers (boys)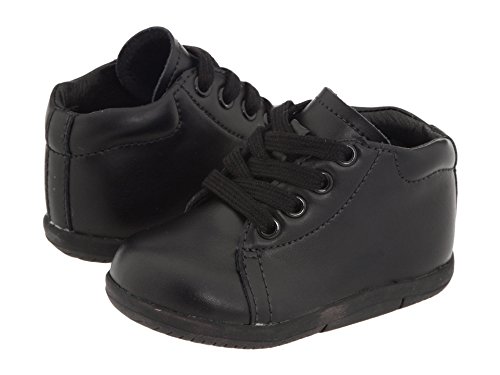 Our opinion
Material: Leather
Closure Type: Laces
These little shoes are a bit plainer than some others, and a bit pricier, but they're certainly high quality. The sole is made of rubber, so is flexible and non-skid, while the liner will wick away any moisture from your tot's feet as they run and play.
These walking shoes come with Sensory Response Technology™, so your child will feel the ground beneath him and have the benefit of a 'barefoot' experience while having the protection of a shoe.
Best lightweight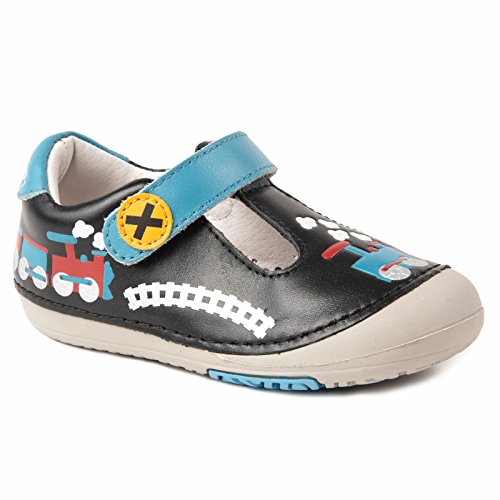 Our opinion
Material: Leather
Closure Type: Velcro
The cute train design on this shoe is sure to enthrall your little one. And, for your peace of mind, this shoe delivers on several levels.
The company is recognized by the American Podiatric Medical Association for producing quality shoes that promote healthy foot development. With this particular style, the rubber sole is flexible and has deep treads for traction, while the shoes remain lightweight and comfortable for your tot on the go.
Cutest design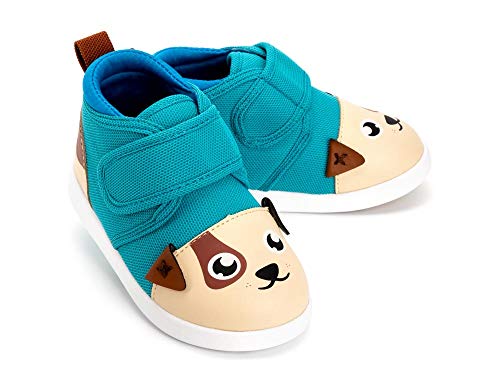 Our opinion
Material: Fabric and synthetic
Closure Type: Velcro/strap
When toddlers start walking, soft-soled shoes with lots of grip are the best picks for healthy development.
These sweet picks from Ikiki are winners in both departments – the gripping sole provides non-slip security to new walkers but is also soft, letting their feet and toes naturally grip the floor, encouraging healthy growth.
The high cut of the ankle provides support without hugging too closely. They'll love the fun squeaker feature of these shoes, though there's an off switch for parents to hit if they want a little quiet time.
Best for narrow feet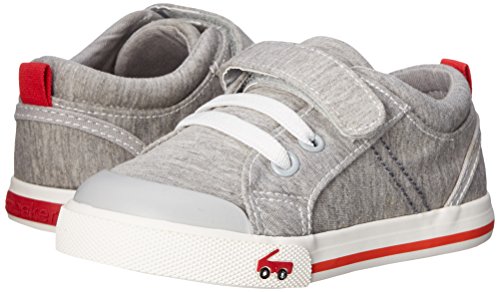 Our opinion
Material: Leather
Closure Type: Velcro
These walking shoes come in a few different colors, so you and your little one can have fun picking out the 'perfect look'. They have that flexible rubber sole we love to see in toddler shoes and, with their faux shoelaces, they resemble "big kids" shoes which could make them even more popular with your child.
Some parents find that the lighter-colored toe area tends to scuff when worn by a rough and tumble boy, but, overall, this shoe is praised for its comfort and durability.
Best with breathable mesh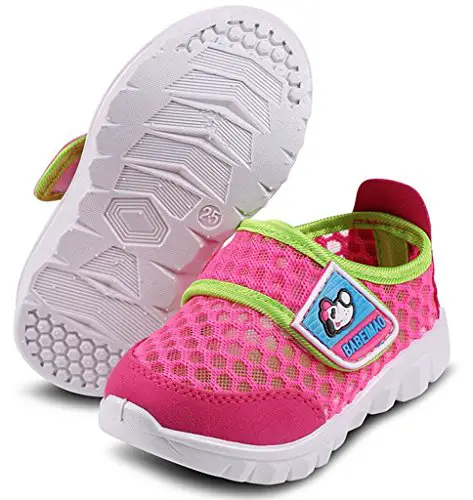 Our opinion
Material: Synthetic mesh
Closure Type: Velcro
These affordable shoes come with a flexible rubber sole for traction and are made of breathable mesh. They're lightweight, machine washable, and available in several colors.
Some parents find that they retain too much heat to be comfortable in very hot weather and that they don't hold up as well as their more expensive counterparts. However, if you're looking for a comfortable shoe at a bargain price, you can't beat these walking shoes.
Best sneakers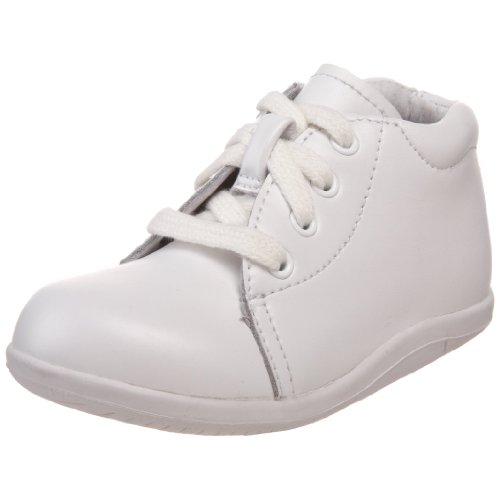 Our opinion
These classy Stride Rite sneakers have a clean, conservative look. They boast durable leather uppers and flexible rubber soles. These shoes fit like booties while keeping that traditional sneaker look. The self-molding footbeds and contoured heel cradles provide teetering toddlers with a custom foot feel.
The shoes even boast sensory pods that offer little ones a barefoot experience without compromising their comfort or safety.
Best washable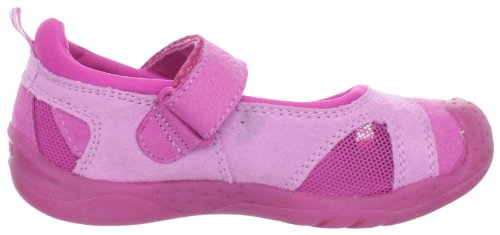 Our opinion
Material: Clarino and mesh (upper)
Closure Type: Velcro
These adorable shoes provide both fashion and function for your little lady. They have a flexible rubber sole, are made of breathable material, and are even approved for encouraging healthy foot development by the American Podiatric Medical Association.
They're machine washable, which is quite the perk if you have a little girl who likes to be on the go when she's outside.
This product offers a "wide" fit, and their normal size tends to run a bit narrow, so if that's something your tot needs, be sure to take a look at these stylish walking shoes.
Best for active kids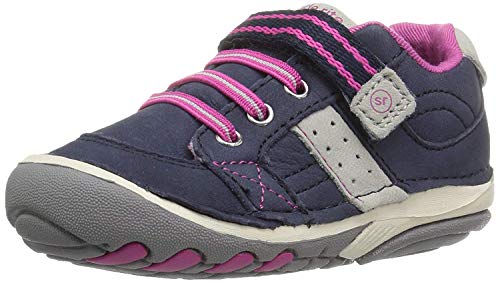 Our opinion
Material: Leather
Closure Type: Velcro
Stride Rite's Artie Sneakers have a big kid look that's perfect for busy toddlers. These shoes feature colorful leather uppers and grooved rubber soles. Velcro closures and anti-microbial linings make life easier for busy moms and dads. Stride Rite also offers a range of fun color combos and hardy outdoor designs.
What features should be present in hard-soled shoes for my toddler?
As mentioned previously, soft-soled shoes are best for toddlers to wear, whenever possible, as they're beginning to walk. They allow toddlers to fully extend their toes and grip the floor, while enhancing their balance and coordination development.
However, soft-soled shoes aren't always a possibility. Wondering what styles of hard-soled shoe orthopedists recommend for toddlers?
The top part of the shoe should be made out of leather, mesh, or other breathable, flexible material that will allow ventilation to your child's feet while allowing natural movement and flexing
The shoe's soles should be made out of durable non-stick rubber to prevent sliding, falling and accidents
The soles should also have quality shock absorption to keep them comfortable during more rigorous play, as children's feet are far more sensitive to the presence and pressure of footwear than adult feet
What issues should I avoid when shopping for toddler walking shoes?
As many parents have already discovered for themselves, some shoes look great on the rack but feel less than stellar when worn. Features that will make your toddler uncomfortable, unsafe, or impede their foot development make for unwearable shoes. Wondering what features to avoid as you shop?
Any shoe that is inflexible and has a top piece that is not discrete from the bottom piece and will not allow toddlers to move their feet properly, impeding development
Trendy shoes, which may look cute but generally lack the non-slip soles and secure fit toddlers need to be safe and move well
Shoes that are too big, even a little. We understand how expensive shoes can get, and having them "grow into them" can sound like a reasonable idea, but even a short period of wearing a shoe that's too large can have a negative impact on their orthopedic development and lead to blisters, corns and pain.
How will I know if my child's shoe is a good fit?
While a child is in a standing position and wearing their shoes, a parent should be able to place their pinkie finger into the heel of the shoe comfortably without any extra space around it.
While the shoe is being worn, there should be approximately a half an inch between their big toe and the front of the shoe, nor should there be friction between their big toe and the side of the shoe.
Shoes that fit well should feel comfortable as long as they are fastened correctly. If you've tried adjusting the tightness of the shoe, yet your child still feels uncomfortable, it's best to consult a professional for sizing to make sure you're choosing the right fit for your kiddo.
What are the best kinds of toddler walking shoes for all weather conditions?
While sunny days make for the best adventures, sometimes we have no choice but to traipse out of the house on those rainy or snowy days. When we do, the right weatherproof footwear for our tots can make life easier. Some of our favorite picks for all-weather toddler walking shoes include flexible waterproof boots, which let toddlers move their feet while also offering non-slip stability and dryness. High-top sneakers are also great picks for stepping around the puddles, but always avoid one-piece, inflexible "rain boots" sometimes marketed for kids, even when the designs are cute.
What are some signs that my child's shoes are causing discomfort and may need to be replaced?
Some toddlers are very direct in letting you know something's bothering them, while others may let you know via behavioral clues. If your toddler is being exceptionally fussy about putting on their shoes, especially if it's one specific pair, they might be uncomfortable while standing and walking.
Repeatedly removing shoes can also indicate that toddlers find them uncomfortable, though this isn't cut and dry, as they may just be playing.
Finally, obvious signs like an unusual gait, limping, foot tenderness, or visible redness can all suggest that shoes are negatively impacting their mobility and that a new pair is in order.
Children's feet grow quickly, and a monthly check to make sure their shoes still fit comfortably is essential. Ill-fitting shoes should be phased out immediately, as they're not conducive to healthy orthopedic development.
Some parents may also struggle to identify their child's foot type, which can impact their comfort level when wearing certain types of shoes. A professional fitting can help you be sure you're choosing the correct size.
Now that we've covered the basics, let's look at some shoes we think are the best available for the toes of your tiny tots.
Wrapping up
It won't be long before your mini man or little lady is shopping for shoes all on their own, picking out their favorite brands and mulling over which pair will be the biggest hit at school.
Luckily, this means you won't have to hold them down to measure their feet anymore, though it could mean you'll be worrying about them hurting themselves on their new stunt scooter.
Until then, remember to frequently check your child's footwear to make sure it properly fits their growing feet. Your little ones will walk many miles in their lives, so be sure to start them off on the right foot!