We are officially entering that time of year where we bid goodbye to overcast skies, chilly weather, and snow days. With better weather comes a growing desire to be outside as much as possible, which, of course, means more sun exposure.
While frolicking in the sun is at the top of every child's summer to-do list, it's important not to send them outside without protection against the sun's ultraviolet rays. While too much exposure to these rays can cause everything from sunburns to an increased chance of cancer later in life, sunscreen is a must for every household.
Luckily, there's no shortage of sunscreens on the market. When it comes to protecting your kids, it's important to know exactly which brands are best suited for young skin, and that's where we come in.
All you need to know about kids' sunscreen
Whether you're shopping for your own child or other young kids in your life, we know you want to make the best possible purchase. Before you choose a sunscreen, let's go over some basics, so you'll know all the little ones in your life have the proper sun protection.
Sunscreen vs. sunblock
While often used interchangeably to describe anything you put on your skin to protect it from the sun, these are technically not the same thing. Sunscreen utilizes chemicals to form a layer on the skin that absorbs harmful rays. Sunblocks, on the other hand, use minerals like titanium dioxide or zinc oxide to deflect these rays away from the skin.
Many modern companies incorporate properties from both to make their final product, and 'sunscreen' is likely to appear on the bottles of most sun protection creams. Just remember, if you don't see titanium dioxide or zinc oxide on the ingredients label, then the product is considered a "chemical" sunscreen. If you do see it, you're technically looking at a sunblock, also known as a "physical" sunscreen. Some parents prefer the latter as they believe it to be safer for their children.
Sun protection factor (SPF)
If you have ever wondered what SPF stands for, you now have the answer: Sun Protection Factor. But what does it really mean? SPF is designed to let you know how long your sunscreen will protect you, based on your skin type.
Let's say you tend to burn within 10 minutes without wearing sunscreen, and you want to know how long sunscreen with an SPF of 20 would protect you. Simply multiply 10 by 20 to get 200 minutes, or about 3 hours. That is how long your sunscreen should keep you safe from the sun's rays.
Naturally, if you're going to have a lot of sun exposure on a particular day and don't want to be constantly reapplying your sunscreen, a greater SPF is warranted. Experts advise using a product that is at least SPF 15.
Keep infants out the sun
Before your child turns six months old, many pediatricians recommend using literal sun barriers for protection. These include clothes (breathable, long sleeve, and full legged), hats (such as sunbonnets that are at least 4" around), umbrellas, and shades. Your infant should never be overexposed to the sun. If you feel you need a sunscreen lotion for your baby, be sure to talk to your child's doctor to determine the best course of action as sunscreen is not recommended for babies under 6 months.
Editor's tip:

Remember that there is one part of a child's body where you can never apply sunscreen, and that is the eyes. The retinas of children, and especially of infants, are very sensitive to sunlight. On bright sunny days, it is best for your child to wear sunglasses or a visor. If that doesn't work, we suggest a hat with a wide brim.
Broadspectrum protection
An ideal sunscreen will protect against both UVA and UVB rays. UVA rays penetrate deeply into the skin and can cause premature aging, while UVB rays attack the top layer of skin, cause sunburns, and are linked to increased cancer risk in later years.
Our top picks for the best sunscreens for babies
If your little one has hit the six-month mark, here are some choice sunscreens to protect that delicate skin.
Editor's choice
Our opinion
Fun fact: This sunscreen was the first ever to meet the Whole Foods Market® Premium Body Care™ requirements. With an SPF of 50+ and free of potentially harmful chemicals, like UV absorbers and avobenzone, this product will keep your little ones safe from harmful UVA and UVB rays. It is also water-resistant for up to 80 minutes.
Some parents have complained that the lotion doesn't absorb well into the skin, while leaving a white hue in its wake.
Nevertheless, this product has achieved an Amazon #1 Bestseller status and is considered by many to be worth the price.
Our second choice
Our opinion
This lotion provides SPF 50 protection, is waterproof for up to 80 minutes, and is tear and sting free. It's worth noting that some parents have found this cream to take longer to rub into the skin than other products , and to be harder to remove at the end of the day. However, it is recommended by the Skin Cancer Foundation and contains the ingredients, titanium dioxide and zinc oxide, which some parents consider a safer product for babies. It also offers exceptional protection against UVA and UVB rays.
Best sunscreens for kids
Your child might be itching to get out in the sun, but if you don't slather on the sunscreen, they'll be itching even more from a sunburn at the end of the day. To prevent that, check out these quality products.
Best water resistant sunscreen
Our opinion
This sunscreen will provide your child with UVA and UVB broad spectrum protection and  won't sting their eyes if there is any accidental exposure. It is water resistant for up to 80 minutes, hypoallergenic, and paraben free. It has also not been tested on animals, always a plus, and applies nicely and smoothly to the skin.
Although some users find the added fragrance, Cocoa Dreams, too invasive for their tastes,
there are plenty more who love the quality of this product's protection along with its great bargain price.
Best sunscreen spray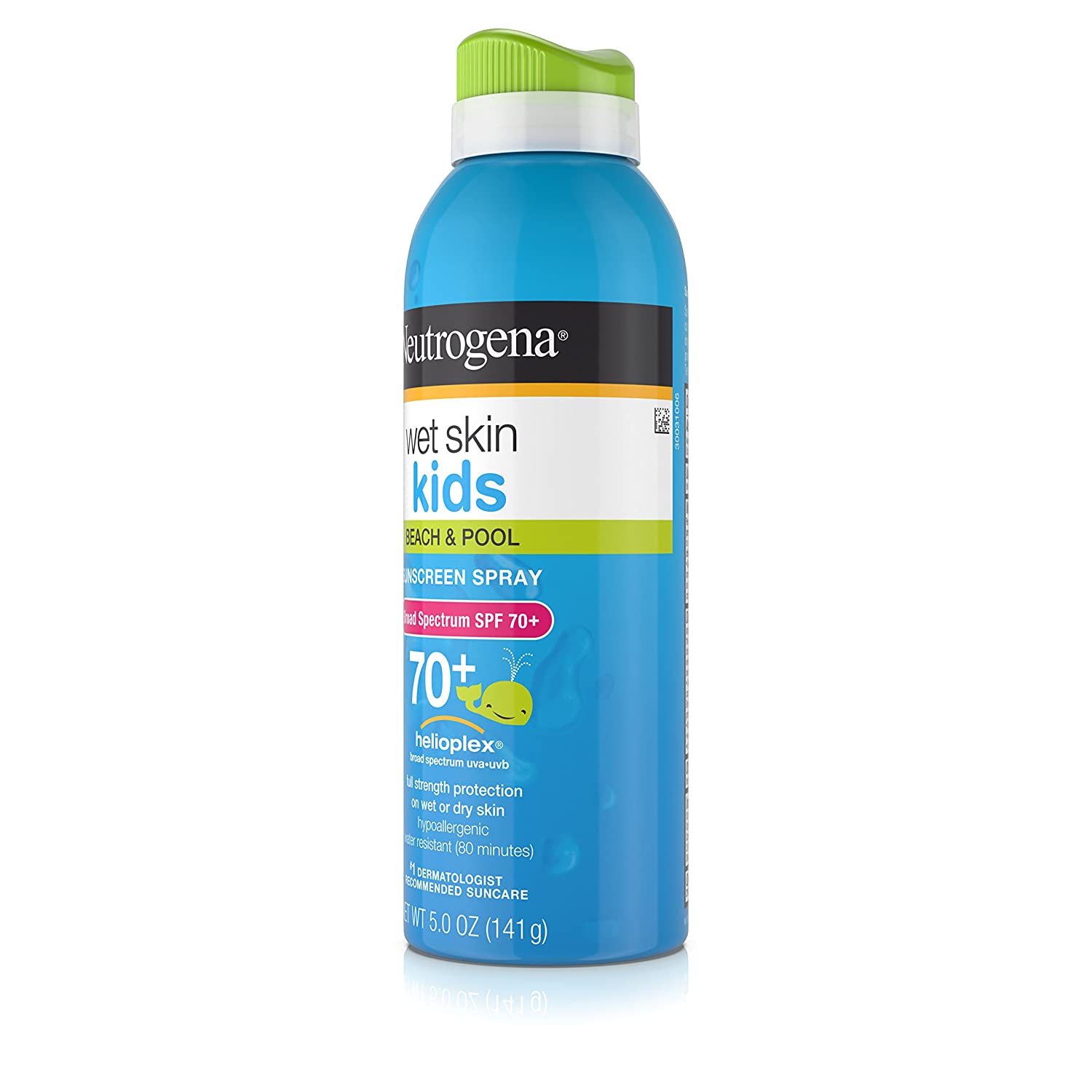 Our opinion
As the name suggests, you can spray this product onto wet or dry skin. It offers broad spectrum protection and is SPF 70+, as well being water resistant for up to 80 minutes. It's also sweat proof, so your kids can run around all they want without you worrying that they're sweating it off.
Some parents are unsure of the effectiveness of a spray, though many are pleased to discover that, as long as they use this product in a well-ventilated area, they can make quick work of applications (and reapplications) throughout their child's outdoor playtime.
Best sunscreen for children with eczema
If, like our little one, Dara, your child has eczema, then you'll need to be on high alert to any cream or lotion going near their skin, such as diaper rash cream or sunscreen. Now, in order to receive the status of the National Eczema Association Seal of Acceptance™, sunscreens must be made from titanium dioxide and zinc oxide, have an SPF of at least 30, have broad-spectrum protection against UVA and UVB rays, and be alcohol-free. And, obviously, be gentle and non-aggravating when used on sore and cracked skin. Here are some products we recommend.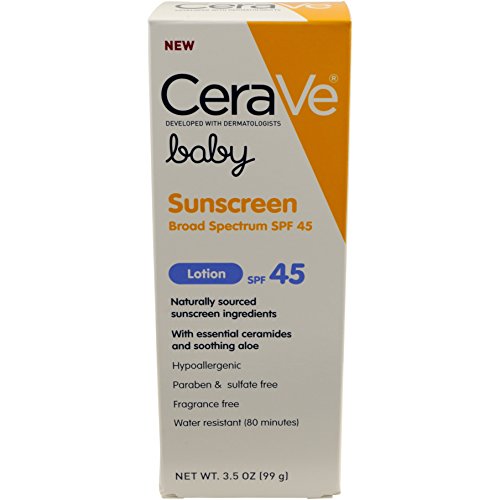 Our opinion
Developed by dermatologists, this sunscreen rated 4 out of 5 stars on the National Eczema Association Seal of Acceptance™. It is paraben free, hypoallergenic, and water resistant for up to 80 minutes. Parents report that it glides onto the skin smoothly and absorbs well. If there is a drawback, it could certainly be the price, but many parents find this fragrance-free and soothing product worth the extra cash.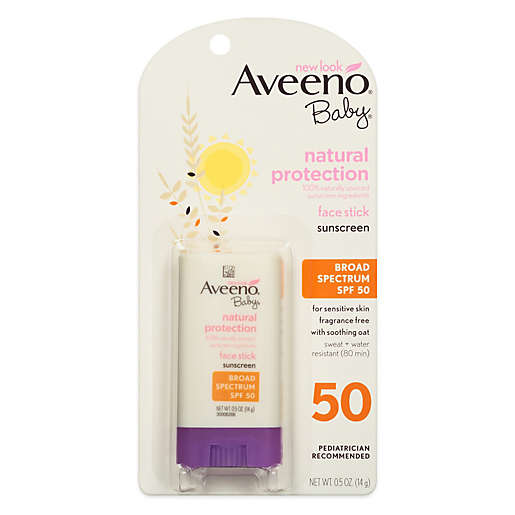 Our opinion
Another product that garnered a '4 out of 5' star rating from the National Eczema Association, this sunscreen has no added fragrance and contains soothing oats in its ingredients. It is also sweatproof, water-resistant for up to 80 minutes, and comes with a very reasonable price tag.
While some parents find this sunscreen challenging to wipe into the skin, while leaving behind a white residue, others appreciate that the ingredients are 100% naturally-sourced and that the product delivers results at the bargain price of under ten dollars.
Best natural sunscreens for children
If you're looking for sunscreens with all-natural ingredients, look no further. You may be paying a little more, but you'll certainly be getting value for your money.
Our opinion
As if the adorable biodegradable tube itself wasn't enough to sell you on this product, it's also not tested on animals and does a fantastic job of protecting your kids from the sun.
It provides UVA and UVB protection, is water resistant for up to 40 minutes, and is 100% certified natural. This is another sunscreen that some parents find difficult to rub into the skin, but most don't consider this a deal breaker.
Our opinion
Tested by pediatricians and dermatologists, this sunscreen protects against UVA and UVB rays and is safe to use on children with eczema.
It has not been tested on animals and comes in a BPA-free, recyclable package. The Environmental Working Group even labeled it coral reef-friendly and awarded their highest rating to this product.
It's definitely on the expensive end of the sunscreen price scale but if you want a great product, many parents would agree this sunscreen certainly merits its price tag.
Editor's tip:

Even hypoallergenic sunscreens will irritate a child's skin over time. It's best to always bathe a child to wash off sunscreen before bed. All sunscreens should be reapplied after a child goes in the water, even if the label says that the sunscreen is water-resistant.
Wrapping up
Now that you know which products are safe for your babies, children, and even yourself, we hope you'll be getting outside and enjoying the sun. Nothing creates fond memories quite like days at the beach, pool parties, and even playing with the hose in your yard on a hot, muggy day. Just remember, a bad sunburn will make for a strong memory too, though not such a good one! So protect yourself and your family and enjoy these upcoming months of summer fun.