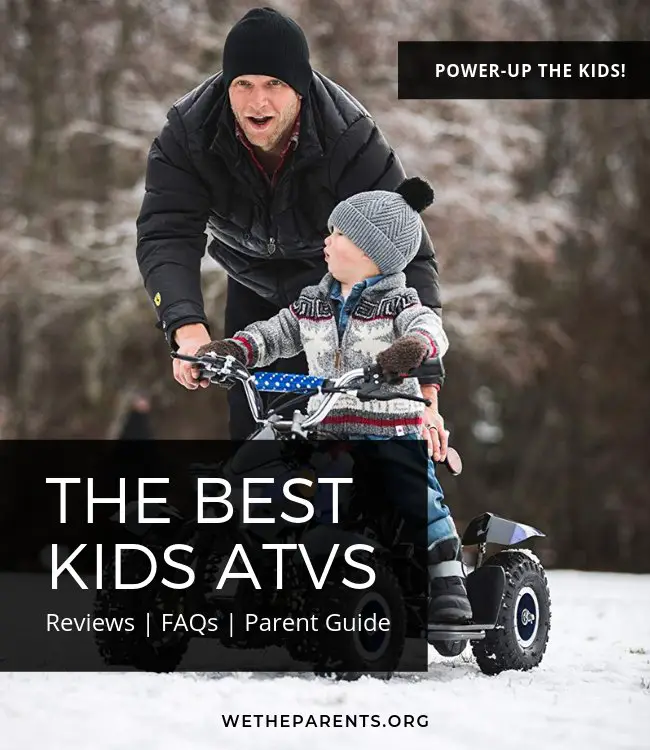 It's not quite time for a motorcycle or a sports car yet, but your kids can dream.
All-terrain vehicles (ATVs) or go-karts are an awesome way for kids and teens to scratch that itch to get behind the wheel, but with plenty of safety features to put parental minds at ease.
We've carefully researched ATV options for kids and teens to find the safest options at the best prices, so if you want to take the sting out of finding the best kids ATV, have no fear – we've got you covered.
Editor's Choice
Sporty and fun, the Peg Perego Polaris Outlaw (check price on Amazon )offers realistic ATV design with the safety features and low speeds perfect for little riders. The sunny yellow finish is appealing to nearly all kids, and it travels forward at safe, low speeds of 2.5 and 5 mph.
The winner of our Best Kids Electric ATV badge is ideal for 3-7 year old riders and also offers a second gear speed limiter and reverse capabilities. The mini ATV also features knobby all-terrain wheels that make navigating most backyard terrain a cinch.
What you'll love: Super safe for young riders, fun neutral color that appeals to most kids
Watch out for: The day when they start asking to drive the real car. (But seriously, this one holds up.)
Check Price on Amazon
Best kids' electric quad
Upgrade Choice
Because we love our kids (and aren't super crazy about doctor bills), safety is a huge factor in all our purchasing decisions. The Rosso Motors Kids ATV Kids Quad 4 Wheeler (check price on Amazon) checks our boxes with a disc braking system and a three-speed governor, allowing your child a safe ride that's customized to their skill level.
Available in cool pink and blue finishes, the 4 wheeler is ideal for riders aged 3-8. Thanks to a 36V battery, 500W motor, and durable all-terrain tires, this is an ATV that can hold on for the ride – which is why we've given it the Best Kids' Electric Quad badge.
What you'll love: Adjustable governor means not only can kids grow into it, it can be shared between siblings and kids of different skill levels easily.
Watch out for: Smaller kids may need help learning to use the hand grip throttles, and some may not yet be strong enough at three – as we know, every kid is different.
Check Price on Amazon
Best Budget Buy
Even the littlest riders get their turn at ATV fun on the Power Wheels Kawasaki Lil' Quad (check price on Amazon), which is pint-sized but power packed for certain.
The size and controls of the 6-volt powered ride are perfect for toddlers, and speeds on hard surfaces and grass don't exceed two miles per hour, so small riders have lots of fun while staying safe. With a weight maximum of 40 pounds, the Lil' Quad is definitely for the small set, but is a fun and safe way for toddlers to play.
What you'll love: A safe and fun experience for little riders
Watch out for: Charging the battery – unless your toddler loves waiting, but we bet that's not the case.
Check Price on Amazon
Best mini atv for kids
If you're remembering the Razor scooter of your childhood and wondering if there's a connection here, you're not alone – and you're not wrong. The forever-cool brand has forayed into the world of the motorized and electrified, and as a result, we have the Razor Dirt Quad (check price on Amazon).
The battery-powered kids' ATV has grip acceleration control and a quality suspension offers a simple and smooth ride, earning it our pick for the Best Mini ATV For Kids badge. This mini-beast accommodates riders up to 120 pounds, making it a great pick for younger riders to grow into.
What you'll love: Sleek finish and quality manufacturing make it look just like its larger high quality counterparts, and the battery is reliable.
Watch out for: No speed limiter, sometimes called a governor – this baby can fly!
Check Price on Amazon
Best kids atv for girls
Barbie is a classic. Her rides are always cool, and our Best Kids ATV For Girls badge winner – the Barbie Kawasaki KFX (check price on Amazon )– is certainly no exception.
Perfect for kids up to 65 pounds, the mini ATV offers forward and reverse motion, Power Lock brakes and can hold up to serious adventures. Monster Traction tires make it great for plowing through wet grass, gravel and mud (these can be an instant trap for some smaller kids' motorized vehicles). The kids ATV can travel at either 2.5 or 5 mph when moving forward, but a speed limiter can be set for little riders or first-timers. The Barbie Kawasaki KFX is designed for ages 3 and up.
What you'll love: Extra safe for little riders, even though it can handle a little rough terrain.
Watch out for: Battery life is a few hours long, so it's not a bad idea to keep a spare on hand.
Check Price on Amazon
The Kawasaki Brute Force (check price on Amazon ) lives up to its name, looking exceptionally sturdy and riding the same way. Monster Traction allows little riders to tear through backyard terrain easily at 2.5 or 5 mph.
Reverse motion and Power Lock brakes make this realistic mini ATV even more fun, earning it our Best Pick For Kids Under 5 badge. The beefy ride actually accommodates ages 3-7 – but we love it for first-time learners because of safety features like a parent-controlled speed limiter.
What you'll love: A mini ATV that looks just like mom and dad's with plenty of safety features and a speed limiter – we really like this for young kids who love feeling included.
Watch out for: We can't say this one enough – an extra battery is a lifesaver with toys like these.
Check Price on Amazon
Best kids electric ATV
If you want something with the sturdy authenticity of a quality 4 wheeler with features designed to keep your child safe, this all-terrain quad might just be what you're searching for. The FamilyGoKarts Electric ATV Kids (check price on Amazon ) can travel at 10 mph, but speed can also be limited to 5.
It's slightly smaller than full-sized ATVs, but can handle a weight limit up to 165 lbs, making it a good pick to last through childhood and our pick for the Editor's Choice badge. It has a full suspension, off-road tires and disc brakes, so it can definitely hold its own with the big boys.
What you'll love: Keyed speed limiter, so parents have a little more control over safety.
Watch out for: A charge lasts for about two hours, but may be less for older/heavier riders.
Check Price on Amazon
Everyone wishes kid-sized ATVs were available when they were children. Well, we can all live vicariously through our kids with this exciting MotoTec ATV. The USA Big Toys Mini Quad v3 White (check price on Amazon ) is perfect for both girls and boys who love to cruise around the driveway or backyard. It comes with a front and rear suspension to help them safely drive over bumps and holes.
In addition, it also comes with two-speeds, so they can have a bit of a thrill if they choose to race one another. One final feature that benefits the parents is that it has two large batteries, so kids can play longer without needing to stop for a charge.
What you'll love: This ATV comes with the ability to go both forward and reverse.
Check Price on Amazon
Best for older kids
The impressive TAO TAO 4 Automatic Wheeler (check price on Amazon ) has an actual automatic engine which lets kids drive all over the backyard. Although it is geared towards children, those who have kids around the age of 14 have also been known to receive this 4-wheeler since it was crafted for those with long legs in mind. Parents should also know that it comes with a remote that allows them to control the 4-wheeler for safety purposes.
What you'll love:
This 4-wheeler is just another step towards riding an actual adult 4-wheeler.
Kids will love how close it is to the real thing and feel like they're part of the family on trail rides.
Check Price on Amazon
General Thoughts on the Best ATVs for Kids
Although at first glance it can seem a little scary to let your child ride an ATV, there are so many things you can do to make your child safer. The first is to choose a top-rated vehicle that is age and skill appropriate. While there are many great options available, what it really comes down to is the best ATV for YOUR kid.
Smaller riders can absolutely benefit from the stepping stone mini ATVs and 4 wheelers like those offered by Power Wheels and Peg Perego. The speed control and safety features allow little riders to improve their coordination and dexterity – it can take a little while to get the hang of, and speed limiters and a super simple interface are a great start for tiny beginners.
As kids get a little older, a choice that balances quality, value and safety becomes the ideal. We always strive to find things that will be multi-year – that is to say, we get what will remain useful for as long as possible. There's a lot of value to be found in buying things your kids can grow into, no matter what they are. We really liked the FamilyGoKarts kids' ATV because kids won't need to upgrade until their late teens.
Important Features And Aspects To Consider When Buying An ATV For Your Kids
Age Range: This is a big one. If your kids are very little, one of the stepping stone ATVs is a great choice. As they get older, picking something with a high weight limit will get you off the hook for buying another one until they're an older teen.
Electric vs Gas Powered: All the ATVs listed here are electric, but this is a consideration when branching out. Gas-powered ATVs have the advantage of being ready to go when you are(as long as you have fuel, that is) but electric are more cost-conscious and environmentally friendly. On the flip side, a gassed-up ATV can go a while, but most electrics don't have a battery life of more than 2-3 hours.
Safety Features: One of the key safety features we look for in ATVs for kids is a speed limiter/governor. This allows a parent to prevent their child from going over a certain speed(usually 2.5 miles for smaller kids, and 5 for bigger ones). Quality brakes are important. Look for LED lights to come pre-installed, as they're essential to nighttime riding.
Maintenance: Most electric ATVs don't require as much maintenance as gas-powered ATVs, but they're also not as powerful. If you go gas-powered, you're looking at regularly checking your belt, maintaining your coolant level and treating your gas among other things, which is a lot to take on for a kids ATV unless you're a serious enthusiast.
Indoor/Outdoor: Unless you're talking motocross, ATVs are generally an outdoor pursuit. Most electric vehicles for kids come with specific warnings not to use them indoors – if you do, you risk your flooring being damaged, and the majority of companies we've seen are pretty clear about not being held responsible. Moral of the story: Outside only is best.
Age Range: What's The Best Youth ATV For My Kid?
Toddlers: Power Wheels Kawasaki Lil' Quad
Ages 3-7: Power Wheels Kawasaki Brute Force, Power Wheels Barbie Kawasaki KFX, Peg Perego Outlaw, Rosso Motors Kids Quad 4 Wheeler
Ages 7+: Razor Dirt Quad, FamilyGoKarts Kids Electric ATV
Tips For Keeping Your Kids Safe On Their ATVs
In many cases, preventing ATV-related injuries begins with riders, and in the case of young riders, their parents. According to ATVsafety.org, these are the most important tips for keeping your kids safe while riding. We think this video from the Childress Institute for Pediatric Trauma does a great job of explaining ATV safety to kids in simple terms, and is a must-watch.
Quick safety tips:
Wearing the proper gear(see our section on gear essentials) is one of the best way to ensure safety.
DO NOT ever ride kids electric ATVs on or near actual roads – we're pretty sure you know these aren't real cars, so make sure your kiddos do too.
No matter how much fun they're having – or think they would be having – one kid per ATV. The increased weight will cut the battery life in half, anyway.
Age appropriate ATVs are not optional. It's not safe for little riders to ride big ATVs, or vice versa.
Do not ever let kids under 16 ride unsupervised.
Teach kids to only ride in appropriate places and at safe speeds. Enforce this with use of a limiter if necessary.
ATV Safety Gear (A Must Have!)
Just like a motorcyclist, anyone riding an ATV should be protected against the elements. This includes kids, who can be injured in an accident even when traveling at slow speeds. We think it's wise to heed the same gear rules older riders follow to make sure kids stay safe. According to the American Motorcyclist Association, safe riding gear should include:
A helmet that's approved by the Department of Transportation
A long sleeved shirt, and gloves that cover the wrists
Long pants, and boots that cover the ankles
Safety goggles
And Our Winner Is…
When you're choosing an ATV for your kids, safety and value should be top of mind, but fun and features also play a major role. After carefully considering the products in our kids ATV roundup, we think the standout is the FamilyGoKarts Kids Electric ATV (check price on ).
We really like that this product can be enjoyed by younger and older kids. The max speed of 10 mph is great for older riders who are more experienced, but you can scale back easily for younger kids, making it a great learning vehicle as well. Built in LED lights make riding at night safe, and the sturdy, lasting construction is fairly low maintenance. Put simply, it's a great ATV for the widest range of kids – one to grow into rather than replace with expensive new models down the line.