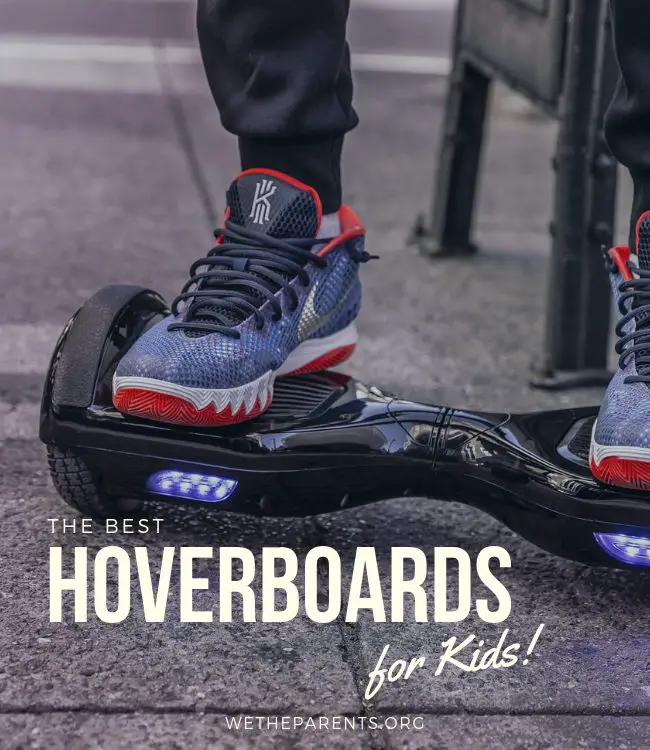 We're nearly there: Marty's hoverboard from Back to The Future!
While today's boards don't literally hover, they are super-cool and the best hoverboards for kids give a smooth, safe, and speedy ride.
There is a vast selection of these hoverboards on the market from compact styles for little-uns to heavy-duty styles meant for rugged trails. Here we explore the different types and pick out the best ones you can buy.
Best Off-Road Hoverboard for Kids Award
Specs:
– 8.5" all-terrain tires
– UL2272 and UL2271 certified
– 400-watt dual motors
– Aluminum alloy body frame
– 30 lb. weight
EPIKGO Hover Self-Balance Board (check price on Amazon) is both UL2271 certified smart battery and UL2272 certified balanced, It has undergone a battery of safety regulation tests, making it safe and reliable. With its 8.5-inch all-terrain rubber tires, it is perfect for those who desire tires that are in the middle ground yet can still handle rough terrain. You can easily travel over mud, grass, sand, other tough spots, and can travel over 10 miles per battery charge. It is IP56 waterproof certified, which means that it is also semi-submersible.
Designed for ages 13 and up, this balance board received the best off-road hoverboard for kids award. With its dual motors, heavy-duty tires, durable aluminum body frame, and safety certification, it is well deserving of this award. It has astounding 400W dual motors for the extra power needed while traveling in rugged terrain. The EPIKGO is nearly 30% bigger and twice as powerful as other leading brands, offering more foot space and control while providing stability.
What we love
Having raised kids in an area where the roads weren't always the smoothest, yet we had plenty of lands for them to make trails, this hoverboard would have been absolutely perfect for them with its durability and all-terrain tires. We also love the fact that the tires are in the mid-range, which makes them ideal for all type of travel and play.
Watch out for
While it is made to be durable and heavy duty, that also means it is a little on the heavy side. It is more robust than other models with its 30 lb weight, which may make transporting it difficult for children. Be prepared to do the heavy lifting for them!
Check Price on Amazon
Best Hoverboard with All the Bells and Whistles Award
Designed with everyone in mind, Swagtron T580 Hoverboard (check price on Amazon) has 3 modes and can carry riders between 44 and 220 lbs. While fully charged it can travel up to 8 miles and reach speeds of 7.5 miles per hour. It is UL certified to pass electrical safety tests to give parents piece of mind. It has 6.5" hard rubber tires perfect for those smooth surfaces.
This model gets the award for best hoverboard with all the bells and whistles. Not only does it come with learning and standard modes, but it is also Bluetooth enabled. Play music through the built-in speakers, access map functions, change between modes and even check the battery level via the LED lights.
Specs:
– 6.5" hard rubber tires
– Bluetooth enabled
– UL 2272 safety certified
– 200W dual motors
– 20 lbs weight
What we love
Being able to change modes makes this a great hoverboard when you have children at different levels of training. Throw in the fact that they can also cruise along while listening to music and styling those LED lights. This makes for a fun and versatile board.
Watch out for
The tires of this model are not designed for rough riding. If your child is anything like mine, they may be a bit disappointed to discover that they won't be able to access dirt paths or bumpy roads.
Check Price on Amazon
The Hoverstar Hoverboard (check price on Amazon) has 6.5" tires and can support up to 180 lbs. It is UL 2272 certified to ensure safety. It is also equipped with front LED safety lights. Depending upon road conditions and weight, this board can travel up to 6-8 miles, with a maximum speed of 10 miles per hour.
The hoverboard skins are made with high-quality anti-fire materials and come in a variety of colors including black, blue, green, pink, and purple. There is also a choice of colors with the LED wheel lights. It has a 400W (200 X 2) motor and is equipped with a 36V/4A battery for max speed. This board can support up to 180 lbs in weight.
Specs:
– 6.5" tires
– UL 2272 certified
– LED lights
– 400W motor
– Apprx. 20 lbs. weight
What we love
We all know how children love to have their belongings personalized to reflect their personality. Not only is the body available in a variety of colors, but the LED wheels are available in either pink or blue.
Watch out for
The small tires mean that this hoverboard will not fare well on bumpy roads or any terrain other than a smooth surface.
Check Price on Amazon
A child will feel like the coolest kid on the block with this hoverboard! The TOMOLOO 3-Wheel Skateboard (check price on Amazon) looks like it came straight out of a sci-fi movie with its LED safety lights and 3 wheels. LCD digital display is perfect for real-time riding data. It also comes equipped with a remote control for functions such as accelerating, forward, braking, and gear changing.
This electric skate board also comes with beginner, medium, and advanced modes perfect to suit any rider. The speeds vary from 10 up to 25 KM/H depending upon the chosen mode. It also comes with an optional battery.
Specs:
– UL 2272 certified
– LED lighting
– LCD digital display
– Remote Control features
What we love
Its LED lighting makes it a safer ride for that last minute cruise at dusk. I don't know about you but I definitely feel more comfortable with my child riding on 3 wheels instead of 2! And that extra wheel only seems to add to its coolness factor.
Watch out for
While using a remote control to control features such as accelerating and braking may sound like a cool feature, the parent in me cringes at the thought of my child pushing the wrong button at the wrong moment.
Check Price on Amazon
The EYCY Hoverboard (check price on Amazon) has 6.5" wheels. It is calibrated for 360-degree rotation and 0-degree turning radius for beginners to make maneuvers. It also has an auto-stop alarming feature for added safety. As you'd expect, the EYCY is UL 2272 certified and exceeds the highest electrical and fire safety standards. What's more, it is equipped with a safety shielded lithium-ion battery enclosure to further ensure safety.
It is equipped with a dual hub 200W motor with gyro-sensing technology and can produce a cruising speed of 6 miles per hour of continuous use for 35 minutes. It has a charging time that is approximately 3 to 4 hours and can travel a range of 6 to 12 miles. Its weight limit is 44 to 220 lbs.
Specs:
– UL 2272 certified
– 6.5" wheels
– Auto-stop alarm
– Dual hub 200 W motor
What we love
It has auto-stop alarming protection which is a friendly reminder to kids that they are over speeding.
Watch out for
While this scooter is good for those beginners who want to try their hand (or rather their feet) at making cool maneuvers, it is definitely not a good choice for wet or bumpy terrains.
Check Price on Amazon
Best Mini Hoverboard For Kids Award
This self-balancing, mini hoverboard (check price on Amazon) has 4.5" wheels and has a maximum weight of 120 lbs. Designed specifically for kids, it comes with LED lights perfect for evening rides, and built-in speakers. It meets the UL 2272 safety standards.
Rated the best mini hoverboard for kids, this model has all of a standard sized hoverboard fun wrapped up in a mini version soley designed with kids in mind. Its compact size makes it a convenient and fun hoverboard for those young beginners.
Specs:
– UL 2272 compliant
– 4.5" wheels
– LED lights
– Built-in speakers
– Charger included
What we love
This hoverboard is the perfect size for the small ones who are just beginning. Its size makes it easier for them to control while still getting the benefits they would from a larger model.
Watch out for
It has a slightly longer charge time of 3 to 5 hours so be prepared to entertain an impatient child while waiting.
Check Price on Amazon
A self-balancing smart scooter that comes equipped with a 350W dual hub motors, suitable for riders up to 220 lbs. It also comes with training and basic modes. With its cruising speed of 8 miles per hour, it can sustain a run-time of up to 60 minutes. It also has a cool-blue LED light display for an extra coolness factor.
Razor was the first U.S. brand to receive UL 2272 safety certification. Built with an exclusive EverBalance technology, this board is able to automatically level for easier mounting. Razor Hovertrax 2.0 (check price on Amazon) is made with a shatter resistant polymer frame, anti-slip rubber foot platforms, and fender bumper protection.
Specs:
– UL 2272 compliant
– 350W dual hub motors
– LED lighting
– Training and basic modes
What we love
With its extra sturdy frame, rubber platforms, and fender protection, you can feel at ease knowing that even the roughest play and tricks won't damage this board.
Watch out for
While it does have a training mode, it is not recommended for smaller children who may not be able to handle its size.
Check Price on Amazon
This CHO electric smart self-balancing scooter (check price on Amazon) has all the look of high tech adventure. With its led lights and random light flashing wheels, it will surely catch the eye of any bystander. It also comes equipped with a built-in wireless Bluetooth speaker perfect for listening to music or even a favorite book.
The hoverboard has 6.5" wheels for riding on smooth surfaces and doing tricks. It is UL 2272 certified for safety. When fully charged, the board has a range 10 Km per hour, with a maximum speed of 12 Km.
Specs:
– 6.5" wheels
– UL 2272 certified
– Bluetooth speakers
– LED lights
What we love
If you have a child that loves attention and making a statement, then they will definitely enjoy this particular hoverboard with its varying lights and Bluetooth capabilities.
Watch out for
It has a charge time of 3 to 5 hours, so patience and planning ahead are key. It also takes 1 lithium battery which is not included.
Check Price on Amazon
If you've never heard of modern-day hoverboard you may be inclined to have an image in your mind that was initially depicted in sci-fi movies. Believe me, I did! That image of a board that levitates slightly above the ground as if by magic. A board that can glide you gracefully across the air like a magic carpet from one spot to another. In all actuality, that is far from the truth.
What they actually are is a self-balancing scooter. They are generally two-wheeled, electric devices that function like a powered skateboard. You maneuver them with the actions of your body. While standing on the platform with feet positioned between the wheels, you are able to adjust the direction and speed with the weight of your feet. The trick is to keep your balance. It has basically the same concept as a standard skateboard, except that it's powered by a battery instead of pushing with your legs.
How Do You Ride a Hoverboard?
There are many tutorials available that can help with beginners. We'll give you a quick run-down on how to get started.
First things first, make sure the hoverboard is fully charged, and have your child put on their safety gear.
Next, turn on the unit and have your child stand directly in front of the board.
Then have them carefully place their dominant foot on a spot closest to the wheel so that the sensor can detect their weight.
Have your child place their other foot on the opposite side of the board.
Tell them to think of it the same way they would while taking a step up a stair.
Have your child get themselves balanced and relaxed. Make sure the feet are as widely planted as possible.
Then the process of hovering comes down to 'thinking' about where you want to go and allowing your body to direct you.
Have your child shift their weight rather than lean.
To get off of a hoverboard you simply reverse the same steps you did to get on it.
The whole process can feel a little awkward at first, but it does get easier with practice. It may help if you, as the parent, familiarize yourself with these steps so that you can show them how comfortably and easily it is done.
Are Hoverboards Safe?
So, you may be wondering if a hoverboard is a safe investment for your kids. We wondered the same thing ourselves, so we did a little digging. When hover boards first became all the rage they did not have as many safety standards that they currently have. This resulted in many more accidents and trips to the hospital. Currently, hoverboards must be UL 2272 Compliant. This ensures that the board you have purchased has been safety certified to the electrical/fire safety requirement.
Another thing to consider is how well your particular child can safely balance on one of these. I don't know about you, but I can think of a child in particular that has two left feet. That poor boy couldn't make it through the day without a bruise or skinned knee! While on the other hand, his brother was as graceful and accident-proof as they come. In other words, all kids are unique. Some may be able to balance and control a hoverboard with ease, while others will simply make you cringe every time they 'try it again'. It is not much different than a traditional skateboard when it comes to safety. Here are some important facts and features to look for when making that hoverboard purchase.
What To Look for in a Hover Board
Safety
When hoverboards first began their big hit to the market around 2015, there were some major issues with their safety. Because they were mass produced overseas, they were not regulated. Their cheap lithium batteries and inferior materials made them a fire hazard. In 2016 a new UL certification was established. Now hoverboards must pass a series of more than 150 tests before they are qualified as safety compliant. One of the most important things you can do when looking to purchase a hoverboard is to make sure that it is UL 2272 safety compliant, as mentioned above. If it is not, there may be a risk of an electrical fire from the components.
It is also recommended that a child wears safety gear while riding a hoverboard. Hoverboard helmets and safety pads will go a long way in protecting your little one from those nasty bruises, scraped knees, or other more serious injuries. It is also recommended you install safety lights to the hoverboard if it doesn't already have them. This will ensure that your child is easily viewed by drivers if they are riding in the evening.
Features
The next thing to consider is whether you want any special features included. As if gliding around on wheeled platform isn't fun enough, they actually make these with some add-ons for that extra coolness factor. Some come with a built-in GPS, which could actually be extremely handy for parents piece of mind. Others come equipped with training, basic, and advanced modes so you can start at the easiest level and work your way up. You can also get these equipped with either built-in speakers that can connect to a phone or Bluetooth speakers. Another cool feature a lot of these boards are equipped with are LED lights. These not only add some extra pizzazz to the board, but is also a safety feature for night-time riding. Different boards come with an array of different features. Kids love to deck out their ride just like us adults do!
Speed
The maximum speed most hoverboards can obtain is roughly 10 miles per hour. Depending on the age of your child and their experience level you may want to base your hoverboard choice on that model's maximum speed and whether it has training and basic modes.
Tires
There are 3 main tire sizes and types when it comes to hoverboards. There is the 6.5″, 8″, and 10″ tires. Some compact models even come with a 4.5″ tire. Smaller tires are best for areas that have smooth and flat surfaces, while larger tires are more suitable for rough terrain. Kids that are into performing tricks tend to prefer the smaller tires.
Battery
The battery life of a hoverboard can range depending upon how fast it is going, the weight of the child, the battery's charge level and capacity, how hot it is outside, and the fluctuating speeds. Typically the battery life will be 10 miles if conditions are all average.
Price
The price range can differ depending on many factors. A very basic model that is perfect for those younger beginners can range from $100 to $200. If you desire one of the top models that also comes with all of the bells and whistles then you could be looking at a price range of around $200 to $600. It simply comes down to who will be riding the hoverboard. Will it be for a child that has never used one before? Will it be for that older teenager that is a skateboard pro? Does your child want lights, music, and other features?
And the winner is…
And the roundup winner is the EPIKGO Hover Self-Balance Board (check price on Amazon)! It is absolutely perfect for that son or daughter that enjoys riding on the beaten path, or for a family with more than one child. In either case, you will definitely get your money's worth! With its heavy-duty frame, all-terrain tires, and sturdy build, this model wins hands down.
Maybe you're looking for a compact hoverboard for that smaller child in your life who is just learning how to ride. Perhaps you are in search of one that is mid ranged and perfect for that teen who wants to show off some cool tricks. Maybe your family is a bit more adventurous and your searching for one that is a little bigger and sturdier, designed to handle sloping grounds and mud puddles. Whatever the case may be, we hope that our buyer's guide and list of top hoverboards can help your decision making process less of a headache. So what is the next step? The answer is simple. Fun!