Searching for your kiddo's first set of wheels? This carefully curated list of kids' electric cars should have you covered.
Packed with power that's exciting for young riders, power wheels and other electric cars for kids are a gift that's sure to thrill, but what's on offer is a lot more exciting and diverse than the 80s and 90s toys parents remember — realistic replicas of fancy sports cars that play real music included.
We've assembled a picky list of ride-ons that will tide the tots over until it's time to hand over the real car keys, so read on.
Our top picks of the best electric cars and power wheels
Now let's dive in and see what parents are really saying about the most popular electric ride-ons.
Editor's choice
Our opinion
Age: 3 – 7 years
Weight limit: 130 lbs
Battery: 12 volt
Wheels: Plastic
This ride-on car earned the top spot on our list for its overall performance, safety, and fun extras.
The Jeep can comfortably seat two, features a rear storage area, and the brakes will automatically engage when your child takes their foot off the gas.
While capable of reaching up to five mph, you can engage the high-speed lock-out so that your rocket kid can't exceed a 2.5 mph limit.
What we love
High-speed lock-out
Power-lock brakes
Reverse capable
Unique extras
Appropriate for a wide age span
Watch for
Difficulty navigating rough terrain at 2.5 mph speed
Best quad style power wheels
Our opinion
Age: 3 – 7 years
Weight limit: 65 lbs
Battery: 12V
Wheels: Plastic
With speeds of up to 6 mph, your little driver will have a blast tooling around in this exciting vehicle.
It can traverse over various surfaces, including grass and pavement, and even on wet surfaces.
The frame is set low to the ground, making it easy for children to get on and off without assistance, and your little racers can select their speed and direction by simply pushing a button.
Stepping on the "gas" pedal will put the ATV in motion, while brakes engage as soon the pedal is released.
The battery life varies depending on the weight of the driver and surface conditions, so your kiddo should enjoy around 30-35 minutes of continued riding at a time.
What we love
Reverse capable
Power-lock brakes
Parental speed controls
Moves smoothly over most surfaces
Watch for
Plastic tires don't have the best traction
Best ride-on car for toddlers
Our opinion
Age: 3 – 7 years
Weight limit: 130 lbs
Battery: 12 volt
Wheels: Plastic
If your little lady is ready to hit the road, the Minnie Mouse Electric Quad is one way to ride in style.
The cheerful blue and pink polka-dot design is evocative of her favorite Disney toon, and 1.5 mph speeds with simple push-button acceleration make the quad safe and easy for young riders to drive.
While those are undoubtedly appealing facts for Mom and Dad, your little one will probably be more interested in the microphone and its amplifying speaker, the radio that is preloaded with songs and sounds, and the fun decals that give this Power Wheels its finishing touch.
What we love
Fun Minnie Mouse design
One-button acceleration
1.5 mph. speed, great for new riders
Radio comes preloaded with tunes
Amplifying mic and speaker included
Watch for
The low speed makes getting stuck on rougher terrain a possibility
Best power wheels for 2 year olds
Our opinion
Age: 1 – 3 years
Weight limit: 40 lbs
Battery: 6 volt
Wheels: Plastic

Your tot will be snug and safe in the high back seat of this unique little train ride-on.
They'll have no problem using the footrests to hoist themselves onto this low riding engine, and can easily accelerate the vehicle by pushing a button on Thomas's handlebar.
With a maximum speed of 2 mph, you'll easily be able to keep up with your child's railway adventures both indoors and out.
Charging, however, can be tricky as some disassembly is required.
Best power wheels for 3 year olds
Our opinion
Age: 3 – 7 yrs
Weight limit: 130 lbs
Battery: 12V
Wheels: Plastic with rubber strip in the middle                    
This sharp speedster seats two — unique for kids' ride-ons — and can reach speeds of 2.5 to 5 mph.
It can be driven forwards and backward and stops as soon as your kiddo lets off the gas pedal.
This vehicle is aimed at children between 3 and 7 years of age, has a working horn, and makes real engine sounds while being driven.
The mini-Viper has plenty of realistic detailing, including functioning lights and fun decals.
Charging this model is easy, as there's no need to remove any parts to access the plug.
The battery reportedly holds its charge well, with some parents noting that their kiddos get an hour or more of playtime per session.
What we love
Rubber strip on tires provides extra traction
Battery-life indicator
High backed seats
FM radio and MP3 hookup
Best power wheels for 4 year olds
Our opinion
Age: 3 – 6 years
Weight limit: 66 lbs
Battery: 12V35Wx2
Wheels: Plastic
Parents, fair warning: When you see all the features on this decked-out mini-Mercedes, you might feel a pang of jealousy.
Like all high-quality kids' electric cars, this little luxury model has two driving modes.
First, when the child is learning to drive, parents can control two forward speeds, one reverse speed, and braking with the remote control.
Later, children can drive by themselves using the steering wheel and foot brakes.
This model comes in black, pink, red, and white, with luxurious touches like LED lights and an MP3 player.
Music connects to the vehicle by USB or by using a TF interface.
Safety features worth noting include slow-start and double-lockable doors with seat belts.
Retractable wheels and handle also make this Mercedes a breeze to move when not being used.
What we love
Retractable handle and wheels
Double-lock doors
Two forward + one reverse speed
Watch for
Issues with customer service
Best ride-on car for 5 year olds
Our opinion
Age: 3 – 6 years
Weight limit: 66 lbs
Battery: 12 volt
Wheels: Plastic with rubber traction bands
If your kiddo is picky about how their toys look, they'll be delighted with the various options this electric car offers.
With six unique designs to choose from, your little driver will feel great with this ride, though this miniature vehicle is more than just a pretty face.
With Soft Start, acceleration is gradual so as not to overwhelm a young driver, while the car can reach speeds of between 3 and 5 mph.
Parents can also take the wheel with the Parental Remote, allowing you to accelerate, brake, steer, and reverse the car if necessary.
Best power wheels for 8 year olds
Our opinion
Age: 8+ years
Weight limit: 120 lbs
Battery: 24 volt total (two connected 12-volt batteries)
Wheels: Rubber (pneumatic)
Though this little vehicle provides older kids with a bit more zip, it doesn't compromise on safety.
A steel frame encases a comfortable bucket seat, which includes a safety belt.
The dune buggy also has a side roll cage to ensure maximum protection during playtime, plus a textured floor for foot traction.
Best suited for older kiddos, the acceleration and braking controls are on the handlebars, while speeds of up to 10 mph can be reached.
When it's time to store it away for the day, you can simply fold this car up.
What we love
Seatbelts
Rear suspension system
Good traction
Side roll cage
Watch for
No reverse
No gas pedal -- speed controlled by thumb throttle
Best power wheels for older kids
Our opinion
Age: 16+ yrs (recommended by the Company)
Weight limit: 220 lbs
Battery: Included
Wheels: Rubber (pneumatic)
Older kids who love competitive racing often find themselves interested in motocross.
It's a high-intensity, obstacle-based form of motorcycle racing, and for those who love it, it's the ultimate adrenaline rush.
The MX650 from Razor is a great starting bike for kids interested in motocross.
It features a dual suspension and 17 mph ride speed, not the most powerful pick on the market, but a big step up for most childhood riders.
The MX650 is suitable for kids over 16 and has a weight limit of 220 lbs, which means it's safe for most adults to ride.
It has a quiet motor, so won't bother the neighbors, and the knobby, pneumatic tires offer a powerful ride that handles most surfaces without difficulty.
Best power wheels for girls
Our opinion
Age: 3 – 7 years
Weight limit: 130 lbs
Battery: 12V
Wheels: Plastic
This adorable Frozen-themed ATV has a pretty face with a lot of power behind it, much like the beloved film series' Snow Queen, Elsa.
It can reach speeds of up to 5 mph, with a parental speed lockout letting you slow that down to 2.5 mph for new riders.
It can support up to 130 lbs. (so they can enjoy it for years!) and features trustworthy power-lock brakes for safety.
While this little Jeep gives its best performance on hard surfaces such as asphalt, it can also tool along nicely on grass.
Behind the seats, there is ample space for your little one to carry around her favorite toys. Also includes stickers to give this fairy tale ride a fun splash of realism.
What we love
Doors open and close easily
"Radio" plays Disney character voices and driving sounds
Easy to steer
Long battery life
Watch for
Drives a little slowly on grass
Best ride-on tractor
Our opinion
Age: 2 – 7 years
Weight limit: 85 lbs
Battery: 12 volt
Wheels: Plastic
Your little farmer won't be lacking extra features with this toy. It includes a working FM radio, adjustable seats that include armrests, and an actual trailer.
Be careful when carting things around, however, as the tractor doesn't have a rear hatch door, possibly allowing cargo to slide out.
Beginners can be limited to speeds of about 2 mph, while more seasoned drivers can tool around at up to 4.5 mph.
The automatic braking system makes stopping easy, and it functions well on all kinds of terrain.
What we love
High-speed lock-out
Automatic brakes
FM radio
Our favorite sports car power wheels
Our opinion
Age: 3+
Weight limit: 66 lbs
Battery: 12V
Wheels: Plastic
If your kid loves cars, chances are they've heard of a Lamborghini – a classic European sports car that makes gearheads worldwide pine for a ride.
Whether or not they're already familiar with this iconic brand, it's hard to argue with the crisp, red paint job, gull-wing doors, and sporty interior of this miniaturized Lamborghini Aventador.
It's an officially licensed model, so the detailing is so realistic you'll expect to hear the engine rev.
This 12V ride-on toy has a maximum speed of 3.7 mph, and features a working horn and headlights they'll love playing with.
Kids can operate the vehicle on their own, or parents can operate it using the enclosed remote control. An AUX port lets kids plug in their media devices and listen to their own tunes while cruising.
Best ride-on fire engine
Our opinion
Age: 12 months – 3 years
Weight limit: 130 lbs
Battery: 12 volt
Wheels: Plastic
Your kiddos can feel like real-life heroes as they ride around in their own fire truck which includes sirens and also sprays water from its hose.
This fire engine can race to the "fire" at 2.5 mph or 5 mph; you choose when they're ready for a higher speed by simply removing a screw by the shifter.
Two siren sounds are included, plus a hose that sprays real water, and two high-backed chairs with seatbelts.
The light on this vehicle really flashes, and it can also reverse.
Best ride-on truck
Our opinion
Age: 3 – 8 years 
Weight limit: 65 lbs
Battery: 12 volt 7Ah
Wheels: Plastic

If your kiddo is a lover of trucks, then this ride-on's appearance will certainly appeal to his sensibilities.
The realistic sounds, LED lights, a working horn, and preloaded radio offer plenty of immersive perks during play.
Kids can also connect an MP3 player for more variety in their road trip tunes.
Parents, meanwhile, will appreciate the working seatbelt and the remote control that allows them to take the wheel.
The truck can travel at speeds of up to 3.7 mph.
What we love
Speed lock
Seatbelt
Reverse capable
High backed seat
Watch for
Poor traction in grass while in "slow" mode
Unclear assembly instructions
Our favorite ride-on car for girls
Our opinion
Age: 3 – 8 years
Weight limit: 65 lbs
Battery: 12 volt
Wheels: Plastic
If an eye-catching style is a natural draw for your kiddo, this flashy, luxury, look-alike vehicle will be an excellent choice for them.
Whether your child is looking to take the wheel or would feel better with you guiding their way via remote control, this car offers plenty of creature comforts.
It has an auxiliary cord jack for you to connect an MP3 player and a radio that comes preloaded with songs.
There's also a handy battery charge indicator on the same display as the radio.
The realistic sound effects and working lights will sure be a hit with your girl, while you'll love its working seatbelt, high-backed chair, and simple assembly process.
What we love
ASTM-certified
Remote-control capable
Seatbelts
Watch for
3.7 mph max speed may be slow for older or fast for younger kids
Replacement parts can be difficult to get
Our favorite ride-on car for boys
Our opinion
Age: 3 – 7 years
Weight limit: 66 lbs
Battery: 12 volt
Wheels: Plastic
Whether it's you or your kiddo who loves sleek Italian sports cars, this ride-on Bugatti Divo will have them feeling like a movie star.
When your child develops enough coordination, they can take full control of the steering wheel and pedals.
Until then, you can use the included remote control to help guide your little one from a distant location.
This shiny car (available in red, blue, or black) boasts a push-button start with realistic engine sounds and MP3 connectivity.
It also has a working horn, turn signals, and lights.
Children won't even mind popping on their seat belts as they settle into one of the roomy leather seats. There's also room for a friend!
What we love
Looks just like an authentic Bugatti Divo
Offers two speeds
Luxury interior with leather seats and designer steering wheel
Realistic dash with functioning buttons
Pedal/wheel or remote control
Connects to an MP3 player for a musical experience
Realistic car sounds and functions
Watch for
Takes 8 to 10 hours to fully charge
Slow for older children
Most eye-catching ride-on car
Our opinion
Age: 3 – 8
Weight limit: 66 lbs
Battery: 6 volt
Wheels: Plastic
Your kids can feel like the boss when they cruise by in this licensed Bentley EXP 12, which delivers little drivers to their playdates and parties in style.
Parents can use a remote control to operate or let their children enjoy the learning experience of a lifetime.
You can limit your little driver's speed or let them accelerate up to a whopping 3 mph! This ride can reverse, brake, park, and even comes with a safety belt.
While this ride-on helps your little one's imagination to flourish, they won't need to visualize the luxurious faux leather seating, scissor doors, or cobalt blue dash illumination.
It even boasts a set of bright LED headlights. If only they made toys this cool when we were little!
What we love
Built-in AUX cord for playing classic road jams
Licensed Bentley with plenty of luxury details
High (3 mph) and low speeds
Remote control for new drivers
Moves in forward and reverse
Parking function
Scissor-style doors
Best classic ride-on car
Our opinion
Age: 3 – 8 years
Weight limit: 66 lbs
Battery: 12V4.5AH
Wheels: Polypropylene Plastic
A real vintage BMW would set parents back a pretty penny, but this adorable, near-exact copy ride-on is far more affordable.
This snazzy classic car replica is available in cherry red, white, or green.
This little car has a spacious seat with an adjustable safety belt. The opening doors and functioning lights will spark your kiddo's imagination.
The radio even features a number of built-in songs and stories for kids to enjoy while driving.
If that's not enough, you can use the USB, AUX, and TF card slots to create a custom playlist.
The car can be controlled either by a pedal or by remote control.
What we love
Parent or child control
MP3/TF/USB mic w/amp
Slow start-up speed
Suspension spring
Watch for
Some are disappointed with plastic construction
Best two-seater ride-on car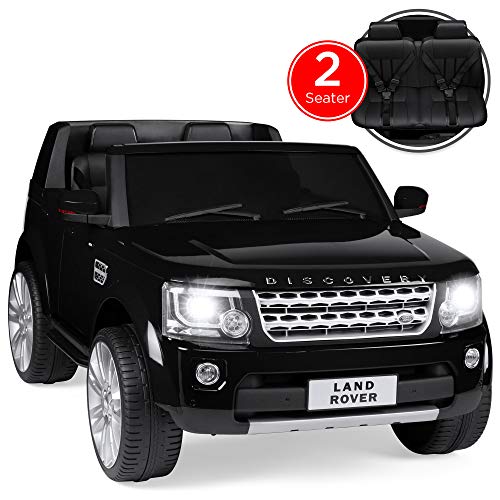 Our opinion
Age: 3 – 8 years
Weight limit: 128 lbs
Battery: 12V
Wheels: Plastic
Packed with features geared towards both parents and kids, this two-seater can travel over virtually any terrain.
While the first charge takes 12 hours, follow-up charges are completed in 8.
It has a maximum speed of 3.7 mph, a four-wheel suspension system, and adults can take control via the remote.
This mini Land Rover also has plenty of storage space under the hood, a functioning horn, and working LED headlights.
Kids will love the realistic dashboard details.
What we love
Very smooth ride
Remote control option
Auxiliary hookup for MP3 players
Bottom handle makes it easy to move to a charging outlet
Best ride-on car for Beetle lovers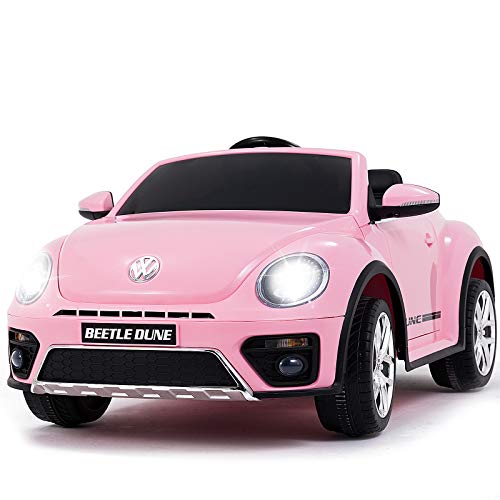 Our opinion
Age: 1 – 6 years
Weight Limit: 77 lbs
Battery: 12 volt
Wheels: Plastic
This bubble gum-colored Volkswagen Beetle makes a perfect gift for young girls.
It features a realistic frame, working headlights, a classic VW logo with tinted windows, and a "Beetle Dune" vanity plate.
The LED lights, four-wheel suspension system, double doors, and powered dash will have your little one reeling with excitement.
Connect it to a Bluetooth-enabled device for round-the-clock tunes. The 12-volt battery lets little drivers enjoy lengthy joy rides.
What we love
Can be driven with pedal/steering wheel or remote control
Spacious seat with double door entrances
Portable handle
Connects to USB and Bluetooth for music
Three speeds with parent steering
Safety belt
Watch for
Long charging time (8-10 hours)
Runtime is only one hour
Best ride-on car for Mercedes fans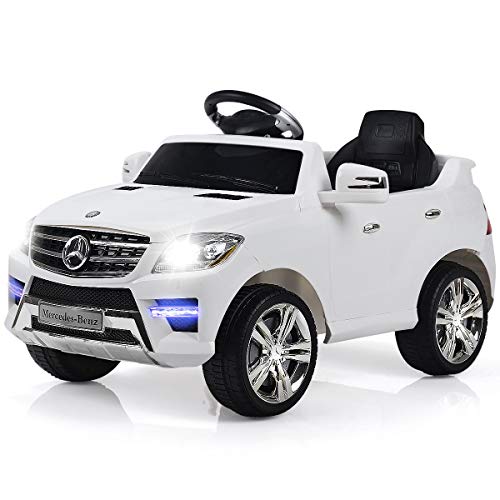 Our opinion
Age: 3 – 6 years
Weight limit: 44 lbs
Battery: DC 6V (2)
Wheels: Plastic
Here's a pretend luxury Mercedes ML350 for the smallest drivers.
At a top speed of just more than 2.5 mph, your kid will feel like she's flying.
She'll be the envy of all the toddlers on the block with this realistic, shining white replica.
Parents can take control of the ride anytime with the remote to provide a safe yet fun drive.
Luxury options include working wing mirrors, horns, and LED headlights.
This electric ride-on toy also has an MP3 system that can play songs or broadcast your child's voice with the player's mic amplifier.
What we love
Parent or child control
MP3/Aux/USB mic w/amp
Battery charger (8 – 12 hrs)
Auto-power off/on
Watch for
The seat belt is not a safety device.
Best multiple speed ride-on car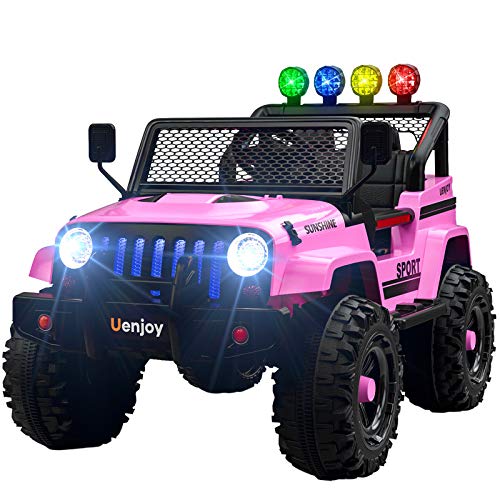 Our opinion
Age: 1 – 6 years
Weight limit: 66 lbs
Battery: 12V
Wheels: Plastic
Looking for an electric ride-on that's great for multiple kids?
This Jeep-styled quad is safe for kids over one year and can be used by their older siblings up to age six.
While kids are learning, there's a remote control that parents can use to control movement along the trail.
Once over three, kids can use the gear shift and gas pedal, then steer with the wheel on their own.
Assembly takes most parents about 30 minutes. Be careful, however, to read and carefully follow the instructions, as not doing so may invalidate the warranty.
What we love
Cool colors, including camo blue and camo pink
Bluetooth speaker for your own music or built-in music/stories
Three speeds, slow, middle, and high (2.5 mph)
Adjustable seat belt
Watch for
Not returnable if build instructions are not followed.
Power wheels buyers guide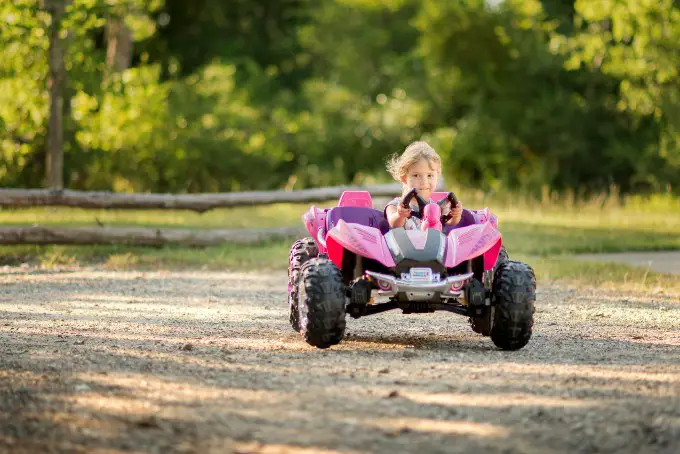 We've rounded up answers to the most common questions parents have about Power Wheels and electric ride-on vehicles.
What are ride-on cars for kids?
The short version is that they're toys that create lasting memories that your children will cherish all their lives.
The long version, i.e., the most important version for parents, is that they are miniaturized vehicles specifically designed for little bodies to drive. They're safe for preschool users when used properly, while scooters and other, more powerful, ride-on toys are more suited to older users.
Related: The 9 Best Hoverboards for Kids in 2021
What are appropriate ages for ride-on cars?
While you may be hard-pressed to find a vehicle that a child under 12 months can use, the reality is that companies make ride-on cars for everyone from tots to teens, though most manufacturers don't advise use before one year.
Always read the manufacturer's recommendations on age, height, weight requirements and limitations. High-backed ride-ons are safest for young riders, as these offer neck support.
Most ride-on cars for kids have an upper age limit of around six years, though some have higher weight limits that allow older children to ride.
How fast are ride-on cars?
There is some variability as to how fast these cars can travel, though none are going to win the Daytona 500 anytime soon.
Our favorite models for our younger family members tend to have a low-maximum speed of around 2 – 2.5 mph.
This is ideal for children who are just learning the ropes; you will easily be able to catch up with them should they need help, and they will have a longer reaction time to avoid objects, brake, etc.
The maximum high-speed limits, meanwhile, tend to hover around 5 mph.
Ride-on cars aimed at older kids or teenagers will often be able to reach speeds up to double digits, so make sure that the model you choose is appropriate for your kiddo's speed-skill level.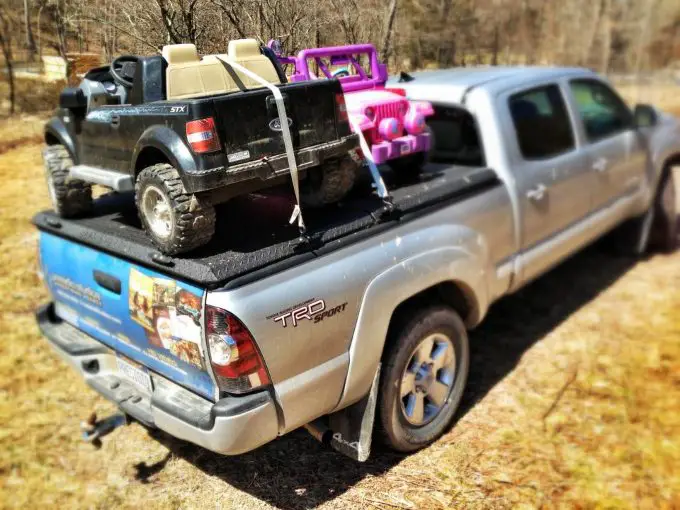 Are ride-on cars safe?
It's important to research the specific brands you're interested in. Check for recalls, and consider what you personally find acceptable safety features in an electric car.
With that said, you'll make your child's experience safer by remembering two important points while shopping:
Match your child's size
While many ride-on cars have a generous age range, never put your child into something they are too young to use. Ride-on cars aren't shoes; don't buy 'bigger' while assuming that your child might grow into it without incident. Similarly, pay attention to weight limits. A child too large or small for an electric car is at risk of injury.
Speed regulators
Many ride-on cars come with two maximum speeds, with the higher one only reachable when a parent removes what is often called a high-speed lock-out or governor. This adjustment is often as simple as removing a screw; no fuss, no muss.
Related: The 10 Best Go Karts for Kids in 2021
What are the best batteries for ride-on cars?
These fun toys are powered by rechargeable batteries. For the most part, you will only have to pick between two voltages, but some ride-ons geared towards older kiddos will have 'connected batteries' to increase the power.
6 Volt (6 V) Batteries: This type of battery is best suited for a car that a younger child will be driving. They have a lower energy output than batteries of a higher voltage, giving a slower rate of acceleration. They have less get up and go, so to speak, so are suitable for ride-on cars that will be used mostly indoors. They can, however, be used outside,too. A 6-volt run car will take longer to get going on surfaces like grass (check the vid below), but, as they're designed for younger drivers, this is hardly a problem. Unfortunately, they don't hold a charge as good as a battery of higher voltage, but can still provide a decent amount of drivetime, continued use at around 2 mph. providing a little over an hour of power.1 EVs for kids reflect motoring industry trends
iecetech.org
12 Volt (12 V) Batteries: Although this battery will provide more get up and go, many models that utilize it also include a high-speed lock-out in their product. This means that you can still keep your little racer at an acceptably low speed, despite the higher powered battery. The car will pass through rougher terrain more easily, and you should get approximately three hours of use at speeds of around 5 mph.2 EVs for kids reflect motoring industry trends
iecetech.org Since ride-on cars using this type of battery have a little more power to dole out, the cars themselves tend to have more built-in features.
Connected Batteries: Used almost exclusively in ride-on cars geared towards older children, a connected battery system will link two batteries together to create a higher voltage. For example, two 12 V batteries can be hooked together to generate 24 volts. This means more power and more speed. The trick to a connected battery system is to make sure the two joined batteries are of the same voltage. Connecting units with different voltages will have charging issues and a shorter lifespan.3Battery Bank Tutorial: Joining Batteries Via Series or Parallel for Increased Power
batterystuff.com
Are ride-on cars hard to assemble?
This is very dependent on what model you ultimately purchase. All reputable cars for kids should include detailed instructions on how to put them together.
Tools, however, are not always provided. It would be wise to have items like a flathead screwdriver, Philips screwdriver, and a wrench handy.
Related: The 6 Best Kids Wagons to Buy in 2021
Are power wheels waterproof?
Different brands have different designs, so check with your specific model of choice to be sure about its particular waterproofing or lack thereof.
Most ride-on cars are outdoor toys and made of materials that should be suitable for damp conditions. Having said that, we advise you not to submerge the toy or store it outside in bad weather.
You won't break the ride-on car by driving in the grass after a rain shower, but don't leave it exposed to the elements in a downpour.
Always avoid exposing the battery to water for an extended period of time and take care to keep the internal workings dry; if overexposed to the elements it could end up with corrosion or other damage to either the battery or the motor.
Can I modify a ride-on car?
Many parents upgrade their child's ride-on, and there are online communities dedicated to doing just that. Just take care to do plenty of research before giving it a go. Also, be aware that any modifications could void an existing warranty and should only be undertaken with strict attention to safety.
Common changes include upgrading the motor, increasing the battery voltage, and adding tread to the tires (check above video). Some people will tackle more extensive modifications with amazing results (see video below).
If you're not mechanically inclined, it's probably safer to let your children enjoy their car just as it is. Dads, we're watching you!
Our top pick
Ride-on cars make great gifts, and there are so many to choose from that you'll be sure to find a unique fit for your kiddo.
If looking for a product that will offer years of enjoyment, our top pick for the best power wheels is undoubtedly the Power Wheels Tough Talking Jeep Wrangler (check price on Amazon), for its inclusiveness across all age groups.
Appropriate for children from three to seven years old, it has a high weight limit, loads of fun features, and seats two comfortably.
Despite utilizing a 12V battery for more power, it still allows parents to limit their child's speed.
While not the cheapest on our list, it comes with a moderate, easily justifiable price tag, considering the years of use it will provide, along with included extras and high-quality construction.
[Photo Credits: All photos used which are hosted on Flickr are licensed under the Creative Commons.]