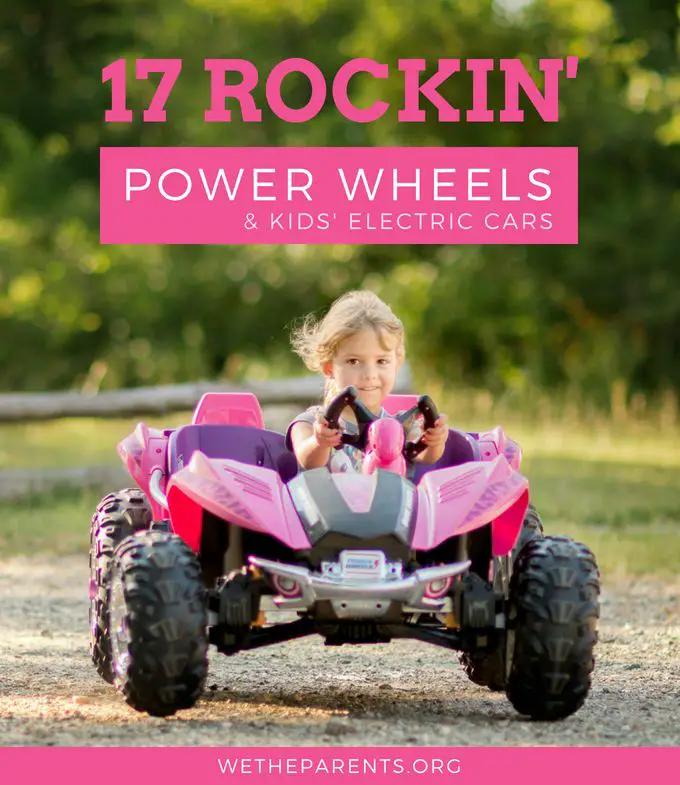 As parents, we want to fill our children's' lives with the best memories possible. While they might think that those memories should consist mainly of video games and television, we know better. The greatest childhood memories involve adventures; swimming at the local pool, emerging victorious from a nerf war, or learning how to drive in your very first set of wheels.
Since it would not be advisable to hand them the keys to the minivan just yet, many companies make small vehicles designed just for tiny bodies. Whether you are looking for something designed solely for outdoor treks, or that your little one can tool around the house in, there is an electric car for you. Or rather, your kiddo. Although, we must confess that some of these little ATVs are cool enough to tempt any parent to try and squeeze into the driver's seat. Here are some of the best power wheels out there.
Our top pick
Age: 36 months – 7 years
Weight Limit: 130 lbs
Battery: 12 volt
Wheels: Plastic
This Ride-On car earned the top spot on our list for its overall performance, safety, and, of course, its fun extras.
The Jeep can comfortably seat two, features a rear storage area, and the brakes will automatically engage when your child takes their foot off the gas. While capable of reaching up to five mph, you can engage the high-speed lock-out so that your rocket kid can't exceed a 2.5 mph limit.
While those are undoubtedly appealing facts for Mom and Dad, your little one will probably be more interested in the microphone and its amplifying speaker, the radio that is preloaded with songs and sounds, and the fun decals that give this Power Wheels its finishing touch.
What we love:
High-speed lock-out
Power lock brakes
Reverse-capable
Unique extras
Appropriate for a wide age span
Watch out for:
Difficulty navigating tough terrain at 2.5 mph speed
View on Amazon
Best Quad Style Power Wheels
Age: 36 months – 7 years
Weight Limit: 65 lbs
Battery: 12 volt
Wheels: Plastic
Through damp grass, divets, or mud, this little vehicle is up for whatever challenge your backyard throws its way.
With wide, sturdy tires that are built for traction, your kiddo can power through tricky terrain with ease. Depressing the pedal accelerates the car forward, while a twist of the hand throttle gives it a bit more juice for speeds up to 5 mph. Don't worry; you can contain newly minted drivers to a leisurely 2.5 mph to start them out.
What we love:
Reverse capable
Easy assembly
High speed lock-out
Power Lock brakes
Watch out for:
Wheels are loud on road/sidewalk
View on Amazon
Best Ride-On Car for Toddlers
Age: 36 months – 3 years
Weight Limit: 45 lbs
Battery: 6 volt
Wheels: Plastic
That low-rider design isn't just for looks; tots will love being able to get on and off of this tiny ATV all by themselves.
Your little one can reach speeds up to 2 mph by pushing and holding an acceleration button on the handlebars. The wide set design makes this ride-on car easy to handle and stable enough for a child who is still working on their coordination and balance skills. The tires provide plenty of traction for outdoor adventures, but the quad is small enough for your kiddo to enjoy indoors as well.
What we love:
Easy assembly
Lightweight
Low base
View on Amazon
Best Power Wheels for 2 Year Olds
Age: 36 months – 3 years
Weight Limit:40 lbs
Battery: 6 volt
Wheels: Plastic

Your tot will be snug and safe in the highback seat of this little train.
Your kiddo will have no problem using the footrests to hoist themselves onto this low riding engine. They can easily accelerate the little vehicle by pushing a button on Thomas' handlebar. With a maximum speed of 2 mph, you will easily be able to keep up with your child's road trips both indoors and out. Charging, however, can be tricky as there is a small of amount of disassembly required.
What we love:
Fun decals
Highback seat
Easy assembly
Lightweight
Watch out for:
Not reverse capable
Have to unscrew seat to charge
View on Amazon
Best Power Wheels for 3 year old
Best Power Wheels Mustang
Age: 36 months – 5 years
Weight Limit: 130 lbs
Battery: 12 volt
Wheels: Plastic
This two-seater proves that it's never too early to start cruising in comfort and style.
If realism is your thing, you probably won't need to look much further than this car. The doors open and close, the interior is spacious and mirrors that of a real Mustang, and there is even a cupholder. Your kiddo can reach a cruising speed of 5 mph, but you can limit your novice driver to 2.5 mph if you choose. Stopping is easy; all your child has to do is take their foot off the gas pedal, and the braking system automatically engages.
What we love:
Clear assembly instructions
Power Lock Brakes
Reverse capable
Preloaded "radio"
Watch out for:
Heavy
Poor wheel traction on uneven surfaces
View on Amazon
Best Power Wheels for 4 year old
Best Power Wheels for Grass & Rough Terrain
Age: 36 months – 7 years
Weight Limit: 130 lbs
Battery: 12 volt
Wheels: Plastic
If your children love to explore the wild outdoors, this tough Power Wheels won't leave them stranded.
Whether you want to start your kiddo off with a 2.5 mph speed limit or allow your experienced driver to hit cruising speeds of 5 mph, this Power Wheels is up for the challenge. The steel frame provides extra support for its passengers while the high backed seats and sidebars offer a safe ride. The wheels are capable of tackling both flat and uneven terrain, wet or dry, with ease.
What we love:
Easy assembly
Great traction
Power Lock Brakes
Reverse capable
View on Amazon
Best Ride On Car for 5 year old
Age: 36 months – 6 years
Weight Limit: 66 lbs
Battery: 12 volt
Wheels: Plastic with rubber traction bands
If your kiddo is picky about what their toys look like, they will delight in the many options this electric car offers.
With six unique designs to choose from, your little driver will get to feel quite novel in his ride, but this miniature vehicle is more than just a pretty face. With Soft Start, acceleration is gradual so as not to overwhelm a young driver, and the car can reach speeds between 3 and 5 mph. You the parent can also take the wheel with the Parental Remote, which allows you to accelerate, brake, steer, and reverse the car.
What we love:
Seatbelts
Auxilary input for MP3 player
Reverse capable
Remote control capable
Watch out for:
Heavy
Assembly can be tricky
View on Amazon
Best Power Wheels for 8 Year Olds
Age: 8+ years
Weight Limit: 120 lbs
Battery: 24 volt total (two connected 12 volt batteries)
Wheels: Rubber (pneumatic)
This little vehicle will provide older kids with a bit more zip, but doesn't compromise on safety.
A steel frame encases a comfortable bucket seat, which includes a safety belt. The dune buggy also has a side roll cage to ensure maximum protection during playtime, and a textured floor for foot traction. Best suited for older kiddos, the acceleration and braking controls are on the handlebars and speeds of up to 10 mph can be reached. When it's time to put away the electric cars for the day, you can simply fold this car up and store it out of the way.
What we love:
Seatbelts
Rear suspension system
Good traction
Side roll cage
Watch out for:
No reverse
No gas pedal; speed controlled by thumb throttle
View on Amazon
Best Power Wheels for Older Kids
Age: 16+ years (recommended by company)
Weight Limit: 220 lbs
Battery: 36 volt total (three connected 12 volt batteries)
Wheels: Rubber (pneumatic)
Your teens will love the adult feel, speed, and comfort of this mini motorcycle.
With a dual suspension system, your kiddo can conquer off-road obstacles without feeling like he is being knocked out of his seat. The bike is powerful enough to make it up hills and can reach a speed of 17 mph with the hand twist throttle, albeit loudly. A set of dual disc brakes means that stopping is safe and easy, even at higher speeds
What we love:
Braking system
Easy assembly
Kickstand
Footpegs
Watch out for:
Batteries tricky to replace
Loud
View on Amazon
Best Power Wheels for Girls
Age: 36 months – 7 years
Weight Limit: 130 lbs
Battery: 12 volt
Wheels: Plastic
If your daughter is just mad for the Frozen universe, this electric car features decals and a color scheme that will have her asking you for a warm hug.
The colorful doors on this vehicle open and close, so your little girl will have no problem getting in and out. You can limit her speed to 2.5 mph with the high speed lock-out, but, once you deem her a safe driver, the car can reach up to 5 mph. A simple flip of the switch allows the car to reverse and, as its built for two, she will be able to have her favorite pal as a road trip companion. She might want to avoid tricky terrain when driving with the high speed lock-out on, as the tires can have a difficult time gaining traction at the lower speed.
What we love:
High speed lock-out
Power lock brakes
Preloaded "radio"
Watch out for:
Decals can be tricky to apply
Traction can be poor on some surfaces
View on Amazon
Best Ride-On Tractor
Age: 24 months – 7 years
Weight Limit: 85 lbs
Battery: 12 volt
Wheels: Plastic
If your kiddo loves country living, this ride-on car will make free play a heyday.
Your little farmer won't be lacking extra features with this toy. It includes a working FM radio, adjustable seats that include armrests, and an actual trailer. Be careful when carting things around, however, as the tractor does not have a back hatch door, possibly allowing cargo to slide out.
Beginners can be limited to speeds of about 2 mph, while more seasoned drivers can tool around at up to 4.5 mph. The automatic braking system makes stopping easy, and it functions well on all kinds of terrain.
What we love:
High-speed lock-out
Automatic brakes
FM radio
View on Amazon
Best power wheels motorcycle
Age: 12 months – 3 years
Weight Limit: 50 lbs
Battery: 6 volt
Wheels: Plastic
Your tot is a long way from owning their own motorcycle but is sure to enjoy feeling like a mini biker on this detailed trike.
Cruising along at a maximum speed of 2 mph, your kiddo will find that this toy's footrests and large handlebars make for a comfortable, controllable ride. A push button accelerator propels the Lil' Quad forward, with the Power Lock Brakes engaging as soon as the button is released. The base of the vehicle is low to the ground, so shorter or average sized children can get on and off with ease, but its small stature might not provide enough space for taller children.
What we love:
Automatic brakes
Low riding base
Watch out for:
Loud
Not great for tall toddlers
View on Amazon
Best ride-on fire engine
Age: 12 months – 3 years
Weight Limit: 130 lbs
Battery: 12 volt
Wheels: Plastic
Your kiddo can feel like a real-life hero as they ride around in their own fire truck, which includes sirens and sprays water from its hose.
This fire engine can race to the "fire" at 2.5 mph or 5 mph; you choose when they are ready for a higher speed by simply removing a screw by the shifter. Two siren sounds are included, as is a hose that really sprays water, and two high-backed chairs that include seatbelts. The lights really flash, and it is capable of going in reverse.
What we love:
Seats two kiddos
Sirens
High backed seats
Speed lock
Working hose
View on Amazon
Best Ride-On Truck
Age: 3 – 8 years
Weight Limit: 65 lbs
Battery: 12 volt 7Ah
Wheels: Plastic

If your kiddo is a lover of trucks, then this ride-on's appearance will certainly appeal to his sensibilities.
The realistic sounds, LED lights, working horn, and preloaded radio will bring your kiddo plenty of playtime perks. They can also connect an MP3 player for more variety in their road trip tunes. Parents, meanwhile, will appreciate the seatbelt and remote control that allows them to take the wheel. The truck can travel at speeds of up to 3.7 mph.
What we love:
Speed lock
Seatbelt
Reverse capable
High backed seat
Watch out for:
Poor traction in grass while in "slow" mode
Unclear assembly instructions
View on Amazon
Best Ride-On Sports Car for Girls
Age: 3 – 7 years
Weight Limit: 66 lbs
Battery: 12 volt
Wheels: Plastic
If you have a kiddo who likes to turn heads, this flashy luxury look-alike vehicle might be a great choice for them.
Whether your child is looking to take the wheel or would feel better with you guiding their way via remote-control, this car offers plenty of creature comforts. It has an auxiliary cord jack for you to connect an MP3 player, as well as a radio that comes preloaded with songs. The realistic sound effects and working lights are also sure to be a hit with your girl.
As the parent, you will appreciate the seatbelt, highbacked chair, and relative ease with which it's assembled.
What we love:
ASTM-certified
Remote-control capable
Seatbelts
Watch out for:
2 mph max speed may be a little slow for older kids
Loud wheels
View on Amazon
Best Ride-On Sports Car for Boys
Age: 3 – 8 years
Weight Limit: 65 lbs
Battery: 6 volt
Wheels: Plastic
With plenty of realistic detailing, this is an excellent choice of toy for boys who can't wait to have their own fancy set of wheels.
This mini sports ride-on features a BMW emblem on its hood, a jack to hook up an MP3 player, and a comfortable interior with a highbacked chair, which comes complete with a seatbelt. The maximum speed possible with this vehicle is 2.5 mph, so it will probably be a bigger hit with younger boys than older ones.
What we love:
Seatbelt
MP3 hookup
Automatic brakes
Watch out for:
2.5 mph max speed may be slow for older kids
Poor traction on grass
View on Amazon
Best High-End Ride-On Car
Age: 18 Months – 5 years
Weight Limit: 66 lbs
Battery: 12 volt
Wheels: Rubber
If your kiddo is looking for something as fancy as one of James Bond's cars, and you are able to foot the bill, this car will tick a lot of luxury boxes.
Able to reach speeds up to 6 mph, this ride-on has several selectable drive speeds, can be operated by a parent via remote or manually by a child, and is reverse capable. Beyond that, it has working blinkers, headlights, and backup lights. It certainly shines in terms of its tech-compatibility; the car has a built-in Android Tablet in the dashboard that is wifi ready and plays MP3s through internal speakers. In short, this car is a lot; quite possibly more than what the average person is looking for in a toy.
Beyond the high tech innovations, however, this car does feature a comfortable suspension system, all-wheel drive, and high-backed bucket seat, complete with a four-point harness. Assembly is also relatively easy, as the car is mostly put together when it ships.
What we love:
Four-point harness
Automatic brakes
Ability to conquer difficult terrain
Watch out for:
Loud
Parental controls a bit difficult
Expensive
View on Amazon
Power Wheels Buyers Guide & FAQs
All You Need to Know
We've rounded up answers to the most common questions parents have about Power Wheels and electric ride on vehicles.
What Are Ride-On Cars for Kids?
The short version is that they are a toy that will create lasting memories for your child to cherish all their life.
The long version, which is the most important version for parents, is that they are miniaturized vehicles specifically designed for little bodies to drive. Unlike other ride-on toys
Ride-on cars come in all shapes and sizes, from trucks to trikes and everything in between. Some are designed for outdoor use only, but many models can be driven indoors as well.
What are Appropriate Ages for Ride-On Cars?
The great thing about this type of toy is that the variety means there really is something for everyone.
While you might be hardpressed to find a vehicle that a child under 12 months can use, the reality is that companies make ride-on cars for everyone from tots to teens.
How Fast are Ride-On Cars?
There is a bit of variability as to how fast these cars can travel, but none of them are going to be winning the Daytona 500 anytime soon.
Our favorite models for our younger family members tended to have a low-maximum speed of around 2 – 2.5 mph. This is ideal for children who are just learning the ropes; you will easily be able to catch up to them should they need your help, and they will have a longer reaction time to avoid objects, brake, etc. The maximum high-speed limits, meanwhile, tend to hover around the 5 mph area.
Ride-on cars geared towards older kids or teenagers will often be able to reach speeds into the double digits, so to make sure whichever model you choose is appropriate for your kiddo's skill level in terms of speed.
Are Ride-On Cars Safe?
It is important to do your research about the specific brands in which you are interested. Be sure to check for recalls, and consider what you personally find to be acceptable safety features in an electric car.
With that said, you can make your child's experience safer by remembering a two important points when you are shopping:
Match your child's size
While many ride-on cars have a generous age-span, don't ever put your child in something that they are too young to use. Ride-on cars aren't shoes; don't buy bigger with the assumption that your child can grow into it without incident. Similarly, pay attention to weight limits. A child too large for an electric car is at risk for injury.
Speed regulators
Many ride-on cars come with two maximum speeds, with the higher one only reachable after the parent removes what is often called a high-speed lock-out or governor. Often times, making this adjustment is as simple as taking out a screw; no fuss, no muss.
More ride-on toys: 'Balance Bikes: Parent Guide & Reviews' »
What are the best batteries for Ride-On Cars?
These fun toys are powered by rechargeable batteries. For the most part, you will only have to pick between two voltages, but some ride-ons geared towards older kiddos will have 'connected batteries' to increase the power.
6 Volt (6 V) Batteries: This type of battery is best suited for a car that a younger child will be driving. They have a lower energy output than batteries of a higher voltage, which means a slower rate of acceleration. They have less get up and go, so to speak, so they are quite suitable for ride-on cars that will be used mainly inside.They can, however, be used outside as well. You will notice that a 6-volt run car will take a bit longer to get going on surfaces like grass (check the vid below), but, as they are designed for younger drivers, this is hardly a bad thing.Unfortunately, they do not hold a charge as good as a battery of higher voltage, but they can still provide a decent amount of drivetime; continued use at around 2 mph should give you a little over an hour of power. (Source)
12 Volt (12 V) Batteries: Although this battery will provide more get up and go, many models that utilize it also include a high speed lock-out in their product. This means that you will still be able to keep your little racer at an acceptably low speed, despite the higher powered battery.The car will be able to pass through rougher terrain with more ease, and you should get around three hours of use when driving at speeds of about 5 mph. (Source)Since ride-on cars that use this type of battery have a little more power to dole out, the cars themselves tend to have more built-in features
Connected Batteries: Used almost exclusively in ride-on cars geared towards older children, a connected battery system will link two batteries together to create a higher voltage. For example, two 12 V batteries can be hooked together to generate 24 volts. This means more power and more speed.The trick to a connected battery system is to make sure the two joined batteries are of the same voltage. Connecting units with different voltages will have charging issues and a shorter lifespan. (Source)
Are Ride-On Cars Hard to Assemble?
This is very dependent on what model you ultimately purchase. All reputable cars for kids should include detailed instructions on how to put it together. Tools, however, are not always provided. It would be wise to make sure you have things like a flathead screwdriver, Philips screwdriver, and wrench handy, less you have to make an unexpected visit to your local hardware store.
Are power wheels waterproof?
Different brands will have different designs, so you should be sure to check with your specific model of choice to be entirely sure about its particular waterproofing or lack thereof.
With that said, most ride-on cars are outdoor toys and made of materials that would be fine having been exposed to damp, and yes, wet conditions. So, for example, you won't break the ride-on car by driving in the grass after a rain shower, but you shouldn't leave it exposed to the elements in a downpour.
Avoid exposing the battery to water for any extended period of time and take care to keep the internal workings dry; if overexposed to the elements you might end up with corrosion or other damage to the battery or motor.
Can I Modify a Ride-On Car?
Many parents upgrade their child's ride-on, in fact, there are online communities dedicated to doing just that, but you should take care to do plenty of research before you give it a go. Also be aware that any modifications are likely to void an existing warranty and should only be undertaken only with strict attention to safety.
Common changes include upgrading the motor, increasing the battery voltage, and adding tread to the tires (check above vid). Some people will brave more extensive modifications with amazing results (see video below).
If you are not mechanically inclined, it's probably safer to let your children enjoy their car as is. Dad's, we're looking at you!

Editor's Choice
Fisher-Price Tough Talking Jeep Wrangler
Solid and reliable all-rounder which is likely to tick all the boxes for kids and parents alike.
View on Amazon
Our top pick
Ride-on cars can make great gifts, and there are so many to choose from that you are sure to find the perfect one for your kiddo. If you are looking for a product that will provide years of entertainment, we personally stand by our top pick for the best power wheels, the Power Wheels Tough Talking Jeep Wrangler, for its inclusiveness across age groups.
Appropriate for children three to seven years old, it has a high weight limit, plenty of fun features, and comfortably sits two. Despite utilizing a 12V battery for better power, it still allows parents to limit their child's speed. While not the cheapest on our list, it comes with a moderate price tag that is easily justifiable considering the years of use it will provide, along with the included extras and high-quality construction.
[Photo Credits: All photos used which are hosted on Flickr are licensed under the Creative Commons.]