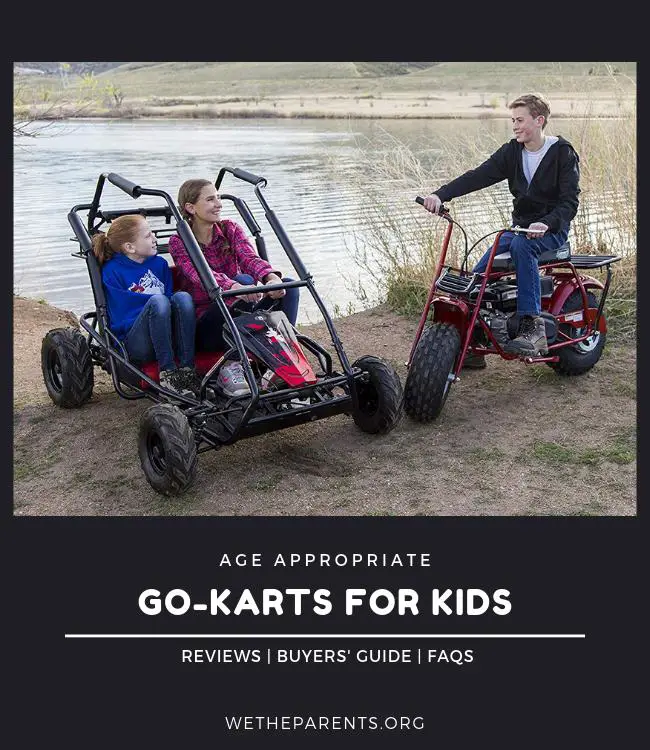 There comes a time in every child's life when they get bored of playing imagination with their Hot Wheels and want to move on to bigger and better things.
When you buckle up your child in the car for that trip to the store and they ask, "Can I drive?", it may be time to consider getting them their first vehicle.
We're talking go-karts. Parents may not know where to start when it comes to finding the best kids go kart for their child. That's where we come in. We've compiled a list of reviews and some important information for you to look over before making that first purchase.
Editors choice
Best pedal powered go kart
Power: Pedal-powered
Dimensions: 45.3 x 25.6 x 24.8 inches
Recommended age: 3 to 8 years
Weight limit: 150 lbs.
This pedal-powered go-kart (check price on Amazon) is ideal for those kids who are just learning how to pedal. It has an adjustable steering wheel so it can easily grow with your child. It has a BFR hub which enables the driver to come to a complete stop when they stop pedaling. This system also has reverse backpedaling. These extra pedaling functions make for an easier to ride and safer go-kart.
The kart comes with pneumatic tires for a more controllable ride, and sealed bearings. It has a powdered coated tubular steel frame for extra strength and a swing axle for a better ride on uneven ground.
What we love
The Forward, reverse, and brake pedal functions are a great feature to this go-kart. We also love that the steering wheel can easily be adjusted to a child as they grow.
Watch out for
I have plenty of experience seeing what a child does while they drive backward. My youngest had a tendency to just go flying backward without hesitation, and without looking back. I've gotten a lot of bruised shins from this experience!
Check Price on Amazon
Best kids 2-seater
Best kids off-road go kart
Power: Gas powered with electric start
Dimensions: 62 x 39 x 43 inches
Weight limit: 190 lbs.
Top speed: 24 MPH
Seat: 2-seater
This gas powered, off-road go-kart (check price on Amazon) is perfect for pre-teens. It has a fully automatic 110 cc transmission with reverse, and an electric start. It also comes equipped with a dashboard kill switch, speed limiter, seat belts, horn, and headlights for added safety.
This 2-seat bucket style go-kart is available in a stylish red and black frame with tires that have black steel rims. The seats are made of a poly foam all-weather vinyl. This makes for a comfortable, 2-seater go-kart for those off-road excursions.
What we love
As parents, we understand the need for safety for our children. This kart not only has safety belts, but it's also equipped with a speed limiter and kill switch. Being able to prevent younger teens from reaching the maximum speed is reassuring.
Watch out for
The speed limiter is a gas pedal screw. Probably best to not let that teen know how to adjust it.
Check Price on Amazon
Best electric go kart for kids
Power: 350-watt electric motor
Weight limit: 120 lbs.
Recommended age: 8 and up
Maximum speed: 10 MPH
Seat: 1 Seater
This go-kart (check price on Amazon) can reach speeds up to 10 miles per hour with its 350-watt electric motor. It is durable with its tubular steel frame, and 8-inch knobby pneumatic tires. It is also equipped with a side roll cage, and a seat belt for added security.
With its red frame and black base, diamond plate floorboards, and padded bucket seat, it has a classic go-kart style. Its reduction drive is designed for off-road driving and lower torque climbing which makes this an excellent electric go-kart for kids who love adventure.
What we love
Its maximum speed is fast enough for kids to have fun, yet slow enough for safety. This is a definite plus for a parents peace of mind.
Watch out for
Kids may outgrow this one faster than desired with its weight limit of 120 lbs.
Check Price on Amazon
Best budget buy
Power: Pedal-powered
Dimensions: 32.7 x 19.3 x 19.7 inches
Recommended age: 2 to 10 years
Small enough for children to enjoy both outdoors and indoors, this pedal go-kart (check price on Amazon) can drive both forward and in reverse. It also has EVA tires which are foam styled tires. They are lightweight and low maintenance tires which also makes them suitable for inside driving.
This go-kart comes in yellow and black with colorful side designs. The pedals can be re-positioned according to the child's age and size. With its price, this kart is a great choice for parents on a budget.
What we love
A young child can ride this kart inside on those rainy days, so their fun won't be spoiled.
Watch out for
Because of its size, children can ride this kart inside the house. Yes, we are being a little conflicting with what we love and what to watch out for. In this case, it goes both ways.
Check Price on Amazon
Best gas powered go kart
Upgrade choice
Power: gas powered
Engine: Pull start engine
Dimensions: 63 x 20 x 40 inches
Weight limit: 150 lbs.
This gas powered, pull-start go-kart (check price on Amazon) has a 98cc engine with a 4 stroke cylinder. Its low-pressure tires provide a stable and gentle rid. It also has a rear hydraulic disc for the foot operated braking system.
This single-seat go-kart comes with seat belts and a roll cage. It's available in a red and black style with a graphic front guard. With its powerful gas engine, this kart is a great choice for those in search of a more powerful go-kart.
What we love
This is a great go-kart for those teens who love the outdoors and some off-road adventure.
Watch out for
Unless your child is used to using a pull-start, this one can be a bit tricky at first to get started. It's not difficult though once you get the hang of it.
Check Price on Amazon
Dimensions: 41 x 28.5 x 11 inches
Weight limit: 140 lbs.
Recommended age: 8 and up
Maximum speed: 12 MPH
Handlebar: Spark bar
This low riding go-kart (check price on Amazon) is designed for some serious road drifting. With its race-tuned chassis, low profile cast aluminum wheels, steel construction, and upgraded rear axle, riders can maneuver through tricks with ease.
It has thumb trigger acceleration control and hand operated rear brakes. The electric-powered motor can hold a charge up to 12 hours, and reach a speed of 12 MPH. The Drifter also has a spark bar for emitting a shower of sparks from behind.
What we love
Kids that are already experienced with go-karts and are looking for a way to up the ante will find this one has a little something extra.
Watch out for
At first glance, my maternal instincts told me to be wary of this one. In this one, a child sits low to the ground, on small wheels, speeding 12 MPH, with sparks shooting out the back. As a mom, I'd be growing more gray hairs!
Check Price on Amazon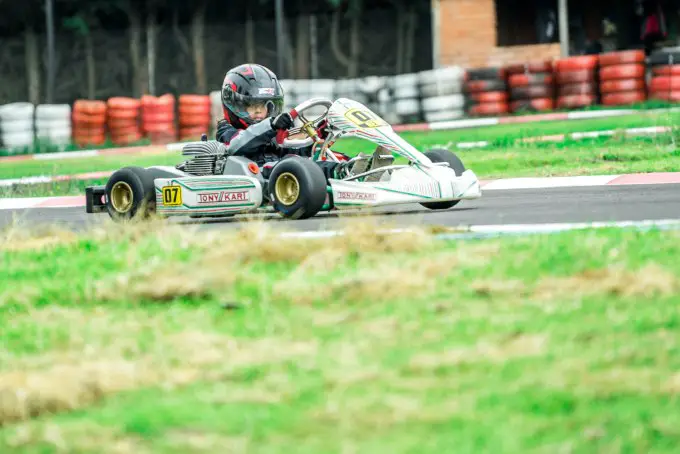 A go-kart is essentially a small, open-air, 4-wheel vehicle designed with kids in mind. They come in a range of styles, sizes, and types.
There are the more simplistic ones that are powered by pedals. These ones are somewhat similar to those Big Wheels many of us parents had when we were kids. Remember those? I swear all the kids on my block had one. We'd all meet up every day and race each other like mad until either our little legs tired out or our parents called us home! Pedal-style go-karts have 4 wheels and they are not quite as low to the ground as a Big Wheel.
Then there are the motorized go-karts. These ones are either electric or powered by gas. We've come a long way since the days of Big Wheel!
What to consider when buying a go-kart
Powered or pedaled
Pedal go-karts are a good choice for younger children. They come various sizes and are easily adaptable for children of all ages. There are karts for those small 3-year-olds who are just learning how to pedal, all the way up to the larger sized pedal-powered go-karts for the more experienced 12-year-olds. Pedal go-karts are an ideal choice for use around the house, or on sidewalks around the neighborhood.
The alternatives are motorized go-karts, namely gas and electric powered. These ones are a step up from the typical pedal powered varieties. While a toddler may begin their go-kart adventures using the power of their legs, they'll eventually want to move on to bigger, easier, and faster types of driving.
Electric-powered karts do not need any gas and are a lot quieter than the gas powered ones. Gas powered karts have more power and these models are a good choice for off-road, slopes, and rough terrain. The gas-powered karts have two options for starting. They come in either a pull start or electric start. Gas powered karts are also a good choice for those who desire a more adventurous ride.
One vs two seats
Is there more than one child in the home? If the answer is yes and you have no plans to purchase more than one go-kart, then you'll definitely want to get a 2-seater. This is also an option to consider if there is an older child who can safely drive the kart while a younger sibling enjoys a ride as the passenger. Another thought to consider when trying to decide between a one-seater or two-seater is your child's friends. I can't remember how many times my children invited friends over for the weekend and they would end up having to share toys or take turns. If you have a two-seater than you can easily accommodate them both. They'll both get to enjoy the ride and their only conflict may be on who gets to drive next.
On road vs off road
While an electric powered go-kart can be used off-road, it is generally thought of as an on-road, or in yard use vehicle. Off-road trips can be lengthy and sometimes rough. An electric kart would need a full charge and have a limited time of driving use before needing to be recharged. It is also much quieter than a gas powered kart, making it ideal for on-road travel.
A gas-powered go-cart is most commonly used for off-road driving. These karts tend to have more power to handle the rough terrain, slopes, and sharp turns. They are also convenient for driving consistent speeds without losing power, and for longer distances.
FAQs
Are go karts safe?
Go-karts are considered a safe vehicle for children when operated properly, and they are riding in the right go-kart for their age and size. Parents with young children may opt for a pedal go-kart to begin with. Older kids will undoubtedly desire a larger model that is powered by either gas or electricity. While both types are generally designed to keep the driver safely snug within the kart with a roll cage or side guard, and safety belts, it is still recommended that the child wear protective gear such as a helmet.
When is my child old enough for a go-kart? The type and style you choose is solely dependant on the age and size of the child. Children as young as 3-years-old can easily ride a pedal go-kart of the small size. While the motorized go karts are more suitable for kids around the age of 8 and up.
What accessories should I consider?
Powered go-karts come with many accessories. First and foremost are the safety accessories that parents should look for. These include side guards, roll cages, seat belts, speed limiters, kill switches, headlights, and horns. There are also other accessories that go-karts may include that are simply just to enhance the riding experience. These can include an electric start vs a pull-start engine, padded seats for comfort, transmission reverse, and pneumatic tires.
Powered go-kart pros and cons
There are various pros and cons to take into consideration when purchasing a go-kart for a child. How old is the child? What kind of terrain will they be driving on? Will the go-kart be used by more than one child? These are just a few of the questions parents should ask themselves.
While an electric-powered go-kart is quieter and can be driven in town, it must always be fully charged before driving, and the driving distance is limited. Were as a gas powered go-kart can drive off-road for further distances, it is noisier than an electric one and cannot be driven in town. Both types have their positive points and negative points. It basically all comes down to exactly how your child plans on using their go-cart, and which responsibility they would prefer having.
Wrapping up
While many of these go-karts have their own unique quality that makes them a good choice, we decided that the PowerSportsGalaxy 110cc Pre-teen 2-seater Go Kart (check price on Amazon) is our choice for the round-up award. The first thing that makes this kart stand out is the fact that it is a two-seater. This will come in very handy in a family with more than one child, or for when that child has friends over.
It also has all the safety gear to make a parent feel confident and relaxed while their children are driving. From its padded roll cage, seat belts, headlights, and extra durable tires to its reliable engine, speed limiter, dashboard kill switch, and reverse capabilities this two-seater go-kart fits the bill.