STEM learning has exploded in recent years, and with it the number of manufacturers making science kits for youngsters.
So which are the best?
… and which should you avoid in favor of some baking soda from the kitchen cupboard?
Fear not! After a nerdy 32 hours combing through science and educational sites, product reviews, customer ratings, and parent feedback, we've rounded up what we think are the very best science kits for kids. Read on to see our comprehensive list, divided into age groups.
Let's do this!
Best biology kit
Our opinion
Although the principles of DNA were only discovered half a century ago, this DNA kit is perfect for those up to age 12 to learn about genetics and biology. The kit comes with a comprehensive 32-page book full of exciting projects.
Your child can take samples from anything that was once, or is now, living; including herself! Whether analyzing fruits, veggies, friends, or family members, she can record her results and master the scientific method with the components provided with this kit.
Highlights:
Recommended age: 8 to 12

The 32-page lab book makes the kit easy to use

Perfect for any budding biologist or forensic analyst

Fun DNA and trait codes can even create monsters!

Parents can learn along with their children

Includes "Think Like a Girl" pin
The best science kits for younger kids
Best for 4 to 8 years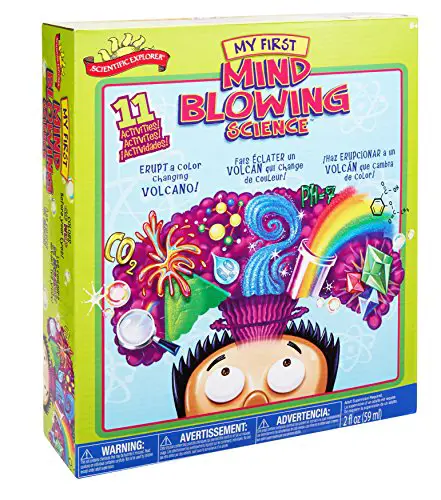 Our opinion
We feel this innovative kit is as 'mind-blowing' as the title suggests, as it teaches young scientists all about chemistry and scientific principles whilst being incredibly fun and captivating.
Rated for kids aged 4 and up (younger kids need parental supervision), the kit comes with 20 different components, including (safe) chemicals, dyes, test tubes, pipettes, and a comprehensive activity guide.
If you know a budding young scientist burning with curiosity about how the world works, this is the closest thing to a full science lab that you can buy.
Highlights:
Recommended age: 6+

Kit lets kids learn about volcanoes, growing crystals, and chemical reactions amongst many other things

Comes with everything required to get started, though you'll need a few common household items to do all the experiments listed in the book

The instruction book is simple enough for parents without a science background to use 

Perfect for family bonding

Stimulates logic and critical thinking skills
Best toddler microscope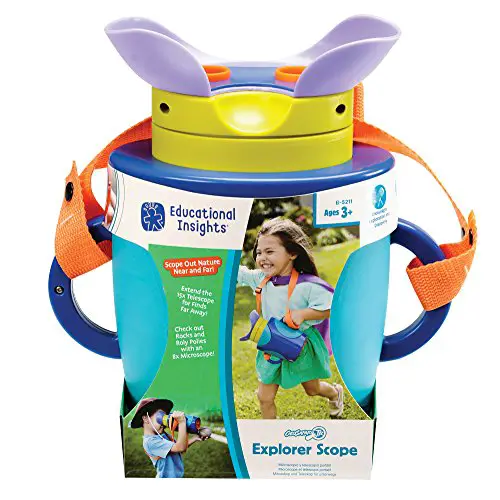 Our opinion
The GeoSafari Jr. Explorer Scope is a telescope and microscope in one! It features two handles and a neck strap, making it easy for young children to carry around with them as they embark on fearless explorations of savannah (i.e. the backyard) or deepest jungle (i.e. the local woods) to better learn about the natural world.
Soft eye pieces keep kids comfortable while they use their hybrid exploration device, and the breakaway strap ensures safety, preventing choking if becoming tangled.
Highlights:
Recommended age: 3-6

Microscope with x8 magnification and telescope with x15

All optics designed for comfort with preschool level of vision

Comfortable and soft eye pieces

Great for STEM learning while discovering the natural world on the go
Best explosive kit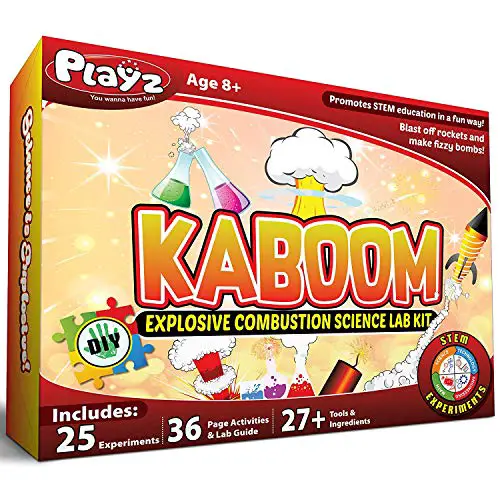 Our opinion
Kids love explosions, bangs, fizzes, and whizzes, and this STEM science kit gives them all of this along with some seriously fun lessons in chemistry.
The Kaboom! kit harnesses what would otherwise be "naughty" behaviour and turns it into an educational experience that may just get them hooked on science. Boys and girls will love the hands-on experiments while learning to build rockets, fizz bombs, and colorful explosions. The kit contains all that's needed to replicate 25 explosive experiments, so will sure keep them busy for a while.
Highlights:
Recommended age: 8+
Chemistry experiments that all end with highly dynamic and exciting chemical reactions – kaboom!
Tweens will be able to follow the 36-page colorful lab guide book and boss 25 different experiments

Manufacturers, Playz, are consistent best-sellers and highest-rated products on Amazon
Best for girls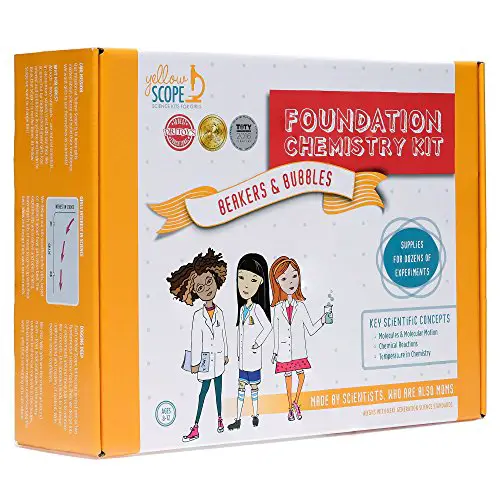 Our opinion
This award-winning Yellow Scope chemistry set (check price on Amazon) was created by a pair of scientist mothers. Determined to open up this typically male-dominated field, they set about designing experiments that were relevant and appealing to younger females. The components included in the Foundation Chemistry Set can be used to perform more than 19 experiments, and the easy-to-follow lab notebook offers guidance, fun quizzes, and lots of space to jot down notes and observations.
Highlights:
Recommended age: 8-12

Packed with authentic science and lab gear – serious stuff that makes her feel she is actually

being

a scientist, not just playing at being one.

Over 19 colorful, surprising, and engaging chemistry experiments

Won a Parents' Choice Gold Award and a Dr. Toy Best Educational Toys Award
Best electronic kit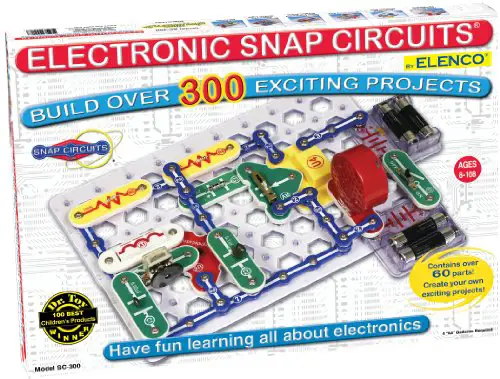 Our opinion
Elenco award-winning snap circuit kits enable little tinkerers to work their magic. These colorful, durable circuits have been adopted by educators around the world. The full-color guide offers a long list of kid-approved electronic experiments, none of which require special tools or advanced expertise. Young children can build everything from a burglar alarm to an AM radio. Unlike past electronic kits, Snap Circuits are fun, safe, and frustration-free.
With over 305 projects, there's no shortage of rainy day activities in this pack
Highlights:
Recommended age: 8 and up
Enjoy over 305 electronic projects in one 60-piece kit
Enjoy hands-on electronic development without tools or live wires
Comes with a full-color manual
Build functional creations or play electronic games with friends
Fosters STEM skills
Best botany kit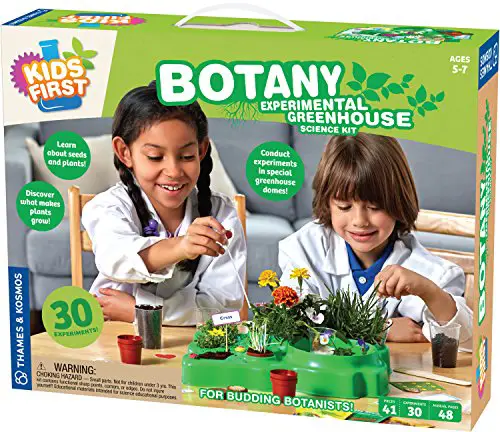 Our opinion
Usable by kids as young as 5, the Botany Experimental Greenhouse Kit is great for teaching children how plants grow. The kit comes with instructions for building an automatic watering system, and the innovative viewing domes are guaranteed to fire the imagination of budding biologists.
Simple enough for even little ones to enjoy, the botany greenhouse kit is also sophisticated enough that older children can use it to learn more about capillary action and the different parts of plants.
Highlights:
Recommended age: 5 to 7
Getting their hands "dirty" is super fun for all kids
Constructing the domes and watering system is a great learning experience
Included instruction book contains 30 experiments
Comes complete with seeds, dirt, and everything you need to get started
The best science kits for tweens
Best for Tweens
Our opinion
The CHEM C300 is the flagship chemistry set by STEM giants, Thames & Kosmos. It provides the closest thing to real lab equipment that older kids can affordably get their hands on and use at home.
This ultimate chemistry set will allow teens to perform over 333 experiments guided by a 192-page full-color science manual. It is sophisticated and advanced while engaging and fun to follow.
Highlights:
Recommended age: 12+
This is a serious set that is perfect for high-schoolers with an interest in chemistry

Will encourage them in this subject while instilling them with true scientific method as they prepare for an exciting career in science.
Best microscopy kit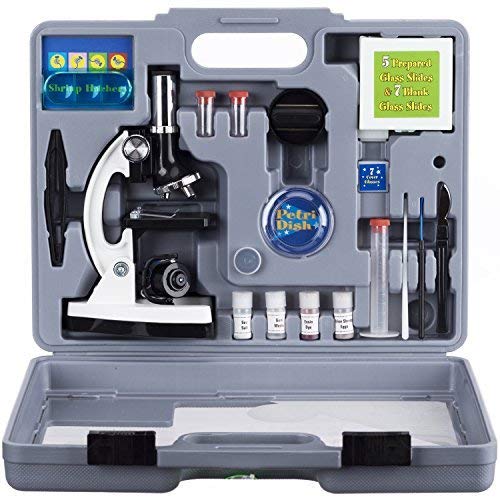 Our opinion
This award-winning microscope has everything "tween" scientists need while learning more about the hidden world around them.
With a powerful lens providing up to 1200x magnification, fully adjustable focus, and 52-piece accessory kit, this microscope pack is a truly powerful instrument. The hard-sided carrying case is perfect for field investigations, and the built-in color filter wheel, LED lights, and illumination mirrors make this a real microscope and not simply a toy.
Highlights:
Recommended age: 8-12
The LED light uses 2 AA batteries (not included) making it easy to conduct mobile experiments
Kit comes with shrimp eggs and a hatchery for learning about biology
Accessories include tweezers, petri dish, slides, vials, and everything else you'll need for a home science lab
Uses real glass lenses and slides
Powerful enough to see individual cells and nuclei
Best Geology Kit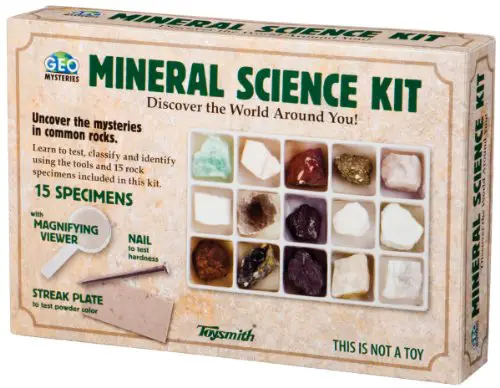 Our opinion
If your child thinks science rocks, they'll be excited to dig into the 15 mineral specimens included in this Mineral Science kit. It's a great set for any young science enthusiast who wants to engage in some close-up exploration of geology and mineralogy. Safe for kids aged 8 and up, this kit is no toy but a true science kit that teaches young people how to classify, identify, and test different kinds of minerals.
Highlights:
Recommended age: 8 to 15+
Comes with a magnifier, streak plate, and nail for identifying and testing minerals
Kit comes with igneus, sedimentary, and metamorphic minerals
Comes with a sorting tray
Ideal for homeschool learning and self-study
Included guidebook explains how minerals are formed along with other insightful information
Best Astronautical Kit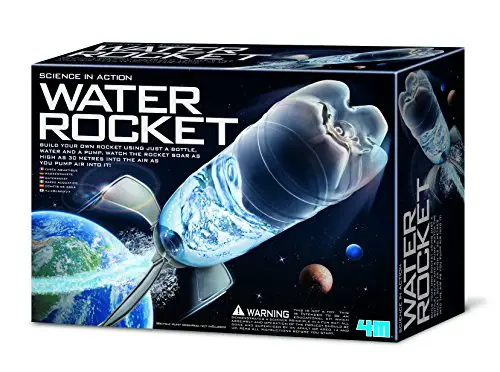 Our opinion
There's a reason why "rocket science" is a synonym for difficult science, but this amazing kit is perfect for young adults curious about space flight and advanced physics.
Safe enough for kids 13 and up to use without parental supervision, this rocket kit uses water pressure to launch rockets, built by kids themselves, up to 90 feet in the air. The instruction book details how to convert a two-liter plastic bottle into a fully functioning water-powered rocket.
Highlights:
Recommended age: 5 to 18+
Kit includes bottle, fins, and instructions
You'll need a bicycle pump (not included) to launch your creation
Excellent for learning about flight dynamics and the principles of physics
Perfect for group fun and learning
Great for getting kids outdoors
Best outdoor stem kit
Our opinion
The WhizBuilders science kit has fun options for both indoor and outdoor play. It comes with 12 animal figures that are not only great for pretend play, but for expanding preschool-age vocabulary and learning to identify animals and colors.
Our favorite part, however, is the exploration kit that includes a working compass, hand-crank flashlight, magnifying glass, and more. The set also includes a dapper Booie hat that's as breathable as it is fun to wear.
This STEM set will keep your kiddo moving, educate them on how to literally navigate the world, and teach them the beauty of curiosity.
Highlights:
Recommended age: 3 years and up

Includes working binoculars that magnify up to 5x and have rubber ringed eyepieces

Easy for trips as everything fits into a carrying case

Encourages both pretend play and practical learning

Offers many group-play opportunities and helps foster bonding between child and parent
Best coding kit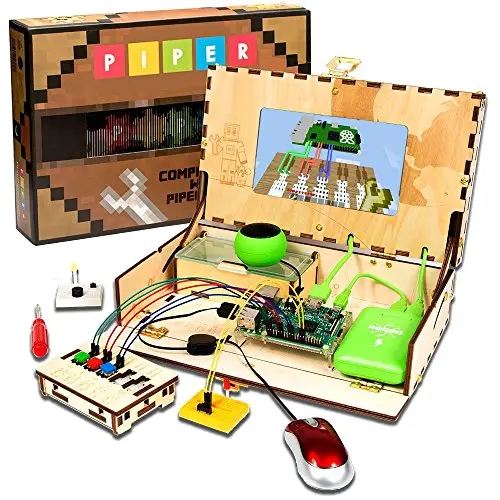 Our opinion
The Piper Minecraft Raspberry Pi Kit (check price on eBay) is a multi award-winning STEM toy that represents all that is positive about technology. It is incredibly fun, engaging, and interactive, blurring the boundary between learning and play – just the way it should be!
The Piper kit is housed in a gorgeous wooden box with an inbuilt LCD screen. Children will follow a well planned "storybook", taking them step-by-step through an assembly of various components until they have created a genuine working computer.
And that's just the start! Then the awesome coding lessons begin, and soon they'll be programming their own games and even using their computer to connect to the internet.
Highlights:
Recommended age: 7 – 18+

Build your own computer from start to finish

No technical experience required

Very "hands on", including games, puzzles, and DIY apps

Leaves kids feeling more confident with technology
Best biology kit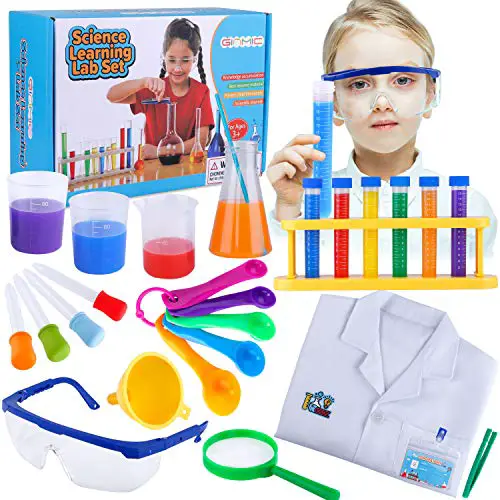 Our opinion
All science must start with the right tools to get the job done, which is what the GINMIC Kids Science Experiment Kit has to offer.
This playset features plastic lab components such as test tubes, measuring spoons, beakers and goggles, as well as a realistic lab coat that doubles as an accessory for pretend play and costumes. While no supplies for experiments are included with this kit, it's great for safe, basic biology and chemistry experiments that can be carried out with components from your home kitchen.
The customizable ID badge is a cool final touch, as kids can decorate it as desired and clip it to their lab coat as they experiment.
Highlights:
Recommended age: 6 to 12
Non-toxic and BPA free
27-piece chemistry lab kit
Parents can learn along with their children
Comes with dress-up lab gear
Best spy kit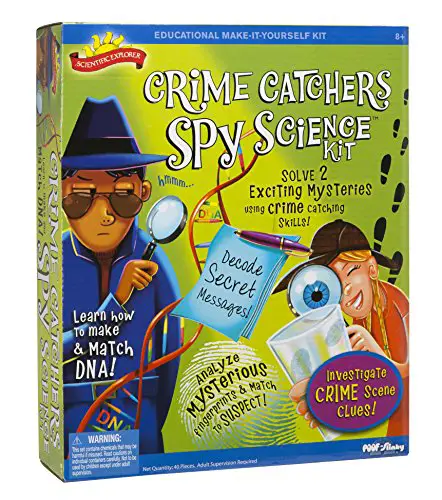 Our opinion
Foster your tween's inner crime-solving skills with the Crime Catchers Spy Science Kit. Watch as your youngster matches fingerprints, examines evidence, decodes secret messages, and identifies DNA. There are over eight hands-on activities in this mini crime lab. It also comes with a slew of child-friendly forensic supplies, including pH strips, decoder glasses, test tubes, and more.
Don't sweat, parents… This kit comes with 12 prefabricated suspects. Let your child hone in on the real criminal and hand them the book. There's nothing like a little science-backed justice to bring the whole family together!
Trench coat and fake mustache not included!
Highlights:
Recommended age: 8-15
Solve two mysteries using real forensic science
Decode secret messages
Over eight hands-on activities
Includes suspect cards, decoders, and forensic supplies
Best paleontology kit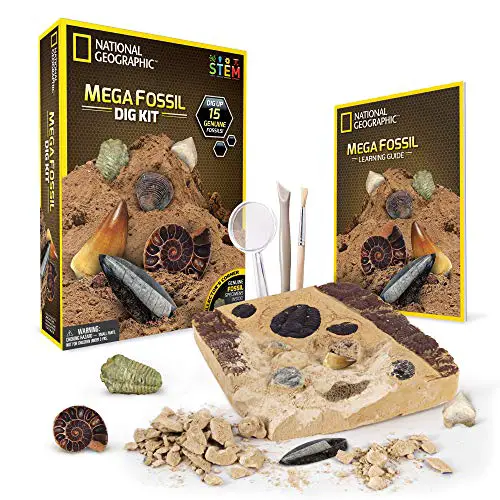 Our opinion
Light the fire inside your budding paleontologist with this impressive National Geographic Mega Fossil Dig Kit. Your tween will use authentic tools, including a chisel, brush, and magnifying glass, to reveal 15 genuine fossils hidden inside an earthen brick.
There are hours of adventure buried in this dig kit. A full-color learning guide offers in-depth details for curious young minds. Introduce your tween to the magic of this 126-year-old organization. They'll walk away with a pocket of archeological wonders, including a dino bone, shark tooth, and sliced ammonite.
Highlights:
Recommend age: 8+

Includes 15 authentic fossils

Comes with a full-color 16-page learning guide

Children can take part in their own archeological dig

Hands-on activity fosters first-hand exploration

Made by a revered research organization and backed by a 100% guarantee
The best science kits for teens
Best for teens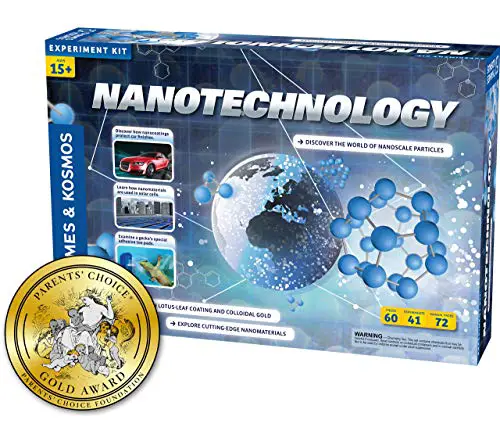 Our opinion
Winnie the Pooh once said, "Sometimes the small things take up the most room in your heart." When you break the world into nanoparticles, this couldn't be truer. Let your teen explore the growing field of nanotechnology by indulging in 41 hands-on activities.
Nanoscale science is one of the most promising fields of research, offering everything from medical to transportation innovations. This kit comes with 60 accessories, including a colloidal gold and a laser, to perform more than 40 nanoscience experiments.
The Thames & Kosmos earned a Parents' Choice Gold award.
Highlights:
Recommend age: 8+

Includes 15 authentic fossils

Comes with a full-color 16-page learning guide

Children can take part in their own archeological dig

Hands-on activity fosters first-hand exploration

Made by a revered research organization and backed by a 100% guarantee