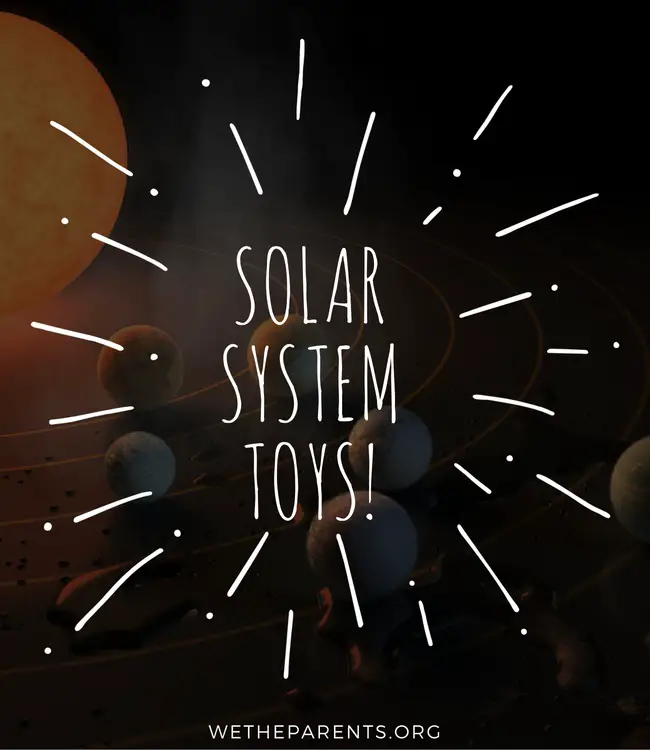 Our kids are naturally curious about the world around them. Even if you live in a big city, kids can become mindful of the moon's phases and easily learn to spot Orion's Belt.
A model solar system is a brilliant toy for learning and development. It is the perfect way to pique their interest and get them to notice the wonders of the night sky.
In this article, we've done the nerdy research to bring you a round-up of the best solar system toys on the market.
Editor's Choice
Gazing at the night stars is surely one of the most mesmerizing and awe-inspiring experiences that we humans can get. With the Discovery Kids Planetarium Projector (click here to check price), they can bring the stars into their own rooms.
This kid's projector has two modes: "Projection mode" automatically rotates three discs which project celestial bodies onto the ceiling or walls. It has solar system objects as well as galaxies and nebula. "Star mode" projects a majestic starscape onto any surface and then slowly rotates it to mimic the movement of the stars.
What we love:
Recommended for age 4 and up
Gorgeous rotating starscape;
Cordless and easy-to-use;
Great STEM toy to inspire interest in the solar system and astronomy
Watch for:
Some parents felt the build quality could be better;
You'll need to supply three of your own AA batteries;
Sadly, you can't buy extra rotating discs to expand this projector
Check Price on Amazon
Best affordable solar system toy
4M offers a couple of kits for crafty kids who enjoy painting and putting things together (or who have parents who like helping). This Solar System Planetarium mobile-making kit (check price on Amazon) is a great project that results in an awesome glow in the dark mobile that includes all our planets in their correct order. Recommended for kids over 7, if they're going to be doing most of the work on their own. If you're the big kid in the equation, as long as your little ones are past the choking hazard stage, they'll enjoy the fruits of your labor.
It works really nicely when coupled with a star projector. Together they transform a bedroom into a fully immersive space experience.
Highlights:
Suitable for age 7 and up
Perfect for family craft time (in which case, younger children can be involved)
Check Price on Amazon
Best solar system toy for young kids
This mega floor puzzle is perfect for kids as young as 3. The large, thick cardboard pieces are easy to clean and simple to assemble.
This colorful STEM puzzle (click here to check price) helps younger kids build up their hand-eye coordination while enjoying a brightly colored picture of the different things in our solar system.
Everything in the puzzle is named, and if your young ones aren't reading yet, it's a great opportunity to help them learn a few new words.
The perspective of the solar system is angled from Earth's moon, but the planets are in the correct order.
This puzzle is well-made and is likely to last long enough to pass down to younger siblings.
Highlights:
Recommended for age 3 and up
Good gift for young kids and expecting moms
Durable
Check Price on Amazon
Best solar system toy for teens
The Homestar Flux (check price on Amazon) star projector is arguably one of the best on the market, and for good reason; it comes with over 30 star-discs that project over 60,000 high definition stars onto walls and ceiling. The incredible part is that these starscapes are accurate! You and your youngsters will literally be gazing at the night sky the way it appears in reality!
The projector itself is aimed at teenagers and adults. It is well-built and looks cool and classy in a satin black finish.
Highlights:
Shooting star mode
Warm LED lighting, great for falling asleep to
Gorgeous box perfect for gifting
Super silent disc rotation
Recommended for teens and adults
Check Price on Amazon
Best solar system toy light fitting
This mobile is battery operated and runs for about half an hour before automatically shutting off. The sun provides a soft enough light to work as a nightlight, and the auto shutoff means the three C batteries required to operate it are not wasted.
The Solar System in my Room (check price on Amazon) attaches to the ceiling, and the planets rotate around the lit sun at different speeds, like they do in our galaxy. It can be operated with a remote control and has a code to use on the manufacturer's website for an audio tour of the solar system.
Highlights:
Auto-off feature
Beautiful night light with learning opportunities
Recommended for age 6 and up
Check Price on Amazon
Best solar system toy for home learning
They're not kidding about it being giant. Including eight planets, Pluto, the Sun, Earth's moon, and a repair kit, foot pump, and activity guide, you'll have everything you'll need to inflate your own solar system and have some fun (check price on Amazon).
Each inflatable has a little loop you can thread some fishing line through if you want to hang them from the ceiling, or you can keep them on the floor to let your kids move them around and play.
At under $25, you get a lot of planet for your buck. Just make sure your house is big enough to accommodate them!
Highlights:
Suitable for age 5 and up
Can be used as ceiling decor or floor play
Best solar system stocking filler
At under $10, this little kit includes 8 hand-painted planets and a sun. It comes with a tray that holds each of the planets in their correct orbit, and they are removable so kids can examine them up close and imagine their own stories.
Since the planets are on the small side, definitely keep this one away from babies and toddlers. The manufacturer recommends 4 and up.
Highlights:
Detailed and realistic models
Recommended for age 4 and up
Check Price on Amazon
Best for solar system toy for classroom learning
This set includes eight planets, Pluto, the Sun, Earth's moon, the asteroid belt, and a guide (click here to check price). Ages 5 and up can enjoy the realistically colored magnets and have fun arranging them on any surface they'll adhere to (you may find planets in unexpected locations as the young astronauts try sticking them to everything in the house).
If you have a magnetic whiteboard, they're perfect for doing lessons on the fly using the included activity guide.
These magnets are sturdy so you should get tons of playtime and learning out of them.
Highlights:
Designed for age 5 and up
Included lessons
Durable
Check Price on Amazon
If you liked our selection of solar system toys, you may also be interested in our articles on science toys and science kits for kids.