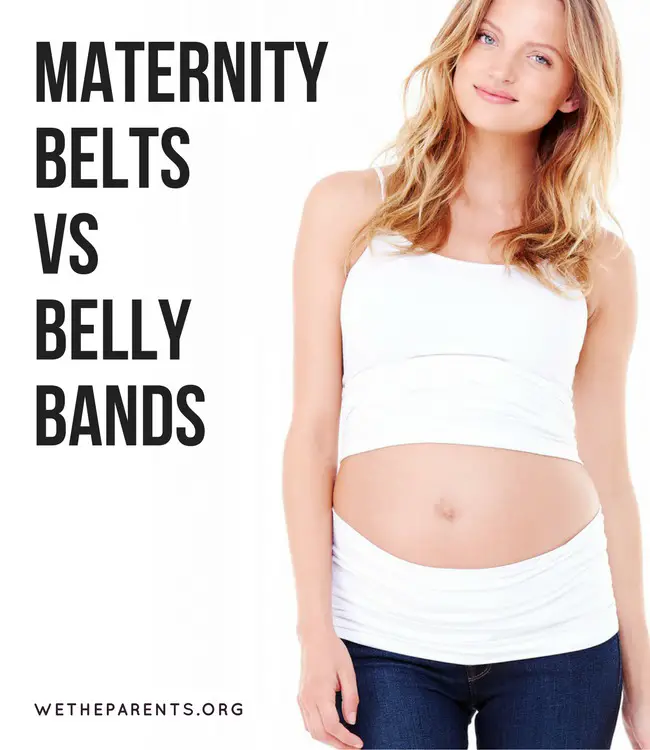 Are you at the point in your pregnancy where back pain is starting to feel like the norm? Are you wearing the same pants every day because they are the only comfortable ones? If so, you are not alone. Look, we all know that pregnancy is a beautiful thing, it will change your life and bring your adorable child into this world. But let's face it; when you are in the throes of swollen ankles, sausage fingers, sore muscles, and your growing belly is constantly fighting with your waistband, it is easy to forget the magic of carrying a child in your womb. But what can you do?
The good news is that a great belly band and a decent maternity belt will go a long way to solving your problems and relieving your agony. Belly bands and maternity belts have officially taken the market by storm, jumping onto store shelves to help alleviate your back pain and keep those pants securely where they belong, which is not around your ankles.
The 3 Best Belly Bands
If you're looking for something cute and discreet that provides enough support to keep your favorite pants in your wardrobe for as long as possible, these are some great products to get you started.
With a silicone strap to provide a secure, no-slip hold, this belly band is long enough to wear folded and still give you plenty of coverage when wearing a shirt that rides up a bit. It is machine washable so keeping it fresh is a breeze, and it will stretch effortlessly as your belly grows without losing its supportive nature. The fabric is soft against your skin, and a thorough sizing chart will provide you with the best fit possible. This seamless belly band lies flat against your skin, so you don't have to worry about unsightly bunching. It also comes in several colors, including navy blue and white, so you can work this belly band no matter what shade your shirt is.
Fabric: 84% Nylon / 16% Spandex
Check Price on Amazon
The mesh design of this product means that you won't get overheated, even if you wear it while you sleep or exercise. Available in four sizes, the support panel will stretch to accommodate a growing tummy, and the seamless design fits smoothly under clothing. Unfortunately, with only two color choices, this product doesn't provide quite as much variety as the Bellaband. However, it is machine washable, holds its shape over time, and is long enough to wear folded up for a bit of extra support.
Fabric: Nylon and Spandex blend
Check Price on Amazon
Available in black, white and gray, this belly band is another strong contender from the same people who brought us the Bellaband. It also costs a bit less money without sacrificing quality or comfort. Its silicone strap provides a no-slip hold, and it can be worn full-length or folded. Since it is seamless, you get a smooth silhouette under your clothing, and it stretches enough to be used throughout your pregnancy, as well as during your postpartum recovery. This machine washable belly band is breathable and wicks away moisture but it does tend to run big, so order accordingly.
Fabric: Unlisted
Check Price on Amazon
The 3 Best Maternity Belts
When your back is out of sorts, your day is simply not going to be productive. To keep yourself in the game of life during your pregnancy, here are some products that will take some of the stress off your body.
This product is a #1 bestseller in Amazon's Maternity Supports section and with good reason. The design keeps your weight more evenly distributed, so your hips, pelvis and back get a bit of a reprieve, while your spine gets some much-needed pressure relief. Unfortunately, this product needs to be hand washed to maintain its integrity and only comes in one size, so if your belly is larger than 46 inches, you will need to select a different brand. However, women report that this maternity belt is super breathable and, with a velcro closure, it's very easy to put on and adjust.
Fabric: Unlisted
Check Price on Amazon
Highly recommended by OBGYNs and the recipient of several "Family Choice" and "Top Choice" awards, this product has certainly earned its reputation. Its compressing design helps to stabilize your hips, and it features a back "pocket" where you can insert a cold or hot pack for extra relief. This maternity belt comes in five sizes and, with its velcro straps, it is easy to put on and adjust for comfort. In order to maintain the product's integrity, it is best to hand wash it when needed. It is also worth noting that, while moms report this as being a very comfortable maternity belt, it is not as breathable as some other products. So, while it's ideal for those chilly months, you might be a bit hot wearing this in warmer climates.
Fabric: 80% polyester / 20% lycra
Check Price on Amazon
Available in five sizes and three colors, this maternity belt certainly offers more diversity than many other brands. It also comes with an abdominal lift strap, which you can opt to use to help give the belt a bit of extra hold and stability. It has four compression panels, which are particularly helpful after you have given birth. Velcro attachments make this product easy to put on and adjust, and, despite being layered, the fabric is breathable enough to be comfortable even in warmer weather. Alas, this is another product that holds up best with hand washing but, since it's designed to grow with you during your pregnancy and beyond, and does so well, we can't complain too much.
Fabric: 60% Nylon / 40% Polyester
Check Price on Amazon
Maternity belt vs belly band: what's the difference?
OK, great, you might be thinking, but what is the difference between a maternity belt and a belly band and, for that matter, which brand should I buy? No worries, mom; we've got your back on this one.
Belly Band
Also known as a maternity band, these clever inventions are both straightforward and effective. They provide you with that much desired extra coverage, which comes in handy when your shirts start going up and your pants begin to take a bow.
Speaking of pants, belly bands will let you do what might once have seemed like the impossible; keep wearing those favorite pants. By slipping a belly band on, you can keep your pants in place even when you can't zip them up or button them closed. You can't argue with those results!
How Do I Wear It?
Luckily, all this magic doesn't require much effort on your part. Simply pull the belly band over the top of your pants, covering the button and zipper area, and it will provide enough support to keep everything where it should be. Belly bands are to be worn under your shirt to make for a smooth and discreet look.
What Should I Look For?
You will want to look for fabric that is breathable and easy to clean, like nylon or spandex. A longer belly band is a plus, as you can roll it up for extra support and concealment of those buttons and zippers.
Also, while the band should offer enough support to hold up your pants, it should never feel constricting.
Maternity Belt
If what you are looking for is a way to ease back pain, then a few maternity belts should move to the top of your shopping list. These sturdy wraps can take some of the stress off your muscles, increase circulation in the pelvic area, and some designs can even help hold up those favorite pants.
They're also great to wear if you have to be on your feet for extended periods of time and can even make recovering from a cesarean a bit more bearable.
How Do I Wear It?
Although many women prefer wearing them over their clothes, you can wear maternity belts underneath your outfit as well. Some can even help hold your pants up, functioning as a belly band.
You will want the support pad to rest on your abdomen, just above your pelvic region. After fastening the strap around your back, you will be able to adjust it to suit your comfort needs. As with belly bands, if your maternity belt feels constricting instead of supportive, you will want to readjust the fit. Remember; these products will not hurt your baby, but you are trying to ease your discomfort, not cause more.
What Should I Look For?
Many women prefer a velcro closure, as the hook-and-eye designs can be a hassle when all you want is quick relief. Look for material that is easy to clean, breathable, and won't irritate your skin if you are planning on wearing it beneath your clothes.
Which brand you ultimately pick will depend on what you personally find comfortable. To get you started, however, we've singled out some of our favorite maternity belts and belly bands.
Don't miss the rest of our 'Maternity Essentials' series
Don't be fooled into thinking that you need tons of new gadgets and gizmos just because you are pregnant. You don't. We're here to help keep things simple and focus only on the essentials that will genuinely make your pregnant life easier.
The other articles in our 'Pregnancy Essentials' series:
Maternity Pants: Choosing breathable pants with a good amount of stretch
Stretchmark Creams: Your guide to shedding those stripes
Breast Pumps: Ultimate breast pump guide and reviews
Conclusion
While there is not yet a way to bypass all the unpleasantness that can come with growing a little person inside your womb, you can at least find ways to minimize any discomfort you might feel. Whether you are looking for a way to keep your best pants in your wardrobe for as long as possible or searching for some much-needed pain relief, these products are quickly becoming lifesavers for a whole new generation of pregnant women. Life does not have to shrink as your belly grows and, while being pregnant might mean you have to do things slightly differently than you are used to, there is no need to have to sit on the sidelines wearing pants with an elastic waistband as you hold an ice pack against your back. So, with the help of these products, be sure to get out there and make some great memories that you can one day share with your child.