Breastfeeding in public is a highly personal experience. Some women are gung-ho and will feed their child with confidence anywhere. Other mamas prefer to cover-up and feed more discretely. Each to their own!
If you're part of the tribe who want to breastfeed in public but would rather cover-up, then finding the best nursing cover will be your secret weapon.
Here we bring you the most popular and highly recommended nursing covers on the market; there's one for every size, situation, and budget.
Do I need a nursing cover?
Although nature has already given you all that you need to feed baby, when it happens outside of the comfort of home, you might want a bit of discretion to rely on. This is where your nursing cover comes in. Without one, you may find yourself ducking into an unpleasant public restroom or other secreted corner away from friends or family in order to allow your child to nurse as they require. When you opt to use a nursing cover, however, you'll have the ability to comfortably and privately feed your baby with minimal disruption.
Types of nursing cover
It's essentially a clever piece of clothing designed exclusively for "undercover moms" who want to breastfeed their babies in public. I've seen some clever designs and materials, but most nursing covers fall into one of three categories:
Aprons – These resemble the covers cooks wear while shuttling pies out of ovens at pizzerias. A strap fastens around the neck so baby and "the girls" are hidden away. They a great for seeing baby feed and they are nice and airy. The downside is that they are less "private" than other options if your little one is old enough to be grabbing at things.
Infinity scarf – These look just like the fashion accessory, but with more fabric. Fashion writers call this cover style "utilitarian and attractive". They are generally light and breathable and mean you won't need to carry an extra item of clothing around. They usually do not offer a good view of baby feeding, so perhaps not for beginners.
Poncho – The third is a poncho, the 1970's cover-up resurrected by Martha Stewart when she knitted them for jail mates. Ponchos offer excellent coverage and they're easy to slip on and off fast. Whilst a regular poncho may work, they are usually too hot and heavy, whereas nursing ponchos aren't. These are great for grabby little ones as they are harder to pull off when in use.
Picking the best nursing cover
Consider these features when buying:
Material: A lightweight, opaque, breathable fabric like muslin offers you the privacy you're looking for in a nursing cover. It's also easy to machine-wash, which is extremely important when it comes to baby gear like nursing covers and wraps; who wants to spend all day hand-washing or drop money on a dry cleaner?
Multi-use: Some nursing covers serve a dual purpose, and can also be used as car seat covers and shopping cart covers. The extra warmth and protection they offer come in handy in the car seat, where it's not safe for them to wear jackets or bulky layers. In a shopping cart, a seat cover can protect them from bacteria and germs.
Coverage: How much coverage you desire will play a part in your choice Aprons are a popular first-time pick, because they allow you to see baby easily, but that easy sight means less overall coverage. Infinity scarves offer a good balance between privacy and fashion, concealing nursing while remaining easy and breathable to wear. Ponchos offer the most coverage, but some mothers and babies may find them a bit too restrictive and hot depending on their construction.
Comfort (for you and your baby): Both you and your baby may find some covers more comfortable than others. Aprons can feel uncomfortable or not private when mom has a large bustline, and some moms and babies don't prefer full coverage picks like ponchos which can be hot and make it hard to see baby.
Style: If staying fashion-focused is key, an infinity scarf cover is a great way to keep your personal style while also enjoying a discreet nursing cover.
Our picks of the best nursing covers for breastfeeding
Best Nursing Cover for Summer: Bebe AU Lait Nursing Cover
This adorable product is light and breezy, making it the best nursing cover for those long and sticky summer days. Made of 100-percent washable cotton, this trendy cover features the flex bib opening that's so popular with moms. It's easy to maintain eye contact with your hungry dude and he enjoys lots of airflow, too.
The neck strap holds the apron in place while baby feeds or you use your breast pump. That stated, this pricier cover is the same size as the aforementioned Hooter Hider: 36-inches by 26-inches.
Find two internal pockets fabricated of terry cloth stitched into this apron cover and the absorbent cotton makes a handy cleaning tool. It also features an Interlocking Cap System that safeguards baby from contact with that bib-top boning. And the company has won awards for its unique designs since 2004.
What we love:
Terrycloth-bound corners are soft and handy for baby burps.
Inner terry pockets hold essentials like pacifiers and pads.
The boned opening is large enough for baby to keep an eye on you.
Roll up to carry, using very little diaper bag space.
Watch out for:
Though the cotton fabric is pre-washed, it could shrink.
Not every mom finds the shape of the opening to be efficient.
If you're a plus size, be sure there's enough fabric to cover you before going out.
Boning that creates a rigid neckline could poke out of the fabric.
Check Price on Amazon
This Hooter Hiders cotton nursing apron features a patented Ridi-flex neckline so you two aren't stifled under a hot, thick covering while nursing. Sneak a peek into the relaxed, bow-shaped neckline to confirm your suspicion that he's playing rather than dining!
Have I told you I'm crazy about pockets? This nursing cover has two of them and they're hidden inside so I can stash items I don't want on display-like breast pads and tissues. The spacious cover is also great for twin moms, offering plenty of room for two little ones.
Appreciated by women who begin their pregnancies wearing large cup sizes, this generously-sized, apron-style nursing cover weighs less than 3 ounces and comes with a matching pouch so you can toss it into your purse.
What we love:
Essentially, it's our top pick because it rocks style and affordability
Vibrant patterns and 100-percent cotton.
The patented boning area is wide enough to keep tabs on baby.
A good pick for moms of twins needing extra coverage.
Watch out for:
There may be too much material for you to wrangle.
May not wrap completely around you if you're plus size.
That stiff neckline on this breastfeeding cover can be annoying.
Check Price on Bed Bath & Beyond
Best Nursing Poncho: EN Babies 360 Degree Nursing Cover
There comes a time in every nursing mom's life when spending a little more for a product that is unique justifies extending a budget. If your bottom line is as flexible as your little guy's bottom, the EN Babies 360-degree nursing cover is worth a second look-and perhaps a third.
What's behind this full coverage nursing cover? The length and width you crave and just enough spandex (5-percent) to give this cotton top the stretch you require. The super-soft fabric breathes to cool the body, but nobody is going to get a peep at your assets because the textile isn't transparent, even in the sun.
The shape is familiar: You get the look of a trendy poncho in a neutral color embellished with delicate stripes. The edges of this nursing cover are reinforced along the hemlines to hold tight, no matter how much baby kicks with delight as she takes her milk break.
An ideal birthday or all occasion gift for a mom or mom-to-be, this EN poncho slides on over the head so you don't have to fuss with ties, neck strap adjustments or fasteners. Premium packaging and a storage pouch add to this cover's high-end look that's perpetually ready to travel.
What we love:
Fashion and function meet quality and style.
There's just enough Spandex in the weave to add strength and flex.
Best for simplicity: no adjustments needed to don this poncho in a flash.
EN Babies customer service personnel are fastidious about follow up.
Watch out for:
Some moms found the fabric to be hot, not breathable.
You can machine wash these nursing covers, but ONLY in cold water.
Tall moms may find this breastfeeding cover to be on the short side.
Switching baby from one breast to the other can be problematic.
Check Price on Amazon
Best With Car Seat Cover: Qaqadue Nursing Shawl
Stretchy and versatile, this striped topper looks so much like a trendy, mainstream infinity scarf, I had to look twice. This scarf morphs into an adaptable cradle that offers so much coverage, you may decide to get rid of your apron-style covers and make this your go-to feeding cover when you're out and about.
Use it as a car seat cover, shopping cart cover, or stroller to keep stuff that makes baby miserable from assaulting her: bugs, sun, wind, airborne pollen and prying eyes. It can also protect her from reaching out and touching germs on dirty surfaces.
For a few dollars more than the Bebe au Lait nest, you enjoy breathable fabric construction that provides ventilation, especially when you're sweating in the summer. Fold it up after machine washing, pop it into the matching pouch and boogie.
Get a 30-day risk-free satisfaction guarantee with this nursing cover that's incentive enough to consider buying it; especially if you haven't tried this style of cover before and you want to take it out for a test drive before you commit.
What we love:
It doubles as a car seat cover, high chair cover and more.
The drawstring cover carry bag is much appreciated.
This cover folds down so small, you can toss it into your purse.
Lightweight, breathable and oh so comfy.
Machine washable to keep it fresh and clean.
Watch out for:
Could reveal every lump and bump.
This style/design makes it hard to keep tabs on your child.
Some moms complained that it arrived smelling of unpleasant chemicals applied at the factory.
Label-free, so you won't find care instructions attached.
Check Price on Amazon
Best Plus Size Nursing Cover: LK Baby Extra Wide Nursing Cover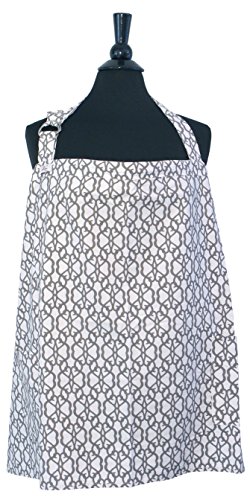 First, we've checked the size of these nursing covers and there's only ½-inch difference in width and 1-inch difference in length between this LK product and other apron styles featured in this review. If you're a plus-size mama, this little bit of extra room can make a big difference. The 100% cotton cover is inexpensive, so trying out a new style won't break the bank, and it offers the coverage needed to feed and pump discreetly in public.
Despite the price, this apron holds its own compared to competitors. You get the same bone-infused channel at the top so you and baby can keep tabs on each other. And, this company gets props for being particular about the cotton they use: fabric used to make this apron is AZO-free.
The two pockets on this apron cover are fastened to the outside rather than inside. Customize this apron to fit your neck via stainless-steel D-rings. When you're done feeding, tuck the nursing cover into its travel bag, take it home and toss it into the washer so it's ready to go when you are.
What we love:
The drawstring carry bag is an extra perk.
Fabric is lightweight and boning lets you a peek at baby while you nurse.
Neck strap is adjustable, so you get the amount of slack you seek.
Washes and dries fast so it's ready for your next outing.
Watch out for:
That extra 1-1/2 inch of fabric may not provide the coverage you crave.
Shy moms say the fabric on these nursing covers is embarrassingly transparent!
You may not be able to return this apron if you don't like it.
Check Price on Amazon
Best Affordable Nursing Cover: Kiddo Care Infinity Nursing Cover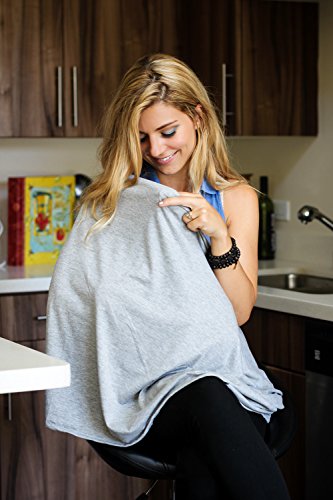 Find this versatile cover scarf in the dictionary under the word affordable. If you like solid grey, you can buy it for less than a fancy coffee; add a few bucks for the patterned version.
Like the other affordable Qaqadue scarf, this version is fashioned of a lightweight cotton blend that's attractive and opaque, thus it's a fashion accessory as well as camouflage for your baby café.
Because this product is unstructured, you can do lots of things with it besides wearing it as a poncho. Use it as baby blanket, picnic cloth, sunshade or reserve it for use when your breasts or pump are on duty.
Kiddo Care ups the ante by offering you a refund within 30 days of purchase and if you find a defect in the material or construction, they claim they will replace the scarf for life.
What we love:
The grey color couldn't be more compatible with wardrobes.
Because it's not 100-percent cotton, it's unlikely to shrink.
Extremely versatile – it even morphs into a sunshade in a pinch.
The fabric protects baby from UV rays.
Watch out for:
Best pack clasps in your diaper bag just in case too much skin is revealed.
You get what you pay for: a square of hemmed jersey.
Some moms find the textile scratchy and annoying.
Fabric may not be as stretchy as it first appears.
Check Price on Amazon
Best Nursing Scarf: Bebe AU Lait Muslin Nursing Scarf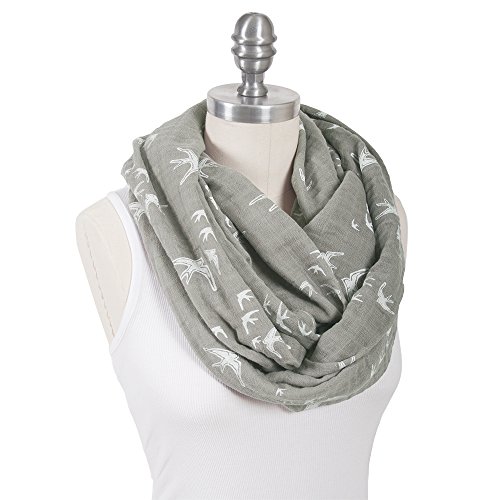 This simple muslin nursing scarf is soft against the skin and the nightingale pattern imprinted on the fabric is charming. Soft and fashion-forward, this infinity scarf is 26-inches wide. The cover circumference is 70-inches, so this machine washable product is big enough for chubby babies to nurse comfortably. Baby and mom enjoy lots of airflow courtesy of breathable muslin, yet this grade of muslin is so durable, this scarf is designed to stick around for years.
There are no harmful dyes used to weave the cloth or construct the scarves, so moms can relax knowing that the nursing scarf they've picked to protect baby really does the job: you won't find traces of heavy metals, lead or AZO dyes in the weave and the material is also Phthalate and BPA free.
You may not want to put this breastfeeding scarf away with your maternity clothing after it's retired. Chances are, you will have found a slew of uses for this nursing cover once it's no longer a safe-haven for your hungry little one!
What we love:
High-quality muslin remains an eternal favorite among moms.
So lightweight, you can roll it up and stow it in a purse pocket.
Wear it after your little one is weaned; this scarf is that fashion forward.
Use this cover to swaddle your infant when you're not breastfeeding; it's that soft!
Watch out for:
If your skin is ultra-sensitive, this type of cotton could feel scratchy.
Muslin isn't the best option for elasticity or stretch.
If you don't like conservative colors, this option isn't the best for you.
In direct light, this scarf could be a little too transparent.
Check Price on Amazon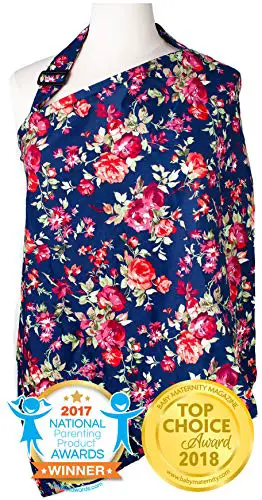 Transitioning from feeding your baby to burping them usually means having to put away your cover and fish out their burp cloth – not so with this apron-style nursing cover from Kids N' Stuff.
The charming navy blue design features a vintage floral print with splashy pink English roses. This cover is extra wide, which is a feature that comes in extra handy for plus-size mothers and those with a large bust.
The rigid neckline of this nursing apron assures that you can make eye contact with your baby while also maintaining full but breathable coverage. A fun bonus: this pick comes with its own free carrying pouch, which can also be re-purposed for other baby gear!
What we love:
The extra wide width of these nursing covers means mom and baby have one-size-fits-all privacy
This cover is breathable, so staying comfortable on hot days isn't an issue
The rigid neckline of this apron allows mom to keep baby within view at all times while remaining modest
Watch out for:
Because it's lightweight, it can flap around a bit on breezy days, so make sure it's secure to avoid an accidental Marilyn Monroe moment
In order to avoid shrinking, this breastfeeding cover should be hung to dry
Check Price on Walmart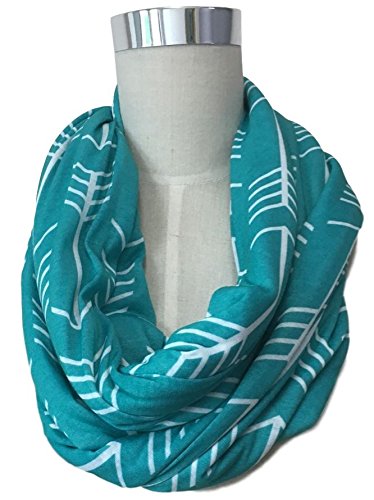 Infinity scarves are the best way to dress up your breastfeeding wardrobe, and when you can find one that doubles as a handy nursing or pumping cover, you've got a win.
Bozeman Baby Company's infinity nursing scarf is made of a soft, light jersey knit material that's comfortable and non-irritating against mom and baby's delicate skin. The loop design allows the cover up to wrap around your sides, back and front, offering you full and discreet coverage.
It's a budget pick that's available in a variety of prints that can fit any style, plus for every ten scarves the company sells, they donate one to local health departments, to the benefit of social workers and lactation consultants.
What we love:
It's both a cute infinity scarf and a breastfeeding cover up, and the variety of prints available means there's something for just about every mom's style profile
It provides full and discreet coverage while nursing, but is still breathable and soft
Bozeman Baby Company donates a nursing cover to local health departments for every ten they sell
Watch out for:
Some plus-sized moms may find the fit of this cover-up too snug
Long-waisted moms may find that the cover-up does not hang low enough for their preference
Check Price on eBay
Most Versatile Nursing Cover: Keababies Multi-Purpose Nursing Cover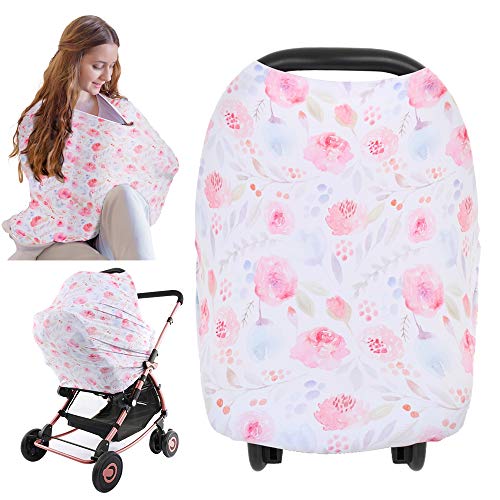 We love versatility – there's a million and one pieces of gear that get sold and passed off to new parents, but sticking with picks that are multi-use is a tremendous help in parsing down and saving space. This all-purpose fabric nursing cover from KeaBabies helps mom cover up while she's breastfeeding, but it can also be used as a car seat cover or a canopy for strollers, carriers, and even shopping carts.
When used as a chair cover, it can help keep baby warm in her car seat without wearing a jacket that can prevent safe buckling. Acting as a shopping cart cover, it can keep reaching hands away from dirty surfaces.
If that's not quite enough to do the job, it doubles as a cute infinity scarf, so it doesn't even have to take up space in the diaper bag or purse! It's ultra soft and breathable, so mom and baby stay comfortable with this extra-helpful pick.
What we love:
It's a super versatile cover. Use it as a stroller canopy, car seat cover, high chair cover, and as a shopping cart cover, or even worn as a fun infinity scarf
The material is very soft, so it feels soothing for mom and won't irritate baby's delicate skin
It's a breathable pick, so breastfeeding and/or pumping in the summer months will be a comfortable experience for everyone
Watch out for:
Depending on your car seat or carrier, it may need to be rolled back several times to fit without dangling fabric blocking baby's view
This breastfeeding cover may feel snug to plus-sized wearers
Check Price on Amazon
Using your nursing cover in public: Top tips
I won't embarrass my mother by sharing details of the day she failed to lock the door while visiting an airplane bathroom with me, swaddled in a receiving blanket. Suffice to say, that little nursing cover didn't hide much when the door opened.
Here are some tips to help you breastfeed with confidence in public, and avoid any embarrassing stories.
Know your rights – There is no law against breastfeeding in public in any state. Breastfeeding is not considered indecent exposure. Don't let anyone tell you to move on. It is illegal to eject a nursing mother from a place of business that allows children.
Practice – Test run your breastfeeding covers at home before you take your show on the road. It's a great way to get baby used to his cover and if you set up a mirror in close proximity, you can check out your form.
Be Prepared – Next up, invoke Dr. Seuss's "Oh, the Places You'll Go!" mantra when you leave home. Stash a cover-up in your diaper bag, taking into account the places you'll go and any changing weather patterns you two may encounter. Don't forget, you are NOT legally required to cover your breasts while nursing, but if (like me) you feel more comfortable feeding privately, then make sure you bring a nursing cover and wear a top that easily allows you to take your boobs in and out without any fuss.
See the funny side – However hard you try, things will not always go to plan. I have plenty of war stories to tell that involve a kicking baby, gusty winds and the day my son mastered grabbing the hem of my poncho. If you can see the funny side and laugh it off, both you and those around you will feel more comfortable.
Just go for it – Everyone has to start somewhere. I did it. You can too!
Is it possible to craft a DIY nursing cover?
Yup! Well, if you're any good at sewing that is. As a crafting project, breastfeeding covers use relatively simple sewing or knitting patterns. If you have no idea what 'patterns' are, then head over to one of the many excellent needle-crafting blogs, such as Making Crafters.
There are plenty of DIY cover tutorials online, like this one:
DIY projects intrigue me. That's how I came to sew my first (and last) nursing cover. It was a bit of a disaster. If you don't fancy trying and are on a strict budget – don't worry – the best nursing covers under $10 are actually pretty decent. True, they won't last long if you are a 'super user'. But for the odd excursion, they'll work just fine.
Our top pick is…
Our top pick is the EN Babies 360-degree Full Coverage Nursing Cover (check price on Amazon). It is great value for money, looks good, and provides the best 360-degree coverage for all situations.
Despite the hefty price, if your cupboard is as bare as Old Mother Hubbard's and you need all the nursing gear, then the Bebe au Lait Premium Muslin Nursing Cover Set with Pillow just makes sense and is more affordable than other premium brands, like Copper Pearl. Buying all three products together saves money and everything matches.