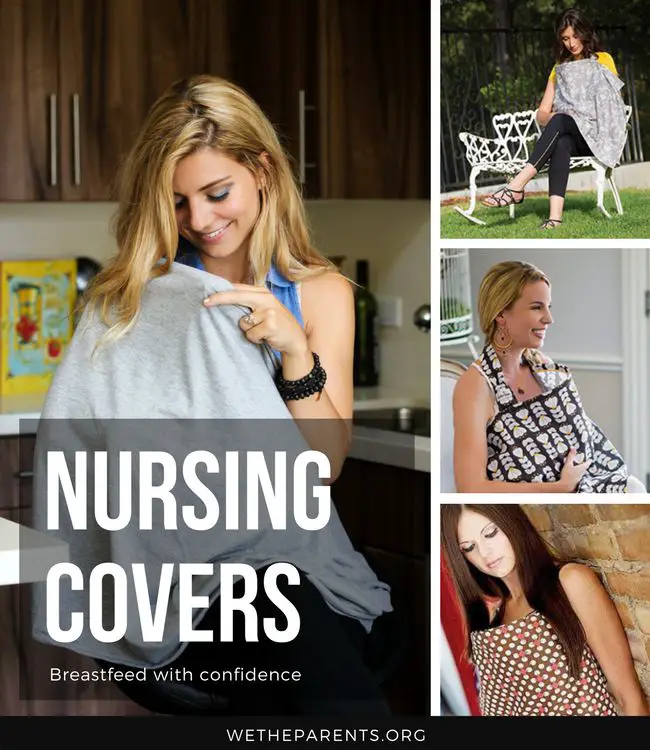 Breastfeeding in public is a highly personal experience. Some women are gung-ho and will happily whip their boobs out anywhere, anytime. Other mamas prefer to cover-up and feed more discretely. Each to their own. If you fall into the category of women who want to breastfeed in public but would rather not display your boobs for all to see, then a great nursing cover is your secret weapon.
We've spent over 20 hours sifting through customer feedback to round-up the most popular, highly recommended, and best nursing covers on the market. There's one for every size, situation, and budget.
What is a nursing cover?
It's essentially a clever piece of clothing designed exclusively for "undercover moms" who want to breastfeed their babies in public. I've seen some clever designs and materials, but most nursing covers fall into one of three categories:
Apron cover – These resemble the covers cooks wear while shuttling pies out of ovens at pizzerias. A strap fastens around the neck so baby and "the girls" are hidden away. They a great for seeing baby feed and they are nice and airy. The downside is that they are less "private" than other options.
Infinity nursing scarf – These look just like the fashion accessory, but with more fabric. Fashion writers call this cover style "utilitarian and attractive". They are generally light and breathable and mean you won't need to carry an extra item of clothing around. They usually do not offer a good view of baby feeding, so perhaps not for beginners.
Poncho cover – The third is a poncho, the 1970's cover-up resurrected by Martha Stewart when she knitted them for jail mates. Ponchos offer excellent coverage and they're easy to slip on and off fast. Whilst a regular poncho may work, they are usually to hot and heavy, whereas nursing ponchos aren't.
Tips for Breastfeed in Public
I won't embarrass my mother by sharing details of the day she failed to lock the door while visiting an airplane bathroom with me, swaddled in a receiving blanket. Suffice to say, that little nursing cover didn't hide much when the door opened.
Here are some tips to help you breastfeed with confidence in public, and avoid any embarrassing stories.
Know your rights

– There is no law against breastfeeding in public in any state. Breastfeeding is not considered indecent exposure. Don't let anyone tell you to move on. It is illegal to eject a nursing mother from a place of business which allows children.
Practice – Try undercover breastfeeding at home before you take your show on the road. It's a great way to get baby used to his cover and if you set up a mirror in close proximity, you can check out your form.
Be Prepared – Next up, invoke Dr. Seuss's "Oh, the Places You'll Go!" mantra when you leave home. Stash a cover-up in your diaper bag, taking into account the places you'll go and any changing weather patterns you two may encounter. Don't forget, you are NOT legally required to cover your breasts while nursing, but if (like me) you feel more comfortable feeding privately, then make sure you bring a nursing cover and wear a top that easily allows you to take your boobs in and out without any fuss.
See the funny side – However hard you try, things will not always go to plan. I have plenty of war stories to tell that involve a kicking baby, gusty winds and the day my son mastered grabbing the hem of my poncho. If you can see the funny side and laugh it off, both you and those around you will feel more comfortable.
Just go for it – Everyone has to start somewhere. I did it. You can too!
Best apron style cover
Best nursing cover for twins
This Hooter Hiders cotton nursing apron features a patented Ridi-flex neckline so you two aren't stifled under a hot, thick covering while nursing. Sneak a peek into the relaxed, bow-shaped neckline to confirm your suspicion that he's playing rather than dining!
Have I told you I'm crazy about pockets? This nursing cover has two of them and they're hidden inside so I can stash items I don't want on display-like breast pads and tissues-both of which I have been known to forget about when I toss this cover into the wash.
Appreciated by women who begin their pregnancies wearing large cup sizes, this generously-sized, apron-style baby cover weighs less than 2 ounces and comes with a matching pouch so you can toss it into your purse.
What we love:
Stylish and affordable.
Vibrant patterns and 100-percent cotton.
The patented boning area is wide enough to keep tabs on baby.
A good pick for moms of twins needing extra coverage.
Watch out for:
There may be too much material for you to wrangle.
May not wrap completely around you if you're a plus size.
That stiff neckline boning can be annoying.
May not be as cool and breathable as promised.
Check Price on Amazon
Best nursing cover for summer
Bebe au Lait refers to this cotton nursing cover as a nest and we find that to be a charming image. But this nest costs nearly twice as much as several covers profiled in this review, so expect to feather this style with your extra bucks.
This adorable product is made of 100-percent washable cotton and features the flex bib opening that's so popular with moms. It's easy to maintain eye contact with your hungry dude and he enjoys lots of air flow, too.
The neck strap holds the apron in place while baby feeds or you use your breast pump. That stated, this pricier cover is the same size as the aforementioned Hooter Hider: 36-inches by 26-inches.
Find two internal pockets fabricated of terry cloth stitched into this apron cover and the absorbent cotton makes a handy cleaning tool. Bebe au Lait also touts its patented Interlocking Cap System that safeguards baby from contact with that bib-top boning. And the company has won awards for its unique designs since 2004.
What we love:
Terrycloth-bound corners are soft and handy for baby burps.
Inner terry pockets hold essentials like pacifiers and pads.
The boned opening is large enough for baby to keep an eye on you.
Roll up to carry, using very little diaper bag space.
Watch out for:
Though the cotton fabric is pre-washed, it could shrink.
Not every mom finds the shape of the opening to be efficient.
If you're a plus size, be sure there's enough fabric to cover you before going out.
Boning that supplies stiffness at the neck could poke out of the fabric.
Check Price on Amazon
Best nursing/car seat cover combo
Stretchy and versatile, this striped topper looks so much like a trendy, mainstream infinity scarf, I had to look twice. This scarf morphs into an adaptable cradle that offers so much coverage, you may decide to get rid of your apron-style covers and make this your go-to feeding cover when you're out and about.
Stretch it over your car seat or stroller to keep stuff that makes baby miserable from assaulting her: bugs, sun, wind and prying eyes. We're not sure what folks at Qaqadue mean when they say this product keeps baby safe from non-airborne germs and bacteria, but it can protect her from flying pollen.
For a few dollars more than the Bebe au Lait nest, you enjoy breathable fabric construction that provides ventilation, especially when you're sweating in the summer. Fold it up after machine washing, pop it into the matching pouch and boogie. This cover also makes a super baby gift that's unlikely to be duplicated.
Get a 30-day risk-free satisfaction guarantee with this cover that's incentive enough to consider buying it; especially if you haven't tried this style of nursing cover before and you want to take it out for a test drive before you commit.
What we love:
The drawstring cover carry bag is much appreciated.
This cover folds down so small, you can toss it into your purse.
Lightweight, breathable and oh so comfy.
Machine washable to keep it fresh and clean.
Watch out for:
Could reveal every lump and bump. Keep that receipt.
This style/design makes it hard to keep tabs on baby.
May arrive smelling of unpleasant chemicals applied at the factory.
Label-free, so you won't find care instructions attached.
Check Price on Amazon
Best nursing coverage for plus-size women
First, we've checked this nursing cover size and there's only ½-inch difference in width and 1-inch difference in length between this LK product and other apron styles featured in this review. Does that matter? If my plus size friends are any indication of the importance a few inches make, you may base your buying decision on it alone.
Like the other covers profiled in this forum, the LK is 100-percent cotton and if you position it discreetly, you can feed baby or pump milk in public without attracting too much attention.
Having made mention of the minor sizing difference, at least you won't suffer buyer's remorse if you choose or receive this cover since it retails for under $10.
Despite the price, this apron holds its own compared to competitors. You get the same bone-infused channel at the top so you and baby can keep tabs on each other. And, this company gets props for being particular about the cotton they use: fabric used to make this apron is AZO-free.
The two pockets on this apron cover are fastened to the outside rather than inside. Customize this apron to fit your neck via stainless-steel D-rings. When you're done feeding, tuck the cover into its travel bag, take it home and toss it into the washer so it's ready to go when you are.
What we love:
The drawstring carry bag is an extra perk.
Fabric is lightweight and boning lets you a peek at baby while you nurse.
Neck strap is adjustable, so you get the amount of slack you seek.
Washes and dries expeditiously so it's ready for your next outing.
Watch out for:
That extra 1-1/2 inch of fabric may not provide the coverage you crave.
Factory quality control issues have turned off some moms.
Shy moms say the fabric is embarrassingly transparent!
You may not be able to return this apron if you don't like it.
Check Price on Amazon
Best affordable nursing scarf cover
Find this versatile cover scarf in the dictionary under the word affordable. If you like solid grey, you can buy it for less than $8 (at time of writing); add a few bucks for the patterned version.
Like the other affordable Qaqadue scarf, this version is fashioned of a lightweight cotton blend that's attractive and opaque, thus it's a fashion accessory as well as camouflage for your baby café.
Because this product is unstructured, you can do lots of things with it besides wearing it as a poncho. Use it as baby blanket, picnic cloth, sunshade or reserve it for use when your breasts or pump are on duty.
Kiddo Care ups the ante by offering you a refund within 30 days of purchase and if you find a defect in the material or construction, they claim they will replace the scarf for life.
Scarf tying techniques are promoted by this brand, so if the idea of hiding baby under different configurations intrigues you, master the single loop, classic double loop, asymmetric, shrug, Euro loop, broader shawl loop or twisted choker. Just don't attract too much attention for your fashion acumen or you could thwart your true mission!
What we love:
The grey color couldn't be more compatible with wardrobes.
Because it's not 100-percent cotton, it's unlikely to shrink.
Extremely versatile-it even morphs into a sunshade in a pinch.
The fabric, says the company, protects baby from UV rays.
Watch out for:
Throw clasps into your diaper bag just in case too much skin is revealed.
You get what you pay for: a square of hemmed jersey.
Some moms find the textile scratchy and annoying.
Fabric may not be as stretchy as it first appears.
Check Price on Amazon
Best infinity nursing scarf
This simple muslin nursing scarf is soft against the skin and the nightingale pattern imprinted on the fabric charming. Soft and fashion-forward, this infinity scarf is 26-inches wide. The cover circumference is 70-inches, so this machine washable product is big enough for chubby babies to nurse comfortably.
Included on the list of this Bebe au Lait nursing scarf features and benefits are perks that turn an unremarkable product into one that's pure quality. Baby and mom enjoy lots of airflow courtesy of breathable muslin, yet this grade of muslin is so durable, this scarf is designed to stick around for years.
There are no harmful dyes used to weave the cloth or construct the scarves, so moms can relax knowing that the nursing scarf they've picked to protect baby really does the job: you won't find traces of heavy metals, lead or AZO dyes in the weave and the material is also Phthalate and BPA free.
You may not want to put this scarf away with your maternity clothing after it's retired. Chances are, you will have found a slew of uses for this cover once it's no longer a safe-haven for your hungry baby!
What we love:
High-quality muslin remains an eternal favorite among moms.
So lightweight, you can roll it up and stow it in a purse pocket.
Wear it after baby is weaned; this scarf is that fashion forward.
Use this scarf to swaddle your infant when you're not nursing; it's that soft!
Watch out for:
If your skin is ultra-sensitive, this type of cotton could feel scratchy.
Muslin doesn't usually offer much elasticity or stretch.
If you don't like conservative colors, this scarf isn't for you.
In direct light, this scarf could be a little too transparent.
Check Price on Amazon
Editor's choice
Best 360-degree full coverage nursing cover
There comes a time in every nursing mom's life when spending a little more for a product that is unique justifies extending a budget. If your bottom line is as flexible as your little guy's bottom, the EN Babies 360-degree nursing cover is worth a second look-and perhaps a third.
What's behind this full-coverage product? The length and width you crave and just enough spandex (5-percent) to give this cotton top the stretch you require. The super-soft fabric breathes to cool the body, but nobody is going to get a peep at your assets because the textile isn't transparent, even in the sun.
The shape is familiar: You get the look of a trendy poncho in a neutral color embellished with delicate stripes. The edges of this nursing cover are reinforced along the hemlines to hold tight, no matter how much baby kicks with delight as she takes her milk break.
An ideal birthday or all occasion gift for a mom or mom-to-be, this EN poncho slides on over the head so you don't have to fuss with ties, neck strap adjustments or fasteners. Premium packaging and a storage pouch add to this nursing cover's high-end look that's perpetually ready to travel.
What we love:
Fashion and function meet quality and style.
There's just enough Spandex in the weave to add strength and flex.
No adjustments needed to don this poncho in a flash.
EN Babies customer service personnel are fastidious about follow up.
Watch out for:
Some moms found the fabric to be hot, not breathable.
You can machine wash, but only in cold water.
Tall moms may not find this poncho long enough.
Switching baby from one breast to the other can be problematic..
Check Price on Amazon
Most fashionable nursing cover
I am forced to share the "clever product name kudos" I gave to Hooter Hiders with Udder Covers. But does this fashionable nursing cover pass muster when it comes to practicality? It does–and the proof lies in the supply chain. A couple of websites stocking this cover were either out of stock or getting there.
This is not the most inexpensive nursing cover on our list, but it offers perks you seek and a fashionable look. The reinforced neckline across the bib-top is rigid, so you can play peek-a-boo while serving as baby's dairy bar. Stainless-steel D-rings adjust so you get a custom fit around the neck.
Machine-washable, 100-percent cotton construction plus a stylish pattern explain why this apron sells out quickly, but shopper beware: if this product doesn't delight you, the company doesn't accept returns if the package has been opened. Keep that in mind before you rip into the package.
What we love:
Offers the reinforced bib-top that allows you to see baby.
Set the strap to your liking; it slides on and off in a flash.
Rolls up for transport; it could even fit into a deep pocket.
Soft, lightweight, 100-percent cotton; can be tossed in the washer.
Watch out for:
Don't add chlorine bleach when you wash this cover.
You may find the boning at the bib-top to be wimpy, not rigid.
Like all apron styles, it may not protect you from exposure.
Material may be thinner than you prefer.
Check Price on Amazon
Best nursing poncho
I felt uncomfortable walking up to the clerk at the specialty shop I patronize and asking if I could see her Bamboobies. True, this brand name is an attention-getter, but this poncho style is delightfully "no-frills," so baby gets wrapped up for feeding in style while your Bamboobies are hidden from the world.
Concerned about whether a healthy planet is going to be around for your youngsters? I am. So, when I read the label and noticed that this product is woven of 95-percent bamboo viscose (that's another word for rayon) and 5-percent spandex (a pop of stretch), I perked up and realized the genesis of this brand name! Clever.
This poncho comes in everyone's favorite color, black, but if you love the style and want to save a few dollars, look for it online in blackberry, a color I love because it's flattering to so many skin tones.
You can employ this versatile garment as a shawl when you're not feeding baby-especially if you have an opportunity to pump and go, leaving grandma to babysit while you and Dad go on a baby-free date.
What we love:
What's not to love about sustainable bamboo textiles?
Frequent flyer moms rave about the cover-up and warmth.
Takes up little room in a diaper bag; roll it up and save even more space!
You encounter less wrinkling after it's unpacked.
Watch out for:
Even if you aren't tall, the length may not meet your standards.
You can't monitor baby in public unless you want to risk a peep show.
Large-breasted women may want to keep the receipt until they try this product on.
Avoid hot wash water and high dryer temps.
Check Price on Amazon
Best nursing scarf and pillow set
As the third Bebe au Lait product on our list, this one consolidates some of the best aspects of the nursing cover market. It's crafted of premium muslin and sewn into the popular infinity scarf configuration. You get a nursing pillow with cover, so this product defines principles of added value.
In return for this largesse, this set comes with a price tag that's equally impressive.
If you're all about coordination and you don't already own a nursing pillow and cover, add this set to your wish list. Included in the bundle are an orange (Sahara) scarf made of 100-percent premium muslin cotton that measures 70-inches by 26-inches. It's machine washable.
Item #2 in is a simple nursing pillow plucked from Bebe au Lait's collection and recommended by doctors for promoting a better latch. Designed for use on either the flat, firm surface or plush, soft side, moms can customize the angle so everyone's snug. Toss the pillow into the wash, too.
The pillow cover was designed by a nursing mom, say the folks at Bebe au Lait. Of course, it was! It comes with an adjustable waist strap and easy-release buckle. A couple of front pockets beg to be filled with the essentials I realize I need–after I've begun the process of nursing, of course!
What we love:
Three essentials for one price saves time and money.
Makes a super-welcome baby or shower gift.
Premium muslin caresses the skin like no other cotton.
The safety strap and buckle are essential for squirmy infants.
Watch out for:
If all you want is an affordable cover-up, this might be overkill.
For some women, that 26-inch depth measurement won't cut it.
The orange color (Sahara) could be a turn-off.
Already own a nursing pillow? You'll pay full price for the scarf alone.
Check Price on Amazon
But, can't I make my own DIY nursing cover collection?
Yup! Well, if you're any good at sewing that is.
There are plenty of tutorials online, like this one, or the video below…
DIY projects intrigue me. That's how I came to sew my first (and last) nursing cover. It was a bit of a disaster. If you don't fancy trying and are on a strict budget – don't worry – there are plenty of decent budget covers (ie, under $10).
More on breastfeeding: 'Nursing tank tops: Our favorites' »
Our top pick is…
Our top pick is the EN Babies 360-degree Full Coverage Nursing Cover. It is great value for money, looks good, and provides full coverage for all situation.
Despite the hefty price, if your cupboard is as bare as Old Mother Hubbard's and you need all the nursing gear, then the Bebe au Lait Premium Muslin Nursing Scarf Set with Pillow just makes sense. Buying all three products together saves money and everything matches.
Editor's Choice
EN Babies 360° Nursing Cover
The EN Babies 360° is a great looking, easy-to-use, and full-coverage nursing cover which is affordable.
View on Amazon