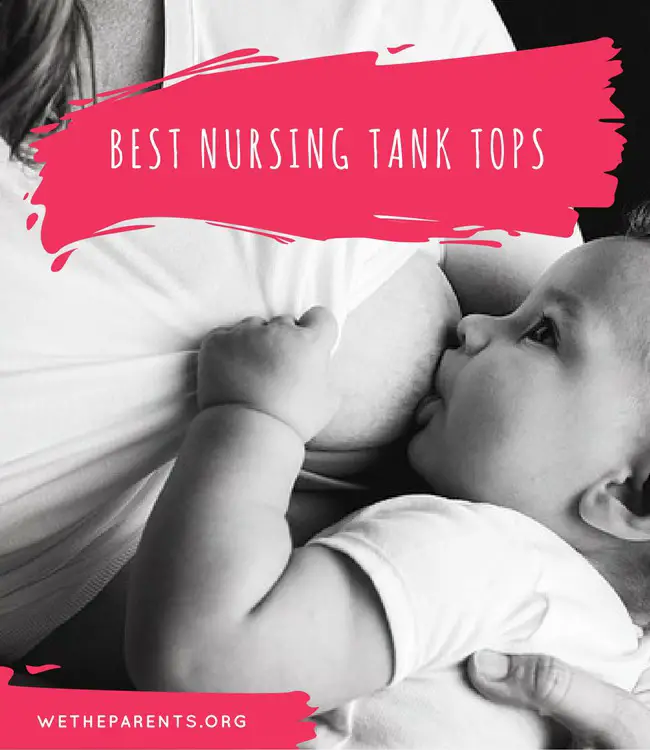 Love the idea of breastfeeding, but not too thrilled about baring that post-baby belly to the world?
Don't worry; you are not alone. Plenty of women are absolutely fine with the idea of nursing while they are out and about, but are at a loss over what to wear to keep things comfortable. That's why so many mothers are adding nursing tank tops to their wardrobes. Alas, it can be hard to find a top that won't leave you fighting a uni-boob at the park or that announces "nursing mother right here!" to the world.
So, are you doomed to live out your baby's breastfeeding days behind closed doors?
Of course not. As breastfeeding in public has become more acceptable, clothing companies have begun putting out functional clothes that look and feel great. Along with maternity pants, they are your No.1 essential pregnancy and new-mom wardrobe buy. Let's explore some of the best nursing tanks on the market in our top picks.
Best Nursing Tank tops with Clips
These are the more traditional design of nursing camis. You simply unhook the strap, pull down, and your baby's meal is served.
Good news for bustier ladies; this tank top was designed around the idea of a nursing bra, so it offers an exceptional amount of support. It also has a full cup drop-down so that you will get plenty of skin-to-skin contact as your baby nurses. Some moms have found the ruching to be a bit cumbersome when using this cami as an undershirt, but sing its praises as an outer shirt. It doesn't offer tummy control, but it's long enough to provide excellent belly coverage and can be worn when you are still pregnant.
Material: 92% Cotton / 8% Spandex
Check Price on Amazon
You will want to wait until your little one makes an appearance in the world before you pull this tank top out of your closet. On the bright side, it will give you good shape support and comes with optional bra pad inserts. You can undo the straps with one hand, but because they are so easy to unhook you will want to leave this shirt home if you are heading to the gym. It has some ruching and is long enough to be tucked in if you choose to do so. These camis come in a pack of two so, while larger sizes might seem pricey, you are in fact getting two shirts per purchase.
Material: 92%Nylon / 8%Spandex
Check Price on Amazon
This tank top has a built-in shelf-bra giving that much-needed support for bigger busted moms. However, if you have a smaller chest, you might find the clips coming undone when you don't want them to. This is also not a gym piece, so don't wear it if you are working out in a public place unless you want to become the center of attention very quickly. These camis are quite long and make great layering pieces.
Material: 92% Nylon / 8% Spandex
Check Price on Amazon
Although this tank has a built-in shelf-bra, many bigger breasted moms have found it doesn't offer the sort of support that they need. That said, if your chest is on the smaller size, this is a cute and trendy nursing cami. The fabric is soft and breathable but, and this might be the deal-breaking kind of 'but', you have to handwash this tank top. With that said, if you want a colorful cami with a bit of a fashion flair and don't mind giving it a little extra TLC, this is a nice addition to your closet.
Material: 95% Cotton / 5% Spandex
Check Price on Amazon
Some moms feel this cami has a bit more of a pajama top look, but you can wear it when you are out and about as well. It is super soft and has enough give to wear during your pregnancy. However, the shelf-bra does not offer a huge amount of support, so you will probably need to wear a nursing bra. You can undo the hooks with one hand, and the fabric won't lose its shape over repeated wearing.
Material: 95% Cotton / 5% Spandex
Check Price on Amazon
Best Non-Clip Nursing Tanks
If you're not a fan of jostling with clips when you are trying to breastfeed your baby, these shirts offer a convenient and clever alternative.
This cute cami offers a unique way to feed your baby. Simply lift the top layer up off your chest, and you are ready to go. Of course, this means you will have to wear a nursing bra for breast support, but you won't have to worry about a clip breaking or coming loose while you are out and about. If you are looking for something trendy that is not form fitting, Bearsland offers several nursing shirts, with this tank top being one of their more popular choices for summer wear.
Material: 93.1% Polyester / 6.9% Spandex
Check Price on Amazon
For your baby to reach your breast, simply pull aside one of the cups, and you are ready to go. Depending on your breast size, you might want to wear a nursing bra underneath for a bit of extra support. This cami comes in several designs and colors and includes optional inserts for the built-in bra.
Material: 92% Cotton / 8% LYCRA
Check Price on Amazon
What to Look for in a Nursing Tank Top
Since when has buying anything after having a child been as easy as buying it before having a child? Sadly, never. Since clothes are not an exception to the rule, here are some tips for picking out a great nursing tank.
What About Bras?
Most nursing tank tops will offer some sort of support for your chest. Whether that support is enough to keep you comfortable will depend on your breast size, so don't have a bra burning party just yet. If you are a very busty mama, you might find yourself needing the extra support that a nursing bra provides.
Material Matters
If you are going for a form fitting tank, you want a soft fabric that is going to provide a comfortable stretch without losing its fit. Cotton, nylon, spandex, and polyester are common materials you will come across that do the job well. As ever though, "cotton breathes best". So to avoid sweaty boobs go for the most cotton content possible. (Also, don't forget that as your clothes are going to be in contact with your baby a lot, it's a good idea to use your baby-safe laundry detergent. This will minimise the risk of eczema.)
Then there is the question of shapewear. Do you want something that will tuck that tummy in, or are you more interested in a looser fit? Since these are both things that different nursing camis will offer, be sure to double check that you are getting what you want before ordering.
Avoid the Dreaded Nip Slip
A word of wisdom; before you head to the gym to do some yoga or cycling classes, make sure that your nursing cami isn't going to fall open. Some nursing tanks don't have hooks designed for a lot of bouncing around and, well, that provides an opportunity for your spin class to become a bit awkward.
A Note About Ruching
This technique of having some fabric "bunch" can give a very cute silhouette if you are wearing your nursing tank as is. But if you are looking for a cami to wear as an undershirt, you might want to bypass this design. Go for smooth fabric that lays flat against your body to avoid a bumpy appearance that might make people wonder what is going on under your outer shirt.
Avoid "Wrinkle-Free" Clothing
Sure, we all love something that means a little less work for us. Alas, that wrinkle-free finish often comes with chemicals, like formaldehyde, added to the fabric. Since there's no need for your little one to be resting their delicate skin against something like that, steer clear of clothes that offer a wrinkle-free promise.
Don't miss the rest of our 'Maternity Essentials' series
Don't be fooled into thinking that you need tons of new gadgets and gizmos just because you are pregnant. You don't. We're here to help keep things simple and focus only on the essentials that will genuinely make your pregnant life easier.
The other articles in our 'Pregnancy Essentials' series:
Maternity Belts vs Belly Bands: The ultimate guide to belly bands & maternity belts
Stretchmark Creams: Your guide to shedding those stripes
Maternity Pants: Choosing breathable pants with a good amount of stretch
Breast Pumps: Ultimate breast pump guide and reviews
Wrapping up
As you can see, there are plenty of ways to breastfeed without having to worry about baring all when you are out in public. Since there are so many designs and styles to choose from, you won't even have to sacrifice your personal fashion sense. Have fun creating a wardrobe that works with your breastfeeding needs, not against them, so you and your baby can get out and enjoy the world.