For over a century the Girl Guides and Girl Scouts have been empowering girls and young women to "Stand Strong, Stand up and Stand Together!" At no time can this be seen more than during the annual World Thinking Day when internationally girls come together to positively impact our people and planet.
If you are a Girl Guide or Scout gearing up for your own WTD effort, then we've got some inspiration for you! Here is a list of 10 world changing and impressive accomplishments and performances by Girl Guides and Girl Scouts from around the globe.
#1 The girls showed up and insisted on joining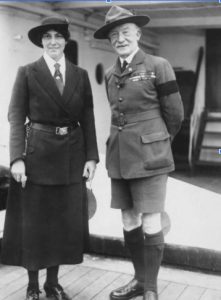 Britain's Lt. General Robert Baden-Powell (later Lord Baden-Powell) wrote a book named Scouting for Boys in 1908. He began the first Boy Scout troops that year.
The next year at the 1909 Boy Scouts Rally, a stalwart group of young ladies appeared in the middle of the encampment and declared that they were Girl Scouts. They demanded inclusion in the scouting movement. Lord Baden-Powell was impressed by these girls and, with his sister Agnes in charge, founded the Girl Guides organization in 1910.
Learn more here about the founding of Girl Guides and Girl Scouts.
#2 Early girl guides and girl scouts
Girl Guides and Girl Scouts organizations were quickly established around the world. Girl Guides sprang up in Australia, New Zealand, South Africa, Canada, Denmark, and Finland. By 1912, Ireland, Norway, and Portugal joined the Girl Guide movement.
In the United States, Juliet (Daisy) Low founded the Girl Scouts in her native Savannah, Georgia, in 1912. The World Association of Girl Guides and Girl Scouts (WAGGGS) was formed in 1920 to unite Girl Guiding and Scouting. Today, there are associations in 150 countries, a far cry from the brave few who began the adventure so long ago.
Learn more here about the earliest days of Girl Guiding and Scouting.
#3 Brave girl guides in secret service to MI5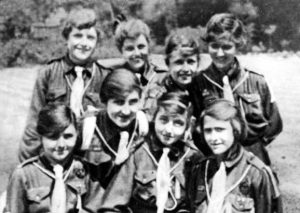 The early Girl Guides didn't just learn about housewifery, gardening, or childcare. Unknown until their centennial anniversaries in 2009, the Girl Guides organization and MI5 reviewed their First World War documents and found a fascinating link.
From 1914 until 1918, 90 Guides from 14 to 16 years old worked as undercover bike messengers for the domestic agency responsible for protecting Britain from German spies. It sounds to us today that these girls were far too young to take on such responsibilities. At the time, however, 14 was the usual school-leaving age for most teens in the world. Instead of working at a hair salon or a department store, these girls risked much to serve their country.
MI5 had tried to use Boy Scouts, but they proved too talkative and rowdy. The Girl Guides were a better fit for the job. At times, the messages were so sensitive that they were not written but given to the girls to memorize and repeat word-for-word to the recipient.
Learn more here about Girl Guides and their service during the Great War.
#4 Girl scout cookies began in home ovens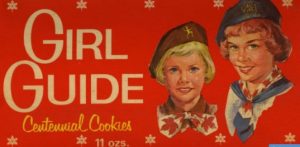 Daisies, Brownies, and Girl Scouts have long been known as a premier sales force for good, selling their Girl Scout cookies. Most people know how long the Scouts have been using the sales of cookies to fund their programs.
Within the first five years of their existence, in 1917, the Mistletoe Troop in Muskogee, Oklahoma, began selling cookies they each baked at home with their mothers. The girls sold the cookies as a service project to other kids and teachers in the high school cafeteria.
The idea caught on. The Girl Scouts' magazine, The American Girl, featured a sugar cookie recipe developed by Florence E. Neil, the Chicago director. The recipe made seven dozen cookies at an estimated cost of 26 to 36 cents. It could be sold for 25 to 35 cents per dozen, a significant profit.
Girl Scouts continued to bake their own cookies until 1936, when commercial bakeries were contracted to satisfy the ever-increasing demand. Today, customers can order the popular treats online using a few clicks on a cell phone.
Learn more here about Girl Scouts and their delicious cookies.
#5 World thinking day
In 1926, February 22 was named World Thinking Day. The date was chosen to honor the birthday of Scouting's founder Lord Robert Baden-Powell and his wife, Lady Olave. It is also known in some countries as B-P Day or Founders' Day.
Each year on this date, more than 10 million Girl Guides and Scouts take on a unique project to learn more about the world and help make it a better place for all children.
In 2021, the theme is Peacebuilding. Each level of Scouting has age and skill-level programs to study how to bring peace to a troubled world.
Learn more here about the 2021 World Thinking Day.
#6 Girl scout service during the depression
Lou Henry Hoover, American First Lady and the Honorary Girl Scout President, in 1931, asked her Girl Scouts to help families in their communities dealing with unemployment. The Scouts responded immediately with all the energy of youth. The girls raised money, held drives to collect food and clothing donations, and volunteered in schools and hospitals.
Learn more here about the service of Girl Scouts during the Great Depression.
#7 Girl guides serve britain in wwii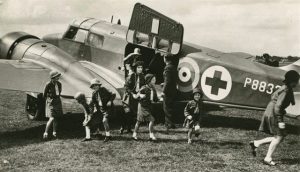 As did their mothers and aunts served in the First World War, Britain's young women gave their all during WWII. The girls helped with evacuees from the dangers of the German bombing in London.
During the war years, the 750,000 UK Guides worked on badges that would prove valuable to Britain. They earned qualifications as electricians, first-aid providers, signallers, mechanics, and telegraphers.
In 1940, Brownies raised money by cleaning shoes, growing vegetables, giving away toys and donating pocket money. With the money raised and donated they paid for two air ambulances with enough left over for 20 naval ambulances and a lifeboat.
Learn more here about the work of Girl Guides in the UK during WWII.
#8 The second world war on the USA homefront
In the USA, Girl Scouts enthusiastically supported the war effort at home. They joined their fellow citizens in selling War Bonds, planting and caring for Victory Gardens, and gathered scrap metals and fat.
The Girl Scouts began Defense Institutes to teach women the skills needed to comfort children during possible air raids. For the duration, the Girl Scouts sold calendars rather than traditional cookies to help with food rationing.
Learn more here about the role of Girl Scouts in the US during WWII.
#9 Desegregation and integration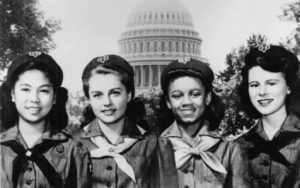 Although the early Girl Scouts in the USA were segregated, they were ahead of their time doing the hard work of integrating the Girl Scouts. There were African-American troupes, Native-American, and Mexican-American. During WWII, Japanese-American girls in the Crystal City Internment Camp in Crystal City, TX, had their own active Girl Scout Troop.
By the 1950s, the national Girl Scout organization, GSUSA, began efforts to integrate their body by race, creed, and color. In 1956, Murray Atkins Walls managed the desegregation of Camp Shantituck in Kentucky. That year, Martin Luther King called the Girl Scouts "a force for desegregation."
In 1969, the Girl Scouts implemented Action 70 to eliminate, once and for all, the scourge of prejudice. In 1975, Gloria D. Scott, of African-American heritage, was elected the Girl Scouts' national president.
Learn more here about Girl Scouts and their history in civic action.
#10 Modern scouts aim for the stars
While Girl Scouts and Girl Guides still study the practical skills of homemaking, camping, and life skills, they push farther ahead every year. Some of today's outstanding Scouts begin lifelong careers while still in their teens. Many of those have reached nearly unbelievable goals.
Rajvi, a Girl Scout from Northern California, created a system controlling groundwater use by farmers for her Gold Award. She developed soil moisture sensors and readers that help farmers conserve water and use less groundwater. On average, farmers using the system save 25 percent of monthly water use. During the California drought, these farmers were better able to stay in business. She has a provisional patent for the product.
Caitlyn was born with trisomy X, a genetic disorder affecting 1 in 1,000 girls. The condition causes developmental delay. For her project, Caitlyn raised awareness of the disorder by creating a website and launching a public service campaign that reached 2 million people.
Sakshi worked with Amnesty International and Girls Learn International to learn about gender-based violence, human trafficking, and child marriage. She created Project GREET (Girl Rights: Engage, Empower, Train). Sakshi created and distributed documentary films, a training curriculum, a website, and a YouTube playlist. Shakshi presented her materials at the United Nations 62nd Commission on the Status of Women.
Learn more here about the Girl Scouts Gold Award.
Where those girls are today
There are more than 150 million Scouting alumni in the world. These women serve in government, industry, business, education, and health care, often reaching their chosen careers' pinnacle.
Many women gave the valuable lifelong service of motherhood. The skills they learned in child development, nutrition, and child health made them better mothers and grandmothers.
Women such as Queen Elizabeth II, Ambassador Madeleine Albright, athlete Jackie Joiner-Kersey, Attorney General Janet Reno have credited Scouting with their personal and social development. Each First Lady since 1917 has served as the Honorary National President of the Girl Scouts.
Learn more here about illustrious women who began their lives as Scouts.
No matter what a girl eventually decides to dedicate her life to, Scouting can help find that interest and prepare her to fly high.
If you are interested in enrolling your daughter in a local Girl Guide or Girl Scout troop, contact your country's organization.