Even if you're completely on board with pregnancy being one of the most wonderful times of your life, there are still things that are a drag for all moms. Finding ways to solve those problems will really help you enjoy (or just survive!) the experience. Trying to get a good night's sleep with your expanding belly is one problem that almost all moms-to-be struggle with at some point.
Hormones don't help either – with insomnia, tossing and turning, and restless-legs syndrome that can accompany pregnancy at all stages. Restless legs is the feeling of pins and needles that makes you want to constantly move your legs to different positions. Having a pillow between them can be a night-saver.
Do I need a pregnancy pillow?
In a word, no. You do have the option to fight with three or four pillows or to just be plain uncomfortable. We don't recommend it, though! You are precious, mamma. Look after yourself now, because, trust me, when your little one arrives, you'll probably find that your own needs go out the window. Sad but true. So before that happens, look after yourself. Splash out on some lovely organic stretch mark cream, invest in some comfy, orthopedic preggo-shoes, and yes, in my humble opinion, get yourself a decent pregnancy pillow.
Many moms deal with back and hip pain from the extra weight of the baby pulling on the spine as they go through their day. That can make falling asleep difficult since all of that discomfort will haunt you at night. You'll probably find that you also get tired more easily, which makes being able to sleep extremely important—both for your own sanity and baby's development.
Finding a comfortable sleeping position can be a trial for a new mom. You'll likely find that you spend most of your pregnancy sleeping on your side. If you're not naturally a side sleeper, the adjustment can be awkward. You can end up spending more time fighting with a bunch of pillows than you do actually sleeping.
Types of pregnancy pillows
Pregnancy pillows are designed to cradle your body and have the right height and firmness to support your belly and back, as well as relieve pressure from your hips and soothe your spine.
There are several different types of pregnancy pillows. The most comfortable and supportive tend to be J-shaped, C-shaped, or U-shaped, and these are what are generally preferred by most moms—whether it's their first pregnancy or fifth. Then there are wedge pillows, designed to support just your belly or back. These can be good options for people on a budget or for those who travel a lot. And finally, for people who can't sleep any other way except tummy-down, there are some innovative pillows that let you do just that, though they tend to be pricey!
Now for the important part: which pillow is a good pillow? We've singled out some of our favorites to help find the one that suits you, whatever sleep position you prefer.
Our pick of the best pregnancy pillows to buy in 2021
Best full body support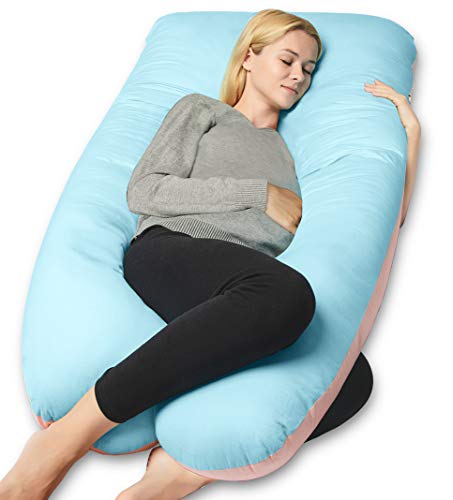 Our opinion
Queen Rose's U-shaped pillow comes in a variety of colors, including this blue and pink two-sided version. They're comfortable for moms of most heights and only take up about a third of a queen-sized bed, so if you're sleeping with a partner or pets, they should have plenty of room to share.
The cover is pure cotton and zips off for washing.
Most moms find the pillow nice and fluffy while being supportive, though some think it's too soft, while for others it's too hard. One possible remedy  is to leave it out of the packaging for a few hours and fluff it before you use it. Depending on how you like to sleep, the pillow may be short for you, with some moms  finding the cover difficult to put back on after washing.
Price: $$$
Best pregnancy wedge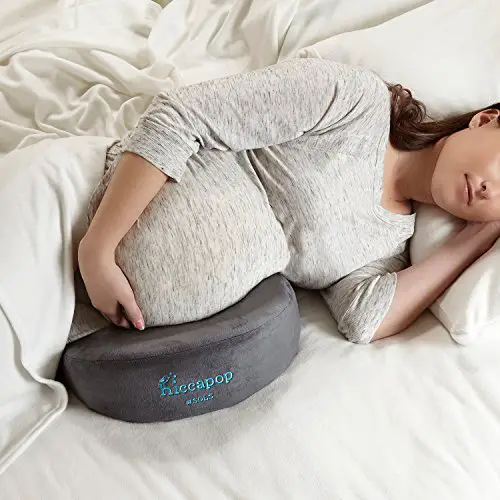 Our opinion
The Hiccapop is a wedge pillow that has soft memory foam on one side and support foam on the other side, so you can adjust your comfort level by flipping it. It can be used for your belly, knees, or as back support. The cover is very soft and easily washable,  the pillow coming with its own carrying bag, making it great for moms who travel. The foam layers are perforated to allow for better airflow, so if you're a hot sleeper, that should help keep you cooler and comfier.
It's hard to find a bad thing to say about the Hiccapop. Unless wedge pillows just aren't the right pillow to make your pregnancy comfortable, or you prefer  more colors, most moms love them .
Price: $
Best for travel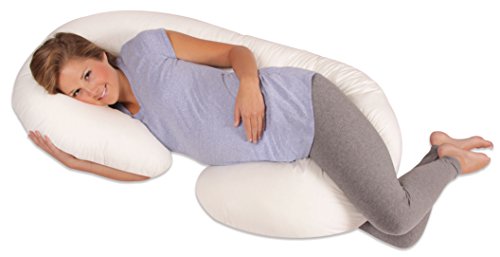 Our opinion
This C-shaped pillow comes in several different colors and has a special crook at the top to tuck your head into, making sure your neck stays supported. You can flip the pillow to sleep facing in either direction, depending on whether you need more back or belly support.  The pillow is flexible enough to accommodate both tall and short moms while providing exceptional comfort.
If you're a traveling mom, Leechco makes a special travel bag for their Snoogles. Another bonus is that it doesn't take up too much room in the bed, so it won't crowd out a partner or your pets.
The pillowcases don't have a zipper,  so one of the most common issues can be that they're frustrating to get on and off—especially in the later stages of pregnancy. If you have a partner to help wrangle your pillow for you, this may not be a concern.
Price: $$$
Best for plus size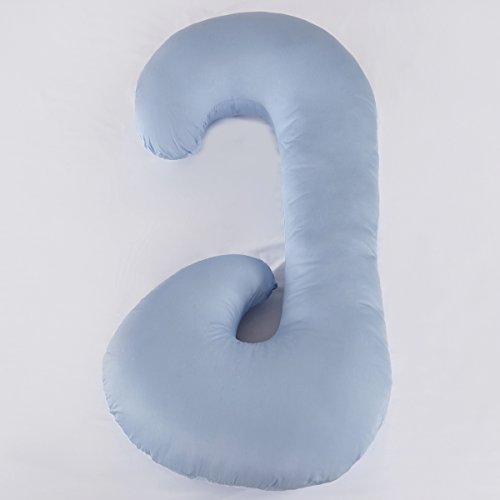 Our opinion
Available in blue and beige, the Puredown pillow has a 300-thread count, stain-resistant cotton cover that zips off to wash. The inside filling is hypoallergenic. This pillow is angled to support your head and can also tuck between your knees, helping to ease your hips and spine into a healthier, more comfortable alignment while sleeping. The convenient size and angles make it suitable for sleeping on either side of the pillow while still providing the support you need for a good rest.
Though some moms found that the filling bunched up over time, you can easily fluff it loose again. In the later months of pregnancy, you may need a partner or friend to help you fluff it up again, since the 56" length may prove tiresome for you.
Price: $$$
Best for petite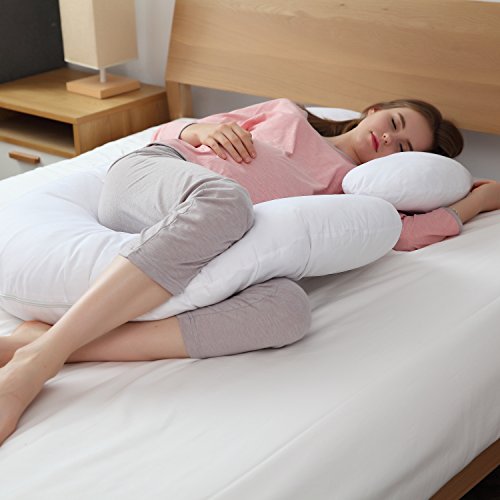 Our opinion
Cheer Collection offers J-shaped and U-shaped down-alternative pregnancy pillows made of microfiber, so you can choose your favorite shape. They have easy on and off cotton/polyester blend covers with a zipper at one end so you can keep them clean without having to deal with a long zipper that might scratch.
These pillows are so comfortable that you may find your partner sneaking naps themselves! They can also make great long-term pillows for people with back, hip, or neck pain, even when you're not pregnant. They also offer good temperature control, so you won't overheat at night.
These pillows may be a little firm for some moms but, for most, they're nice and snuggly.
.
Price: $$$
Best for back support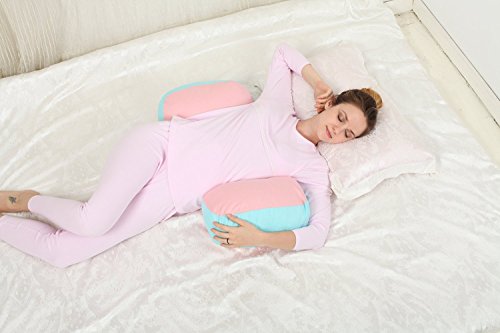 Our opinion
This pillow consists of two fluffy wedges linked by a flat cloth section you can adjust to change the level of support through changing the distance from your body each wedge rests against. The linking cloth helps keep both wedges against your body while you sleep, so you don't wake up in the middle of the night with your wedge having slid out from under your belly.
The cotton cover is washable and does not use a zipper. The inside cover is breathable, helping to keep you from overheating, while the stuffing is durable.
Since it's smaller than full-body pillows, while still offering support for both back and belly, moms with less room in the bed will appreciate the compact size, as will those who need to travel with their pillows. It also lets you use the pillow you normally sleep on (as far as your head's concerned.)
Some moms didn't think the pillow was soft enough. If you need a lot of support, that could be a good thing, but if you're looking for a squishier pillow, this one may not work for you.
Price: $$
Best multi-position support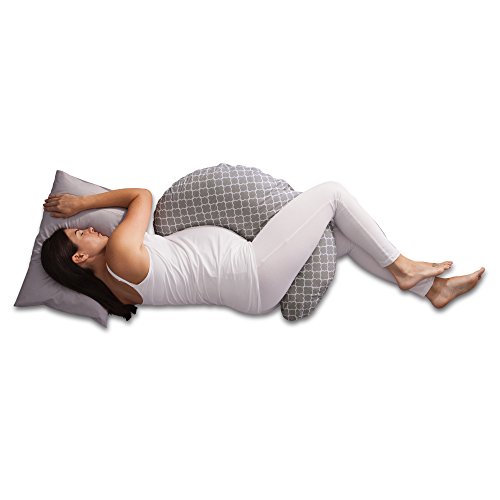 Our opinion
More than a wedge, but not quite a full body pillow, this comma-shaped pillow can be used in several different positions, depending on where you most need support. Some moms love having a couple of them to create the perfect nest for getting an excellent night's sleep. It's also small enough to make travelling with easy.
The soft jersey cover is removable, and both it and the pillow can be tossed into the wash.
If other pillows tend to be too hard, this one may be right for you. For some moms, it's a little too soft, but most really enjoy having a nice, cushy pillow to hug or tuck anywhere that aches.
Price: $$
Best for stomach sleepers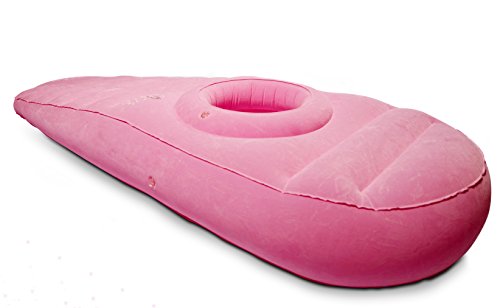 Our opinion
If you're a determined tummy sleeper who can't get used to side sleeping, Cozy Bump will enable you sleep on your belly throughout your pregnancy. It has a round cut out section to tuck your baby bump into. Some moms enjoy using it for brief periods of relief while others swear by it for their entire nightly rest. Available in blue and pink.
This is an inflatable pillow, so you'll need a pump. Being inflatable, there's always a slight chance the pillow can rupture or leak, though the manufacturer has an exchange policy that covers this.
If you're tall, you may find the pillow less comfortable than shorter moms. Some also found it uncomfortable for long periods of time.
Price: $$$$
Best for tall women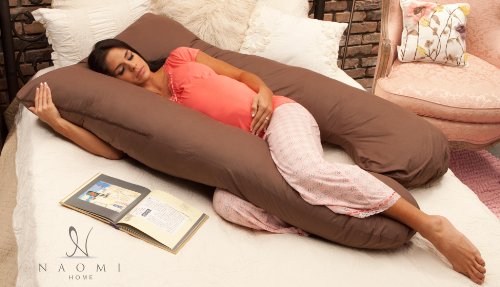 Our opinion
With gusseted neck and shoulder area, along with a pleasant array of colors, the Naomi Home Pillow is another option for stomach sleepers. It features a cut-out to rest your belly in and also an impression, designed to protect your tender breasts while lying down.
This pillow is supported by an inner curve, keeping baby elevated while mom is back-cushioned. It has a zipper to remove the cover for separate washing.
Price: $$