Long before any of us ever took the keys to the car and drove off down the street, we were learning how to ride bikes. Bikes gave us that first taste of vehicular freedom, not to mention plenty of adventures with our friends.
Since we all want our kids to have the fun experiences and independence that bikes provide, why not start teaching them early? Tricycles and training wheels have their places in childhood, but, when it comes to preparing your tot to one day ride a real bicycle, balance bikes are where it's at.
Balance bikes for toddlers develop the skills that will enable your little to peddle off on their own. Unlike tricycles or training wheels, which can function more as a crutch than a learning tool, balance bikes will teach your child to look where they are going, how to steer, coasting skills, and, of course, balance. All in all, they are simply the best way to prepare your child for that future big-kid bike.
But of all the balance bikes on the market, which one is best for your child?
Parent Guide and Buying Tips
Naturally, you will have to take multiple things into consideration before picking out a balance bike. Here are some tips to get you started:
Age and Size of Your Child
Kids between the ages 18 months and five years flourish on balance bikes. As long as your little one fits into clothes sized for 18-month-olds, you'll be able to find them an appropriately sized balance bike.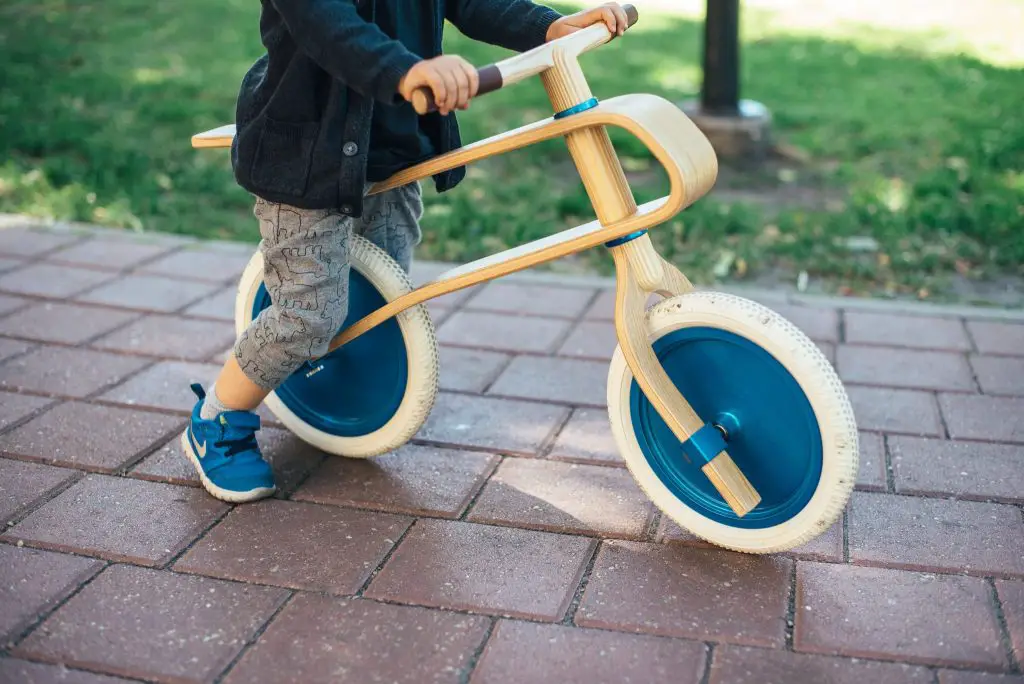 Seat Height
For the proper seat height, measure your toddler's inseam and subtract 1 to 1 1/2 inches. The number you are left with is the height you should position the seat for a comfortable reach.
Tire Sizes
Tires come in a few different sizes. While you can purchase a bike with tires as small as 10 inches, it is generally not recommended as your toddler will outgrow those types of balance bikes before you know it. Most balance bikes come with tires that are 12″ in diameter, a size considered perfect for kids ages 18 months to about five years.
Tire Material
This will significantly impact the type of ride your toddler experiences.
Air: Heavier than other tires, but provide a more cushiony ride and have better traction on all terrain types.
EVA Foam: These are lighter and less expensive, but don't provide as much of a cushion as air tires. While they have good traction for paved areas, their performance is not quite as good on smooth or all-terrain surfaces. However, since they're foam, you never have to worry about your child getting a flat tire.
Rubber: Like foam tires, you won't have to worry about flats with rubber. They also allow for slightly better traction, but lack in providing the cushion of air or foam tires.
Hard Plastic: These are perfect for indoor use, but not much else. Though they are very lightweight, they do nothing to improve the comfort of your toddler's ride and have very little traction.
Bike Weight
This is something that will figure heavily into your decision as to which balance bike is best for your toddler. As a rule of thumb, if a bike weighs more than 30% of your child's weight, they will have trouble maneuvering it. Since you want your little one to be able to zoom around with ease, make sure you don't get a bike that's too heavy for them to use.
Turning Limiters: Yay or Nay?
You will find arguments on both sides when it comes to this feature. Since a turning limiter can prevent sharp turns, some parents believe them to be a desirable addition to balance bikes. On the other side of the argument, some parents feel that when the steering on a balance bike is limited, their kids are not learning how to steer properly for when they graduate to a big kid's bike. At the end of the day, go with your gut as to what is best for your family.
Balance Bike or Scooter
We went for both. Leyla has a three wheel scooter and a balance bike. When she goes out to play, she normally chooses the scooter over the balance bike about 60/40. However, we have friends and their kids go for the balance bike over the scooter. At the end of the day, you won't know which your child will prefer until you try both. But even if they do use one more than the other, there will always be days when they want to switch things up. Having both a scooter and a balance bike keeps their options open, and the more our children want to be outside and active, the better.
Now that you know a few tips on what to look for in a toddler's balance bike, let's move on to some of our picks.
Best Metal Framed Balance Bikes
Common materials that make up balance bike frames are aluminum alloys and steel. Aluminum alloys are lightweight, rust-resistant, and tend to come with a higher price tag. Steel is more affordable but can be heavier and prone to rust if not stored properly.
Despite having a steel frame, this balance bike is exceptionally lightweight at under 7 pounds. It has EVA foam tires, rubber grips and bumpers on the handlebars, so those little hands are kept safe, and comes with two seats so the bike can grow with your child.
A well-known name in balance bikes, Strider certainly delivers comfort and ease with their sport model. It has a padded seat for extra comfort, requires no tools to adjust the height of the handlebars or seat, and has a built-in footrest.
Ages: 18 months – 5 years
Seat Heights: 11 – 19 inches (taller heights require switching to the included XL seat post)
Maximum Child Weight: 60 lbs
Check Price on Amazon
Although the price tag on this model is quite high, an obvious con, it is an intelligently designed product.
The aluminum frame is crafted to best benefit your child, with a low entry point and a long wheelbase for easy mounting and balancing. It includes a handbrake so that you can introduce your toddler to the concept of braking early in their life, as well as a turning limiter. The 12-inch wheels are rubber made and air filled, and the bike weighs just under 8 pounds.
Parents report that this bike is easy to assemble, so it won't take long before your little one is powering around the yard on this popular and well-engineered balance bike.
Ages: 18 months – 4 years
Seat Heights: 10.8 – 15.7 inches
Maximum Child Weight: 150 lbs
Check Price on Amazon
Best Wooden Balance Bikes
As more people try to shrink their carbon footprint, renewable materials are a selling point in all sorts of products and balance bikes are no exception.
The birch wood that makes up this frame is sourced from an FSC approved forest. At 10 pounds, it is slightly heavier than its metal framed counterparts, so keep that in mind.
This balance bike comes with 12-inch, air-filled rubber tires and the seat is adjustable so that the bike can grow with your child. The handlebars have handle grips for a secure hold and a rubber bumper to protect your tot's hands should they bump into anything on their sides.
Because this bike's frame is 100% birch wood, you will want to be sure to store this bike out of the elements.
Ages: 18 months – 5 years
Seat Heights: 14.8 to 17 inches
Maximum Child Weight: 65 lbs
Check Price on Amazon
Here, we have another frame made from sustainably harvested birch wood. Like the above product, you will want to keep this bike safely stored away from the elements.
The ZÜM CX has a turning limiter, which is either a pro or a con depending on which side of the argument you fall on. The tires are air-filled rubber, and the handle grips come with a bumper to protect your little one's hands.
At about 7lbs, it is a reasonably lightweight product. By taking the bike apart and reassembling it in "grown-up" mode, you have an affordable balance bike that grows with your child.
Ages: 2 – 6 years
Seat Heights: 12 – 14 inches ("low rider" mode) / 15 – 17″ ("grown-up" mode)
Maximum Child Weight: 50 lbs
Check Price on Amazon
Best Affordable Balance Bike
Although many balance bikes are on the pricey side for a family on a tight budget, there are a few affordable products that are good quality and will teach your toddler the valuable skills needed to one day ride a real bicycle.
At under $50, this product doesn't have a lot of features, but it will absolutely help teach your tot the basics of balancing.
The frame is steel, but the bike is still quite lightweight, and the handlebars have rubber grips and bumpers.
Some parents have found that the 12″ foam filled tires lack traction on certain surfaces, but the bike is easy to assemble and comes with an adjustable seat and handlebars.
Ages: 2 – 3 years
Seat Heights: 15.5 to 17.5 inches
Maximum Child Weight: Not specified
Check Price on Amazon
This balance bike had an appearance on the show Shark Tank, which is a pretty fun thing to tell your tot.
It has a built-in footrest, EVA foam tires that won't puncture, and is designed to help your child find their natural center of gravity as they learn how to balance on two wheels.
Some parents have found the paint job to be subpar and easily scratched on this product, but, if you're on a budget, this is certainly a balance bike to consider.
Ages: 2 ½ to 5 ½
Seat Heights: 14 – 17.5 inches
Maximum Child Weight: Not specified
Check Price on Amazon
Wrapping up
A good balance bike will put your toddler ahead of the game when it comes to learning how to ride a real bicycle. Beyond that, they will have a blast tooling around the yard or driveway while they learn valuable coordination skills and give you fun memories that will last a lifetime. So strap on your little one's helmet and watch them delight as they take one of their first steps towards adventure and independence.