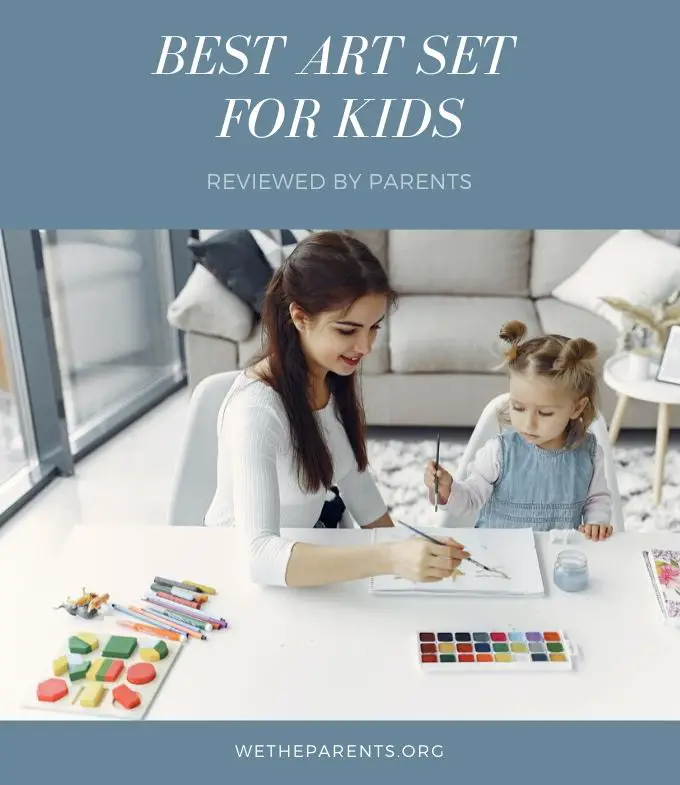 Expressing creativity through arts and crafts can offer cognitive, emotional, and motor skill boosts to our kids, and for most, time spent having fun with art supplies is something to jump at. Inspiring art sets and project kits that offer them something to do and a chance to tackle new skills tend to be favored by creative kids, but knowing what's included, how good the supplies are, and how appropriate a kit is for your kids' needs goes a long way toward informing a smart purchase.1Graham, C. (2020). Benefits of the arts in early childhood development. Early Childhood Commission.
ecc.gov If you're on the hunt for the best art set for kids, why not take a look at our buyer's guide? We've gone over some important points to consider and put together a list of great art sets and project kits worth checking out.
Buyers' Guide
What are some factors I should consider when shopping for an art set for my child?
If How well is the kit designed?:

Art sets that come in sturdy storage cases and leave room for you to separate individual components, i.e. paints in one area, crayons in another, help kids to stay organized and supplies to not get damaged or lost. Hard plastic and wooden cases are often the best for this, but even soft plastic zippering cases are better than nothing. Likewise, project kits should have sturdy components that can hold up to small mistakes; it's no fun to be unable to complete a kit because an essential part is broken.

What materials are included?:

If you're looking for the whole package in a general art set, you'll want to know what's actually included. Some stick to basics like crayons, markers, and colored pencils, while others throw in more complex mediums like watercolor paint and oil pastels as well as paper that's appropriate for different mediums. Those on the hunt for a serious art set for their child will want to look for the latter.

How much entertainment will it provide my child?:

While a general art set will include supplies that can be tagged into a number of their creative endeavors, a project kit is a bit more one-note; once it's complete, it generally offers something they can display or use, but they won't get to assemble or design it again. On the flip side, project kits are sometimes cheaper than full art sets for this reason.

Is it age-appropriate?:

Most art sets aren't designed for those under three, as they include components that can double as choking hazards for little tots. Beyond that, though, kits are still often ranked by age to indicate difficulty level and the presence of components that require caution, like pins or needles. Check out the age guideline offered by a kit to get a good idea of whether or not it's safe for your child.

Does it mesh with my child's interests?:

Whether or not your child enjoys and uses the set you choose will depend at least in part on how it plays into their interests. If drawing and coloring hold greater appeal, a simple set with crayons and markers can offer long-term entertainment value. If they're more interested in working with their hands, they might find rubber stamps or craft kits to be more entertaining, even if it's short term.

Is it appropriate for sharing?:

If you have more than one young child, family art time is a fun way to spend a rainy day or weekend evening. Kits that make room for more than one child, whether they're general or project-related, allow kids to access some of the social benefits of group art projects; these can include an increased urge to participate in group projects and an improved ability to receive constructive criticism.
How can I encourage my child's interest in arts and crafts?
While many kids naturally gravitate toward arts and crafts projects, others need a little bit more prompting. If they're not naturally inspired in any particular direction, a project kit can be a great way to direct their creative energy and help them learn new skills. For those who already love to get creative, a high-quality set of general art supplies is great for letting them unleash their imagination; if they seem to wait for your encouragement to do so, set aside some time every day or every other to sit with them and paint and draw, even if you're not terribly artistic. Your participation is far more inspirational to little ones than the quality of your work!
I'm running out of scratch paper to give my creative kiddo — what are some novel ideas for alternatives?
If your stash of printer paper is rapidly dwindling and you're feeling guilty about the impact on Mother Earth, there are a few alternative drawing and painting surfaces you can consider for upcycling purposes.
Junk mail:

If your house is anything like most, you probably receive a fair amount of junk mail and generic inserts addressed to "resident". Once any identifying information has been removed, the back of these form letters and envelopes makes a great doodling surface and practice paper for their paper bin.

Newspapers and magazines:

They're not ideal for drawing, but opaque acrylic and tempera paint looks just fine on top of words from a newspaper or magazine page. In fact, fancier paintings like these done by pro artists often fetch big bucks when sold!

Whiteboard:

A good set of washable markers, like most by Crayola, can be used on a whiteboard and wiped clean again and again; it's not paper, so you can't frame it, but it's a great alternative for kids whose budding art career is becoming a bit too prolific in terms of paper use.
Transparency rocks! When you shop through links on this page, we may earn a small commission.
Editors Choice
Recommended age: 5+
General art set or project kit: General art set
Type of project / contents of set: Crayons, short colored pencils, washable markers, paper
Includes paper: Yes
Has choking hazards: Yes
If coloring is a beloved activity in your home, having quality supplies on hand and easy to access can make it an anytime activity. That's what's offered by the Crayola Inspiration Art Case (check price on Amazon), which also has most of what they'll need for elementary school art class and has a funky, cute rainbow briefcase-style enclosure with latches and a convenient handle. 64 crayons, 40 washable markers, and 20 mini colored pencils are secured within the recessed plastic trays that are build into the case, and they're great for keeping tools organized when they're not being used and allowing kids to group them by color if desired. 15 big sheets of paper are also included with this kit — fewer than what's included with some others, but it's enough to get them started.
What We Love:
It's a great selection of high-quality Crayola art supplies, bundling crayons, markers, and colored pencils into one price
The carrying case is cute and makes organization simple, preventing loss of tools
Watch out for:
There's paper included, but not very much of it
Check Price on Amazon
Upgrade Choice
Recommended age: 5+
General art set or project kit: General art set
Type of project / contents of set: Colored pencils, oil pastels, watercolor cakes, wax crayons, mixing trays, paint brushes, pencils, sharpener, ruler, three types of paper, palette, and color wheel
Includes paper: Yes
Has choking hazards: Yes
Art supply cases have long been a popular pick that's loved by creative kids; the style beloved during our own childhoods sees a serious upgrade with this wooden art case, which features both the supplies they'll need to get started and the high-quality paper needed to create their masterpieces.
They'll be able to choose from crayons, colored pencils, oil pastels, watercolors, or drawing pencils when picking a medium, and tools like mixing trays, a palette, a sharpener, a ruler, and even a handy color wheel to guide them on their artistic journey. The inclusion of a field sketch journal as well as a quality sketch pad and watercolor paper makes this 162 Piece Wooden Art (check price on Amazon), Painting & Drawing Box especially budget-conscious, as each of those items fetches a decent price when bought independently.
What We Love:
All the tools and mediums they need to start out are housed in a high-quality latching wooden box with a handle
A field sketch journal, nice sketch pad, and watercolor paper are all included, all of which are pricey to buy separately
Check Price on Amazon
Best Budget Buy
Recommended age: 8+
General art set or project kit: Project kit
Type of project / contents of set: Spirograph components, pens, paper, guide, spyro-putty
Includes paper: Yes
Has choking hazards: Yes
The interlocking wheels and rings of a Spirograph Set (check price on Amazon) create mesmerizing geometric drawings that would be virtually impossible without it, so it's not surprising that it's been a favorite of kids since its launch in 1965. No artistic skill is actually needed to make the magic happen; enclosed spiro-putty, a mild adhesive, holds the ring to the paper, and a pen inserted into one of the holes of any of the gear-line wheels creates the axis that rotates it. Colorful pens make designs even more exciting, and the set includes both a red and a blue pen to get them started as well as a 24 page design pad and 10 page design guide to help them get started on their projects.
What We Love: Even kids who aren't naturally artistic will be able to create cool drawings they're proud of with this set
Watch Out For: It doesn't really encourage or contain supplies for traditional art, so it's a bit in left field for an art set
Check Price on Amazon
Best for younger kids
Recommended age: 3+
General art set or project kit: Project kit
Type of project / contents of set: Components for 16 small themed crafts
Includes paper: n/a
Has choking hazards: Yes
If your kiddo loves arts and crafts but needs a bit of direction or a project idea to get started, My Giant Busy Box by Alex (check price on Amazon) has the inspiration they'll need to channel their inner crafter. Included in the kit are components for creating 16 cute and simple projects, including paper bag puppets, dough animals, sticker art pics, and more.
Everything included in the kit is safe for kids over three, so it's a perfect pick for entertaining the younger set on a rainy day. Each of the projects also results in a cute craft for them to display on the fridge or in their room, so they'll have a lasting memento they can be proud of.
What We Love:
It's a perfect set for younger kids who might not get utility out of a general art kit
It provides guidance and inspiration to prompt them through craft projects that they can then keep and enjoy
Watch Out For:
Older kids may find these projects to be less interesting
Check Price on Amazon
Best starter art kit
Recommended age: 3+
General art set or project kit: General art set
Type of project / contents of set: Markers, crayons, colored pencils, washable watercolors, paint brush, safety scissors, washable glue, storage case, paper
Includes paper: Yes
Has choking hazards: Yes
When childhood art supplies come to mind, Crayola's brand isn't far behind, and for good reason; they've long excelled at offering high quality, kid-friendly art tools at a reasonable price. With this budget-friendly Ultimate Art Case With Easel (check price on Amazon), they'll have access to all the basics as stored in a durable, hard-shelled plastic carrying case which latches to secure closure and has a handle that makes toting their kit a breeze. Even cooler — the kit converts to a tabletop easel, giving them a surface to create on. Inside, they'll find a 24 pack of Crayola's famous crayons as well as 12 colored pencils, eight markers, and a watercolor tray and paintbrush. Also included are 30 multicolored sheets of paper as well as safety scissors and glue to jump start their creative projects.
What We Love:
The hard plastic case makes it easy to store their supplies in one secure place, but also makes toting them to school for art class a breeze
The case also doubles as a tabletop easel to offer new perspective while drawing or painting
Check Price on Amazon
Best for four year olds
Recommended age: 4+
General art set or project kit: Project kit
Type of project / contents of set: Fairy-themed rubber stamps, colored pencils, stamp pad, storage tray
Includes paper: No
Has choking hazards: Yes
If their regular art supplies just aren't keeping them entertained, learning to use a new but simple tool like rubber stamps can breathe new life into your little one's creative pursuits. Rubber stamps are one pick that kids often find fun, like those included in the Stamp-a-Scene Fairy Garden (check price on Amazon) by the experts at Melissa and Doug. The pieces are just the right size for little hands, and 20 unique fairy and garden-themed stamps let them create a new scene to color every time they stamp.
The kit comes with a two-toned ink pad in pink and purple, but is compatible with any stamp pad. A wooden storage tray helps to keep this fun rubber stamp set together when it's not being used, taking the worry out of keeping the small parts organized.
What We Love:
It's a little bit of a twist on their usual coloring activities, as they get to create a new scene with their stamps each time they create
Even though there's lots of small parts, they're easily organized via the included wooden tray
Watch out for:
You'll need to provide your own paper, as the set doesn't include it
There's a learning curve to rubber stamping, especially when using multiple inks; kids will need to master cleaning a stamp before using it on a new ink color in order to avoid ruining their stamp pad
Check Price on Amazon
Best for girls
Recommended age: 8+
General art set or project kit: Project kit
Type of project / contents of set: Mini magnetic tile art; includes tiles, magnets, paint, brush
Includes paper: n/a
Has choking hazards: Yes
You'll need a few good fridge magnets to hang up all that great art your little ones are creating, so why not let them design those too? It's a simple process with the Magnetic Mini Tile Art kit from 4M (check price on Amazon), which contains all the supplies they'll need to design 12 2″ x 2″ hand-painted magnets. The fridge isn't the only gallery space that's perfect for these mini-masterpieces, which also make a great addition to lockers and magnetic whiteboards.
The kit includes detailed instructions for assembling the magnets, but it's really as easy as using the included double-sided tape; parents should note that extra paintbrushes will be needed to make this a group activity, since only one is included here.
What We Love:
Cute fridge magnets add pizzazz to the kitchen, and it's a fun twist on hanging up their artwork
The magnets can also be fun for decorating their personal space, and make a cute gift for friends or family members
Watch out for:
There's only one paintbrush included in the set, so if more than one child is painting, more brushes will be needed
Check Price on Amazon
Best paint set for kids
Recommended age: 6+
General art set or project kit: Project kit
Type of project/contents of the set: Rock painting kit; 10 rocks, paint, designs, stickers, brushes
Includes paper: n/a
Has choking hazards: Yes
In the past few years, the trend of painting, hiding, and collecting colorful rocks has seen a big uptick, and we love it — not only does it motivate creative self-expression, it also encourages healthy time spent outside at play and using critical thinking skills. Everything they'll need to get started is included in the Hide & Seek Rock Painting Kit by Creativity for Kids (check price on Amazon), a line established by the art experts at Faber-Castell.
The kit includes eight waterproof shades of paint, a paintbrush, design transfers, and even tracking stickers that will let them know their rock has been found if the finder registers it online. They won't even have to go out on the hunt for their own rocks to paint when starting out, as 10 are included to get the ball rolling.
What We Love:
It's a fun way to participate in the rock painting and hunting trend, and there's even tracking stickers that allow the person who finds their rocks to make note of it online
Watch out for:
There's only one paintbrush here, and multiple will be needed if it's a group project
Check Price on Amazon
Best art kit for eight year olds
Recommended age: 4+
General art set or project kit: Project kit
Type of project / contents of set: Stencils, colored pencils, sharpener, drawing pad, pencil case, mechanical pencil, large carrying case
Includes paper: Yes
Has choking hazards: Yes
Stencils can provide a great inspirational tool for kids who are still working on steady-handed line drawing; they take some of the frustration out of creating perfect shapes and allow kids to work in their own unique design elements each time, so they stay useful.
Little dinosaur lovers will get a kick out of this big Drawing Stencil Kit (check price on Amazon), which features more than 260 different dinosaurs and related shapes that can be traced and colored with the included colored pencils or the medium of their choice. The pencils are stored in a convenient zippered case to keep them protected and organized, which itself is stored with the stencils in a soft plastic zippered carrying case with a handle.
What We Love:
There's 260+ different stencils in the kit, so the scene creation possibilities are endless
Everything is stored in a zippered plastic case to help keep things organized, and a zippered pencil case helps keeps tips sharp and the carrying case intact
Check Price on Amazon
Best for tweens
Recommended age: 10+
General art set or project kit: Project kit
Type of project/contents of set: String art, snowflake and yeti themed
Includes paper: n/a
Has choking hazards: Yes
Not all art happens with paint, marker, and crayons! Textile art is also a lot of fun, and when it takes the form of string art kits like these winter-themed picks from Craft-tastic (check price on Amazon) , it's easy enough for kids to do without a struggle. This set offers both a snowflake and an adorable yeti for kids to pin and weave with their supplies, both of which are fun to put on display during the winter months and can make cute gifts for families and friends. While these kits aren't tough to assemble, they depend on a pattern that's formed by inserting push pins into the soft canvases, so it's best to save them for kids over 10.
What We Love:
The difficulty level of this kit is low, but it still produces a cute craft that's fun to make and that they can proudly display or gift
Push pins form the pattern around which the strings are weaved, so this kit is a better pick for older kids
Check Price on Amazon
And The Winner Is…
Good quality art supplies in sturdy, highly organized storage are exactly what's needed to set kids up for a positive creative experience, and the Inspiration Art Case (check price on Amazon) has all the Crayola basics they'll need to get started. From markers to crayons to colored pencils, all their coloring and drawing basics are on hand in this briefcase-styled latching set that's ideal for back-and-forth trips to school, grandma's, or any adventure.