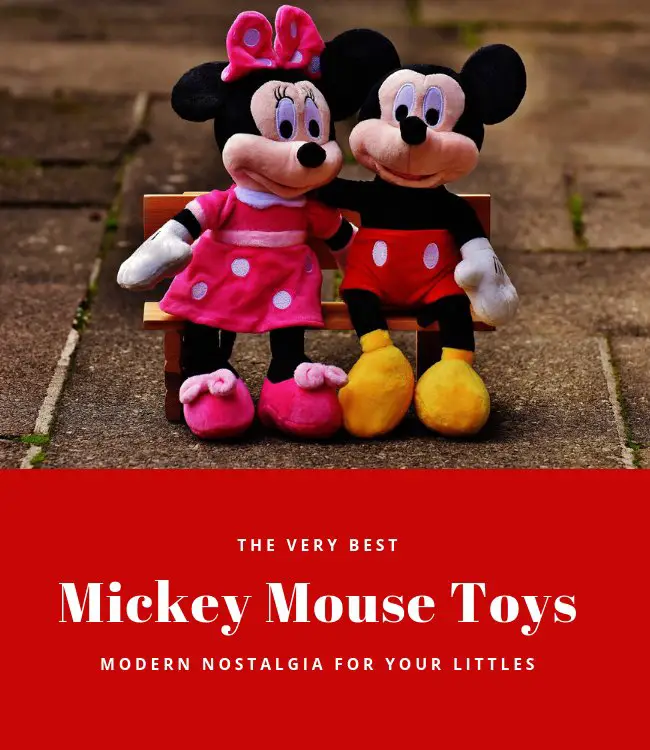 When we choose holiday gifts for the kids, Mickey Mouse toys make our list every year because no matter how old Mickey gets, toy designers find new ways to liven up our kid's lives with innovative ideas that never get old!
Here we've pulled out the best mickey mouse toys – they are modern but perfect for bringing Mickey nostalgia to the new generation.
Editor's Choice
Best Mickey Plush Doll
Between the colors and embroidered detail, this huggable Mickey plush toy (check price on Amazon) is the ideal size: 15-inches. This plush toy is an original, so kids get a genuine and authentic Mickey produced by Disney artisans.
What they'll love: Big enough for fun, this Mickey is small enough for nighttime cuddling and daytime play.
Watch out for: There's a lively debate about this toy's wash ability, so you will have to decide whether it's worth the risk if you put this Mickey into the washer.
Upgrade Choice
This Mickey Mouse Desk (check price on Amazon) checks all the right boxes. It's inexpensive, attractive and engineered for kids age 3 to 6 who weigh less than 50 pounds. Manufactured of wood and fabric designed for fast cleanups, this chair desk meets or exceeds CPSC safety standards. You don't need an engineering degree to assemble it.
What they'll love: Stow toys, art supplies and treasures in a kid-sized furnishing that's so low to the floor, getting in and out won't require help.
Watch out for: Complaints revolve around bad engineering and poor quality materials (e.g. badly aligned assembly holes, missing hardware and the wood-like sections are actually compressed cardboard).
Check Price on Amazon
Best Budget Buy
Disney Mickey Mouse My First Piano (check price on Amazon) is a perfect pick for parents who dream of their toddler becoming a child prodigy like this little genius. Start the process on the cheap by giving her "My First Piano," a Mickey Mouse starter toy priced so low, you will be able to afford the real thing down the road when she's ready to make her concert debut.
What they'll love: Musical toys build brains but your little one won't have a clue when she starts pressing keys and looking up at you in delight at each accomplishment.
Watch out for: Unless your child's hands are really tiny, you may wish to take a pass on this little "keyboard."
Check Price on Amazon
Best Mickey Mouse Clubhouse Toy
This durable, multi-featured Mickey Mouse Clubhouse toy (check price on Amazon) made of tough plastic is designed for adventurous kids ages 36 months to 7 years. Features on this 3-level garage play set include a 360-degree spinning lift, secret fold-out ramp, snap-on exhaust pipes, engine and spoiler.
What they'll love: This is several toys in one; Mickey even morphs into a race car, so you get value, too!
Watch out for: Parents worried that their child may not have developed sufficient skill to appreciate this toy may wish to hold off to avoid frustration.
Check Price on Amazon
Best Mickey Mouse Clubhouse Playset
The button-activated car launcher, slippery slide and hot air balloon zip line provide lots of variety and imaginative play. The 3-inch articulated Mickey figure and classic car (check price on Amazon) can help your child develop eye/hand coordination skills, too.
What they'll love: This product contains a lot of components that intrigue kids in a club set that's kind to the family budget.
Watch out for: This may not be the best choice for parents who worry about a toy with this many little pieces. "No matter how many times you put it back together, it comes apart," say multiple parents.
Check Price on Amazon
Best Mickey Mouse Bath Toy
This Mickey Mouse Bath Squirt toy set (check price on Amazon) is so affordable, moms looking for Christmas stocking stuffers may stock up. Toddlers love squirting water from all three colorful bath toys : Mickey, Pluto and a beach ball.
What they'll love: Each character toy is small enough for little hands but powerful enough to deliver a good squirt. These toys make great shampoo diversions.
Watch out for: Apply due diligence to drying these bath toys so you avoid mold growth, say parents who learned this lesson the hard way.
Check Price on Amazon
Best Mickey Mouse Basketball
Scoring a 10+ on the cuteness scale, Disney Baby Shoot and Store (check price on Amazon) has a terrific price point, motor skill development potential and it sticks to the wall via a suction cup.
What they'll love: Stow balls in the net between "periods" so kids over the age of 18 months can have a ball, whether they've got game in the bedroom or over the tub.
Watch out for: Parents complain about a lack of adherence to the wall, even when the suction cup is wet.
Check Price on Amazon
Best Mickey Ride-on Car
Don't let the long, unwieldy name attached to this toy confuse you; it's an awesome little vehicle (check price on Amazon) that is built of sturdy material and guaranteed to delight toddlers ages 1 to 3.
What they'll love: Kids get the full driving experience: lights, sounds, music and shifting gears that make revving sounds plus rotating propellers.
Watch out for: Prepare to take out your plastic if you choose this ride-on toy for your little adventurer.
Check Price on Amazon
Even kids raised as vegetarians love the iconic Hot Dog song so they may just sing along if you choose this interactive Mickey doll (check price on Amazon) that appeals to all of a kid's senses.
What they'll love: Dressed in a light-up tee, Mickey ready to bust a move and his song repertoire is diverse. He even plays the audio game "What's the sound?" with kids over the age of 3.
Watch out for: Malfunctions in the mechanism driving this toy may be problematic.
Check Price on Amazon
Tubular steel construction means this Mickey Mouse Club House Table Play Set (check price on Amazon) is solid enough to be passed down to siblings and the safety locking mechanism is a reassuring feature. At 70 pounds, it stands up to pounding and folds up for storage when it's not in use.
What they'll love: From tea parties to crafting fun, this practical chair and table set could become their favorite place to entertain all of their stuffed animals.
Watch out for: Both the chairs and table have the potential to injure and even sever little fingers, so plan to erect and take down this set yourself.
Check Price on Amazon
Sized to fit the average 3-year-old, send your little one off to pre-school or a play date sporting this Mickey Mouse backpack (check price on Amazon). An officially-licensed Disney Mickey Mouse carryall, the graphics are outstanding, and the size won't overwhelm the child toting this product!
What they'll love: Can a toddler have too many zippered pouches? This backpack offer lots of storage room at a price that won't impact your child's college fund!
Watch out for: Stitching and zipper problems triggering returns have been reported by parents.
Check Price on Amazon
In a perfect world, all toys would have elements of Legos and Mickey, so it's no surprise that this Disney Mickey Racer (check price on Amazon) has become a hot gift pick since it was introduced. This 15-piece brain and manual dexterity builder is the love child of two iconic brands and children who love building blocks will be highly challenged.
What they'll love: The prestige of owning Legos is not lost, even among very young kids and when the Mickey image is part of the design, it's hard to find anything kids won't love about this set.
Watch out for: We're happy to say that the only negative we can unearth is that the small pieces could wind up in noses and mouths.
Check Price on Amazon
For busy moms perpetually beleaguered by family clutter, this colorful Mickey Mouse Clubhouse multi-bin (check price on Amazon) setup may be a dream come true. Encourage kids to keep their rooms tidy by showing them how to stow stuff in these bins. Crafted of wood and fabric, you could establish life-long neatness habits in your child.
What they'll love: For little ones who like their rooms tidy and neat, having a place to stash stuff is a blessing. For those who aren't so inclined, kids learn to take pride in their rooms once they get the hang of organization.
Watch out for: The bins may not be big enough to suit your child's storage needs and some folks say construction isn't up to par.
Check Price on Amazon
Brain development on steroids, say parents who already love Melissa & Doug and Mickey Mouse learning toys (check price on Amazon). Children ages 2 and older welcome challenges and this Mickey-themed box doesn't disappoint.
What they'll love: Nine brightly-colored shapes sized to fit little fingers evoke a child's curiosity as she learns to recognize shapes, identify colors and improve her fine motor skills. She will be anxious to show off her progress.
Watch out for: Brand collaboration is a good thing, but not when quality is compromised. You may find this toy doesn't meet your material integrity standards.
Check Price on Amazon
Best Mickey Mouse Toddler Bike
Every toddler needs a first bike designed to meet his body size and when that bike pays homage to Mickey Mouse, it doesn't get any better. This 14-inch Huffy bike (check price on Amazon) has all the bells and whistles a 4- to 6-year-old could want. Sturdy steel construction and baked-on graphics are high quality.
What they'll love: While kids love learning the art of balancing thanks to their hot-looking bike, it's the independence they will most look forward to on the day those wheels come off and they're free.
Watch out for: You may have to search around to find the best price on this popular bike, and once you find it, it could be sold out or on back order.
Check Price on Amazon
Your little one will love celebrating his birthday with LEGO DUPLO Mickey and Minnie Mouse (check price on Amazon) building birthday train! It comes with a buildable cake, balloons, gifts, candles, and the two characters. This set is compatible with other LEGO DUPLO sets so your child can expand on his collection.
What they'll love: Well, who doesn't love Mickey and Minnie? We love that LEGO gets our kids to use their imaginations to dream and their hands to build. It even includes numbered learning blocks.
Watch out for: Stepping barefoot on one in the middle of the night! OUCH! But seriously, this kit is quite small for older toddlers. Still, with the ability to connect to other LEGO DUPLO sets, we can't call this an extreme inconvenience.
Check Price on Amazon
Melissa and Doug Disney Mickey Mouse Magnet Set (check price on Amazon) includes one box of Mickey Mouse characters and one box of upper- and lower-case letters of the alphabet. These are a colorful and fun way to help your littles learn the alphabet, and for you to keep the shopping list attached to the fridge!
What they'll love: We love the vibrant colors, and again, it's Mickey Mouse and friends! We also love that the designs are stickers and not painted on.
Watch out for:Teething toddlers! The sticker front of the magnets are not laminated and will wear off if your child chews on them.
Check Price on Amazon
The psychology of toy-buying
Dr. Marie Hartwell-Walker, writing for PsychCentral.com, was asked by editors to give parents suggestions for evaluating toys. We summarize the points you may wish to know before you shop for your little one.
Think of
Toys define kids as individuals, giving them opportunities to practice being in relationships.
There is an amazing amount of value in toys that promote learning and imagination.
There is play value in every toy—even the ones that aren't blatantly designed to encourage skill building.
Dr. Hartwell-Walker is extremely enthusiastic about blocks and Legos that build fine motor skills.
Toys that are appropriate for both genders are particularly valuable.
Any toy that lets a child emulate their parents' behaviors helps model a child's future behaviors.
Each time you shop, "ask yourself if it is really for the child or for yourself." The answer could surprise you.
Why Mickey Mouse and his friends?
Dr. Marc Mekoff's theories about relationships between kids and animals make a fascinating read in a past issue of "Psychology Today" magazine.
Mekoff has identified "a specific part of the human brain in hard-wired to detect animals" and particularly animals with what he calls "a cuteness factor." Some of his research is built on a landmark study undertaken by world-renowned scientist Stephen Jay Gould titled "Mickey Mouse Meets Konrad Lorenz," in which it was proven that these features appeal to kids more than others: large eyes, big heads and small chins.
In fact, over the decades since his introduction to the public, Mickey's appearance has grown more youthful and appealing. As a result, the Mickey we see today on toys has all of the friendly characteristics a child craves, which is why Disney's mouse has remained so cute over time. In sum, you can't go wrong selecting any of the Mickey Mouse toys in our review!
FAQs
Q: What must you know before making a buying decision at the toy store?
A: According to the website HealthyChildren.org, you should:
Read the label carefully before you buy
larger is better as a safety measure
Listen to toys that make noise to make sure that noise isn't jarring
Check seams and embellishments on plush toys for strength
Look for the word "non-toxic" on the label
Rely on age ranges printed on boxes; it means the manufacturer did its homework
Pick plastic toys that are sturdy and safe
Don't hesitate to visit the Consumer Product Safety Commission (CPSC) website if you have concerns.
Q: How old is Mickey Mouse?

A: He turned 90 on November 18, 2018 after making his "Steamboat Willie" movie debut in New York City in 1928. That stated, the folks at Disney celebrate his "unofficial" birthday as May 15, 1928, perhaps because the weather is nicer in May for the splendid birthday party held in his honor at Disney properties around the world.
Q: Which Mickey toy is considered the greatest of all time?

A: "Time" magazine says it is the first giant stuffed Mickey Mouse designed and sewn by Charlotte Clark in 1930. Remember our earlier note about Mickey looking younger over time? Compare the difference between the "Time" magazine photo featuring Walt Disney and Charlotte Clark and today's Mickey Mouse face.
Q: What benefits do kids get from playing with character toys?

A: When a child attaches himself to a character toy, he receives benefits that include comfort, reassurance and familiarity. Character toys taken on personas born of a child's imagination so he may bond with the toy and use it as a sounding board, object of affection, aggression and even a personality-building tool.
Q: Do toys influence a child's future career choices?

A: This topic was explored by the BBC and parents may find this a valuable read as they go about the business of selecting toys for their child: From gender-specific toys to the colors kids respond to most, even high-up officials like UK Education Minister Elizabeth Truss warn parents that they risk the exclusion of girls from careers in engineering, math and science if they're not exposed to toys like Legos! Interested in knowing more?
Q: What guidelines can a parent use to pick age-appropriate toys?

A: "Parent's" magazine editors undertook extensive research to come up with their short list of age-appropriate toy categories. Find match-ups among our aforementioned review recommendations.
Babies under age 1
Stuffed animals
Toys that shake and make noise
Bath toys (with our without squeaks)
Push and pull toys
Toddlers ages 1 to 3
Sorting and nesting toys
Blocks
Musical toys
Picture books
Shape sorters
Simple puzzles
Preschoolers ages 4 and 5
Basic board games designed for this age group
Musical instruments
Puppets and plush toys
Ride-on toys
Tricycles or bicycles with training wheels
Wooden train sets
Our top pick is…
It can be a daunting task to pick just one toy when the list of options is long and each of the products under consideration has its own merits and limitations, but one product stood out from the crowd because it surpassed all of our basic criteria: the Lego Duplo Brand Disney Mickey Racer listed as #11.
Not only have components included in this interactive product won the hearts and minds of toy reviewers and parents, but even psychologists profiled in this review sing the praises of the marriage between brain-building Legos and the beloved Mickey. In fact, a thorough search of websites and publications reviewing this 15-piece set sent us on a relatively long wild goose chase because feedback is so favorable.
From the development of tactile skills to the challenge of creating an original work of art as a result of playing with this toy, we come down on the side of professionals and parents looking for a gift that meets more criteria than most. That's why the Lego Duplo Brand Disney Mickey Racer wins our round-up and our hearts.