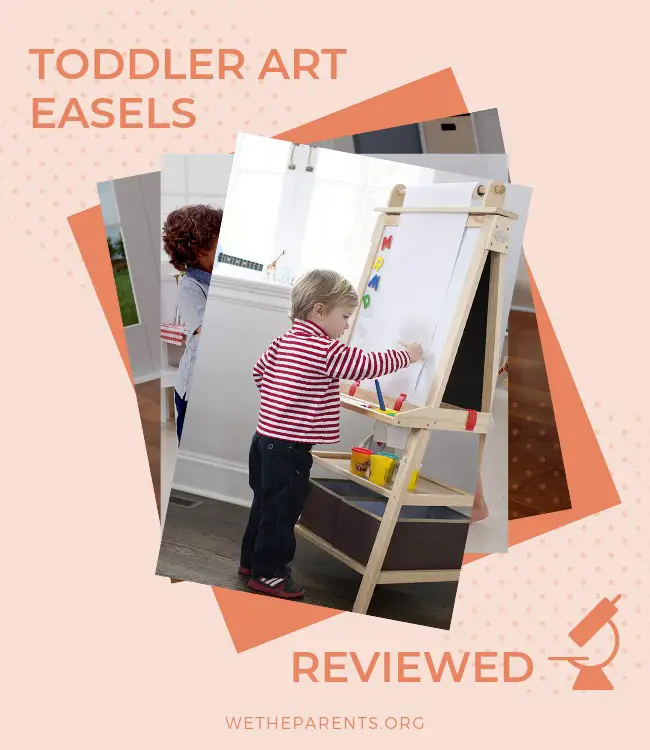 Typically, the words "art" and "toddler" are not used in the same sentence. If you're anything like me, these words together make you cringe. Toddler Art is the very reason I have redecorated my house in shades of brown and black.
It was, however, a small price to pay for all the skills learned and fun had by my littles. Investing in an art easel can help make learning fun for your kids, as well. With the research we've done, we can help you find the best easel for toddlers.
Best Double-Sided Easel for Kids
Adjustable Height: Yes (37.5-inches to 43.5-inches)
Storage Space: Shelf
Folds-Up: No
This double-sided chalkboard and magnetic dry erase board (check price on Amazon) will keep your budding artist busy for hours. Use number and letter magnets for tracing, make chalk drawings on the chalkboard, or pull down on the paper roll for a fresh painting surface.
What we Love… We love how easy this easel is to assemble (can you say that 10 times fast?) Changing the height allows the easel to grow with our kids. We also love the small storage shelf underneath for paint pots and other art supplies.
Watch out For… The wood is unfinished, meaning that if your child gets paint or markers on it, it will stain. We are also a bit bummed that it cannot be folded up for storage.
Check Price on Amazon
Adjustable Height: No
Storage Space: 4 Bins, Supply Cups, and Book Storage
Folds-Up: No
This desk is the perfect way for your little one to unleash his creativity (check price on Amazon). It comes with a magnetic dry-erase board which folds down into a desktop for further fun. It also comes for a stool so your child can color, paint, and draw for the long-haul.
What we Love… We love the fold-down option to turn this easel into a desk. Folding down the easel reveals extra storage space for supplies. Personally, I like the art supplies to stay in one place and there is just so much storage with this desk.
Watch out For… When assembling these desks, we found that the easel/desktop does not always snap into place easily. There is a storage space for coloring books and such in back of the desk, making it unusable if the desk sits against a wall.
Check Price on Amazon
Adjustable Height: No
Storage Space: 3 bins, Small Shelf
Folds-Up: No
This wooden dry-erase and chalkboard art easel (check price on Amazon) includes chalk, an eraser, and 18-inch paper roll so your littles can start perfecting their fine motor skills immediately. It also includes five no-spill paint cups to help minimize messes.
What we Love… It has a lifetime guarantee and supplies are included. Of course, we also love the storage bins.
Watch out For… The rods for the bins are easily removable by little hands. So if you have a ninja in training, watch out as these can quickly become weapons.
Check Price on Amazon
Editor's Choice
Best wooden child's easel
Adjustable Height: No
Storage Space: 2 bins, Small Shelf
Folds-Up: No
This solid wood chalkboard and dry-erase easel (check price on Amazon) includes a roll of paper, four paper holding clips, and four no-spill paint cups It also has two large storage bins underneath to help your little one learn to organize his supplies.
What we Love… We love the solid, sturdy simplicity of this easel. Not only will your kids love using it, but you won't mind having it out enhancing your décor.
Watch out For… Some minor assembly is involved, and the screws tend to be very soft, stripping easily.
Check Price on Amazon
Best Budget Buy
Adjustable Height: No
Storage Space: No
Folds-Up: Yes
This pop-up easel is affordable and portable (check price on Amazon). One side is magnetic and the other is a dry-erase board. It is self-standing and can sit on a table-top or on the floor. Easily fold it up and take it with you to grandma's or friends' houses.
What we Love… We love how quickly and easily it sets up and folds back down for storage. Since it can be used on table-tops, younger kids can use it for drawing, and older kids can use it for homework or science projects. It can also be used for small groups where displays are important.
Watch out For… The board can warp over time, bending out of shape. It can also fall over easily if it isn't secured to a surface.
Check Price on Amazon
When Will My Toddler be Ready for an Art Easel?
Knowing when your toddler will be ready for an art easel highly depends on the child. Children develop and show interests in things at different time. When your child begins to show an interest in drawing by grabbing your pens and trying to write, it might be time to introduce them to crayons and coloring books. Since they must stand at an easel, waiting until they are steady on their feet is a good idea, as well.
How Does Art Benefit Childhood Development?
Art benefits our kids in many ways. This video shows some of the ways in which art influences our children. Not only do they promote creativity, but drawing and painting help them develop hand-eye coordination, small motor skills, and promotes neuron development.
From dipping a paint brush in to a bottle of paint to spreading it across their canvas, children learn planning and problem-solving. They also learn the words for and the colors themselves. As this video explains, our children's art can even benefit us.
Tips for Minimizing the Mess (but Maintaining the Magic)
You see your darling son standing with his ready-to-drip paintbrush held out over your carpet, and you can feel your blood start to boil. Heck, my blood pressure just skyrocketed for you. Don't worry, there are ways to have fun AND keep the place clean with our tips listed below
Clean as you go – Keep a wet, soapy rag nearby and simply wipe up the messes as you go.
Spread Newspapers Underneath – Yes, they still make them! If you haven't read one in years, you could also use flattened cardboard shipping boxes (you know, from your place-that-rhymes-with-shmamazon addiction.)
Buy Washable Paints and Markers – When all is said and done, put the kids in the bath and spot treat marker and paint splotches.
Use the Bins on Your Easel for Organizing – This can be an excellent way to help your kids learn organizational skills.
And the winner is…
We found the Little Partners Deluxe Art Easel (check price on Amazon) to be our top choice for best toddler art easel. We just love that this easel is simple and sturdy, offering all of the amenities we want. Unlike the Hape and EduKid easels, the Little Partners easel has ample storage space for all our supplies.
Though we liked the Step2 easel/desk system, it just has too big of a footprint for smaller dwellings, and its short stature means that we probably won't get many years use out of it as our children grow. We considered the US Art Supply easel a close second, but it just doesn't have the aesthetic appeal we adore in the Little Partners easel.