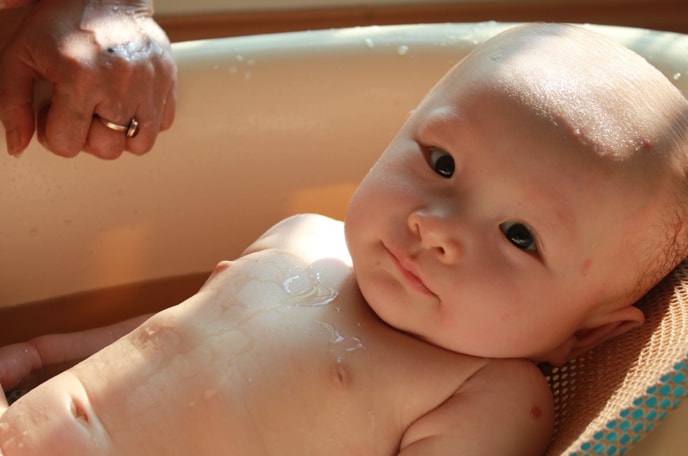 It wasn't that long ago that most babies got their first baths in the kitchen sink. And while that remains a viable option for parents, special bathtubs designed for babies offer substantial benefits.
Quality baby bathtubs elegantly keep squirming babies in place while allowing parents to comfortably and safely bathe their child.
The simplest baby bathtubs are little more than a specially shaped plastic tub, providing an affordable option for parents to comfortably bathe their child. But if you're looking for more bells and whistles, other options include foldable bathtubs that elegantly conform to different sized sinks, bathtubs with special channels to sluice away dirty water, built-in thermometers, and bathtubs with adjustable recline positions.
Baby bathtubs are incredibly popular and are on the 'must have' baby gear list for most first-time parents. But it's important to know what it is you're looking for before navigating the diverse market.
Things to Consider Before Buying a Baby Bathtub
Here are some questions to think through before choosing a tub:
Where will the tub be used?
The classic baby bathtub is designed to fit in the sink. This keeps baby up high where the parents can easily do the washing and works well for new moms recovering from delivery who may struggle to bend over. However, not every sink is ideal for a baby bathtub and if your basin is on the smaller side, you might find a tub that fits into your big bathtub will be more ideal.
How long will the tub be used?
Baby bathtubs are adorably cute, but most of them are really small, and baby will probably get too big to be able to use it within less than a year. Bigger tubs designed for use in the big bathtub will generally last longer as there's more room for baby to grow. Even if you're buying a tub for a single child, remember that the baby bathtub is an important asset to have during those critical early months.
What's your budget?
In an emergency, babies can always be washed the old-fashioned way, so don't stress too much if you don't want to spend a lot on a baby bathtub. Consider your options, and pick one that's right for you.
Is it easy to dry and clean?
A baby bathtub is no use if it requires a lot of cleaning and hassle afterwards. You want to pick something that is super easy to maintain so that you are happy to use it at every bathtime.
So, without further ado, let's dive in and take a look at some of our favorite tubs. To make things easier, we've divided our reviews into three categories: baby bathtubs designed to function as inserts in a kitchen or bathroom sink; baby bathtubs better suited for use inside an adult tub; and portable bathtubs ideal for travel use.
We've gone through hundreds of reviews and assessed the pros and cons of each baby bathtub, including price, size, and durability, in order to give you our top picks.
Best Baby Bathtubs for Using in the Sink
A good in-sink bathtub is designed to flexibly adapt to the contours of your sinks. A quality in-sink baby bathtub is versatile enough to handle both larger kitchen sinks as well as smaller bathroom sinks. These tubs allow parents or guardians to comfortably stand and wash baby without having to bend over. Bonus points are awarded for ease in cleaning and maintenance.
When you first take this baby bathtub out of the box, it almost looks like nothing. But once you unfold the cushioned flaps and set it in a sink, it instantly makes sense why the Puj tub is so special.
Available in three pleasing colors, the Puj tub uses cushioned flaps made from BPA/PVC-free material to bend and fold once you set it in a sink. Ideal even for smaller bathroom vanities, the Puj tub makes washing baby comfortable and easy. Best of all, it's designed to hang flat after use, making it easy to dry.
Features:
Made from soft, non-slip foam that's very comfortable;
Easy to dry after use;
Great for smaller sinks;
Special holes mean baby will never be submerged in the water;
Desingned for babies age 0-6 months.
Check Price on Amazon
It's harder to imagine a cuter product than the Blooming Bath in-sink baby bathtub. But the Blooming Bath is more than just Instagram candy, it also does a great job of cradling newborns during bath time.
Looking exactly like a colorful, plush flower, the Blooming Bath cradles baby in a comfortable swaddle of soft "petals" that look simply adorable in photographs.
The "petals" are made from BPA-free, Phthalate-free, latex-free, and lead-free soft material that is safe to be put in both the washing machine and dryer or can be hand washed and dried.
Features:
Flower measures 32 inches in diameter;
Comes in three different colorful flower designs;
Works great even in large sinks;
Designed for babies age 0-6 months;
Weighs just 1.2 pounds when dry.
Check Price on Amazon
If you're looking for a full feature in-sink baby bathtub, you can't go wrong with the PRIMO Eurobath.
Designed to in a unique anatomical shape, the tub comes with a safety support features, including a built-in drain and two compartments for soap and sponges, a reservoir for clean water, and special side drains to keep baby from sitting in dirty water.
Baby will never get cold in this advanced bathtub as the entire system is designed to ensure a steady flow of warm, clean water while effortlessly removing cold, dirty water. This baby bath tub is made of durable polypropylene plastic and it is built to prevent the toddler from slipping under the water.
Features:
Perfect for first-time parents;
Durable design ideal for growing families;
Digital thermometer and color display ensures perfect water temperatures;
Never need to worry about overflow or a build-up of dirty water;
For babies age 0-6 months.
Check Price on Amazon
Best Baby Tubs for Using in your Big Bathtub
Baby bathtubs designed to be used inside a normal tub (or shower) offer a lot of unique benefits. For one, in-bath baby bathtubs can be larger than in-sink tubs.
Larger and more durable construction means that baby will take more time to grow out of the tub while providing more options for position and design. Some in-bath baby bathtubs offer greater stability than in-sink tubs as well.
Available in three primary colors, the PRIMO EuroBath looks much like a jacuzzi specially built for babies.
The molded shape of this rigid bathtub means that babies won't slip and side during bath time. Best of all, the PRIMO EuroBath is big enough that it can be used for babies up to 2 years old.
This bathtub is BPA-free, lead-free, and phthalate-free and comes with supports for baby's legs and arms.
Features:
Two built-in bathing positions allow it to adapt to your growing child;
One of the largest baby bathtubs on the market, but can comfortably be used for newborns;
Effortless transition for babies who learn how to sit up;
Easy to clean with a mildew-resistant design;
Designed for babies 0-2 years;
Made in the USA.
Check Price on Amazon
From one of the leading manufacturers of baby and child products, the Fisher-Price Sling N' Seat tub is designed to adjust as your baby grows.
Newborns who can't sit up rest gently on the mesh sling while a special support (included) is ideal for babies who are big enough to sit up on their own.
The Sling N' Seat also comes with a fun whale-shaped scoop and squeeze bottle for rinsing baby.
Features:
Newborn sling can be adjusted to get the perfect amount of water immersion;
Included foam inserts prevent younger babies from slipping and sliding;
Rigid support is ideal for babies learning to sit up on their own;
Comes with a built-in hook for easy drying;
For babies age 0-2 years.
Check Price on Amazon
Available in either white or pearl gray, the Shnuggle has a truly elegant design with smooth curves all around to ensure no rough surfaces or edges.
The compact and frankly beautiful design of the Shnuggle speaks to the careful engineering of this baby bathtub and includes a comfortable backrest, no-slip feet, and the perfect angle to ensure baby is kept sufficiently upright.
Although it's relatively small, the Shnuggle can be used for newborns all the way up to babies who are one year old.
Features:
Very elegant and ergonomic design;
Effortlessly adapts to growing babies age 0-1 years;
Keeps baby immersed in warm water;
Simple to clean and dry;
Great for showers or tubs.
Check Price on Amazon
Best Baby Bathtubs for Travelling
While travel tubs offer less functionality and fewer options than the other kinds of baby bathtubs on our list, their compact design and ease in portability make them ideal for parents or guardians on the go. The ideal travel baby bathtub is lightweight, easy to stow away, and comfortable to use.
For parents on the go, it can be hard to keep baby clean. Most bathtubs are simply too big to fit into overhead compartments or in suitcases. But the Signstek inflatable baby bathtub, available in two fun colors, can easily fit in a purse or travel bag.
Despite being inflatable, the Signstek comes with a head rest, a mark on the side to show the right water level, and even a handy side pocket for storing shampoo, soap, and other bathing essentials. Best of all, the large size means that this tub can handle twins or larger babies with ease.
Features:
Comes with its own inflator pump;
Easy to drain, dry, and store away;
Anti-skid design;
Comes with handy storage bag;
Measures approximately 8″ by 8″ when folded, 2'7″ by 1'8″ when inflated.
Check Price on Amazon
If you're looking for a portable, compact baby bathtub that isn't inflatable, you won't go wrong with the Summer Infant Deluxe. Made from gentle, lead-free material, the bathtub is versatile enough to be used in a sink, as a standalone tub on a counter, in a shower or a full-size tub.
The bathtub has three different recline positions while a non-slip base keeps the tub firmly in place. When it's time to put it away, the bathtub folds up easily. The mesh component is safe for machine washing.
Features:
Lovely compact design;
Ideal for newborns to 12 months;
Easily folds up to be stored in luggage or small spaces'
Built-in headrest offers additional comfort;
Easy to clean and dry.
Check Price on Amazon
Conclusion
Whether you're looking for a tiny tub to use with your newborn, a bigger tub that will become a bathtime feature for a couple of years, or you need a tub that can be packed into a case and used on the go, we're confident you'll find one that will suit your needs here and allow you to enjoy creating those special bathtime memories with your baby.