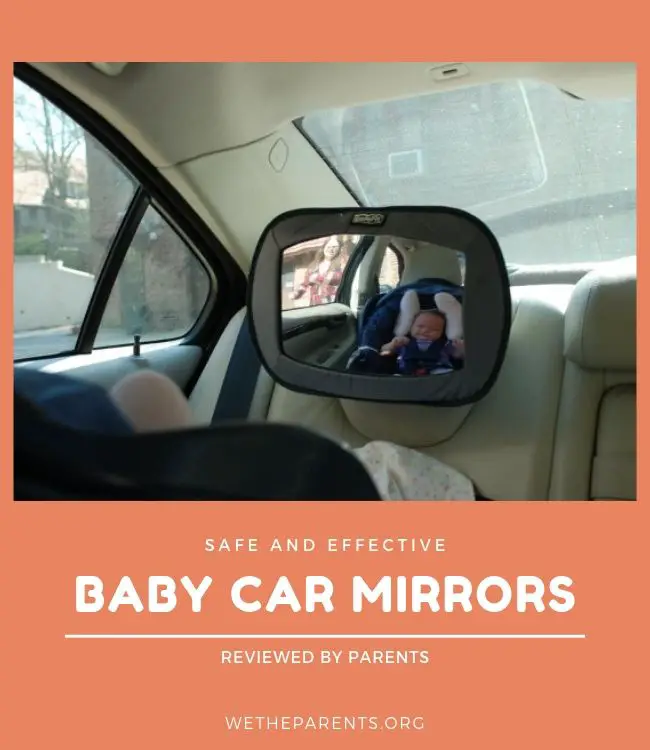 Driving requires a lot of our attention, and it can be stressful. When you're traveling with a baby in a car seat – especially when they're rear-facing – keeping your eyes on the road and your child is a challenge, and turning around constantly to make sure your kiddo is okay can be very dangerous.
Baby car mirrors give parents a chance to keep a watchful eye on their little ones in the backseat, but they're not all created equal. Anything in your vehicle can become a potentially dangerous projectile in a crash, so it's important to choose a product that can be secured properly.
We examined five top picks to see what sets the best baby car mirror apart and why these devices are so helpful for parenting on the road.
What are the benefits of having a baby car mirror?
The answer here is pretty simple. The National Highway Traffic Safety Committee recommends that children be seated rear-facing in their car seats until they max out the height and weight limits of their seat, which can be until they reach age four. It's always safer for little ones in a crash, plus it helps tiny babies from being overstimulated by bright, flashing lights seen on the road. There's just one issue here for parents: it's a position that makes it hard to sneak a peek at your baby. It's difficult and unsafe to keep your eyes on your kiddo by repeatedly turning around while the car is in motion – at least, if you're the one driving.
A good baby car mirror mounts securely to the back of the headrest or the existing rear view mirror to give parents and caretakers a set of eyes in the backseat of the car. If baby is fussing, dropped their toy or spilled their snack, parents will know right away. Likewise, it satisfies the natural compulsion to make sure they're okay while you're driving with a quick glance. On the flip side, be careful to limit the frequency with which you check the mirror. It can become a distraction if you are not careful.
Is there a benefit to using baby car mirrors if my child's seat is no longer rear-facing?
Certainly! Even after your child is riding forward-facing, baby car mirrors with dashboard mounts can be used to keep an eye on what's going on in the backseat. You can make sure that kids are buckled in and behaving, and mounted mirrors give you a far more wide and expansive view of your backseat. It's never a bad thing to be able to see what your kids are up to, and on the rare occasion, it can help you quickly identify issues and dangers.
What should I look for in a great baby car mirror?
There are a lot of benefits to keeping an eye on your kids using a car mirror, but there's a lot of picks out there and shopping can feel daunting. Wondering what features you should be looking for?
Crash tested: One of the biggest safety concerns with using baby car mirrors is the proximity of a potentially breakable mirrored surface near your child in the backseat. While there are no federally mandated crash testing standards for baby mirrors, many manufacturers do their own crash testing. You can use this information to help you decide which mirror is right for you. You want a baby car mirror that will remain securely in place, rather than shatter and shed dangerous glass shards.
Shatterproof: This is another factor that has a big effect on how safe the product is. Whether it's a car crash or simply your baby playing with the detached mirror, you want to be confident that it won't shatter and create a dangerous situation on impact. Choosing shatterproof picks means feeling more confident that your car mirror will never be harmful to your baby.
Easy, secure installation: This one is part safety and part efficacy. A product as simple as a baby car mirror shouldn't be overly complex to install – if it is, you may be overlooking a lot of great picks that install very easily in only a few minutes. Likewise, you shouldn't be struggling to secure or adjust your installation. Great picks have secure mounts and straps that keep baby car mirrors firmly in place, which is when they're the safest and the most effective.
Are baby car mirrors completely safe? How can I be sure I'm using mine safely?
In the past, some parents have expressed safety concerns over the use of mirrors to keep an eye on baby. It's a fair concern – after all, traditional mirrors are very breakable, and the idea of having one in the backseat of the car with your baby is nerve wracking. Another element of concern that's often expressed is the danger of a small object like a baby mirror becoming a dangerous projectile if a car accident happened.
Let us put your mind at ease: modern mirrors made for viewing baby on the road are mostly very safe, as long as you choose picks that mount securely and are crash-proof and shatterproof. Our biggest safety and efficacy tip?
CHECK YOUR MOUNT AND STRAPS!
Wiggle it around a little bit, practicing adjusting and securing the mirror. Since most picks – and all of the ones on our list – are crash-proof and shatterproof, the majority of hazardous situations that could occur are based on user error. Making sure that your mirror is securely installed and stable eliminates one of the only remaining potential hazards of using a baby car mirror.
If I don't have a headrest, can I still install a baby car mirror for my child?
Sure! There are lots of great mirror picks that let parents view the backseat without relying on headrests that aren't present or adjustable in every vehicle. Most of them mount on the dashboard, so they're generally easier to use when kids are front-facing, but picks do exist that don't require a headrest and allow parents to view their rear-facing kids. As always, just make sure the mirror you choose is safe and that you have installed it securely.
Transparency rocks! When you shop through links on this page, we may earn a small commission.
Editor's Choice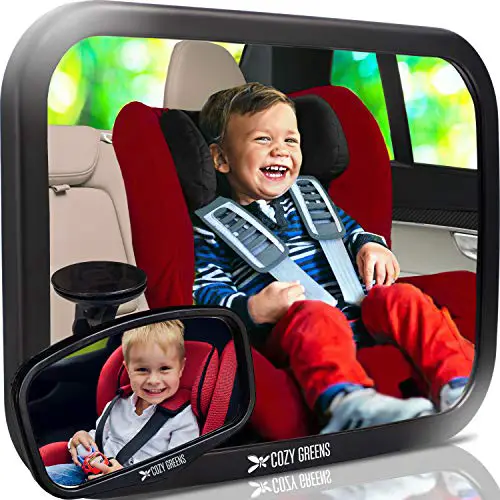 Adjustable: Yes
Colors: Black
Lights and Sounds: No
Size: 9 inches x 8 inches
Requires Headrest: Yes
Shatterproof: Yes
Finding a baby car mirror set that stays helpful as they grow is fairly rare, which is one thing that makes this Cozy Green Baby Mirror (check price on Amazon) so helpful to parents. It comes with two mirrors – one mounts to a rear headrest, allowing you to see baby when they're rear-facing, and the other conveniently mounts to your dashboard to allow you to see your front-facing kiddo without compromising the view and position of your car's built-in rearview mirror.
Both mirrors have been crash tested at 45 MPH, so in the unfortunate event of an accident, they won't present an additional safety hazard. The mirrors are ready to use out of the box with no assembly, and they install in about half a minute with sturdy straps or suction. Once installed, parents can adjust the mirror as needed, although a stable ball joint makes it easy to set the mirror's position effectively the first time.
What They'll Love: It's a set of two mirrors, so one buy covers you through their childhood, plus it's safe and installs quickly
Watch For: The rear-facing mounter mirror does not work with car headrests that are not adjustable, as it relies on a space between the headrest and the top of the seat for installation
Check Price on Amazon
Upgrade Choice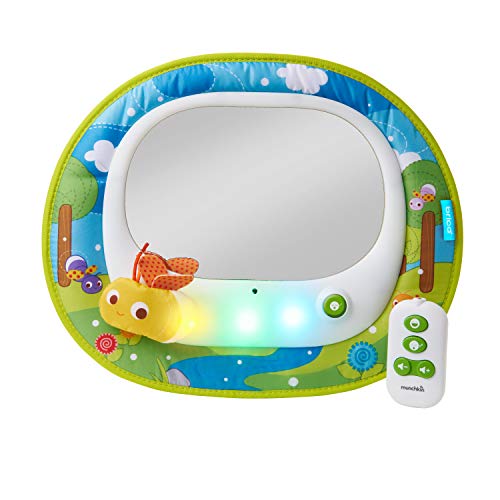 Adjustable: No
Colors: Green, blue, yellow, orange, red, white
Lights and Sounds: Yes
Size: 12.25 inches x 13.75 inches
Requires Headrest: Yes
Shatterproof: Yes
Baby car mirrors can be a tremendous help for parents, but other than being able to look at themselves, they're often low on stimulus options for baby. Cute and cheerful, the Brica Firefly (check price on Amazon) is a brightly colored, headset-mounted mirror that is perfect for rear-facing babies.
The sweet outside design uses soothing LED lights that gently fade in and out, avoiding harsh, bright flashing that can be overstimulating and uncomfortable for babies. The unit plays eight different custom songs with great audio quality that both parents and babies can enjoy. It also features a crash-tested mirror featuring Clear-Sight, offering a distortion-free image with superior quality. The audio and LED lights on this baby car mirror operate via remote control, so parents can quickly save the device's power when baby falls asleep or turn it on when they wake.
What They'll Love: It has a sweet nature design and engages kids through soft LED lighting and music, plus it's remote-controlled, so it's very easy to operate from the front seat without taking your eyes off the road
Watch For: Attaching the mirror takes a little bit more time than some other picks on our list, so make sure you start the process at a time when you're not preparing to leave in a hurry. Also, this mirror does not work with car headrests that are not adjustable.
Check Price on Amazon
Best for Bumpy Rides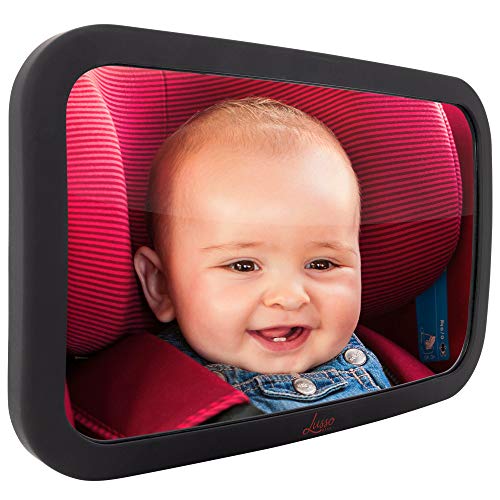 Adjustable: Yes
Colors: Black
Lights and Sounds: No
Size: 11.6 inches x 9.5 inches
Requires Headrest: Yes
Shatterproof: Yes
When rough terrains are a part of your daily driving life, you quickly learn to accommodate in terms of both your driving style and the things you keep in your car. It only takes one stride down a bumpy road to realize that anything unsecured will fall over or go flying. That means it's extra important that gear like baby car mirrors is super secure, and this pick from Lusso (check price on Amazon) is Fort Knox-level.
It takes only seconds to install this mirror, which is extra large and shatterproof, but it withstands even the rockiest roads without parents needing to fix, readjust or reattach the unit. It's easy to remove the mirror when it's not being used, which makes cleaning the 11.5″ matte surface a breeze.
What They'll Love: This pick is extremely stable, so parents won't struggle with keeping the mirror functional and adjusted when driving down rocky or bumpy roads
Watch For: Although the mirror is secure, it sometimes seems to vibrate slightly when the car is in motion. Also, this mirror does not work with car headrests that are not adjustable.
Check Price on Amazon
Best Budget Buy / Crash Tested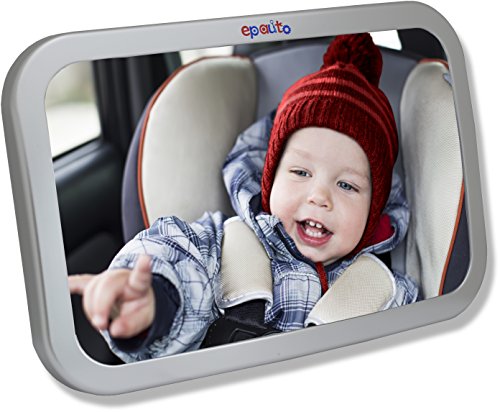 Adjustable: Yes
Colors: Silver
Lights and Sounds: No
Size: 11.5 inches x 7.5 inches
Requires Headrest: Yes
Shatterproof: Yes
Sometimes parenthood seems like a never-ending reach for your wallet. Diapers? Check. Baby food? Check. Electricity and running water? Well, you get the idea. Budget baby gear picks that actually hold up are always welcome in our fold, and this baby car mirror from EPAuto is the textbook definition.
The EP Auto Baby Mirror (check price on Amazon) offers a broad view that's nearly a foot wide, so it's easy to see everything your rear-facing baby is getting up to. It's a pick that's shatterproof and thoroughly crash-tested, so you can feel confident that no matter what, it won't harm your kiddo. Installation is super simple, as it straps to an adjustable headset in a matter of moments with no assembly required.
What They'll Love: It's a budget-friendly pick that's effective, stable, easy to install and displays a significant portion of the backseat
Watch For: When installed, the mirror extends a bit further out than some other picks, so experiment to find a position that works for you
Check Price on Amazon
Best Full View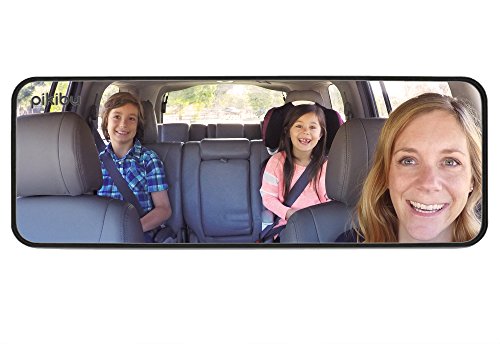 Adjustable: Yes
Colors: Black
Lights and Sounds: No
Size: 10.5 inches x 3.8 inches
Requires Headrest: No
Shatterproof: Yes
Once kids reach age four, it's usually safe to transition into front-facing car seats. As all driving parents of older kids know, your rearview isn't always sufficient for keeping an eye on the backseat – plus, you need to choose a position that helps you see the road, not just the kids.
This Pikibu 180-Degree mirror (check price on Amazon) offers parents the best of both worlds, conveniently attaching to their existing rearview mirror to extend the range of view without impacting the driver's field of vision. It's no more distracting than a phone or GPS mount, and no adjustable headrests are required, so car compatibility is a non-issue. It's a full view mirror that installs quickly and securely, and it's great for keeping watch over both kids and pets.
Check Price on Amazon
The Verdict
Cozy Greens Baby Car Mirror (check price on Amazon) crowns our list because it's both shatterproof and crash-tested. It's also simple for parents to install, and the 360 degree swivel joint makes adjusting and securing it in your desired position quick and easy. It's durable and easy to clean, plus there are mirrors included for both rear and front-facing babies, so you'll be covered through childhood with only one purchase, which is a rarity.