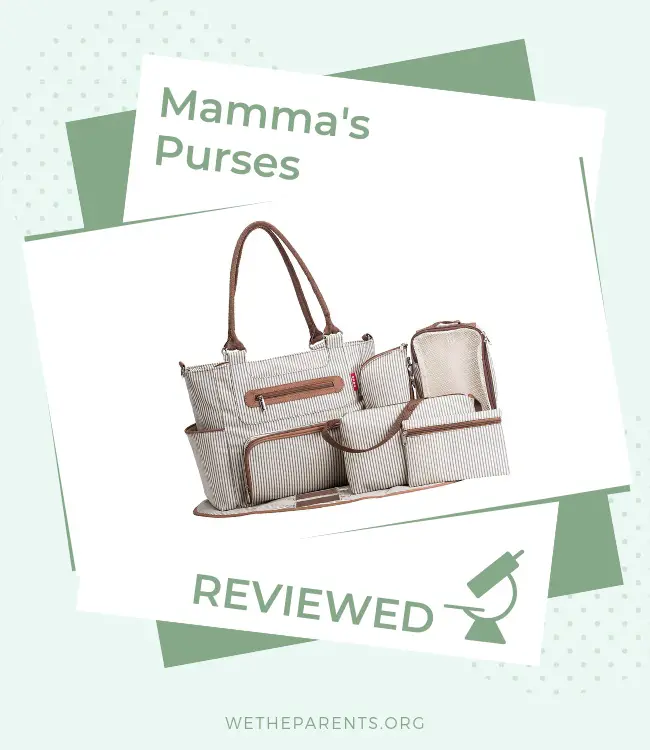 By now you know that a diaper bag is an essential part of mom-ing, and it will be an extension of you for the first few years of child-rearing. You want it to be functional and comfortable, of course, but dare you ask for something sleek and stylish, as well?
Just because you're a mom does not mean you have to sacrifice your personal style for blue lions or pink elephants. Believe it or not, you can find gorgeous bags that do not scream "IT'S A GIRL/BOY!" We've compiled a list of the best purses for moms with toddlers to help you find diaper bag style.
What Features Should you Look for in a Purse-Type Diaper Bag?
Old-style diaper bags meant well. They had plenty of room and extra pockets for organizing. However, with their loud, colorful designs, they just aren't what you want to haul around with you for years. Let's face it, as moms, we sacrifice A LOT for our children including our bodies, our sleep, and our free time Obviously, those little cuties are so worth it, and we wouldn't have it any other way.
Nonetheless, I have created this list of purses for moms with toddlers to show you that this one tiny area in your life does not have to be sacrificed. This video goes over some of the essentials to keep in your diaper bag. Let's now take a look at some of the features we, as moms, need in a diaper bag purse.
Pockets
Pockets and pouches are key to organizing your little one's (or two's) needs. Personally, I find exterior pockets essential for holding my coffee thermos, water bottles, sippy cups, and baby bottles. Whether breastfeeding or bottle-feeding, hydration is a must for us mommas.
Insulated pouches are useful for keeping food hot or milk cold. I've learned that snacks are a must-have no matter how long the outing, as my kids seems to be ravenous as soon as we leave the house. Smaller pockets and pouches are useful for holding medicine, pacifiers, and toys. Larger pouches are handy for diapers, wipes, breast-pump supplies, or formula containers.
Material
Time is of the essence these days so it is important to find a bag made of sturdy, durable, and easy-to-clean materials. Having lots of room in your bag is great, but not if once loaded, the shoulder strap breaks.
Most bags made of synthetic materials like polyester or nylon are easy to clean but may not be as durable as leather bags. Likewise, leather bags may need more preventative care like water-proofing but are known to last for ages.
Weight
Your diaper bag is only going to get heavier after you load it up with your baby's accessories. Choosing a lightweight bag can help you maintain your personal comfort, especially on long outings.
Once fully-loaded, you hope your bag rests comfortably on your shoulder. This can honestly make or break your outing to the farmer's market. Look for wider shoulder straps made from a smooth material that does not dig into your shoulder when your bag is full. A little padding is a nice touch, too.
Personal Items
If you've spent more time than you'd like digging through diapers, breast-feeding covers, and wipes looking for your wallet, a dedicated personal space in your diaper bag is probably important to you. You need your wallet, cell phone, and keys at the very least, and knowing that they are not trapped in a baby gear abyss at the bottom of your purse is helpful.
Other Features
Some other features that might be of interest include stroller straps to attach your bag to your stroller and give your shoulders or back a rest. Maybe you're sharing your bag with your partner and want a more unisex design so you're both comfortable using it.
Changing pads are usually included with diaper bags and range in sizes and padding. This is useful when you have to do an emergency diaper change in a not so diaper-changing friendly spot. You can also use your own changing pad if your bag doesn't offer this convenience.
Types of Diaper Bags
There are a few different types of diaper bags out there to match your personal style. This list includes a brief descripton of each.
Messenger Bag — These bags are similar to a modern briefcase with a long strap that goes across the body.
Tote Bag — Tote bags have shorter shoulder straps and are worn on one side. They often do not look like diaper bags.
Backpack Bag — Just like you carried in school, backpacks and their unisex design are great for sharing between parents. By the way, these days double-strapping is the way to go.
Criteria for Choosing the Best Purses for Mommas
Why did we choose diaper bags that do not necessarily look like diaper bags? Or, why did we choose purses that can function as such? The answer is simple. Like you, we have our own personal style, and pink elephants have no place in it. This comedy skit gives us a humorous take on how all moms are expected to be alike. The simple truth is that we just aren't.
Our runner's up and ultimate winner was decided based on functionality, durability, and style. We've thoroughly researched these bags to help you make an informed decision when choosing yours. As you know, motherhood is tough. With our help, choosing your stylish diaper bag does not have to be.
Best Budget Buy
Material: Nylon/Teflon
Size: 17.6"x13.6"x2.2" (LxHxW)
Weight: 2 pounds
It's textured fabric is water-resistant which is beneficial when you forget to tighten bottle lids. Is that just me? It has 2 drink pockets on each end of the bag and 2 zippered pouches on the front. With the included stroller straps, you can easily attach it to your stroller.
What We Love… We love all the extra pouches that come with this bag. Since they aren't attached, you have the versatility of leaving the ones you don't need behind. This allows you to keep the weight of the bag down by only taking necessities. We also love that the material is super easy to clean.
Watch Out For… This bag as a very thin lining inside causing it to rip easily and suck your smaller items into a lost realm between the exterior and interior of your purse. It also has a strong plastic smell that takes a few days to go away.
Check Price on Amazon
Material: PU Leather
Size: 13.38"x14.17"x6.29" (LxHxW)
Weight: 2.2 pounds
This JOYSON handbag (check price on Amazon) has 2 main compartments divided by an internal zippered compartment. There is 1 small, zippered pouch and 2 open pockets on the inside and 2 zippered pockets on the outside. With an adjustable or removable shoulder strap and handles, you have the option to carry or wear your bag.
What We Love… We also love how it looks like top-grade leather, its rich color, and its trendy style. No one will mistake this as a diaper bag when you are out and about.
Watch Out For… This bag is made of PU leather, or polyurethane leather which is split leather, or the fibrous parts of the cowhide, covered with polyurethane. This causes a rather strong smell (PU is right) that eventually dissipates. It also does not stand upright along which makes looking for items inside difficult.
Check Price on Amazon
Material: 100% Split Leather
Size: 14.57"x10.83"x4.72" (LxHxW)
Weight: 1.65 pounds
This S-ZONE women's vintage tote (check price on Amazon) is made from 100% split cowhide leather which is the fibrous areas of the cow's hide. It is treated with oils or waxes to enhance color and brightness. This tote also has YKK brand zippers for added durability.
It has two main compartments with a zipper divider compartment. You'll find 1 internal side zippered pocket, 2 internal open pockets, and 1 large external pocket providing lots of room for bottles, diapers, and clothing.
What We Love… We love the simple, classic design of this tote. It holds its shape well, making it easy to search for things inside. Made of leather, we expect it to have a long lifetime.
Watch Out For… The straps are on the thin side and can break easily if mishandled.
Check Price on Amazon
Material: 100% Top-Layer Cowhide Leather
Size: 14.96"x11.81"x4.72" (LxHxW)
Weight: 2.14 pounds
This Heshe handbag (check price on Amazon) has a zippered main opening with 2 interior compartments. It has 2 interior zipper pockets and 1 exterior zippered pocket, giving you lots of room for the essentials. You'll notice it has both handles and an adjustable or removeable shoulder strap.
What We Love… We love the trendy design of this bag. Made of leather, it is certain to withstand the test of time. We also love the roominess this bag offers.
Watch Out For… There are no feet to protect the leather should we set this bag on the floor. It also does not keep its shape, making looking for stuff inside somewhat difficult. It would also be imperative to treat this bag with a waterproofing agent because spills happen.
Check Price on Amazon
Best Diaper Bag for Multiple Kids
Material: Vegan Leather
Size: 16.9"x12.6"x7.1" (LxHxW)
Weight: 3.2 pounds
With 2 large zippered compartments divided by 1 small zippered compartment, this bag (check price on Amazon) has all the space you will need for multiple kids. The Isoki bag comes with a changing mat, small purse, stroller clips, and insulated bottle bag.
What We Love… We love that this bag has all the style of a purse and all the functionality of a diaper bag. It has tons of room for everything and it stands upright on its own. This makes searching for lost pacifiers with one hand easy.
Watch Out For… We cannot lie, with all that room, it is a heavy bag. It also came with a strong smell that is usually expected of synthetic leather bags.
Check Price on Amazon
Material: Vegan Leather
Size: 12"x9.5"x5" (LxHxW)
Weight: 2.5 pounds
This Dasein handbag (check price on Amazon) can be carried with handles or worn crossbody as a satchel with its removable shoulder strap. It has 1 main compartment with 1 zippered pocket and 2 open pockets. It also has 1 exterior zipper pouch.
What We Love… We love that this bag has feet so the bottom stays cleaner. It maintains its structure well. We really love the looks of this pretty little thing.
Watch Out For… This is one of the smallest, yet heaviest bags on our list. It does not open very wide, making storage and retrieval difficult. As with the others, the vegan leather gives off a distinct smell which eventually dissipates.
Check Price on Amazon
Editor's Choice
Material: Twill Polyester
Size: 17"x14"x7.5" (LxHxW)
Weight: 2.45 pounds
This Bag Nation backpack (check price on Amazon) is ideal if you need to better distribute the weight of your baby stuff. It has a total of 14 multi-sized pockets and 1 main compartment. These include an insulated pouch and dedicated wipes compartment with an opening to the outside.
What We Love… We love that it comes with a Lifetime warranty so you are protected in the event the bag has defects. We also love that it can stand up alone so we can easily retrieve things from it.
Watch Out For… The dedicated wipes pouch is open to the outside allowing the wipes to be opened and prone to drying out. The main compartment is big, cavernous even, and it can make finding items feel like you're on a treasure hunt.
Check Price on Amazon
Material: Polyester Nylon
Size: 16"x14"x8.5" (LxHxW)
Weight: 1 pound
This Wallaroo diaper backpack (check price on Amazon) is made of a quilted, tear- and water-resistant polyester and nylon. It comes with a changing mat, wet diaper bag, and shoulder straps. It has a large main compartment with 2 elastic mesh pockets. It also has 2 side bottle pouches and 2 insulated front pockets.
What We Love… We love that this backpack is large enough to carry a laptop, in case you need to work on-the-go with your kids. We also like the durable, quilted design.
Watch Out For… The zippers easily catch on the inner seam and become stuck. The zipper pulls are made of a faux leather and wear out quickly.
Check Price on Amazon
And the Winner Is…
One of these bags is a clear standout in our book, and that is the Isoki Madame Polly Baby Diaper Bag (check price on Amazon). Mainly, we love that it is a true diaper bag that does not look like one. Some of the handbags we reviewed such as the Heshe, S-ZONE, and JOYSON, were incredibly sharp-looking bags but lacked the structure needed in a diaper bag.
Though the SoHo Diaper bag had so many extra items included with it, we simply felt it lacked the aesthetic appeal of the Isoki Bag. The Dasein handbag is beautiful but lacks the room we need for all things baby.
Finally, we really liked the idea of backpack diaper bags like the Bag Nation and Wallaroo for travel. However, the cavernous main compartments intimidated us for everyday use. I have enough trouble finding my keys in a tiny space, let alone these gaping compartments. The Isoki has the room, functionality, and style we need and want in our diaper bag. Now, who's ready for a run to the mall?