Bad nap equals toddler meltdown equals parent meltdown.
Okay, so how can you ensure your toddler has great naps?
Well, nap mats are a great option you should definitely try. They offer toddlers and young children a clean, comfortable, identifiable crash pad to call their own whether they're home or away.
We took a look at what features make the best toddler nap mat and which picks are great, so "tuck in" to our findings and check out the list of winners.
What is a nap mat and why do you need one?
A nap mat is a miniature padded mattress which can be used on the floor to provide a space for toddlers to sleep. It is typically made of soft material that's easy to clean, and many nap mats are easy to transport. Nap mats may or may not feature pillows. Wondering when nap mats are useful?
When you're on-the-go:

Toddlers tend to be very sensitive to their nap schedule, and making sure they get a chance to crash is important. A nap pad is a good way to give them a safe spot to sleep, even if you're away from home.

At day care:

While some day care centers do provide their own mats, having a nap mat for your child that you've chosen assures you that it's made of non-toxic material, that your child finds it comfortable, and that it's being washed regularly.

To create a hygienic sleep space:

Even at home, some kids may seem to prefer to nap in places other than their bed. If they tend to doze off on the floor, a soft nap mat gives them a spot to gravitate to when they're feeling sleepy. It's easier to clean than the floor, plus it's a more hygienic sleeping surface.
What styles of nap mat can you buy and how do they differ?
Toddler nap mats are available in a variety of different styles. Typically, the way the mats are stored and their density are the factors that determine how these styles differ. Wondering which style of nap mat is right for your toddler?
Roll-up nap mats:

These picks are particularly easy to travel with, as they simply roll up and fasten when not in use. They're usually pretty lightweight, but the downside is that the mattress pad is not as thick.

Stackable mats:

An old, convenient standby, these are much like the gymnastics mats we've all seen in one P.E. class or another. They stack neatly and are usually quite easy to clean, but they're less likely to have soft coverings or pillows.

Fold-up cushion mats:

Generally a bit more dense and comfortable, fold-up mats store easily but may be a bit more bulky to transport. The exception is mat designs which essentially fuse pillowcases together in a chain, allowing parents to insert their own cushions and zip to secure.
What features should savvy shoppers look for?
When it comes to purchasing a nap mat for your toddler, your intended use determines which features will be most helpful. However, there are a few general features that are important in all situations. Wondering which boxes your toddler's nap mat should check?
Easy to clean:

Like all toddler gear, it's going to be prone to toddler crud. Keeping kid stuff clean is a constant battle, so a nap mat that machine washes or wipes down easily can be a major time-saver.

Comfortable:

If a nap mat creates very little barrier between your kiddo and the floor, it's not likely to be very comfortable for them. Look for mats with at least an inch of thickness so that they stay comfortable while they're dozing.

Non-toxic:

Not all nap mats are made equal, and some less reputable foam products for kids are still treated with flame-retardant chemicals that are dangerous for children. All of the picks on our list are safe, but when doing your own research, make sure your final choice is non-toxic.
Are there age restrictions on nap mats?
While there's technically no ceiling on the age at which nap mats can be used, pediatricians don't recommend them for babies under a year old for safety reasons, even if manufacturers state otherwise. Stick to napping in cribs or carriers before they turn one.
Are they good for public use?
Nap mats are ideal for public use, as they're generally designed to be easy to clean and not attract dirt.
What about portability?
While some picks are more portable than others, by and large, nap mats are easy for parents to transport.
Our picks of the best toddler nap mats
Editors Choice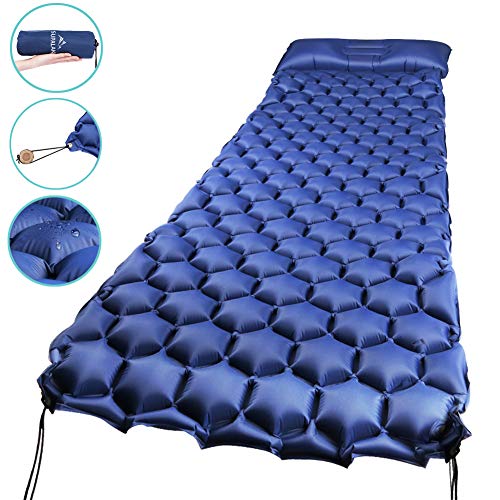 Our opinion
Colors: Blue
Theme: None
Materials: 20D Nylon fabric and waterproof TPU
Size: 75″ x 23″ x 2.3″ inches
Age Range: 3+
Features Pillow: Yes
Inflatable picks are favorites when it comes to on-the-go gear, and it's not hard to imagine why. They're lightweight and take up significantly less space, so they improve packing efficiency by leaps and bounds. The Weinac Ultralight Camping Sleeping Mattress (check price on Amazon) makes a great nap mat for your toddler, but it's also a full-sized sleeping pad that can be used by kids and adults alike.
The four inch thickness of the inflatable mattress offers major comfort during nap time, and it's a pick that stays both useful and comfortable as they grow thanks to super-durable ripstop Nylon fabric.
What we love
It's inflatable, so it's lightweight and space efficient to carry in its deflated state
It's extra thick compared to other picks on our list, offering both distance from the ground and comfort
Watch for
The valve can be sensitive, so make sure it's inserted securely once the mattress has been inflated
Upgrade Choice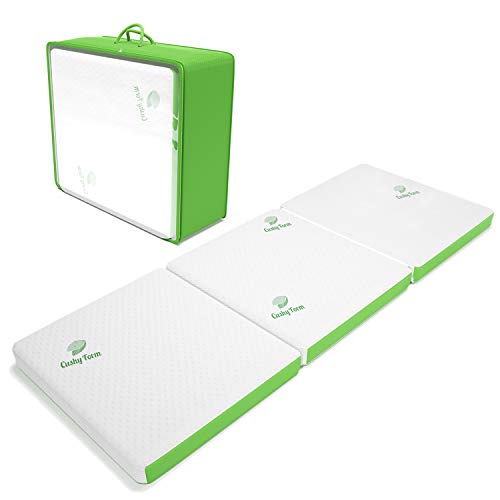 Our opinion
Colors: White, green Theme: None Materials: CertiPur foam Size: 75 x 25 x 4 inches Age Range: 3+ Features Pillow: No When you're traveling with kids, anything that makes their gear more portable is a godsend. This Tri-Folding Mattress mattress from Cushy Form (check price on Amazon) is designed to make your life easier when you're on the go. It's not just for kiddos, either – this is a full sized tri-fold mattress, so it can be shared between family members or continually used as kids get older. It unfolds to an impressive 75″ length, but folds into a compact carrying case with handles when it's not being used. It's about the size of an actual twin sized bed, which makes it that much more impressive that it both stores and carries so efficiently.
What we love
It's approximately the size of a twin sized mattress when it's unfolded, but it's lightweight and easy to carry thanks to its convenient handled carrying case
It has a removable, machine washable cover so it's easy to keep it hygienic, even on the go
Watch for
The case compacts the mattress significantly, and it may take more than a few minutes for its full shape to restore when it's first set up
Best Budget Buy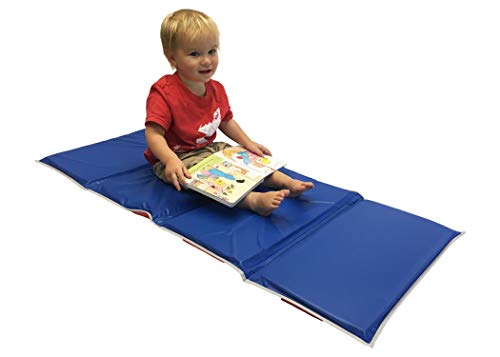 Our opinion
Colors: Red, blue, grey
Theme: None
Materials: Vinyl and foam
Size: 19 x 45 inches
Age Range: 3+
Features Pillow: No
Folding mats have been fixtures in P.E. and gymnastics classes for years – most parents probably remember dragging these out a time or two for tumbling and sit-ups in their own youth. This red and blue One Inch Basic Rest Matt from KinderMat (check price on Amazon) is one cozy blanket and pillow away from being a nap pad that's a great size for growing toddlers. It's a versatile pick, great for both playtime and napping, and it's incredibly easy to clean thanks to its sturdy, waterproof vinyl covering.
It's a bit utilitarian compared to some of the other picks on the list, but it's more likely to get regular and continued use both at home and away.
What we love
The safe, soft vinyl coating that covers these mats is waterproof and easy for parents to clean
One side is red and one is blue, so it's easy for toddlers to learn which side of the mat should be placed on the floor
Watch for
It doesn't come with a pillow or blanket like some other picks, so parents will need to provide them for this to be a comfy napping spot
Best Thick Nap Mat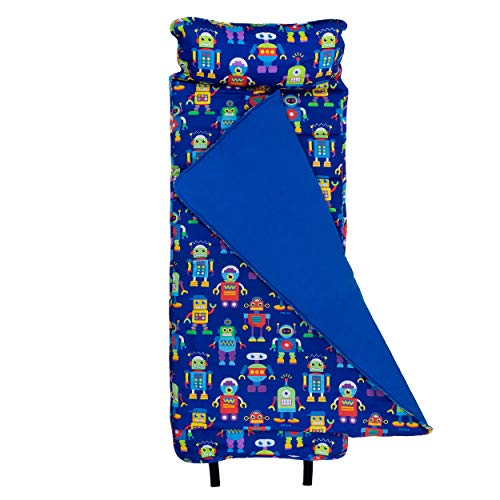 Our opinion
Colors: Blue, green, red, yellow, purple
Theme: Robots
Materials: Cotton and Polyester
Size: 50 x 1.5 x 20 inches
Age Range: 3 – 7 years
Features Pillow: Yes
Soft, cushy, comfy places are the best for napping, and kids know it. That's why this extra-thick Wildkin Nap Mat (check price on Amazon) is a big hit at sleepovers, on camping trips, and even at home. The bright, colorful robot design and cheerful blue background are fun, and they make it easy for kids to spot their mat and identify it as their own.
This is a roll-up pick, so it's super compact when stored, and even has an easy carry handle that makes it perfect for outings. It also features a plushy pillow, so they have somewhere comfortable to rest their heads when nap time rolls around.
What we love
Thanks to the roll-up design of this pick, it's very space-efficient – it also features a handle, so it's easy for parents or kids to carry
It comes with a pillow, which makes nap time more comfortable and means there's one item parents can cross off the packing list
Watch for
While the rest of the mat is machine washable, the pillow can only be spot-cleaned
Best Nap Mat For Girls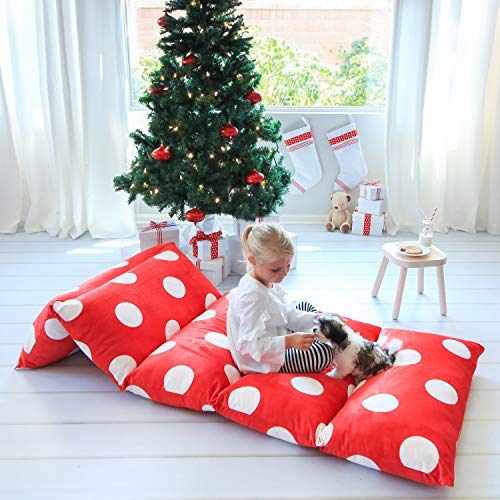 Our opinion
Colors: Red and white
Theme: Polka dots
Materials: Soft plush fabric
Size: 26 x 75 inches
Age Range: 3+
Features Pillow: No
A few pillows on the floor has sufficed as a cozy place to play and rest for many kids over the years, but this creative pick from Butterfly Craze (check price on Amazon) elevates the concept into a nap mat everyone will want to snooze on. The "mat" is essentially a chain of pillowcases with zippered ends, which connect horizontally at the seam. Parents insert five pillows into the generously-sized mat/case, zippering to secure.
This creates a long, extra plush cushion for kids – or adults, because we're not kidding about the size of this bad boy – to nap on. It's a creative way to make a portable mat and most homes you'll visit will have pillows to supply, but it's not quite as easy to carry when stuffed, so this pick may be better used at home.
What we love
It makes use of pillows you already have on hand, so it's easy to store when it's not being used
Because the pillows slide right out of this mat, it's easy to clean by machine washing
Watch for
It doesn't come with pillows, and not everywhere you go will have five spare ones on hand, so it might be a better at-home pick
Best Tri-Fold Nap Mat
Our opinion
Colors: Blue and grey
Theme: None
Materials: Bamboo, CertiPur certified toxin and chemical free foam
Size: 24 x 57 x 3 inches
Age Range: 3 – 7 years
Features Pillow: No
Simplicity, portability and comfort are the name of the game when it comes to a quality nap mat. The Milliard Tri-folding Mat (check price on Amazon) combines certified CertiPur foam, which is non-toxic and chemical free, and a soft bamboo cover that can be removed for simple machine washing. The three inch mattress is extra soft and comfortable, letting toddlers enjoy a nap that feels closer to their crib or bed than many other nap mats.
This pick is durable, and the tri-fold construction means it's easy to travel with and it takes up minimal space. It's also lightweight despite its sturdy, thick build, so older toddlers can often pick it up and carry it on their own.
What we love
It's made fro safe, non-toxic CertiPur foam, and the soft natural bamboo cover can be removed and machine washed
It has a three inch thickness, so it's extra comfortable for napping
Watch for
While it's extra comfortable, it still doesn't come with a pillow and blanket, so parents will need to bring one along
Best Nap Mat With Pillow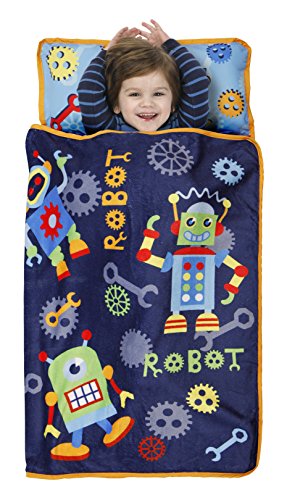 Our opinion
Colors: Blue, green, red
Theme: Action Robot
Materials: Polyester
Size: 46 x 21 inches
Age Range: 36 – 60 months
Features Pillow: Yes
As toddlers get older and a bit more social, they're eager to show off their personalities and their favorite things. Kids' favorite action robots are featured in the Baby Boom Toddler Nap Mat (check price on Amazon). Kids will love this soft, easy to wash to day care and on overnight visits. It's a roll-up pick, so it stores and transports easily.
Rolls up with hook and loop fasteners, with a convenient carrying handle. It's big enough for them to use until around age five, so it's also got a bit more longevity than some other picks on our list.
What we love
If features kid's favorite action robot they will surely love
It has a blanket and a pillow attached, so parents won't have to pack extra gear
Watch for
Because it's a roll-up mat, it's a little bit thinner and less comfortable than some other picks
Best Mickey Mouse Themed Nap Mat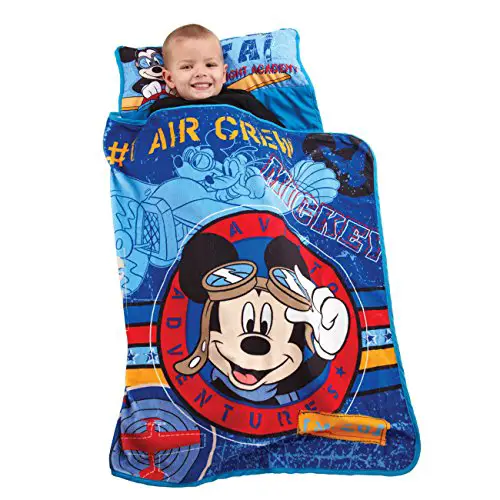 Our opinion
Colors: Blue, red, orange
Theme: Mickey's air crew
Materials: Polyester microfiber
Size: 32.5 x 35.5 inches
Age Range: 2+
Features Pillow: Yes
Mickey Mouse is always off on a new adventure and he's seen here leading his air crew as they carry your little sleeper to dreamland. This blue and red design Disney Mickey's Rolled Nap Mat (check price on Amazon) is classic-cute and features Mickey's cheerful face as he lifts his aviator goggles to smile at your kiddo.
It's a roll-up pick that's small in storage and travels easily, and it comes with an attached fleece pillow and blanket, making packing for trips and overnights even more simple for parents. It's made of polyester microfiber, so it's extra soft and can be machine washed.
What we love
It features Mickey Mouse, an iconic and beloved character in the childhoods of many parents and kids alike
It's machine washable and features a blanket and a pillow, so packing, storing and cleaning this pick is simple
Watch for
Because it's a roll-up mat, it's a little bit thinner and less comfortable than some other picks
Best Memory Foam Nap Mat
Our opinion
Colors: Blue
Theme: None
Materials: CertiPur foam
Size: 41 x 21 x 1 inches
Age Range: 1+
Features Pillow: Yes
If you've ever slept on a memory foam mattress – or even shoved your hand into one of those memory foam cubes on display at a department store – you know why it's comfortable. It holds the form of whoever lays on it, creating unique, personalized support. This premium My First Memory Foam Nap Mat (check price on Amazon) is made from certified non-toxic, chemical free CertiPur memory foam with cooling gel channels. It's also covered in a soft, plush fabric case that's easy to remove and wash.
A removable pillow is included, and can be added to offer toddlers extra comfort during nap time. The royal blue mat is cheerful and inviting, and the supportive memory foam construction will have you asking your kiddo to move over and make room for you.
What we love
It's made of CertiPur memory foam, which is certified chemical free and non-toxic, and features cooling gel channels to prevent them from overheating during their nap
It comes with a pillow, which can be inserted and removed through the cover of the mat
Watch for
Although it's made of memory foam, it's still fairly thin compared to some of the other picks on our list
Frequently asked questions
What is the best way to clean and care for my child's nap mats?
The material that your toddler's nap mat is made of is what determines the best way to clean it. When in doubt, consult the manufacturer's instructions, which can offer helpful guidelines on best practices for cleaning your map.
For machine washable mats, cool water washes on the gentle cycle with mild soap followed by flat air drying will prevent stuffing from bunching up and preserve the vivid colors and structural integrity of the nap mat.
For cloth or foam mats that aren't machine washable, consider a cover that can be switched out and washed. Otherwise, spot cleaning with a barely-wet washcloth can help to remove stains.
For plastic/inflatable mats that are water-resistant, warm water and mild soap with a soft cloth should take off just about anything. Air dry for best results.
How will I know when they don't need to nap anymore?
As toddlers start growing into kids, they begin to need their nap less, and they're not shy about letting you know it. Some kids stop needing a daily nap by 4, but may continue to nap occasionally. Wondering how to tell when to stop encouraging a nap?
They simply won't fall asleep: If they're restless during what used to be nap time and the missed sleep isn't impacting their behavior or other patterns, they may be outgrowing the need for napping.
They're waking up at the crack of dawn: It's okay on Christmas morning(sort of), but 5 AM is not a time you want to be dragged from bed on a regular basis. If they're waking up like they've got cows to milk and fields to tend, they might be getting too much sleep during the day.
They're approaching school-age: Once kids start Kindergarten, it's generally necessary to leave afternoon nap time behind. They're physically mature enough to leave the mid-day respite behind, and it will prepare them for their school routine going forward.
Are all nap mats safe for kids? What issues should parents be on the lookout for?
Whenever we're choosing toys, gear and clothes for our kids, making the safest possible choices should be top of mind. While most nap mats designed for toddlers are safe, there are some qualities that cautious parents should be on the lookout for.
Choking hazards in the form of zipper pulls, buttons or fasteners that make nap mats unsafe picks for children under three
Mats that are treated with flame-retardant chemicals which are unsafe for children to breathe and touch
Mats that are made out of unknown plastic materials, as their safety isn't verified
Why are nap mats better/more convenient than tossing down blankets and pillows?
Sure, we've all lived through countless childhood sleepovers where "bed" was a pile of couch cushions, old comforters and pillows on the floor. It works, but there are a few reasons nap mats are way more convenient for toddler parents.
They're a single unit:

A nap mat is a single, easy to store unit that's specifically designed to provide comfort

They're easy to clean:

Unlike all the extra blankets in the linen closet, washing their nap mat is easy

They're more portable:

While pillows and blankets can be a good solution at home, they're a struggle on the go, a place where nap mats shine
And our winner is…
Inflatable gear for kids is great, because it's lightweight and easy to store, but it has to be durable. The full-size Weinac Ultralight Camping Sleeping Pad (check price on Amazon) is designed for the elements, so its capacity to handle what toddlers can throw at it is pretty significant. It's also ridiculously easy to clean, with no washer or dryer ever required to create a hygienic nap spot. It's not hard to see why this ultra-light pick is our editor's choice – it's space-efficient, sturdy, extra comfortable, and has the potential for years of use.