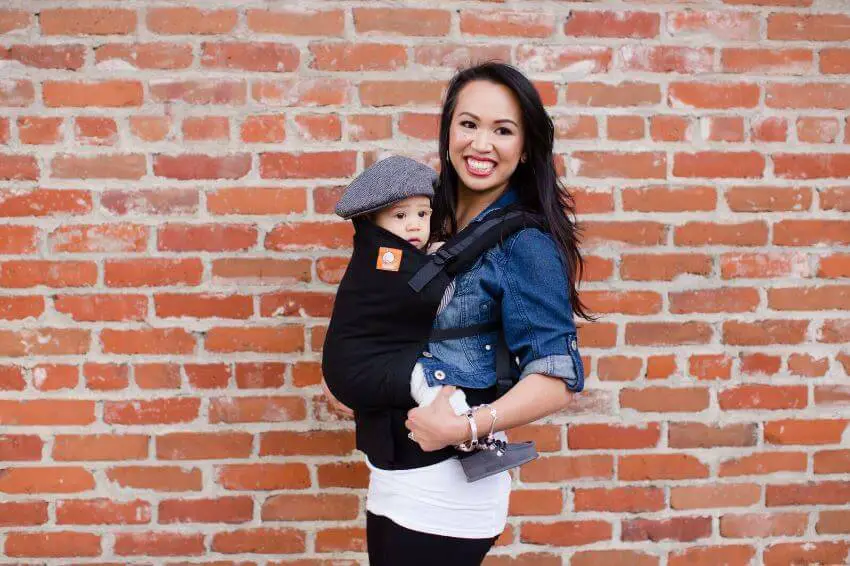 You have things to do to keep your household running, but your baby needs constant attention and closeness. And, let's face it, those cuddles do your mamma's heart good. Luckily, you can purchase a baby carrier and have the best of both worlds; the freedom to go about daily tasks while keeping your child close.
There are certainly plenty of baby carriers on the market in all sorts of different styles and designs. So many, in fact, that we don't blame you if you're a little shell-shocked at all your options. Before we move on to the reviews of our favorites, let's break down some baby carrier basics.
Your easy guide to baby carriers and slings
With an array of prices, styles, and brands, you're sure to find a baby carrier that meets your needs and doesn't break your back.
Front Carrier
This type of carrier keeps your infant close to your chest, facing inward until he or she can sit up on their own and has good head and neck control. Then, you can face your baby outwards to see the world. These carriers are great but can make breastfeeding a little difficult.
Backpack Carrier
These are fantastic once your child is a bit older, can sit up by themselves, and has head and neck control. You'll find carrying your older, quickly growing child easier with this carrier since they distribute weight more evenly across your back, hips, and shoulders. While their bulk can make them a bit unwieldy, many models are designed for outdoor activities. So, if you're into mother nature and your child is the right size, this might be your style of choice.
Soft Structured Carrier
This baby carrier is similar to a backpack in style; straps connect to a pouch that holds your child. Some can be worn both in front and on your back.
Wrap
This product is designed to go around your body and over your shoulders. You can wear them in different configurations, but this can also make them difficult to put on and take off. However, they make breastfeeding more convenient than some other baby carriers.
Mei-Dai
These comfortable products are a marriage between a wrap and a soft-structured carrier. Four straps connect to the carrier's pouch, and you can tie them in various ways.
Sling
These carriers are basically just pieces of fabric that go over one shoulder, creating a pouch to cradle your baby. There is some controversy over their safety; many parents have concerns about a potential suffocation risk. According to the Mayo Clinic, they can be safe as long as parents pay attention to instructions and take proper precautions. These include making sure the fabric is not obstructing your child's nose or mouth, and to be aware your baby is not being cradled in a "C" shape as this is a position that can hinder their ability to breathe. We advise you to do your due diligence when it comes to slings and consider whether it is the right type of carrier for you and your child.
Safety
As with all baby products, safety is a prime consideration when buying a carrier. The BabySlingSafety.co.uk has come up with an acronym, T.I.C.K.S., to help you quickly remember some top safety tips.
T.I.C.K.S. stands for
Tight
In View at all Times
Close Enough to Kiss
Keep Chin off the Chest
Supported Back
In addition, BabyGearLab has written an extensive article on baby carrier safety.
And of course, as with all other baby merchandise, read all instructions and safety warnings before any usage of your baby carrier.
Baby's Comfort
You want a material that will insulate your child properly, as well as sufficient padding to keep that little body nice and comfy. Look for seats that hold your baby's legs in a natural "frog" position, not just for comfort but also for proper hip development.
Your Comfort
Remember, as much as you consider your child's safety, you also have to consider yours. In this case, comfort can equate to keeping yourself healthy. You don't want a baby carrier that hurts your back, neck, or shoulders, so look for something that distributes your child's weight in a way that doesn't leave you reaching for an ice pack everytime you get home.
Now that you have some basics down, let's move on to some of our product picks.
Best Super-Safe Baby Carriers
It's no secret that moms love a product that keeps their little bundle safe. Here are a few baby carriers that excel in the safety area.
This carrier scores high in our books for a number of reasons, including your baby's comfort, its ease of use, and the comfort of the wearer. Regarding safety, however, this product is really a standout as Tula is a member of the Baby Carrier Industry Alliance and strives to exceed safety standards in their products.
Their Ergonomic Carrier has a wide seat that keeps your baby's legs in a healthy and natural frog-like position which is required for healthy hip development, but you do have to buy an infant insert for smaller babies.
This carrier sits higher than most of its counterparts, so your child is comfortable and kept close to your body, and the design of this carrier keeps your little one's airway clear.
Weight Range: 15 – 45 lbs
Positions: Front and back (with baby always facing parent)
Like the Tula carrier, this Onya product has a body that is nice and high. It also gets more narrow towards the top to keep any babies who like to wiggle contained. The seat is wide, and your little one's head and neck will be held upright to ensure a clear airway. The nylon fabric is 100% rip-stop, and a mesh lining keeps the whole carrier breathable for everyone's comfort.
This carrier requires an insert for your infant and can't be worn front-facing, but it is otherwise a fantastic product.
Weight Range: 7 – 45 lbs (with infant insert)
Positions: Front, back, and hip (with baby always facing parent)
Check Price on Amazon
Ease of Use
We love baby carriers that are easy to put on. After all, life is complicated enough without fiddling with straps and buckles. Here are our picks for easy to use baby carriers.
You can slip this product on and adjust it by yourself, so there's no having to call your partner over to help you get a good fit. It's an uncomplicated and classic design, and you can get your baby in or out of this carrier by simply undoing the side snaps.
Although this carrier was developed alongside pediatricians, it doesn't have a waistband, so you won't get excellent back support, and this carrier isn't the most comfortable for larger toddlers. However, it is super lightweight so you won't have to worry about being bogged down carrying any extra weight.
Weight Range: 8 – 25 lbs
Position: Front (facing parent and facing outward)
Check Price on Amazon
Considering how many positions you can wear your baby in, this is a pretty high scorer on the ease of use chart. You can adjust the seat by simply folding the "wings" in and snapping them down, or fold them out for a wider fit. It's also comfortable with its ergonomic support for you and extra padding on the leg holes for your little one.
The buckles can be a little hard to undo, but if you're looking for a super secure fit, this might actually be a check in the pro column.
Weight Range: 7 – 35 lbs
Position: Front (facing parent and facing outward), hip, back (facing parent)
Check Price on Amazon
Best Affordable Baby Carriers
We know babies are expensive, so saving money where you can is always desirable. Here are some baby carriers for budget buyers.
This product is under $20 and comes with a bib you can attach to the baby carrier or your clothes as needed. While it doesn't have a waist strap, it does feature a one pull adjuster on its back, so you can reach around and adjust it easily to get a snug fit.
Weight Range: 8 – 25 lbs
Position: Front (facing parent and facing outward)
Check Price on Amazon
This affordable carrier features a unisex design, so it's perfect for moms and dads alike. It has reinforced stitching for extra security and is lightweight, with breathable mesh to keep your baby at a comfortable temperature. The shoulder straps easily adjust to your preference, and it's very easy to clean.
Weight Range: Up to 33 lbs
Position: 1-Inward front facing, 2- Outward front facing, 3-On the back
Check Price on Amazon
Editor's Choice
As always, we love to shine the spotlight on a product that we're particularly fond of for its price, comfort, safety, and convenience.
This 100% cotton carrier is inspired by the traditional Asian Meh Dais. The soft fabric is breathable and fully adjustable giving this the feel of a hybrid between a wrap and a structured carrier.
The Moby Double tie is one-size-fits-all, allows for three different carrying positions (front, back, and hip), and can be easily adjusted so that Dad or Grandma can quickly take over.
Moby is one of our favorite carrier brands. They always seem to design beautiful products and this is no different. We love that this stylish carrier is more lightweight and less bulky than others on the market. It's buckle-free which may concern you at first, but it once you've got the hang of it, you'll probably find it's quicker and easy to secure than fiddling with the usual plastic buckles.
Weight: 8 – 40 lbs
Positions: Front, Back, and Hip
Check Price on Amazon
Wrapping up
You shouldn't have to sacrifice everything about your daily routine when you have a baby. Picking a carrier that fits your lifestyle will make you a happier mom, and will help to keep you and your baby close and bonded. It will also allow you to use both hands (a privilege that non-parents take for granted!) Before you know it, they'll be too big to keep safely strapped to your body. So, until then, enjoy the bonding experiences that come from having your sweet baby cuddled up against you.
As a footnote, whilst I strongly advocate babywearing, I believe it's not something to get fanatical about. From my experience, there are times when setting your little one down in a decent baby swing or bouncer is a healthy and good thing. For example, when your shoulders are sore or you need to scrub the toilet. I'd say don't get overly anxious about settling your little one down from time to time. I'm no expert, but with my son, Dara, I feel it even contributed to him being comfortable and independent in his own space.