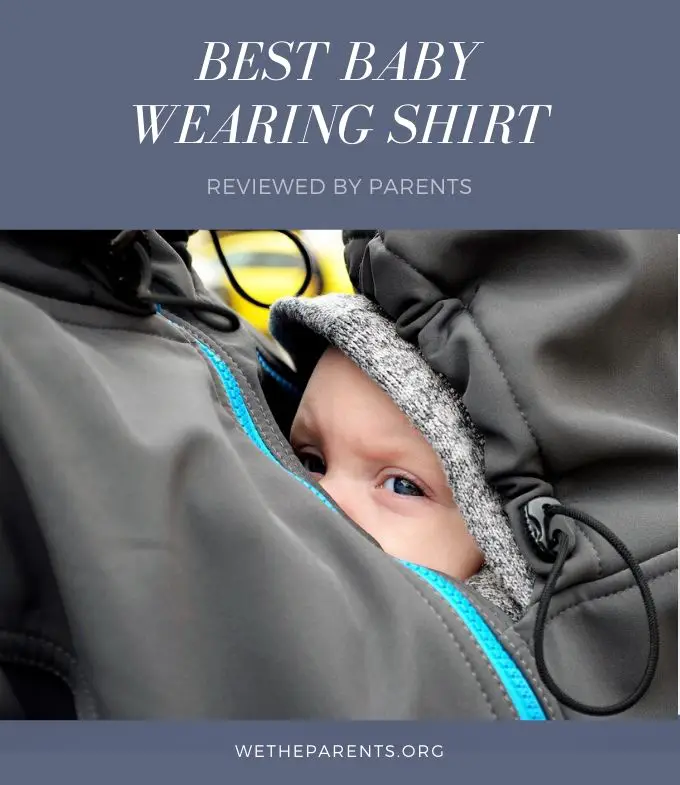 Pregnancy can mean making some drastic changes to your wardrobe, and once baby is born, most moms are eager to get back into their stylish duds. Baby wearing doesn't have to harm your style, especially when you choose a babywearing shirt.
They offer the security of a sling without the extra bulk of wearing a carrier over clothes, plus they're available in a wide range of colors, patterns, and styles for both moms and dads.
Curious about babywearing couture? Check out our list of the best babywearing shirts for some inspiration.
What Are the Benefits of Baby Wearing?
Babywearing is the best combination of skin to skin contact (SSC) and hands free parenting. SSC is also known as kangaroo care. The advantages of early kangaroo care include:
What is a babywearing shirt?
The answer is pretty simple — a babywearing shirt is just like a regular shirt, but it features a pocket either inside or outside where baby can be securely held. Babywearing shirts are generally made out of comfortable, stretchy material with enough heft to hold baby's weight. Not all of them are intended for use as hands-free carriers. They're often helpful for facilitating convenient breastfeeding.
What are some things I should consider when choosing my babywearing shirt?
Material:

Just like all carriers, the fabric of your babywearing shirt matters. It needs to be easy to wash, durable enough to hold baby, and comfortable against both of your skin. It should also be a material that breathes, ensuring that neither you nor your baby overheats during babywearing.

Inside or outside pouch:

The crux of a babywearing shirt is a pocket in which your baby will sit. The pocket may be on the inside, which is ideal for skin to skin contact with new babies and allows easy breastfeeding, or on the outside, where your baby will have more interaction with the world. Your needs and baby's stage of development will play a role in this choice.

Hands-free design:

As we've established, not all babywearing shirts meet the necessary standards to be considered soft-structured carriers. If you're planning to use your shirt as a sling and want to free up your hands for other activities, make sure you're choosing a shirt that's intended for hands-free use.

Easy for nursing:

If you're breastfeeding your baby, you'll be happy to know that babywearing shirts with inside pockets are often ideal for doing so with minimal effort. However, shirts with pockets on the outside don't offer the same convenience. If you'd like to nurse your little one while wearing your babywearing shirt, opt for a pick that puts baby's pocket on the inside.


Front and back babywearing:

It's not terribly common because of the design limitations, but some babywearing shirts do allow you to wear your baby in both front and back carry positions. Of course, since it's a shirt, it's impossible to attempt this unless the shirt is designed for it. A babywearing shirt is a less secure and advisable means of performing a back carry than a wrap or soft-structured carrier, so proceed with caution, but the option does exist.

Adjustability:

One downside to choosing a babywearing shirt over a wrap or soft-structured carrier is a lack of adjustment options. There are no buckles and typically no ties. Some designs offer adjustable straps or a crossover design that's easy to position as you and baby require, putting them on the more adjustable end of the spectrum.

Weight capacity:

This is a bit of a tricky one, as not all babywearing shirts offer a specific weight limit — some simply state that they're suitable from birth through toddlerhood. How long you'd like to wear baby plays a role here, as is their age and weight at the time of your purchase. Typically, you can expect a babywearing shirt that's safe for hands-free use to continue being so until baby is about a year old.

Style:

This is largely about the wearer's personal aesthetic, as there are many designs of babywearing shirt available. As long as there's a safe, comfortable spot for baby, the rest of the design is entirely up to your style, so check out your options to find something that will help you look and feel great.

Baby's age:

Babywearing shirts are great during their first year of life, and while many picks sell themselves as being great into the toddler years, it can be tough to wear a wiggly almost-kid who'd rather be walking. Shop according to baby's age and size needs, but be aware that bigger kids don't always take well to the constriction of babywearing shirts.
Transparency rocks! When you shop through links on this page, we may earn a small commission.
#1 The NuRoo Pocket, Short-Sleeved
Editors Choice
Weight limit: 8 – 45 lbs
Color options: 1
Fabric: 90% polyester, 10% spandex
Shirt style: Short-sleeved v-neck
Sizes: M, L/XL, 2XL
Good for dad: No
Suppose you love the NuRoo pocket but aren't so keen on the idea of a long-sleeve babywearing shirt like the NuRoo Pocket, Short-Sleeved (check price on Amazon) selection has the hands-free carrying ability and size range you're looking for without the extra material. It's made out of buttery soft, and breathable fabric, and it even has moisture-wicking, so both you and baby will stay dry and comfortable. It also includes a support belt for securely wearing your baby.
This top is suitable even for preemies with doctor approval, accommodating babies as small as 4 lbs. It's also a favored pick of plus-size moms, as the broad size range of the shirt extends to 2XL. The carrier pocket's strength is tested up to 45 lbs, so it's a babywearing shirt you could technically use for years. However, most little ones aren't comfortable being carried in a shirt past age two.
What We Love:
You can perform a hands-free carry with this shirt, which meets sling standards and is tested to hold up to 45 lbs safely
There are sizes available for plus size mamas
Check Price on Amazon
#2 The Nesting Days Newborn Carrier
Upgrade Choice
Weight limit: 7 – 18 lbs
Color options: Black; Polka Dot
Fabric: 60% nylon, 40% Lycra
Shirt style: Tank top
Sizes: XS, S, M, L, XL
Good for dad: No
Both literally and metaphorically, close to your heart is the best place for your newborn baby to be. This cute and comfortable babywearing shirt from Nesting Days (check price on Amazon) prioritizes just that, using a soft internal pocket to cradle babies between 7 and 18 lbs. It's a standout among similar shirts, as it allows mom to safely carry baby hands-free as long as they're within an appropriate age range.
The v-neck tank top design is fun and stylish, and it would be easy to pair the shirt with a cardigan, blazer, or button-down for comfortable wear during any season. Another plus? This top comes in a range of sizes from extra small to extra large, so it's less likely that you'll find yourself swimming in extra material or squeezing into a less-than-generous one-size-fits-all carrier.

What We Love:
It's perfect for newborn care, facilitating easy breastfeeding
The short-sleeved design is fun to dress up or dress down, and it's easy to throw on a hoodie or cardigan on a cooler day
Watch out for:
It's only suitable up to 18 lbs, so you won't be able to wear it past their first year
Check Price on Amazon
#3 The Smallshow Women's Baby Carrier Jacket
Best Budget Buy
Best to keep warm
Weight limit: Not hands-free
Color options: Black; Blue; Wine; Dim Grey
Fabric: Polar fleece
Shirt style: Jacket
Sizes: S, M, L, XL, XXL
Good for dad: No
Wrapping up in a big, cozy fleece hoodie (check price on Amazon) is a comforting way to stay warm in cool weather, and this fleece zip-up babywearing jacket allows you to share the softness with your baby. It is important to note that this is NOT a babywearing carrier. It is designed to pair with other worn carriers and wraps by simply slipping right over them to offer coverage to both you and your little one.
You'll both be protected from rain and snow by weatherproof polar fleece hoods, so it's great for time spent in the great outdoors with the little one. If you're hesitant about investing in a jacket you'll only wear with baby, fear not — the babywearing insert of this jacket can be removed, so it can also be worn as a standard fleece.
What We Love:
It's great for wearing over your sling or wrap while keeping both you and baby warm
There's hoods to protect both you and baby from the weather, as well as deep pockets for stashing essentials
Watch out for:
This is designed to fit over a carrier — it doesn't have a tight enough fit to be used for babywearing by itself
Check Price on Amazon
#4 The Bondaroo Skin to Skin Kangaroo Care Bonding T-Shirt
Best kangaroo care for dad
Weight limit: Not hands-free, but size limit is six months
Color options: Black; Navy Blue
Fabric: French terry, polyester, rayon, spandex blend
Shirt style: Short sleeved, high necked tee
Sizes: S, M, L, XL, XXL
Good for dad: Yes
If we're being honest, there's a LOT of babywearing tops out there for mom; dad, on the other hand, often finds himself at loose ends. Not so any longer with the Bondaroo from DadWare (check price on Amazon), which promotes the use of kangaroo care in a shirt style that's comfortable and stylish for dads. The design looks like a classic black t-shirt, but newborns can be securely tucked into the shirt's inner pocket.
It's made from a buttery and breathable French terry blend, so both dad and baby are sure to stay comfortable and temperate during babywearing. Parents should note that this shirt can't be used as a hands-free carrier, but it's still great for facilitating skin-to-skin bonding with your little one.
What We Love:
It's designed especially for dad, which isn't seen nearly as often as babywearing shirts for mom
The buttery soft material is made of a blend featuring French terry
Watch out for:
This shirt is not designed to be used as a hands-free carrier
Check Price on Amazon
#5 The VIJA Design Skin-to-Skin Kangaroo Care T-Shirt
Best in style
Best for newborns
Weight limit: Birth – 15 lbs
Color options: Cobalt; Jade; Heather Grey; Black
Fabric: 94% cotton, 6% jersey
Shirt style: Short-sleeved square-neck
Sizes: S, L, XL, XXL
Good for dad: No
Getting back into stylish pre-pregnancy clothes is something many expectant moms are eager to do. If you're a fashionista, you'll find a lot to like in this cute and comfortable kangaroo care shirt (check price on Amazon). It's available in several bright jewel tones and more neutral options like heather grey and black, and the square neck and short cap sleeves are fun and stylish. It's easy to tuck your newborn into the interior pocket of this babywearing shirt, which is suitable for a hands-free carry up to 15 lbs. The stretch of the cotton and jersey blend top makes it easy for baby to nap, rest, or nurse discreetly during wear, all while receiving the skin-to-skin contact that's so beneficial to their development.
What We Love:
It's very stylish and bright, and there are several color options
The interior pocket allows for easy breastfeeding, and the cotton/jersey blend keeps mom and baby comfortable
Watch out for:
It runs a bit small, so moms may want to consider ordering a size up
Check Price on Amazon
#6 The aden + anais Baby Bonding Top
Best for summer
Weight limit: Not a carrier
Color options: Black
Fabric: Cotton and elastane
Shirt style: Tank top
Sizes: S, L, XL
Good for dad: No
Comfort is a huge priority in the days and weeks after baby is born, and not just for your little one. Recovering from pregnancy and birth takes time, and you'll be on the hunt for cozy, functional clothes that are modest and allow you to breastfeed easily. This baby bonding top from aden + anais (check price on Amazon) is perfect for new moms, offering a higher cut neckline and longer torso than many other babywearing shirts.
It's a simple, thick-strapped tank top design that's great for the summer months, but can easily be dressed up with a jacket and a few accessories. Baby sits comfortably in the shirt's internal pocket, and the extra fabric of the slightly higher neckline offers neck support to baby. The stretchy cotton and elastane blend of the top also offers some light compression to your abdominal area, making it double as a bit of a postpartum belly band. Parents should note that this top isn't designed to be used as a hands-free carrier — it's just for skin-to-skin bonding.
What We Love:
Unlike many babywearing shirts, there's a small storage pocket
The basic black design makes it great as a wardrobe staple
Watch out for:
This shirt isn't intended for hands-free carrying
Check Price on Amazon
#7 The NuRoo Pocket Skin to Skin
Best hands-free
Weight limit: 8 – 45 lbs
Color options: Black; Teal
Fabric: 90% polyester, 10% spandex
Shirt style: Long-sleeved crossbody
Sizes: XS, S
Good for dad: No
When you find maternity and baby gear that's versatile, it's quick to become a favorite in your rotation. The NuRoo Pocket Skin to Skin Pocket (check price on Amazon) starts being useful before baby is even born, as it makes a very comfortable maternity shirt with generous stretch.
After baby is born, it can transition into a babywearing shirt with a soft inner pocket that's great for nursing. While a lot of babywearing shirts are only intended for partial support while holding or carrying your baby, NuRoo's handy shirt actually does allow you to perform a hands-free carry — the top adheres to newborn sling carrier standards, and it's been tested for strength at up to 45 lbs. The 3/4 sleeve top has a modest v-neck, classic navy color, and stretchy polka-dot waistband that are subdued and universally flattering.
What We Love:
It transitions from a maternity top to a babywearing and breastfeeding top easily
It follows newborn sling standards, including weight testing up to 45 lbs
Watch out for:
It has long sleeves, so it may be too hot in warm climates or the summer months
Check Price on Amazon
When should I start wearing my little one?
According to most pediatricians, barring any extenuating circumstances, there's no reason you can't start wearing your baby when they're a newborn. It facilitates the skin-to-skin contact that's extremely important in the first three months of your baby's life, plus it makes new parent life a bit easier by freeing up your hands for other tasks.
How long should I use babywearing?
A lot of opinions circulate on this topic, but the honest answer is that you can wear your baby for as long as your carrier choice allows. That said, not all parents and kids continue to enjoy wearing or being worn once children become active toddlers — some would much rather be running around, and will be rather wiggly and annoyed when placed in a carrier. You can wear for the amount of time that world for you and your child, stopping when the method no longer feels helpful for one or both of you.
Are babywearing shirts better than standard carriers?
And The Winner Is…
An accommodating range of sizes, easy washing instructions and a cut and fabric that are comfortable for mom and baby are all great reasons to love the short-sleeved NuRoo pocket (check price on Amazon). It allows mom to perform a hands-free carry, and the shirt's interior pocket has been strength-tested up to 45 lbs — an impressive feat for a babywearing shirt! The fabric features moisture-wicking, which is helpful for keeping mom and baby cool and comfortable on hot days, and the short-sleeved design is perfect for all weather; mom can simply throw on or take off a jacket or sweater as needed, so there's no fear of overheating in a heavy fleece you can't take off.