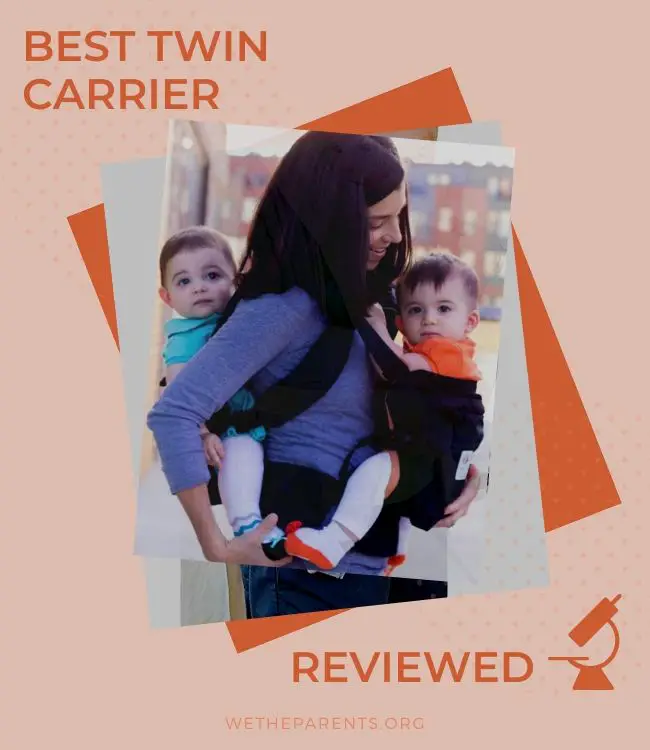 Twins mean double the baby giggles, first steps, and happy memories — it's an exciting time, but managing two newborns isn't without its challenges! A big one is toting both babies at once, especially if you're bravely venturing out into the world on a solo adventure with your twins.
A great twin baby carrier can make all the difference, so we've taken a look at what sets the best picks apart and put together a list of the best twin carriers of 2020 for your review.
Buyers' Guide
What are some things that should be considered when searching for a twin carrier?
Ergonomic design:

Ergonomics are always important when it comes to babywearing, but especially so when you're carrying twins. You're relying on your carrier to evenly distribute the weight of both your children, and some carriers accommodate twins at 30 lbs each, which is no small load. A carrier with an ergonomic design can help you avoid back and shoulder strain.

Style:

The kind of baby carrier you prefer to wear can make a difference in your final choice. We should note that not all babywearing carriers are ideal (or possible) to use with twins, but you'll be able to choose from fabric wraps with no buckles or straps worn in tandem, or soft-structured carriers that are highly adjustable for your comfort.

Ease of use:

Two babies can be a challenging prospect, and a carrier that's impossibly frustrating to use isn't a good value for anyone. If you're not an expert wrapper, you may want to stick to a soft-structured tandem twin carrier that pulls and buckles to adjust — they can save you a lot of annoyance if you're not into baby wraps.

Materials:

The material of your baby carrier matters, no matter what style you choose. It's best for wraps to be made of a strong but soft material that's comfortable for both babies and wearer, like the Boba Wrap on our list, which has just the right amount of stretch for new babies. Meanwhile, soft-structured carriers often have models made with mesh netting; this makes the carrier more breathable, helping wearer and babies avoid overheating on warm days and in hot climates.
Easy cleaning: One baby is messy. Two babies… well, let's just say that anything with a "dry clean only" label will be saved for special occasions. A carrier that can be spot cleaned or thrown in the washing machine is a game changer for busy parents, so look for something that's not complex to clean.

Safety and comfort for babies:

The safety of your babies is always paramount, and their comfort doesn't come far behind; after all, uncomfortable babies don't make for a good babywearing experience. Not all carriers are designed for twins, so make sure you're choosing a carrier or tandem carriers that are suitable for carrying both your children and that they're not exceeding the recommended weight limit. When wrapping, make sure to follow the TICKS method in order to ensure that your babies are properly, safely, and comfortably supported.1The T.I.C.K.S. Rule for Safe Babywearing
schoolofbabywearing.com/Images/TICKS.pdf
What type of baby carrier is best for twins?
When it comes to babywearing, parents have two great options for safe carrying:
Soft-structured tandem carriers:

These convenient carriers can generally be worn as either a single or a double carrier for your convenience, and use straps and buckles to safely and comfortably adjust and secure the carrier for you and your children. They're typically easy to use, but make sure you're using a pick that's designed for twins or safe and comfortable during tandem use.

Wraps worn in tandem:

Parents who've loved using fabric wraps with past babies will be happy to know that it's possible to safely wrap your babies in tandem wraps. You'll need two wraps, however, and it's very important to follow safety instructions for this wrapping style to protect your little ones.2Wrapping twins
wrapyourbaby.com/wrapping-twins/
Transparency rocks! When you shop through links on this page, we may earn a small commission.
#1 TwinGo Original Baby Carrier
Editors Choice
Total weight limit: 80 lbs
Carrier style: Soft-structured
Color options: Black, orange, and blue; Grey, yellow, and green
Can be worn as a single carrier: Yes
Has storage space: Yes
Good for preemies: No
Soft-structured carriers are often well-loved by parents who are new to babywearing. Unlike wrapping, there's very little learning curve, and soft-structured carriers are often highly adjustable and offer additional storage. That's the case with the TwinGo Original Baby Carrier (check price on Amazon), which takes the convenience of a soft-structured baby carrier and makes it twice as nice by combining two carriers in tandem.
You'll be able to wear one child in the front and one in the back, so it's ideal for comfortable weight distribution once your twins are old enough for back carry. Only taking one baby, or splitting up the load with your partner? You won't have to look silly wearing an extra empty carrier, because the TwinGo comes with the added straps and buckles you'll need to convert one unit into two single carriers.
What We Love:
It's a soft-structured carrier designed for tandem carries, so there's not too much extra bulk, plus it separates into two carriers when needed
It has large, reversible pockets that are ideal for on-the-go storage
Watch out for:
Wearing it successfully will take practice, so make sure you spend some spare time attempting carries
Check Price on Amazon



#2 The Stuff 4 Multiples Twingaroo

Upgrade Choice

Total weight limit: 70 lbs
Carrier style: Soft-structured
Color options: Black
Can be worn as a single carrier: Yes
Has storage space: Yes
Good for preemies: No

Life on the run with two little ones means that your need for baby stuff like diapers, wipes, snacks, and toys is twice as great. A soft-structured carrier that provides serious storage can be a game changer for you in that situation, because you can keep your focus on your babies instead of keeping track of a bulky, cumbersome diaper bag. The Stuff 4 Multiples Twingaroo (check price on Amazon) has a huge diaper bag pocket that's practically a backpack, with both a large and small storage pocket with room for all the essentials plus a few extras.

There's even two insulated holders for their bottles, so whether you need them kept warm or cold, you'll be good to go. It's also an excellent carrier for sharing between parents, as the highly adjustable waistband can be extended to 62″.

What We Love:

The built in storage on this carrier is really impressive, with a storage pocket that can seriously double as a diaper bag
The adjustable waist extends to 62″, so it's perfect for bigger wearers and carrier sharing

Watch out for:

Converting strap not included
Some parents find it difficult to get on
Some parents found the waistband too big

Check Price on Amazon

#3 The Boba Wrap

Best Budget Buy

Total weight limit: 35 lbs per wrap
Carrier style: Fabric wrap
Color options: 12 to choose from
Can be worn as a single carrier: Yes — you'll need to buy two to tandem carry
Has storage space: No
Good for preemies: Yes

Whether you're already a wrap star or you're just ready to try out this cozy method you've heard so much about, you'll be happy to know that fabric wraps make ideal carriers for twins. The reliable, comfortable Boba Wrap (check price on Amazon) eschews straps and buckles for folds and knots, which creates an undeniable learning curve. However, there's tons of helpful videos that can help you understand exactly how to safely wrap your little ones.

Boba Wraps are also a lot cheaper than soft-structured carriers, but you'll need two of them worn in tandem — one baby per wrap! There's plenty of color options for the stylish wearer to choose from, and the super soft fabric wears comfortably all day for both you and baby. Finally, they're a bit quicker and easier to machine wash than soft-structured carriers, so handling a mess doesn't have to be laborious.

What We Love:

Unlike soft-structured picks, there are no straps and buckles and it's easy to wash
The fabric is soft and comfortable for both wearer and baby

Watch out for:

Using a fabric wrap has a bit of a learning curve to begin with, but even more so when wrapping twins, so make sure to watch helpful videos and practice your carries at home
You'll need two wraps, as two babies can't be supported by just one

Check Price on Amazon

#4 The TwinGo Air Carrier

Best for comdort

Total weight limit: 70 lbs
Carrier style: Soft-structured
Color options: Black, orange, and blue; Grey; Teal
Can be worn as a single carrier: Yes
Has storage space: A small amount
Good for preemies: No

Comfortable babywearing is happy babywearing, and during the Summer months, that means choosing a carrier that's made out of breathable fabric. Carriers that don't breathe can leave you and your babies hot, sweaty, and sticky, which isn't fun for anyone. A soft-structured carrier with breathable mesh construction like the TwinGo Air (check price on Amazon) is ideal for hot days and hot climates, because air can pass through the fabric to keep you and your little ones cool.

It has all the convenient benefits of TwinGo's standard tandem carrier, including comfortable weight distribution and adjustable straps and buttons that can accommodate multiple wearers. There's just one thing we should note: Unlike the original TwinGo, there's no large storage pocket for your baby needs, just a small pocket on the waistband.

What We Love:

This carrier's breathable mesh construction means you and your babies won't overheat in hot climates and on warm days
It has cozy sleep hoods to allow privacy and comfort while babies are napping

Watch out for:

It's a downgrade in storage from the TwinGo original, featuring only a small storage pocket on the waistband

Check Price on Amazon

#5 The Weego TWIN Carrier

Best for newborns

Total weight limit: 33 lbs
Carrier style: Soft-structured
Color options: Black; Blue pepita; Red and white seersucker; Grey and white seersucker
Can be worn as a single carrier: No
Has storage space: Yes
Good for preemies: Yes

When your little ones are born early, you're faced with a whole new set of circumstances and concerns that many parents will never encounter. One of them is how to safely transport your infants in gear designed for larger, heavier babies. The Weego TWIN (check price) is designed for your preemies, and can be used for babies at 4 lbs and above. Inward-facing is the only suitable carry for newborns and preemies, so this unique carrier places both pouches in the front.

It's one of very few worn carriers specifically designed to accommodate babies smaller than 8 lbs, so it can be tremendously helpful for parents of twin newborns who are small or premature. Two things to note: always seek your pediatrician's approval before babywearing your preemies, and parents should be prepared to replace this carrier when babies reach about six months, as it's designed to max out at a 33 lb weight limit.

What We Love:

It's suitable for premature babies, and can support preemies safely starting at four pounds
The carrier can grow with baby

Watch out for:

It's specially designed to accommodate smaller babies, so the max combined weight limit is only 33 lbs — this means you'll need a new carrier when your twins around six months old

Check Price on Amazon
FAQ's
Is it possible to buy two single carriers and wear one in the front and one in the back?
Yes, this is definitely possible as long as the carrier is comfortable for wear and your babies are old enough for back carry, which happens at 12 months. If you absolutely adore your Tula or Ergobaby and would rather get another than invest in a new twin carrier, it's definitely an option. The only caveat is that soft-structured carriers with too much padding around the shoulders and waist are hard to double up on without creating a great deal of bulk and overheating the wearer, so you may want to see how it feels to wear two in tandem before deciding on this option.
Are there different ways to carry twins?
Absolutely! Of course, the first rule of choosing your carry is to obey the limitations of your carrier and the recommended age for the carrying style you're attempting. To start out, twin babies can be carried inward-facing in tandem wraps or slings. As they get a little bit older, you'll be able to switch to hip carry. Once your twins are over a year old, you can attempt a tandem carry where one twin is back-carried while the other is front-carried facing inward.
Is it safe to babywear twins?
As long as you are following your carrier's limitations for weight and age as well as safety regulations related to ages and carrying positions, there's no reason that you can't safely babywear your twins — in fact, it may make life easier for you!
What factors should I consider when buying a babywearing carrier for twins?
Ease of wear:

As we've established, adding extra struggle to your day is never something your baby gear should be doing. You'll want a carrier that's easy for you to use, and which one that is may depend entirely on you. Many users find soft-structured carriers the easiest, but if you have the opportunity, experiment with different styles to see which is the easiest for you.

Fabric texture:

The texture of your carrier's fabric matters a lot, because if it's uncomfortable, you and your babies will be as well. Look for something with the necessary durability to be functional but that's also comfortable against the skin for long periods. Cotton, cotton blends, and bamboo are all ideal for wraps, while softer meshes are great for structured carriers.

Can be adjusted:

It's quite frustrating to find yourself wearing something uncomfortable that can't be adjusted, and this multiplies times three when it's a carrier for your twins. Look for something you can adjust to your comfort level, because one-size-fits-all carriers rarely are as stated.

Pockets or other storage:

We're sure you won't be surprised to hear that babies need a fair amount of on-the-go gear, especially when there's two of them. Many soft-structured carriers and fewer wraps offer zippered or otherwise secured pockets that are ideal for stashing a few essentials — if you don't feel like adding a bulky diaper bag to your load, these can be lifesavers.

And The Winner Is…

Once your twins are old enough to do so comfortably and safely, carrying them in tandem with one in front and one in back is one of the most comfortable babywearing positions. The TwinGo Original (check price on Amazon) is designed to evenly distribute the weight of your babies during wear, and has the highest combined weight limit of any carrier on our list at 80 lbs. It also includes a large, handy storage pocket that can hold most of your essentials, and can be split into two carriers for wearing and sharing. It has the best balance of utility, ease-of-use, and style of the carriers we've seen, making it our editor's choice.